Disclosure: This post contains affiliate links and I may earn a small commission if you purchase through these links.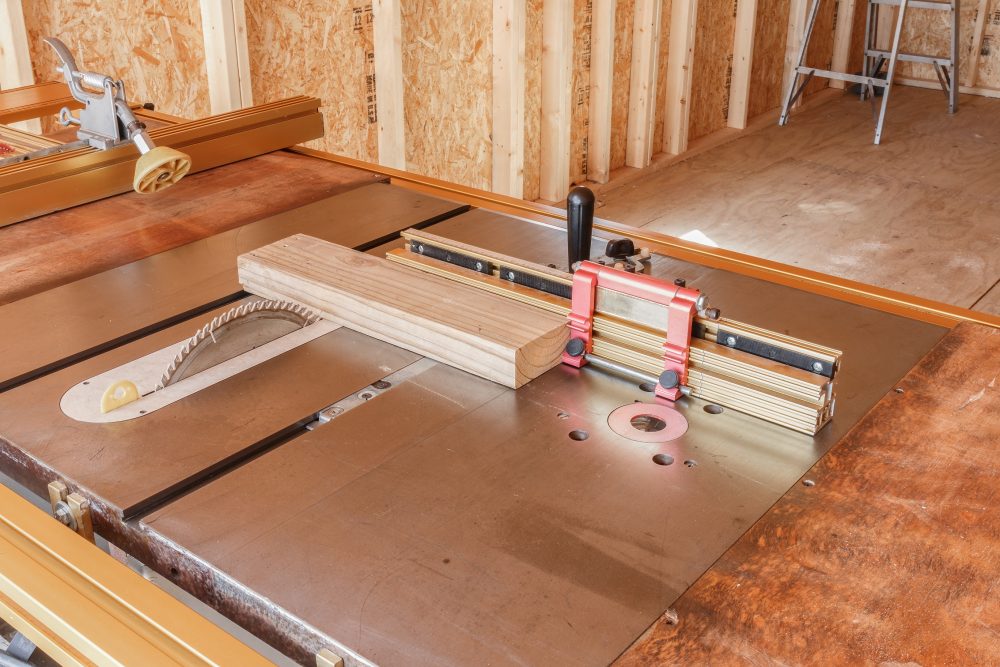 If you're a DIY enthusiast, you know the importance of precise cuts, particularly in woodworking projects. You probably own a good table saw, but a saw on its own isn't enough if you want to make accurate cuts.
You'll need a robust fence to achieve the precision required for professional work. The fence holds the material you're working on in place, allowing you to make precise cuts.
The good news is all table saws come with a fence included. However, some fences lack the precision required for quality woodworking.
Also, the manufacturer-supplied fences are not always the best quality and might not be ideal for your projects. In this case, finding a third-party table saw fence to replace the one that came with your table saw becomes necessary.
Not sure what table saw fence replacement is best for you? We've created this guide to help you find the best table saw fence replacement on the market.
What Is the Purpose of a Fence on a Table Saw?
The fence on a table saw is a guide to allow users to make accurate cuts safely. It runs parallel to the saw's blade, and with professional tables, you can adjust the fence along the length of the table.
Because the fence performs the crucial task of ensuring the material is properly aligned to the blade, it can help prevent kickback. Thus, the fence not only improves the accuracy of the cuts but is also an important safety feature.
Why Buy an Upgraded Table Saw Fence?
As mentioned, some manufacturer-supplied fences are usually poor quality and are not the best for quality woodworking.
Sometimes, a new table saw may come with a damaged fence, so you'll want an aftermarket replacement. You may also want an upgraded table saw fence if your old table fence is broken or no longer locks properly.
In such cases, buying an upgraded table saw fence can help improve the accuracy of your cuts and the quality of your woodworking projects.
Table saw fences aren't created equal. Buying an upgraded table fence aims to get features that make the fence stand out from the previous component.
How Can I Make My Table Fence More Accurate?
The quality of the table saw fence you buy affects the accuracy of your cuts.
To improve the accuracy, you'll want to ensure the table saw fence is aligned correctly.
Even a good fence can be useless if not aligned properly, so ensure to align it before any woodworking session. Here are a few tips to make your table fence more accurate.
Check the alignment – Make sure the fence is parallel to the blade and that the blade is square to the table.
Use a square – A square is a crucial tool as it can help you check the accuracy of the fence. Put the square against the fence and ensure it's flush with the blade. If not, adjust the fence accordingly.
Adjust the fence – Using the fence adjustment screws, make minor adjustments. The adjustments should be made in small increments while testing the accuracy of the fence at each increment.
Check for dirt or rust – Dust and dirt can affect the accuracy of the fence. Regularly clean and lubricate the moving parts to improve the fence's accuracy
Use a straight edge – Using a straight edge, check for any gaps between the blade and the edge. You could use a dial indicator if you don't have a straight edge.
The accuracy of cuts is very important to any woodworking professional. These tips should help you improve the accuracy of your cuts.
What Is the Best Material for Table Saw Fence?
Table saw fences come in different materials. You can get a steel or aluminum fence or a wood or plastic option. So, which material is best for table saw fences?
We recommend a combination of steel and aluminum.
Table saw fences made with steel and aluminum are considered the best. Here, the steel components provide rigidity to the system, whereas aluminum ensures the system is lightweight and easy to move around. Avoid fences made from plastic and wood, as these are prone to breakages.
How Do You Install a Table Saw Fence?
Every aftermarket table saw fence has different installation instructions. Your installation method will depend on your model and the manufacturer's instructions. Some units require you to drill holes into the rail system for your saw to line up properly.
We advise checking the fence's manual before buying to ensure it's compatible with your saw. This can save you time and money.
The 5 Best Aftermarket Table Saw Fences to Buy
Without further ado, here are our top pics for buying the best aftermarket table saw fences. We chose the final list in combination with the latest consumer sentiment data and recommendations from our community of Mettalurigsts. Let us know if we missed any ones you liked.
If you're looking for an affordable, top-quality table saw fence, the Delta 36-T30T3 is an excellent choice. Delta is a renowned manufacturer of table saw products.
Their 36-T30T3 model is one of the highly recommended table fences by experts and offers great features and specifications. You can mount it on any saw with a 27 inches table, measured from front to back. But if you have a non-Delta saw, you may need to drill extra holes.
Delta includes many fasteners with this unit to let you secure it to your table saw. Once installed, you get 30 inches of rip capacity to the right of your saw blade and 13 ½ inches of capacity to the left of the blade—more than what the competition offers. 
The extra room to the left can be handy, particularly when making bevel cuts. The Delta 36-T30T3 can deliver accurate cuts no matter who's using it. Once calibrated, this fence stays accurate to about 1/64″.
Furthermore, you can utilize the railing on each side of the blade to get more accurate cuts. The three-locking system with hairline pointers ensures the fence is parallel and well-aligned with the blade for more accurate cuts.
Product Specifications
Dimensions: 57.5 x 37 x 21.5 inches
Right rip capacity: 30 inches
Left rip capacity: 13.5 inches
Weight: 38 pounds
What We Liked
Rigid T-Square construction
Adjustable for accuracy
3-point locking system for better alignment to the blade
Steel body for rigidity
What We Don't Like
Rails may need to be drilled
Made from aluminum, the Shop Fox W1411 fence spots a large locking level for improved alignment and accuracy of the cuts.
Unlike standard fences, the W1411 aligns perfectly, whether the locking mechanism is engaged or not, ensuring the cuts' accuracy. Built-in precision adjustment knobs further improve the accuracy of the cuts, making this unit ideal for professional work where accuracy is paramount.
Additionally, the Shop Fox W1411 comes with an easy-to-adjust hairline indicator that helps ensure you're not veering off course when cutting. This unit is compatible with major name-brand table saws, including Delta, Grizzly, Craftsman, and more.
Product Specifications
Product dimensions: 49.5 x 15.4 x 9.2 inches
Item weight 21.4 pounds
Table saw size 27-inches
What We Liked
Compatible with most big-name brands
Remains parallel to the blade when unlocked
High-precision table saw fence
Easy installation
What We Don't Like
Can't make 45-degree bevel cuts

The W2005 is another top-quality model from Shop Fox. As its name implies, the W2005 spots a "classic" design that offers more functionality than the W1411. This model is ideal for a robust, high-precision, and budget-friendly table saw fence.
It has standard rails that provide a 25-inch rip capacity to the right of the blade. The fence's wide-angle design ensures you have ample support to cut accurately.
The beauty of the Shop Fox W2005 is in the installation process, which is super easy. Conveniently, the manufacturer provides a drill and tap set in the box. Setting up this unit is a breeze. Better still, it's compatible with virtually every table saw on the market.
Once installed, you get a 25-inches rip capacity to the right that gives you enough room to rip a 4×8 piece of plywood in the middle.
Product Specifications
Product dimensions: 57.3″L x 19.5″W x 7.5″H
Rip capacity: 25 inches
Item weight: 0.01 ounces
Blade length: 25 inches
Blade material: high-speed steel
What We Liked
Very accurate
HDPE plastic fence surface reduces resistance
Easily lifts off to allow for cross-cutting
Drill and tap set included in the box
What we Don't Like
It lacks a micro-adjustment feature
The DEWALT 514013598 is an authentic replacement part manufactured with DEWALT saws. This fence assembly is sold as an individual replacement part and is ideal for providing a straight edge for marking rip cuts.
This fence only fits specific DEWALT table saws. Made of metal, it's ideal for cutting projects where accuracy is paramount, as it helps guide the blade precisely. You'll love this compact and lightweight option as it will help you measure with precision.
Note that this is a replacement piece and is very easy to install. DEWALT is known for its quality products, and this item meets the quality standards.
Product Specifications
Product dimensions: 1 x 1 x 1 inches
Item part no: 514013598
Item weight: 0.01 ounces
What We Liked
Durable aluminum construction
Incredibly lightweight
Affordable
Easy to establish and attach
What Could be Improved
It only works with DEWALT saws
The Shop Fox W1716 is a sturdy and reliable table fence for professionals and DIYers alike. It comes with a 57-inches rail and provides a 30-inch rip to the right of the blade.
The tool's right-angled design and wide-spaced adjustment provide optimal precision for professional work. Made from steel and aluminum, the Shop Fox W1716 is one of the most durable units.
The aluminum edges help keep your cuts straight and precise, while steel adds weight and stability to the system.
The spaced-out adjustment points allow accurate setup while the torsion box design and the front lever locking mechanism make fitting the device to any saw a piece of cake. Shop Fox also includes a magnified cursor with this unit to allow you to read the measurements easily.
Product Specifications
Product dimensions: 17.25 x 61 x 7 inches
Rip capacity: 30 inches
Item weight: 53.3 pounds
What We Liked
Highly durable
Powerful locking lever for support
Right angle design for optimal precision
It can be used with most table saws
What Could be Improved
Wrapping Up
A table saw fence helps you make accurate cuts while improving your safety on the job. Table saw fences come in many shapes and sizes, and some are better at making certain cuts.
If you're in the market for a top-quality aftermarket table saw fence replacement, we recommend the Delta 36-T30T3. This unit not only provides higher cutting precision but is also affordable. It's also compatible with many table saw brands out there.
We hope our guide will help you find the best table saw fence for your woodworking projects. Feel free to comment and share!