Disclosure: This post contains affiliate links and I may earn a small commission if you purchase through these links.
The best tools for cutting metal include metal air shears, hacksaws, band saws, cold saws, and tin snips.
Tin snips, sometimes also called aviation or compound snips, are tools for cutting metal sheets that are similar to regular scissors in appearance but are far sturdier and allow for precise cutting. They will cut into tough metals like cold rolled steel and stainless steel.
Tin snips are also called aviation snips because the tool was initially designed to be used in the aerospace manufacturing industry. Since airplanes are made of sheet metal, manufacturers must make irregular cuts to form fuselages and other components.
Since then, tin snips have gone on to be used in many contexts; HVAC installation and repair, metal building construction, EV/motor home/trailer manufacturing, exterior remodeling (roofing, gutter, siding, downspout installation and repair, auto body repair, and general sheet metal cutting.
Although the terms "tin snips" and "aviation snips" are used interchangeably, they aren't exactly the same thing.
Tin snips are good for cutting metal mesh, thin gauge metal sheet, and other (mainly flat) metal items. They are designed to and mainly used for long straight cuts.
Aviation snips (also called compound snips) have 2 pivot points rather than the 1 that tin snips have, meaning that they require less force to maintain a clean cut. Instead of long, clean cuts, aviation snips are chosen for more specialized tasks.
There are many types of tin snips, but they fall into three main categories, commonly sorted by the direction and shape of the blade. These are straight cut, offsets, and vertical tin snips. Because there are so many different types of snips, their handles have been color-coded so it's easy to tell them apart.
Straight-cut tin snips: Straight blades. Yellow handles. They cut in straight lines.

Offsets tin snips: Can be clockwise-cut snips (that cut clockwise) with green handles or counterclockwise-cut tin snips (that cut counterclockwise) with red handles.

Vertical tin snips: blades that sit at right angles to the tool's handle. Ideal for tight spaces. No specific handle color.
It's important to note that the colors on the snips' handles don't indicate which hand you should use them with. A pair of green snips will only cut straight or right while a pair of red snips will only cut straight or left – it doesn't matter which hand you use.
Also important to note is that no matter how good a tool is, you should always be using the right protective equipment when using it. With tin snips, that includes thick protective gloves and safety goggles.
There are a lot of choices for tin and aviation snips out there, so included below are some of the best choices available on Amazon for snips. They cost between $11.97-68.75 (but some of them come in a set). We identified the best product by analyzing the latest customer sentiment data and also taking recommendations from our community of metallurgists from the tools that working well in the field:
Tin snips
1. Midwest aviation snip set MWT-6510C – $68.75
This Midwest aviation snip set comes with two snips, a left and a right. Together, they allow you to make straight cuts as well as tight, curving left and right cuts. The blades are Glidetech forged; they're hot drop-forged from molybdenum alloy steel and austemper heat-treated, meaning that you can enjoy unparalleled strength, cutting precision, and blade edge life.
From beginning to tip, the blades can cut through 18-gauge cold-rolled steel and require 20% less effort than other comparable snips, allowing you easier notch cuts without sacrificing precision. Midwest's Kush'n power grips also provide you with durable grip that doesn't compromise on comfort.
These snips are truly durable, comfortable, precise, and sharp. They offer great leverage, the offset is at a decent angle, and the spring's recoil is excellent, providing you the ability to use the whole length of the blade.
While not the cheapest option out there, they certainly are worth the money if you can afford them. You'll enjoy a comfortable and reliable experience when handling these and there isn't much that you can throw at them that they won't be able to handle. They cut through metal like butter and the edges remain reliable for a long time.
Features include:
Molybdenum alloy steel blade material
Weight of 1.9 pounds
Offset cut
Limited lifetime warranty
MIDWEST Aviation Snip Set - Left and Right Cut Offset Tin Cutting Shears with Forged Blade & KUSH'N-POWER Comfort Grips - MWT-6510C
4 Piece offset snip set - Includes left and right offset snips for straight cuts and tight curving left and right cuts. Offset model snips are best for making long cuts and trim cuts.
Glidetech forged blades - Blades are hot drop-forged of molybdenum alloy steel and austemper heat-treated to provide unequalled strength, longest lasting edge life, and the most precise cutting action.
Pinch-thru-point cuts - Forged blades cut 18 gauge cold-rolled steel from beginning of blade all the way to the tip with 20% less effort for easy and precise notch cuts.
Kush'n-power grips - Midwest's Kush'N-Power grips provide the perfect balance of comfort, grip and durability. Designed for the professional, these chemical resistant grips offer slip-free usage all day long.
2. Crescent Wiss M3R- $11.97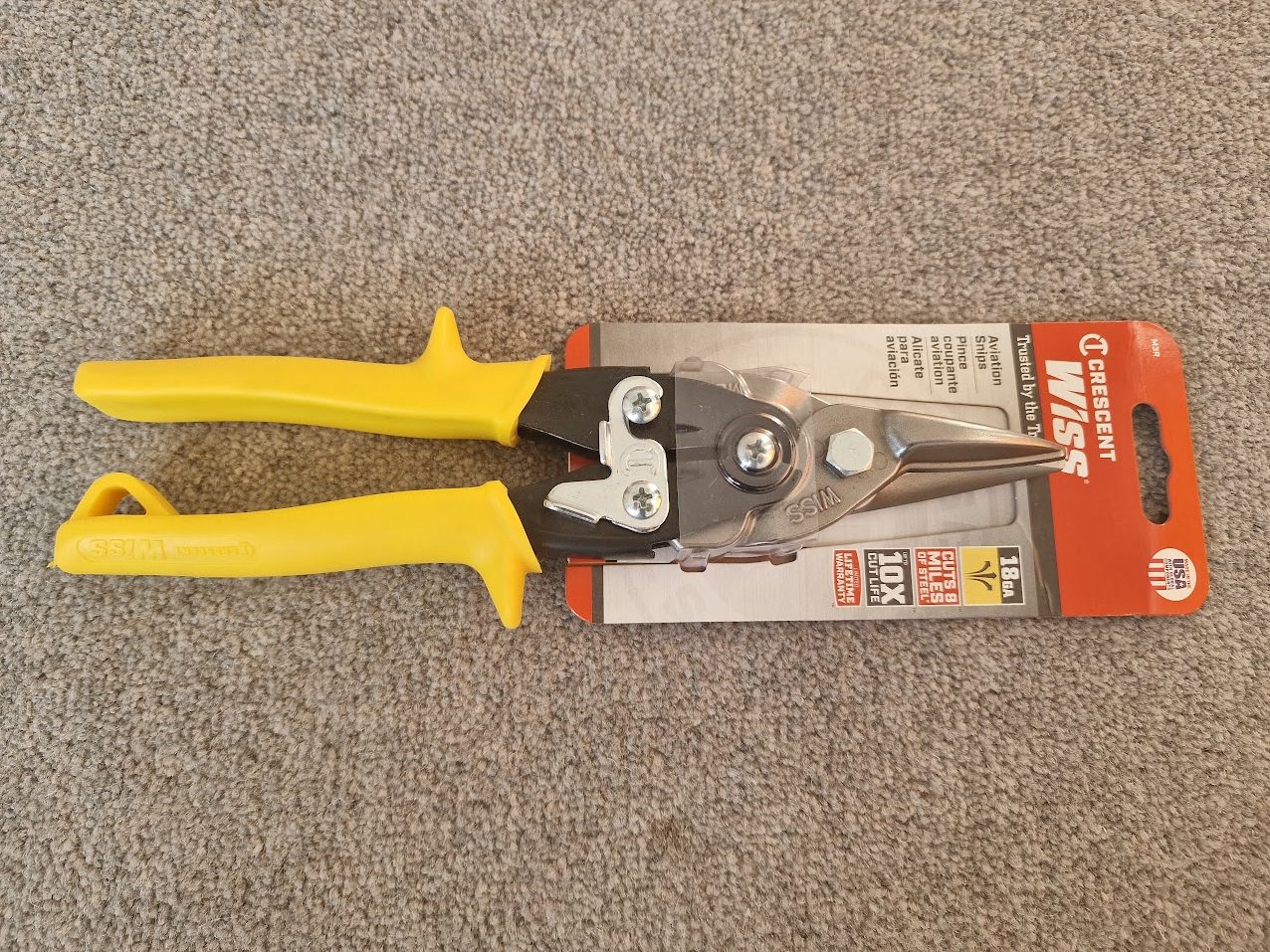 The M3R snips cut straight but can also do slight curves. They boast an ergonomic, ambidextrous single-handed latch operation and a superior design that will prevent tears happening at the ends of cuts. They do so by controlling blade bypass and minimizing folding and burrs. The handles have built-in stops that provide consistent operation and blade opening.
The tool also features spring action for a fast and effortless feed, a free float design on the pivot bolt that gives the snips a longer life, and blade serrations that spread the cutting force across the jaws, meaning that the cut quality and tool life are both increased.
Speaking of blades, the ones on the M3R are precision-cast molybdenum blades with conk ground edges that can cut through cold-rolled 18-gauge steel.
The handle grips are made from a single material and are ergonomic, easy to clean, and provide you with excellent control.
These snips last 60% longer and need 20% less force to cut on average compared to Crescent Wiss's snips from just five years ago. They're also designed, engineered, and manufactured in the U.S.A., if that's important to you.
The M3R snips cut straight and true smoothly without catching or dragging. They're an excellent choice for people with all levels of experience and provide great value for money, especially considering how affordable they are.
Features include:
A weight of 12 ounces
Straight cut
Molybdenum blades
Serrated blade edge
Limited lifetime warranty
Sale
Crescent Wiss 9-3/4 Inch MetalMaster Compound Action Snips - Straight, Left and Right Cut - M3R
Cuts straight and slight curves with yellow handles for quick identification
Ergonomic, single handed latch operation for left or right handed use
Precision cast molybdenum blades with conk ground edges and serrations for cutting low carbon, cold rolled 18 gauge steel
Blade serrations spread cutting force across jaws improving cut quality and tool life
Superior Design prevents tears at end of cuts by controlling blade bypass and minimizes folding and burrs
3. Hurricane 10-inch aviation tin snips – $15.99
These snips offer a straight, regular cut but also allow you wide curves to both the left and the right. You're ensured a secure hold and precise cuts. The blades are chrome vanadium steel and have serrated edges with a sanded finish for a long lifetime and maximum strength.
The cut capacity of these snips is up to 18 gauge for cold-rolled steel sheets and galvanized sheets and 22 gauge for stainless steel.
The grips are comfortable and ergonomic for a pleasant user experience and optimized control while a locking latch prevents damage to the cutting edge when stored. A spring-assisted latch allows you fast one-handed operation.
The Hurricane snips are great for people of all experience levels but those with more experience might not want to go for them. This is more due to personal preference, but these snips are generally more suited to casual users or those just beginning to use snips. This is because they don't provide the smoothest cuts or the best results and aren't as reliable as other snips featured here – but they're affordable, get the job done, and are still all-around good snips.
Features include:
A weight of 14.4 ounces
10-inch regular straight cut
Chrome vanadium steel blades
Sale
Hurricane 10 Inch Aviation Tin Snips, Straight Cut, Heavy Duty Metal Cutter for Cutting Sheet Metal, Chrome Vanadium Steel
【Straight Regular Cut】Hurricane 10 Inch Aviation Tin Snips, Cuts straight and wide curves to the left and right, ensure a secure hold and precise cuts.
【Longest Lasting Edge】Chrome Vanadium Steel, Serrated edge blades with sanding finish for maximum strength, durability, and long lifetime.
【Cut Capacity of Tin Snip】 With a cutting thickness range up to 18 gauge (1.2mm) cold-rolled steel sheet, 18 gauge (1.2mm) Galvanized sheet, and 22 gauge (0.7mm) stainless steel.
【Comfortable Grips】Ergonomical Tyregrip Handle with rubberized grip for comfort and control.
【Safety and High Efficiency】Locking latch prevents damage to cutting edge when stored. Spring-assisted latch on metal snips for fast one-handed operation.
4. Amazon basics 3-piece aviation snip set – $20.06
This set of 3 snips comes in at just $20.06 making it a very affordable contender. The snips each cut left, right, and straight respectively. They work on thin sheets of aluminum, tin, and other metals including up to 18-gauge steel and up to 22-gauge stainless steel.
They have a high-leverage design with serrated edges on the blade to provide efficient cutting and the blades themselves are premium chrome vanadium steel that's been processed with high-frequency heat treatment.
The handles have a rubberized grip which gives you a secure hold and precise cuts; the latch locks the tool shut when you're not using it so that the blade can be protected. There's also a one-handed auto-release mechanism.
This trio is a simple, no-nonsense set that's perfect for beginners, casual users, and those that aren't fussed about brands/don't have a specific brand that they like. They're perfect for small jobs like cutting through chicken wire or old metal cards, but aren't as sturdy or well-made as other branded and more expensive options.
If you have managed expectations and no massive asks for these snips, they will do the job just fine. Anything more however, and you may be experiencing disappointment, sore hands, and uncut metal!
Features include:
A weight of 2.4 pounds
3 snips included
Chrome vanadium steel blades
Amazon Basics 3-Piece Aviation Snip Set - Left, Right and Straight Cut
3-piece set of aviation tin snips for easy cutting from any angle (left, right, straight)
Cuts through thin sheets of aluminum tin and metal, including up to 18-gauge steel and up to 22-gauge stainless steel
High-leverage design with serrated-edge blades for efficient cutting; made of premium chrome vanadium steel processed with a high-frequency heat treatment
2-colored handle with a rubberized grip helps ensure a secure hold and precise cuts; latch locks tool shut when not in use to help protect the blade; one-handed auto release
Backed by an Amazon Basics limited one-year warranty
5. Milwaukee 3-piece aviation snip set, 48-22-4533 – $40.10
The snips in this 3-piece set have forged alloy steel blades, one-handed locking for ease of use, quick-open and close ability, a flush bolt design so they won't hang up on materials, and cut up to 18-gauge cold-rolled steel and 22-gauge stainless steel.
The steel blades provide precise cuts and durability while the 1-handed locking mechanism offers easy operation and tool safety. They're great for cutting vinyl sliding, aluminum, leather, copper, screening, and cardboard.
The Milwaukee snips are a bit bulky in hand. They're not as ergonomically designed as some of the other options on this list and they don't cut as smoothly as the Midwest snips. However, they do remain sharp even after weeks of daily use and the cuts are clean and fast. They're reliable, non-fussy, and have absolutely no frills.
These are the snips for you if you just want something simple, durable, clean, fast, and straight to the point.
Features include:
A weight of 2.79 pounds
Forged alloy steel blades
Limited lifetime warranty
Milwaukee 3-Piece Aviation Snip Set - 48-22-4533
One Handed Locking - Ease of use/Quick open & close (Patent Pending)
Flush Bolt Design - Won't hang up on material (Patent Pending)
Forged Alloy Steel Blades - For Maximum Tool Strength
Cuts: Up to 18ga CRS (Cold Rolled Steel); 22ga SS (Stainless Steel)
3 Piece Set
6. Craftsman aviation snips, 3-piece set (CMHT73558) – $51.99
Another trio on the list, these Craftsman snips have a spring-assisted latch on them for fast and easy one-handed operation, ¼ inch blade markings for quick and precise cuts, and induction-hardened cutting edges so that they (supposedly) stay sharp for longer (than non-induction-hardened blades).
There are large handle rings and double-dipped grips on these snips that make them comfortable and ergonomic to use, but may be too unwieldy for those with smaller hands.
The blade edges don't actually hold their edge as well as the manufacturer wants you to believe. Even when cutting extremely thin aluminum (so thin that it can almost qualify as foil tape) the edges dulled in around 80-100 feet.
However, as long as they do have their edge, they're good at doing what they're meant to do. They work well on thin metal bits like chicken wire as well as on heavier metal sheets, but it's worth mentioning that they don't leave a nice smooth cut, instead leaving visible and unsightly marks on the metal. If you're looking for a pleasant, professional finish then these may not be the snips for you.
If you're looking to cut other materials that are softer but still tough, like carpet for example, then these will be a good fit.
Additionally, note that these snips won't open all the way unless you pull them apart manually, which is frustrating when you are doing a job that takes a relatively long time.
Features include:
A weight of 3.08 pounds
Induction-hardened blade edges
CRAFTSMAN Aviation Snips, 3-Piece Set (CMHT73558)
CUT CAPACITY OF TIN SNIPS: Cuts up to 18GA (1.2mm) cold-rolled steel or 22GA (0.7mm) stainless steel.
EASE OF USE: Spring-assisted latch on metal snips for fast one-handed operation
DURABILITY: Induction hardened cutting edge on snips for sheet metal stays sharp longer (compared to non-induction hardened jaws).
1/4-inch blade markings for quick precise cuts
Conclusion
The market is flooded with tin snip choices for all budgets, experience levels, needs, and preferences. Hopefully, the options provided here can help you to choose the snips that are right for you or at least give you more information on the options available to you, what to look out for, and some idea of what you want.