A PULP level sufficiently high to interpose a bed of pulp, partly to cushion the impact of the balls, permits a maximum crushing effect with a minimum wear of steel. The pulp level of these Small Ball Mills can be varied from discharging at the periphery to discharging at a point about halfway between the trunnion and the periphery. The mill shell is of welded plate steel with integral end flanges turned for perfect alignment, and the heads are semi-steel, with hand holes in the discharge end through which the diaphragm regulation is arranged with plugs. The trunnion bearings are babbitted, spherical, cast iron, and of ample size to insure low bearing pressure; while the shell and saddle are machined to gauge so that the shells are interchangeable.
Small Ball Mill Capacity Table
Data based on:—Wet grinding, single stage, closed circuit operation: feed:—(½" one way dimension); Class III ore.
All mills:—free discharge, grated type, rapid pulp flow.
N. B.—for overflow type mills: capacity 80%—power 83%.
Dimensions :—"diameters" inside shell without liners—"lengths" working length shell between end liners.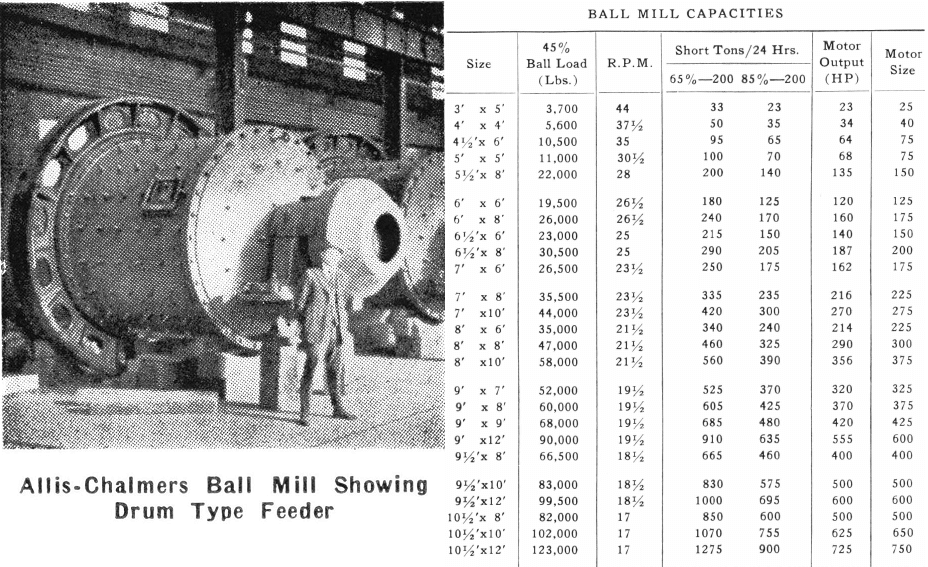 SMALL C. I. W. BALL MILL
The CIW is a Small Ball Mill that's belt driven, rigid bearing, wet grinding, trunnion or grate discharge type mill with friction clutch pulley and welded steel shell. The 7 and 8 foot diameter mills are of flange ring construction with cut gears while all other sizes have cast tooth gears. All these mills are standard with white iron bar wave type shell liners except the 8 foot diameter mill which is equipped with manganese steel liners. The horsepowers shown in the table are under running conditions so that high torque or wound rotor (slip ring) motors must be used. Manganese or alloy steel shell or head liners and grates can be supplied with all sizes of mills if required. Alloy steel shell liners are recommended where 4″ or larger balls are used and particularly for the larger sized mills.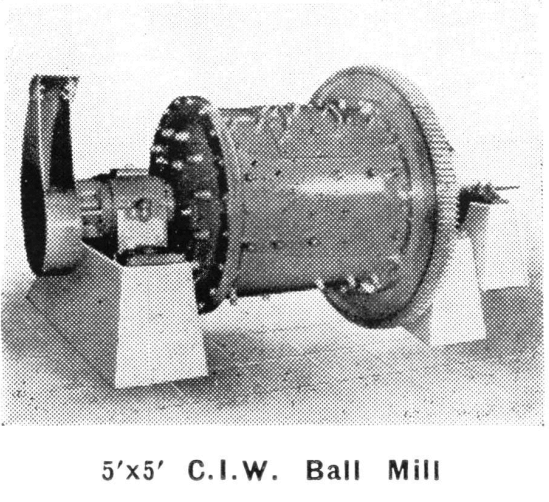 The larger mills are custom built according to your requirements. Whatever these are there is a C. I. W. Ball Mill built to meet your particular problem at the right price.
Ball Mill Capacity Table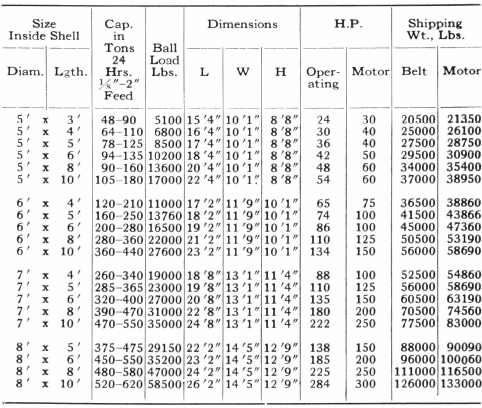 Small Muleback BALL MILL
Small (Muleback Type) Ball Mill is built for "muleback" transportation in 30″ and 3′ diameters (inside liners). A 4′ (Muleback Type) Ball Mill is of special design and will be carefully considered upon request. Mankind's search for valuable minerals often leads him far away from modern transportation facilities. The potential sources of gold, silver and strategic minerals are often found by the prospector, not close by our modern highways, but far back in the mountains and deserts all over the world. The Equipment Company has realized this fact, and therefore has designed a Ball Mill that can be transported to these faraway and relatively inaccessible properties, either by the age old "muleback" transportation system, or by the modern airplane. As a result these properties may now obtain a well-designed ball mill with the heaviest individual piece weighing only 350 pounds.
The prime factor considered in this design was to furnish equipment having a maximum strength with a minimum weight. For this reason, these mills are made of steel, giving a high tensile strength and light weight to the mills. The "muleback" design consists of the sturdy cast iron head construction on the 30″ size and cast steel head construction on the larger sizes. The flanges on the heads are arranged to bolt to the rolled steel shell provided with flanged rings. When required, the total length of the shell may consist of several shell lengths flanged together to provide the desired mill length. Liners, bearings, gears and drives are similar to those standard on all Ball Mills.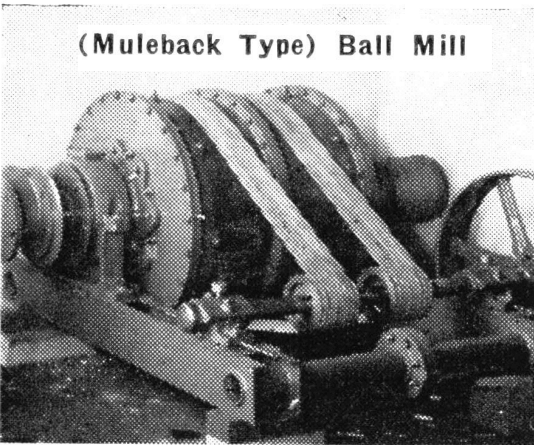 Ball Mill Capacity Table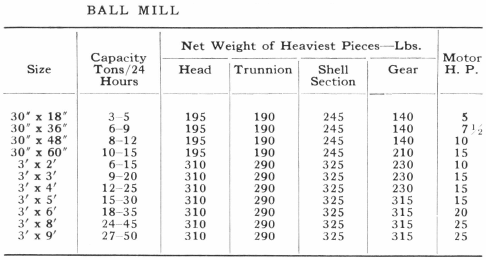 Small 30″ BALL MILL
This (Convertible) and Small Ball Mill is unique in design and is particularly adapted to small milling plants. The shell is cast in one piece with a flange for bolting to the head. In converting the mill from a 30″x 18″ to a 30″x 36″ unit with double the capacity, it is only necessary to secure a second cast shell (a duplicate of the first) and bolt it to the original section.
30″ Convertible Ball Mills are furnished with scoop feeders with replaceable lips. Standard mills are furnished with liners to avoid replacement of the shell; however, the mill can be obtained less liners. This ball mill is often driven by belts placed around the center, although gear drive units with cast gears can be furnished. A Spiral Screen can be attached to the discharge.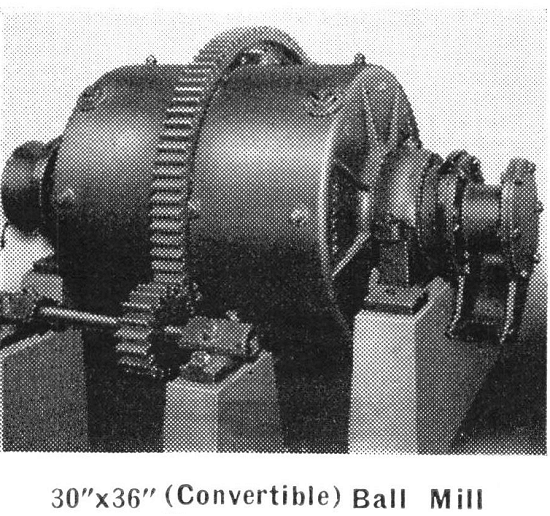 Ball Mill Capacity Table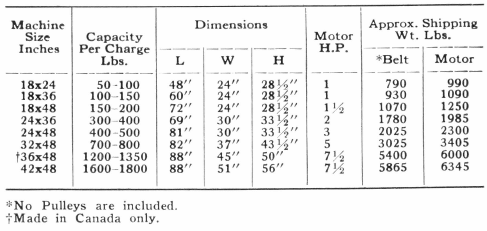 SMALL Batch BALL MILL
This mill may be used for batch or intermittent grinding, or mixing of dry or wet materials in the ore dressing industry, metallurgical, chemical, ceramic, or paint industries. The material is ground and mixed in one operation by rotating it together with balls, or pebbles in a hermetically sealed cylinder.
The cast iron shell which is bolted to the heads is made with an extra thick wall to give long wearing life. Two grate cleanout doors are provided on opposite sides of the shell by means of which the mill can be either gradually discharged and washed, while running, or easily and rapidly emptied and flushed out while shut down. Wash-water is introduced into the interior of the mill through a tapped opening in the trunnion. The mill may be lined with rubber, silex (buhrstone) or wood if desired.
Drives available are as follows:
Motor, V-belts and spur gears;
Flat-belt drive through tight and loose pulleys and spur gears;
Flat-belt drive through tight and loose pulleys direct to trunnion shaft.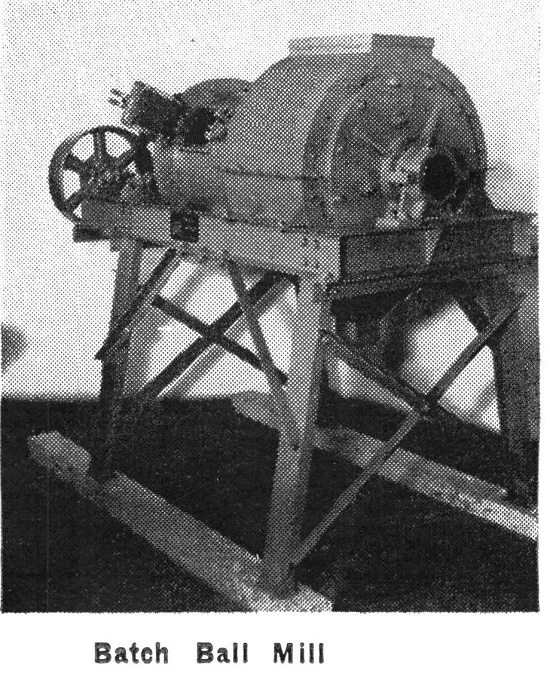 Ball Mill Capacity Table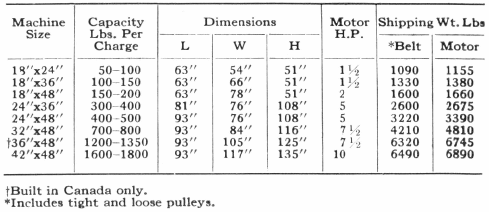 SMALL Hardinge Conical BALL MILL
The Hardinge Conical Ball Mill has been widely used with outstanding success in grinding many materials in a wide variety of fields. The conical mill operates on the principle of an ordinary ball mill with a certain amount of classification within the mill itself, due to its shape.
In operations in the field one of the main advantages of this type of ball mill is the structural strength due to the conical steel ends.
Sizes of conical mills are given in diameter of the cylindrical section in feet and the length of the cylindrical section in inches. Liners can be had of hard iron, manganese steel or Belgian Silex. Forged steel balls or Danish Flint Pebbles are used for the grinding media, depending upon the material being milled.
Various types of drives can be furnished to suit the individual requirements of particular installations. Let us make recommendations for most efficiently solving your grinding problem.
Ball Mill Capacity Table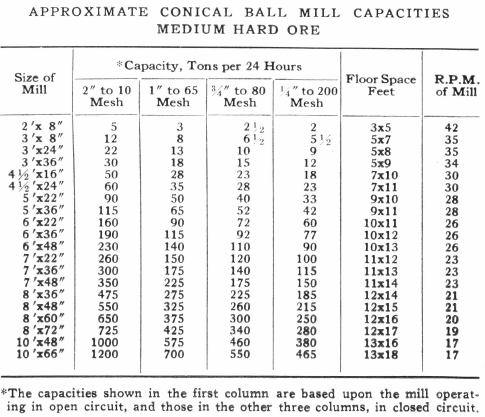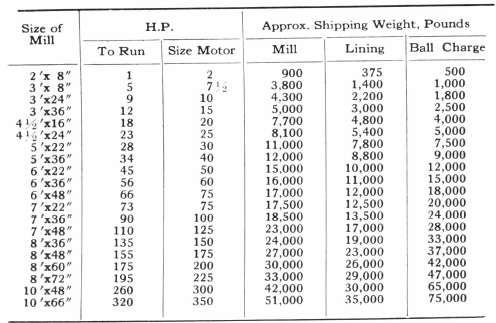 Steel Head BALL-ROD MILL
The Steel Head Ball-Rod Mill gives the ore dressing engineer a wide choice in grinding design so that he can easily secure a Ball-Rod Mill suited to his particular problem. The successful operation of any grinding unit is largely dependent on the method of removing the ground pulp. The Ball-Rod Mill is available with five types of discharge trunnions, each type obtainable in small, medium or large diameters. The types of discharge trunnions are:
overflow,
perforated overflow,
return spiral,
grate, and
peripheral.
Thus the engineer can fit any one of fifteen methods of discharging a ball mill into grinding problem.
The superiority of the Steel Head Ball-Rod Mill is due to the all steel construction. The trunnions are an integral part of the cast steel heads and are machined with the axis of the mill. The mill heads are assured against breakage due to the high tensile strength of cast steel as compared to that of the cast iron head found on the ordinary ball mill. Trunnion Bearings are made of high- grade nickel babbitt.
Steel Head Ball-Rod Mills can be converted into larger capacity mills by bolting an additional shell length onto the flange of the original shell. This is possible because all Steel Head Ball or Rod Mills have bearings suitable for mills with length twice the diameter.
Head and shell liners for Steel Head Ball-Rod Mills are available in Decolloy (a chrome-nickel alloy), hard iron, electric steel, molychrome steel, and manganese steel. Drive gears are furnished either in cast tooth spur gear and pinion or cut tooth spur gear and pinion. The gears are furnished as standard on the discharge end of the mill, out of the way of the classifier return feed, but can be furnished at the mill feed end by request. Drives may be obtained according to the customer's specifications.
Ball-Rod Mills have greater capacity than most mills because the diameters of Ball-Rod Mills are measured inside the liners, while most mills measure inside the shell.
Ball Mill Capacity Tables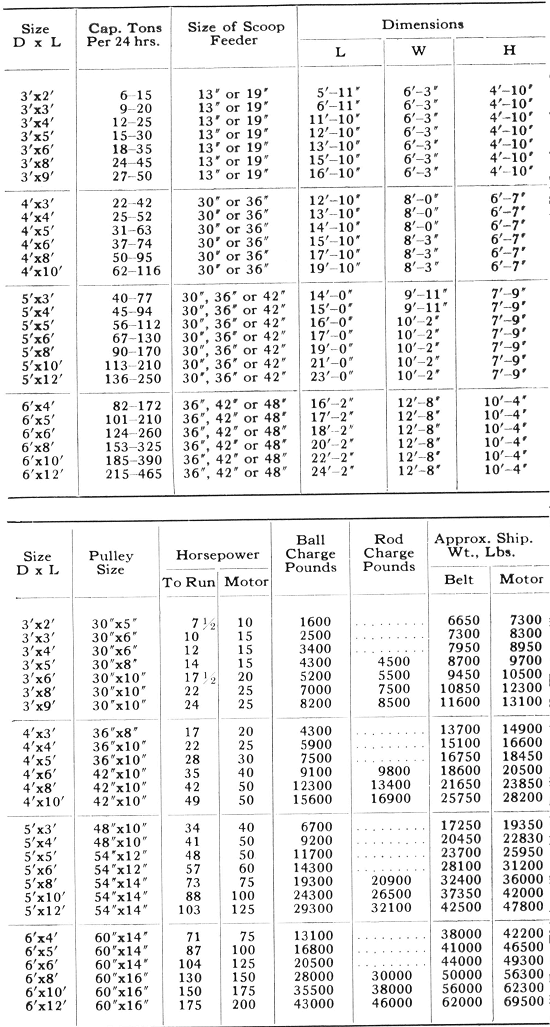 SMALL TRAYLOR BALL MILLS
"Way back when" Traylor was young, we built our first ball mill and, as for as we know, that old mill is running yet, grinding out dollars for its owner.
That's one characteristic of Traylor Ball Mills  liked by owners–they are built not only to do  a first class job at low cost but to keep on doing it, year after year. Of course, that means we do not build as many mills as if they wore out quickly–or would we? –but much as we like order, we value more the fine reputation Traylor Ball Mills have had for nearly three decades.
We don't aim to write specifications into this advertisement–let it suffice to say that there's a Traylor Ball Mills that will exactly fit any requirement that anyone may have.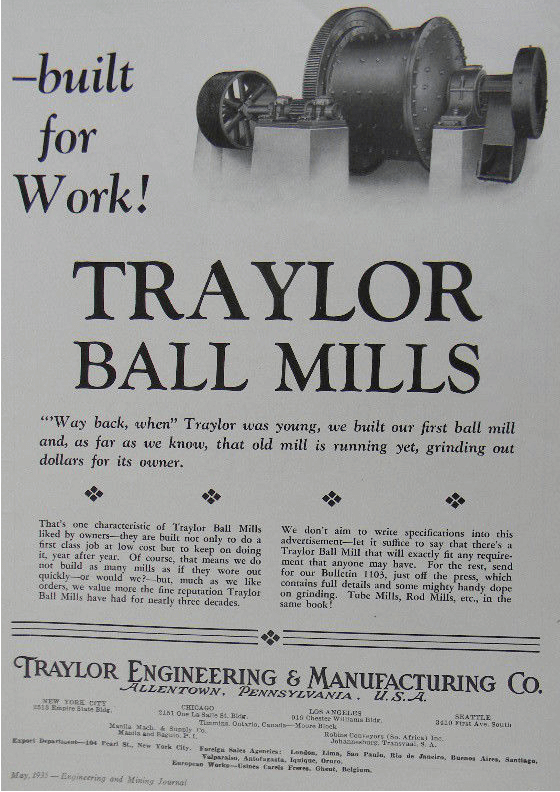 That's one characteristic of Traylor Ball Mills We don't aim to write specifications into this liked by owners–they are built not only to do advertisement–let it suffice to say that there's a first class job at low cost but to keep on do- a Traylor Ball Mills that will exactly fit anyanything it, year after year. Of course, that means requirement that anyone may have.
Marcy Ball Mills
In selecting grinding equipment for any plant, three factors deserve prime consideration BEFORE the choice is made:
(1) efficient grinding:
(2) low-cost upkeep;
(3) DEPENDABILITY
If this is true, there is significance in the fact that international Nicked and Climax Molybdenum, the world's largest producers of two important steel alloys, are both users of MARCY Mills exclusively.  With international interest centered on increasing production of gold, it is even more significant that MARCY Mills are the predominant choice of operators in every importants gold mining camp in the world.
Present day MARCYS embody important improvement – including a NEW Open End Ball Mill which creates even more rapid and positive circulation of the mill content.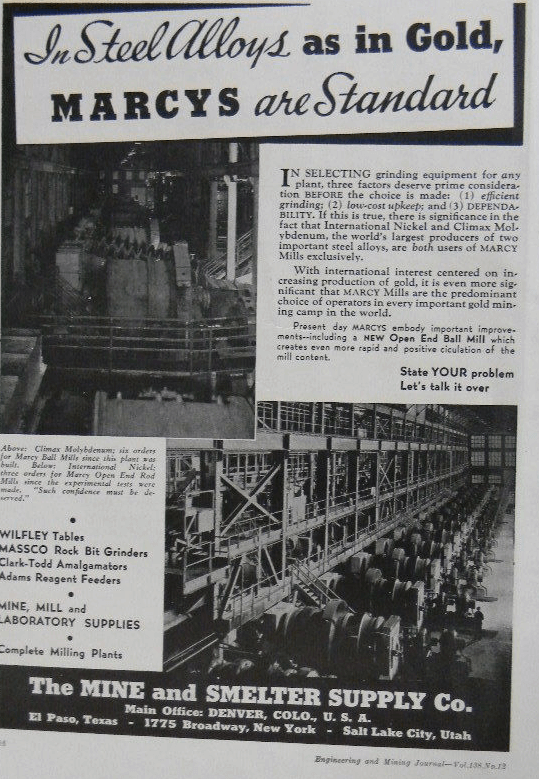 International Nickel three orders for MARCY Open End Rod Mills since the experimental tests were made, "Such confidence must be, deserved."
---
Source: This article is a reproduction of an excerpt of "In the Public Domain" documents held in 911Metallurgy Corp's private library.