Backfill Preparation Plant: Mine roof support problems were a major concern that necessitated the use of backfill to supplement conventional means of support. Roof supports account for at least one-half the cost of mining at Sunnyside. Roof bolts and round timber are used for roof support, plus yieldable steel arches for severe ground, air courses, mine haulage ways and mine openings. On a typical day Sunnyside installs 1000 roof bolts, 200 props, and 20 steel arches.
Backfilling is an important aid in reducing roof failure and violent bursting of mine pillars. From 1500

Feed to 7'x 13′ Center Peripheral Discharge Rod Mill is a blend of —½"+3/8″ and —3/8″+1/8″ products from the screens in closed circuit with the rod mill. Balanced blend of the two feed sizes is controlled by an AccuRay gamma sensing device installed on the rod mill pump discharge line.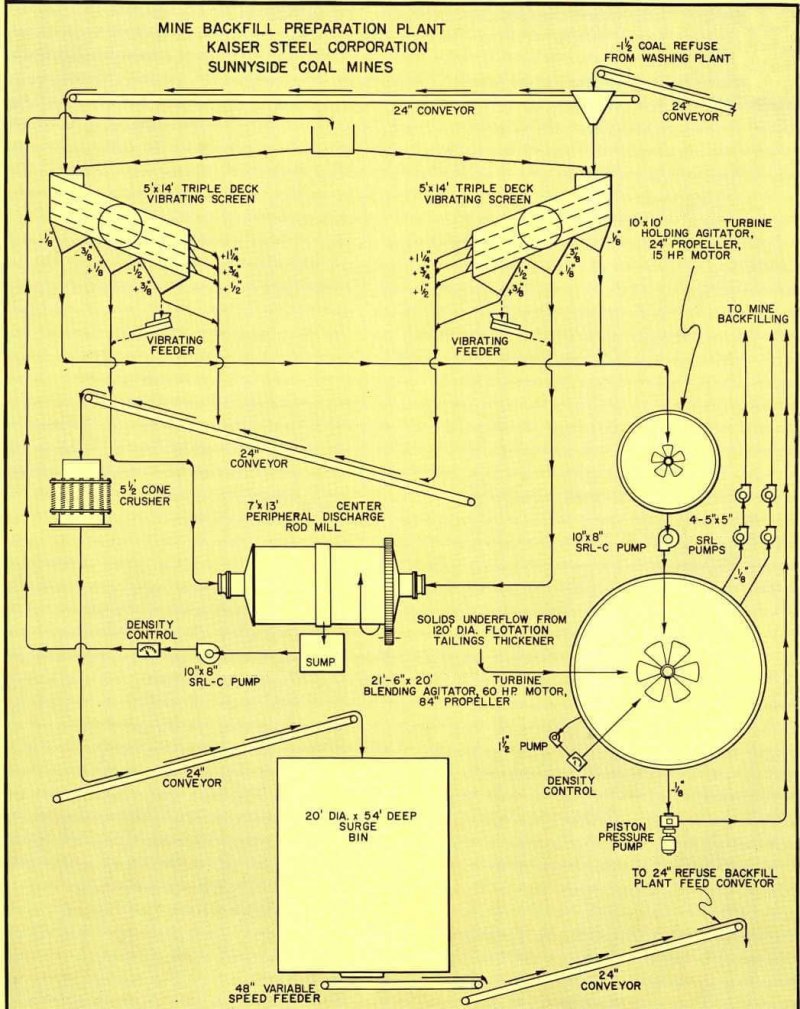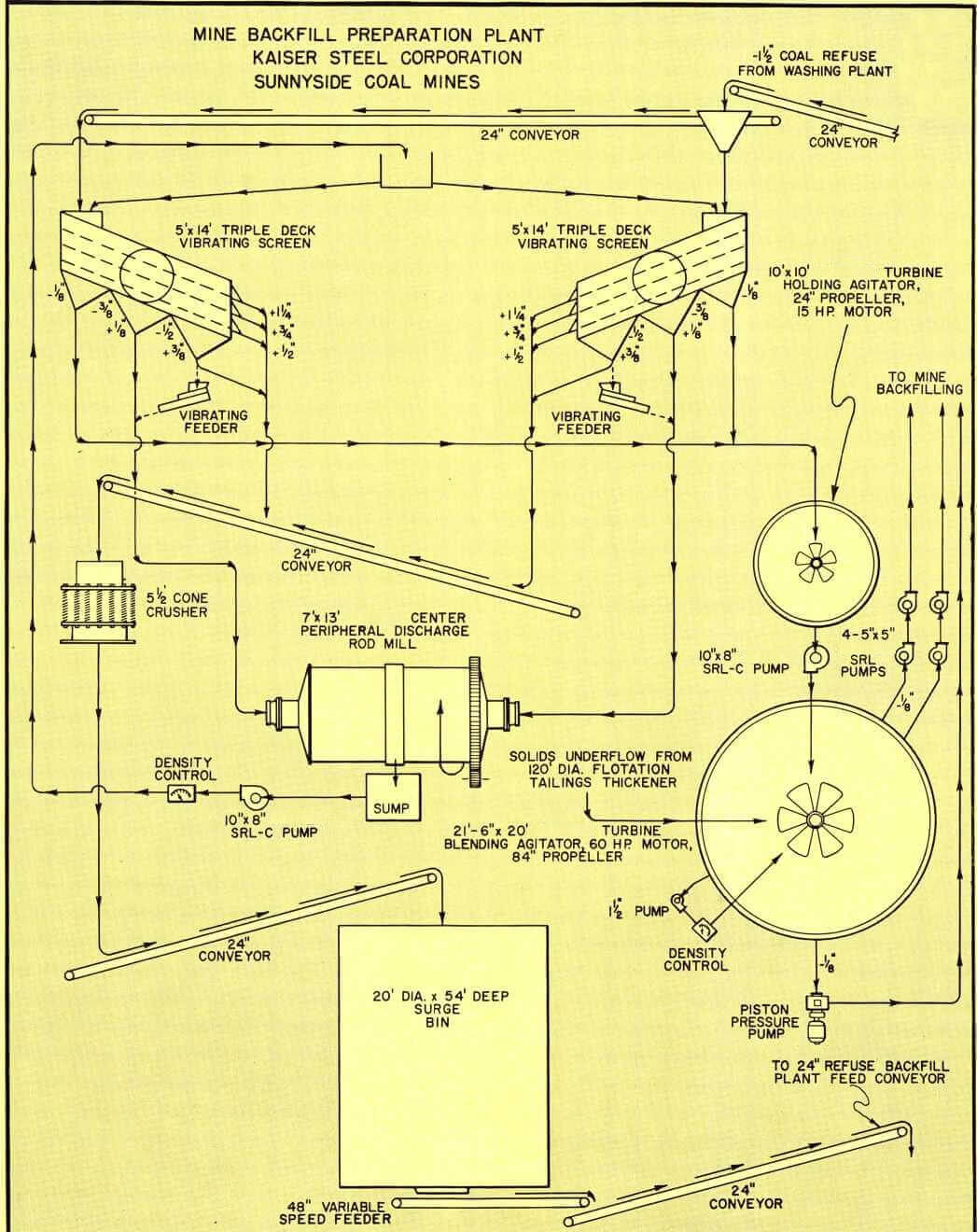 to 1800 tons per day of 6″x 0″ coal washing plant refuse are ground and sized to all minus 1/8 " and pumped into the mine to fill abandoned workings adjacent to main haulageways and air courses.
Screening and Grinding Section
Coal refuse from the washing plant ….Read more
The plant was originally designed to treat uranium ores with low lime-high vanadium content from the Lukachukai Mountains. The process utilized is known as the "Acid Cure" and had been developed for the most part by the AEC to increase recovery of vanadium values. Briefly, it involved "pugging" the ore with 10% water and 400-500 lbs. of concentrated sulfuric acid. The product was allowed to cure for six or more hours to convert the uranium and vanadium values into water soluble salts. Acid consumption and labor resulted in high costs. With the increased mill capacity, the character of the ore feed from the new sources of supply changed to high lime-low vanadium content. The market for vanadium fell off and the AEC modified the milling contract to eliminate vanadium recovery. With the importance of vanadium recovery removed, and in order to reduce processing costs to a minimum, the method of processing was changed from "Acid Cure" to the "Raw Leach" method described in this article.
In addition to the change over to the "Raw Leach" method of processing, major changes have been made in the method of extracting uranium and vanadium values from the pregnant solutions. For the past 18 ….Read more
The Abbott mercury mine and mill are situated at an elevation of 2,000 feet in Lake County, California, approximately 24 miles west of Williams on State Highway 20 towards Clear Lake. Williams, which is served by the Southern Pacific railroad, is a local supply point as well as Colusa, located 10 miles east of Williams on State Highway 20.
History
The mine was discovered in 1862 and made its first recorded production in 1870. Operation of the mine has been interrupted by periods of low mercury markets and by an interval of litigation. The four main productive periods have been 1870-1879, 1889-1906, 1941-1946, and 1952 to the present. Total production is in excess of 50,000 flasks (76 pounds) which ranks it about tenth among California mercury mines in all-time production. The property was acquired by COG Minerals on August 7, 1958.
Geology
The Abbott ore bodies are contained in dikes and sills of serpentine breccia which make up a northwest trending complex some 2½ miles long and from 275 feet to 2,500 feet wide. This breccia was intruded cold into lower Cretaceous sediments on the southwest flank of the Wilbur Springs anticline. On the southwest or hanging wall side of the serpentine, and in ….Read more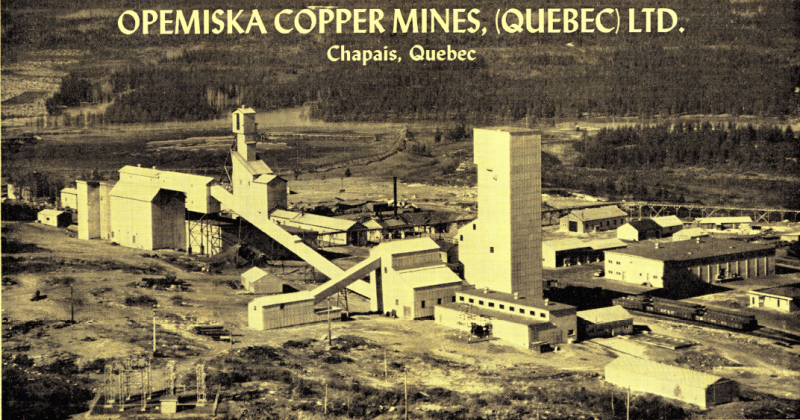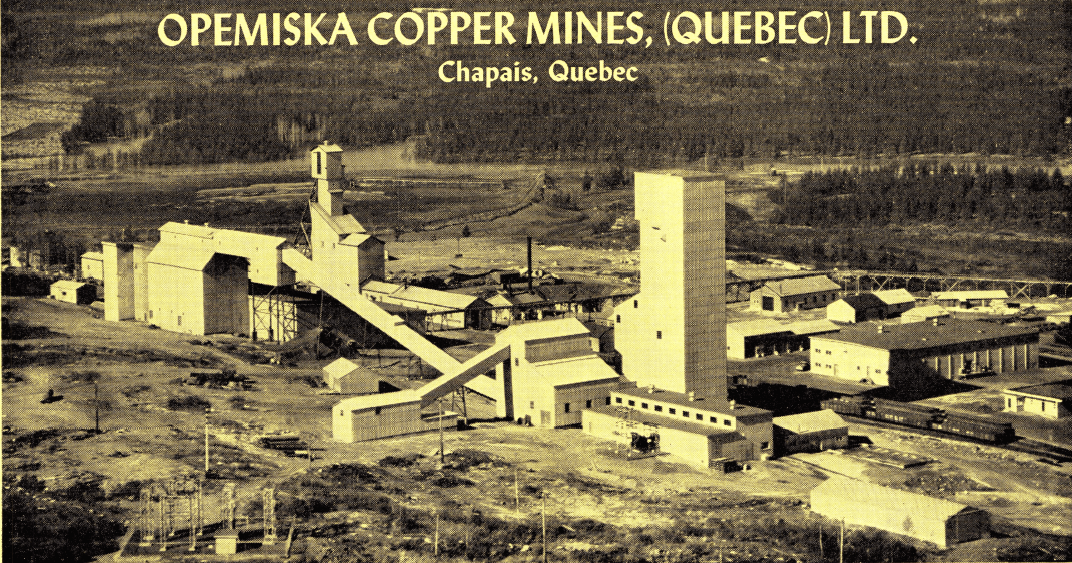 Aerial view of the Opemiska Copper Mines (Quebec) Ltd., Mill Buildings and Shaft Area.
Introduction
The Opemiska mine property is in Levy Township in Chibougamau area of Quebec and is comprised of 487 acres of patented claims contiguous with 2,215 acres held under development license. The townsite of Chapais which serves the mine community is complete with all the necessary services including housing, schools, churches, hospital, recreation center and stores. Direct railway service is provided by the Canadian National Railways to Western Quebec and the Lac St. Jean district. There is a highway connection via Chibougamau, a distance of 160 miles to St. Felicien near Lac St. Jean. Telephone, telegraph and scheduled air services are available.
The mine shafts, milling plants and other facilities on the property are strategically located on the northern slope of a large rock outcropping. Lying below and to the northwest is the tailings disposal area while on the opposite side of the outcropping, extending to the southeast, is the townsite of Chapais.
The original mill at Opemiska began production on December 8, 1953, at a rate of 400 tons per day. Operations were centered around the Springer No. 1 shaft. In ….Read more
Aerial view of Susquehanna-Western, Inc., Uranium Mill near Falls City, Texas. Ore stock piles are upper center. The tailings line is seen at the upper right portion of the photo. Note the flat root and open wall design of the mill building.
The completion of this 300-ton per day mill marked the first commercial plant in Texas to treat uranium ores. The plant is owned by Susquehanna-Western, Inc., a totally-owned subsidiary of Susquehanna Corporation, Chicago, Illinois. In addition to this mill, Susquehanna- Western, Inc., owns and operates a 550-ton per day uranium mill and a 250-ton per day sulphuric acid plant at Riverton, Wyoming. The 400-ton per day uranium mill of Mines Development, Inc., at Edgemont, South Dakota is also owned by the Susquehanna Corporation.
Susquehanna-Western, Inc., and Mines Development, Inc., are under the capable direction of Mr. Allen D. Gray, President of both firms. The companies are also engaged in exploration and production of minerals other than uranium.
Initial discussions with the Atomic Energy Commission for a yellow cake purchase contract in Texas commenced on November 23, 1959. The contract resolved provides for the purchase of a maximum of 1.6 million pounds of U3O8 for the period ending December 31, 1966 at ….Read more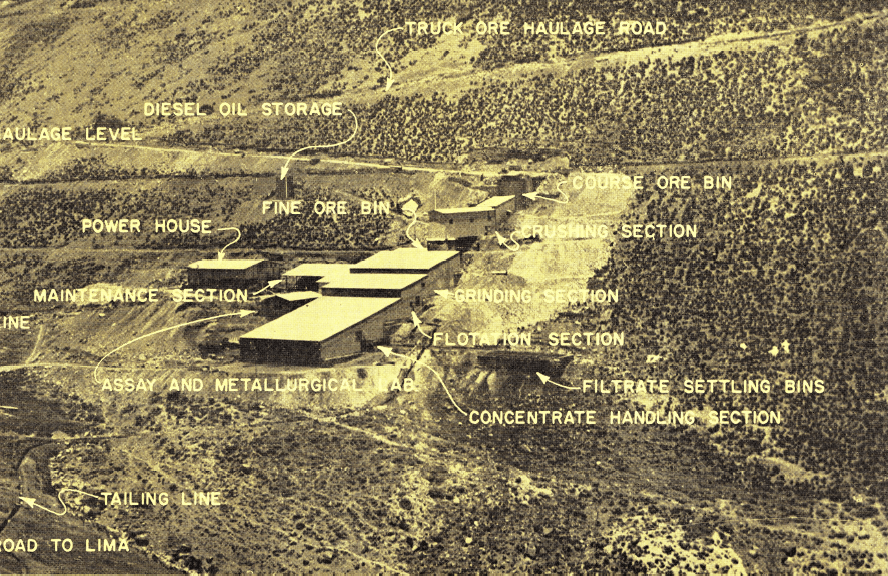 Design and Construction
The mill design and construction was accomplished through the combined efforts of Equipment Company in Colorado, Equipment Company (Peru) S. A., and Sindicato Minero Pacococha S. A. The design objective was a highly efficient mill at a minimum expense, and with plans to allow for a systematic expansion program to increase the mill capacity from approximately 125 tons per day to approximately 200 tons per day with minimum interruption of the plant operation and with a minimum of additional equipment.
The mill was located so a favorable downhill ore haulage track grade of .05′ per 100′ could be obtained, together with a gravity flow of water from the lake.
A mill site having an average slope of approximately 30° was selected in order to provide a completely gravity flow throughout the plant with a minimum of building expenses.
When designing a flotation plant for a planned future expansion, many factors have to be considered other than installing additional machinery. These factors include such things as additional ore haulage, coarse ore capacity, water supply, power and power distribution, piping, launder, etc.
For example, the coarse ore bin has a live load capacity of approximately 200 ….Read more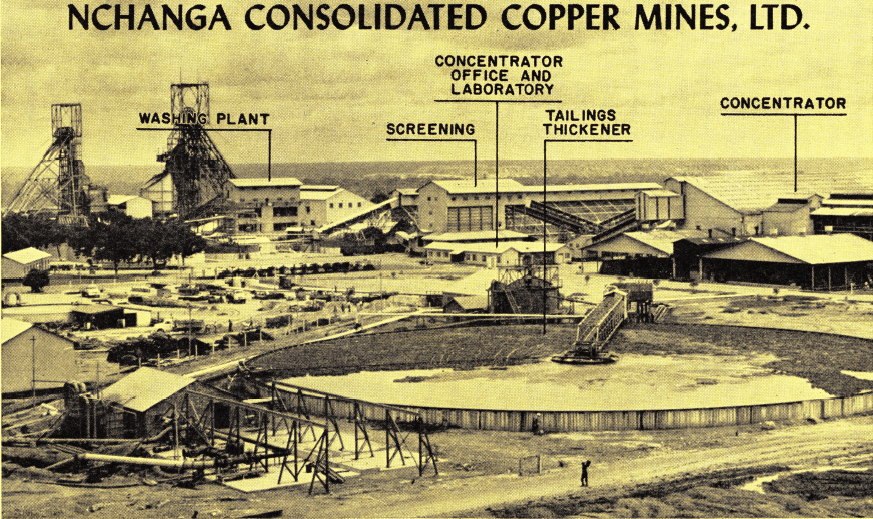 In 1948 Trefoil was privileged to publish an Engineering Notebook Bulletin on Development and Pilot Plant Operations at the Nchanga Consolidated Copper Mines Ltd., Chingola, Northern Rhodesia. This article was authored by Mr. H. L. Talbot, then Consulting Metallurgist to the Anglo-American Group of Companies in Northern Rhodesia.
It is now our privilege to bring our readers up-to-date with a 1962 description of the Concentrator Plant operations.
Since the first article appeared in Trefoil a new concept in the treatment of the copper minerals, oxides and sulphides has been brought about through the progressive research of the Metallurgical Staff of the Concentrator Department.
History
Much of the history of the development of Nchanga Consolidated Copper Mines Ltd. has been published in the Mining and Metallurgical technical press and it is sufficient, therefore, only to mention the fact that this mine is located on the Northern Rhodesian Copperbelt and is the largest single producer of copper in the British Commonwealth and second only to the Chu- quicamata Mine of Chile Exploration Co., which is the world's biggest single producer.
Geology
The orebodies occur within certain stratigraphic horizons of the Lower Bwana Mkubwa series of sedimentary rocks which rest unconformably ….Read more
Our subject is "CLASSIC or Not so Advanced but yet Fundamental Flotation Circuit Process Control" Some of you may be familiar with the process; to others it remains a mysterious scheme. To you all I wish to emphasize one point, i. e., flotation is still now more of a science VS art. Our scientific data has been made available from thousands of tests and the carefully kept records of operating mills in mining districts the world over.
In dealing with this subject and outlining the means by which an operator maintains control, we will first go back a few years and briefly describe some of the more prominent mistakes made in the early years of flotation.
It was my good fortune to spend three years, shortly after graduation, with a large copper company in the west where one of the first fine grinding and all flotation plants was designed and built. As is often the case with large corporations, once the officers decide to appropriate the money for a major increase or alteration, the actual design and construction is then completed in a great rush. At the copper property we are reviewing, test work, design, and construction were certainly rushed, but even ….Read more