The plant was originally designed to treat uranium ores with low lime-high vanadium content from the Lukachukai Mountains. The process utilized is known as the "Acid Cure" and had been developed for the most part by the AEC to increase recovery of vanadium values. Briefly, it involved "pugging" the ore with 10% water and 400-500 lbs. of concentrated sulfuric acid. The product was allowed to cure for six or more hours to convert the uranium and vanadium values into water soluble salts. Acid consumption and
Our subject is "CLASSIC or Not so Advanced but yet Fundamental Flotation Circuit Process Control" Some of you may be familiar with the process; to others it remains a mysterious scheme. To you all I wish to emphasize one point, i. e., flotation is still now more of a science VS art. Our scientific data has been made available from thousands of tests and the carefully kept records of operating mills in mining districts the world over.
In dealing with this subject and outlining the means by which an operator maintains control, we will first go back a few years and briefly describe some of
Metallurgical Recovery, which consists of the percentage of mineral saved, must not be confused with economic recovery which covers the percentage of the gross value of an ore recovered as a net profit. In other words, in commercial practice the prime object is the highest possible net profit over and above all costs. Thus a lower metallurgical recovery with a higher net profit is much more desirable than a higher metallurgical recovery with reduced net profit or an actual loss.
Another factor affecting economic recovery is the proximity of the operation to a market thus determining the proportion
The first objective of Mineral Processing and Extractive Metallurgy is to remove the Mineral as soon as freed and as coarse as possible" is the first rule in treating complex ores. Ores containing two or three metals have been satisfactorily treated for a number of years. Today, however, ores containing as high as four, five and even six and seven minerals are being efficiently concentrated. Such ores have always presented difficult problems. Only in the last ten years, after detailed studies and experiments were conducted both on methods and equipment, have treatment plants
Before the event of ore dressing, crude ores were shipped directly to the smelters, or the refineries, with the shipper paying the freight and treatment charges. These charges varied with the type of ore and the distance from the smelter. In all cases they were many times our modem milling costs. While the smelter recovered the principal values, substantial losses of other metals and even penalties, such as for zinc at a lead smelter were common. With the high cost of the smelting operation only high grade ores could be shipped and treated at a profit.
The day of high grade ore deposits is practically
Key Facts About Copper Solvent Extraction
First plant in 1968, now practiced on 6 continents
Most plants produce LME quality copper
Small (~ 1000 T / yr) to large.
Very simple (1 train at 2E,1S leaching one type ore)
Complex (4 trains at 2E,2E,1W,1S leaching antacamite and chalcocite)
Very complex (4 SX plants, 3 tankhouses, dump leach, heap leach, concentrate leach, oxide and sulfide ores)
Six types of leaching
Heap, dump, in situ, vat, agitation, autoclave
Copper Recovery Process Composed of 3 Individual Processes
Leaching
– Puts copper in an acid water solution
Solvent Extraction
– Transfer copper from leach to electrowinning
– Transfer acid from electrowinning to leach
Electrowinning
– Transfers copper from solution to metal
The Process of Leach/SX/EW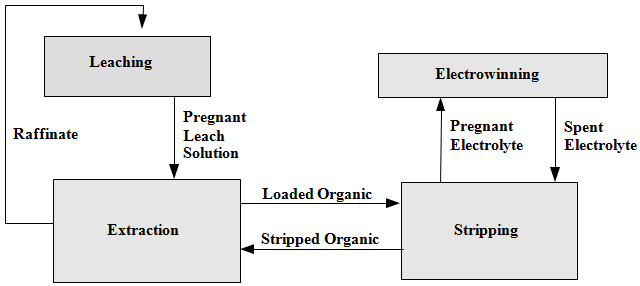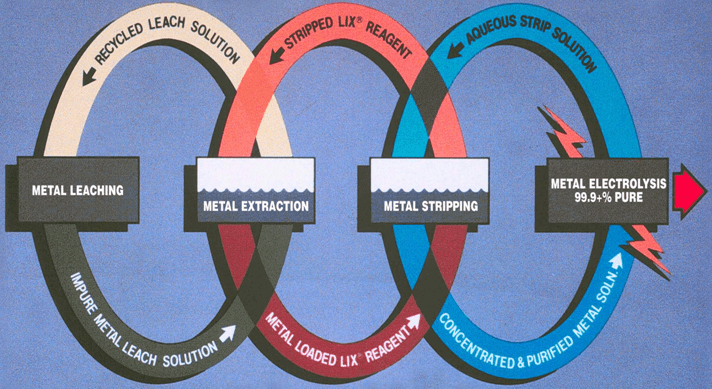 Typical Sulphuric Acid Leach Solutions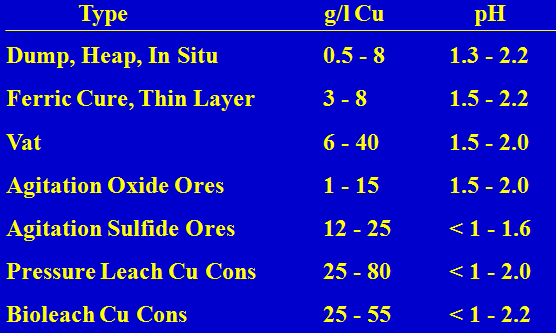 Common Features: Fe2+, Fe3+, sulfate salts of many metals including Mn, Mo and U at times
Typical Tankhouse Electrolytes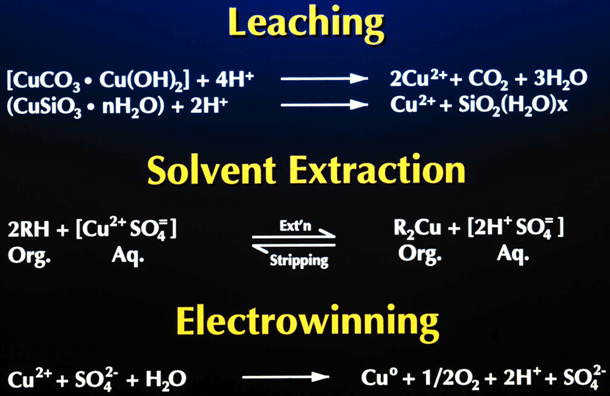 Process Description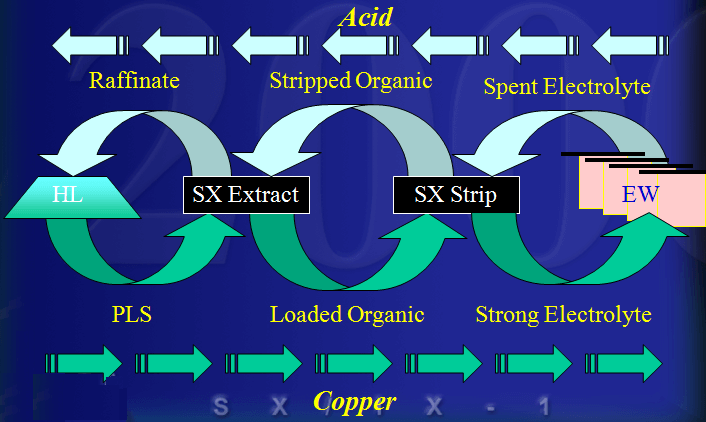 Objectives of Solvent Extraction
Purification
The flowsheet shown in this study is particularly adapted to the requirements of the average foundry to reclaim foundry sand for re-use. Any foundry whose new sand delivered costs is too high should seriously consider reclamation with the flowsheet as illustrated. This reclaimed sand is usually equal to, or better than the original sand. Foundry sand once used must be thoroughly water scrubbed and water washed to remove objectional bonding materials, clay slimes, and fines. Such treatment will greatly extend the life of the sand and will cut to a minimum the requirements for new sand. Foundry