Disclosure: This post contains affiliate links and I may earn a small commission if you purchase through these links.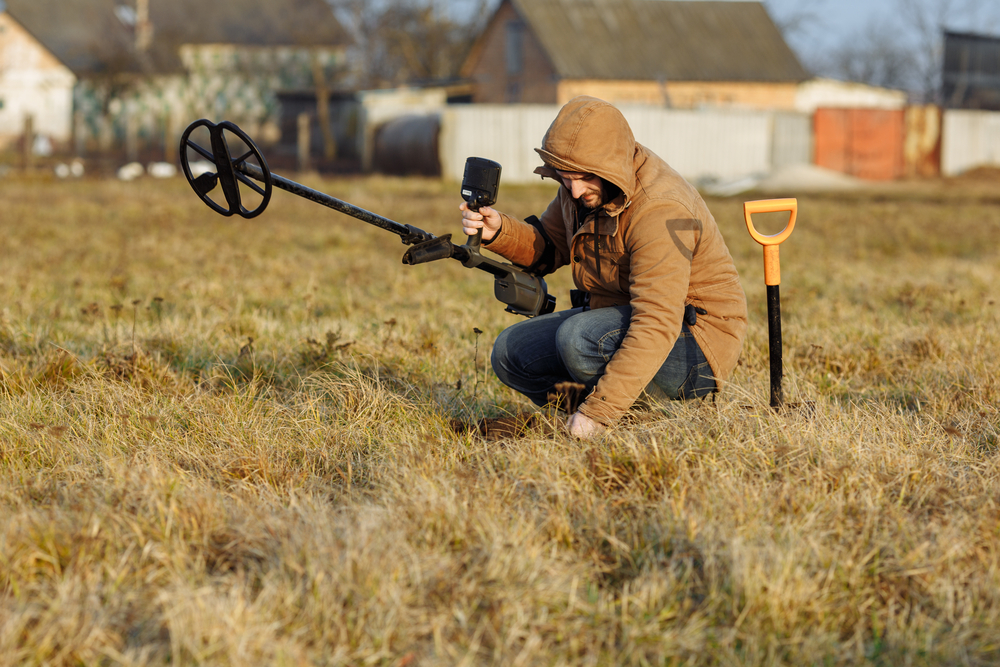 Do you ever find yourself wondering about gold, artifacts, and other treasures that lay buried beneath your feet? Precious items have remained undiscovered for hundreds of years in the ground and could have belonged to long-lost travelers, native people, soldiers, or even kings.
Now you have the opportunity to find these potentially valuable objects without having to spend hundreds of dollars on a high-end metal detector. Whether you're just getting started or are already a keen detectorist, these products may provide you with the capability to discover exactly what you're looking for. You should also factor in the right accessories like a shovel, gloves, and pinpointer into your budget.
Best 4 cheap metal detectors in 2023:
Pros
Has all you need to look for gold for less than $150
Cheap unit good for beginners
Hard to beat this unit at less than $100
Great small unit for identifying metal in small areas
Cons
It's not going to have the same performance but is great for those new to the hobby
Won't feel as premium as higher priced models
Won't be close to performance as higher priced units
Harder to use than a full size unit
Frequency
7.69 kHz Operating Frequency
We've chosen a variety of metal detectors, covering a range of:
Weights

Frequencies

Modes

Experience levels (beginner, intermediate, expert) If you are a beginner, you will want to check out the best metal detectors for beginners as these have been hand-selected for those new to the hobby.
Deciding what makes a metal detector worth investing in often depends on the features. We've put together a list of the best detectors without spending hundreds or even thousands of dollars, explaining exactly why they will help jumpstart your adventures. In the US and Canada, you may find you need a permit to explore certain areas, so please make sure you check the laws of your local area to avoid trespassing on private land.
Canada: https://detectingschool.com/metal-detecting-in-canada/
US: http://www.mdhtalk.org/maps/fp-map-regulations.htm
To find the best metal detectors for the money, we analyzed customer Consumer Reports. We listened to recommendations from experienced detectorists who own the product and know the particular features you need to get started. We then used fake spot to remove any products with high numbers of false reviews to pick the best possible choices for you. We also combined the latest customer sentiment data from early 2023 to make sure we didn't miss any great budget metal detectors:
If you have ever had a desire to search for buried treasure, or if you have young children who want to get their own "treasure trove", then you won't go far wrong with this metal detector from Pancky.
The ten-inch coil is waterproof so you can use it at the beach searching for hidden gems at the water's edge. However, it should be noted that the control panel is not waterproof. Recently upgraded with a DSP chip, it can detect a small coin up to ten inches below the surface, and larger objects can be found even further underground. With five different operating modes, the large LCD shows the metal type found, the depth, sensitivity, and where your target is.
You can adjust this metal detector from 39 to 47 inches to suit your height and it comes complete with a carrying bag, earphones, two batteries, a shovel, and a user manual.
Features:
Detection depth: 10 inches plus
Diameter of search coil: 10 inches
Frequency: Not disclosed
Weight: 2lbs
What we love:
It uses an LCD screen that shows you an estimate of what it detects
The five modes are useful, and it can recognize different metals, so no more guessing
It's quality-made, easy to put together, very light, and comes with a folding shovel
We don't like this as much
The nut and bolt that hold the coil in position are plastic and don't hold it tight enough
The accuracy of the depth detection could be improved
Sale
PANCKY Metal Detectors for Adults Waterproof - Professional Higher Accuracy Gold Detector with LCD Display, 5 Mode, Advanced DSP Chip 10" Coil Metal Detectors - PK0075
【5 Modes of Operation】PANCKY adults metal detectors has 5 distinct modes allow you to effectively search for the desired metals. 🚩All METAL MODE , 🚩DISC MODE , 🚩MEMORY MODE , 🚩JEWELRY MODE, 🚩PINPOINTER We are equipped with a full range of accessories and you can start your treasure hunt as soon as you open the package.
【10inch Waterproof Search Coil】PANCKY IP68 waterproof metal detector enables you works well in shallow water. Perfect for beach, stream, and rainy day. which means that you can freely dive with it and find treasures hidden from the eyes of the majority. Metal detectors can be easily cleaned and save. (Note: the control box is not waterproof).
【Upgraded DSP Chip】Upgraded DSP chip metal detector which improves search range and sensitivity, greatly conducive to detecting efficiency. It's so powerful it can locate a quarter coin up to 10" underground. It can find larger objects at even greater depths.
【Intuitive LCD Display 】Large color LCD display allows you to get the detection dynamics at any time. It's convenient for you to get the type of metal target, depth, recognition, sensitivity level, operating mode, which let you detecting more efficient and time-saving.
【Ergonomics Design】 Equipped with 39.37" to 47.24" adjustable stem applicable to different height gold detector enthusiasts. It has got an ergonomic design that involves adjustable armrest and an anti-slip handle that equips your hunting experience with comfort. Besides, we also provide one Backpack, convenient to carry and store the metal detector.
With a user-friendly design, this metal detector from ULHUND weighs a mere 2.5lbs. The telescopic stem can be adjusted to suit almost every user and varies in length from 38 inches to 45 inches. Both the 8.5-inch diameter coil and the stem are waterproof, so you can wade in the sea to find those lost treasures. (The control box is not waterproof, which means you cannot submerge the whole unit).
There are two modes of operation:
ALL metal. In this mode, it will identify several types of metal including coins, copper, gold, silver, jewelry, and others.
DISC. This mode will eliminate many unwanted items, like bottle caps, nails, and screws, and only alert you to what you are looking for whether it be jewelry or other types of precious metals.
There is a large LCD showing all the important information you need while detecting, and it has a LED light to allow you to carry on searching after it gets dark.
Features:
Detection depth: 6.3 inches
Diameter of search coil: 8.6 inches
Frequency: N/A
Weight: 2.5lbs
What we love:
It's a lightweight detector so you don't get tired of using it all day.
It is very easy to assemble, no tools are required, not even a screwdriver.
When not in use, you can collapse it and put it in the included storage bag.
We don't like this as much
A bit disappointing that there are no batteries included.
The handle could be more solid, as it tends to wobble slightly.
ULHUND Metal Detector, High Accuracy Waterproof Metal Detectors with LCD Display & LED Light, Discrimination & All Metal Mode 8.6 Inch Search Coil for Adults & Kids
【More Accurate & Waterproof Search Coil】- The bigger the search coil is, the higher the accuracy. The 8.6-inch big search coil can reach up to 6.3 inch depth underground, it is much more accurate than other similar metal detectors, greatly conducive to detecting efficiency. The WATERPROOF stem and coil(the control box is not waterproof) allow you to explore in the water / in the river or on the beach. Definitely a practical and exciting metal detecting tool for outdoor activities.
c
c
【Easy to Use】You can use the DISC function to discriminate the metal you don't want. And also you can turn up or turn down the sensitivity of your metal detector according to your needs. Not only meet the hobbies of metal detection but also apply to family activities. You could enjoy the fun of exploration, cultivate parent-child relationships, and cultivate your children's curiosity about the world, keeping them away from televisions and game consoles.
【User Friendly Design】ULHUND metal detectors weighs only 2.5 pounds, it is very lightweight. Its telescopic stem can be adjusted from 38 to 45 inches to fit for both kids and adults; The padded armrest adopting the ergonomic structure is very intuitive to control. And also there is a 3.5mm headphone jack on metal detector control box, wear a headphone and enjoy your metal detecting under noisy conditions.
Get your kids interested in metal detecting with this PalliPartners Metal Detector. It is lightweight, weighing under 2lbs, and it is perfect for small hands. The LCD, which folds down when not in use, shows the direction and depth of any metal it finds, and the unit beeps to alert you you're on the right track.
You can change the sensitivity of the detector from low to high, select all metal mode, or choose which metal you want to find by using the DISC function. If you are searching for something specific, like a lost ring, then you can use both the positioning mode and the all-metal mode simultaneously to improve the accuracy.
Armed with this metal detector, it could be the beginning of an exciting and enjoyable pastime for your children. See the look of joy on their faces when they discover some hidden treasure buried beneath the surface. Even if it is a rusty nail, they will go on detecting in the hope of finding something valuable.
Features:
Detection depth: 4 inches
Diameter of search coil: 6 inches
Frequency: 55.3KHz
Weight: 1.25lbs
What we love:
The instructions are easy to follow and the assembly is simple
It's easy for kids to use because it is lightweight
There's a handy little rake, trowel, and even bag to carry home the treasures found.
We don't like this as much
Some users have said it is difficult to calibrate to find any metal at all
It is made from ABS material which is a thermoplastic polymer, not metal
Metal Detector for Kids - 7.4 Inch Waterproof Kid Metal Detectors Gold Detector Lightweight Search Coil (24"-35") Adjustable Metal Detector for Junior & Youth with High Accuracy
Widely Use :Perfect for finding metal objects and anywhere that hidden metal.(Iron nail, iron covering, aluminum ring, small aluminum product, coins, gold, bronze, silver)etc.can be used in science education
Design Features: Light weight,easy operation,comfortable handling ,ergonomic design,high sensitivity,comes with adjustable lightweight bracket.This metal detector is suitable for Adults/Kids.
DETECTION INDICATION:audio alert and lcd display indicate the detection of metal(6.10inch detector diameter,10-100cm detection depth),once metal is detected there's beep sound and lcd screen light to remind you.
Waterproof Search Coil:Audio alert and LCD display indicate the detection of metal. Waterproof Search Coil - You can use the metal detector in the shallow water with waterproof search coil.The product only needs to use one 9V battery to work. When it stops working for a long time, please remove the battery.
Safe & Lovely Children Design: Palli Partners always put safety as a priority. Our Kids Metal Detector is made by harmless ABS material, totally no risk to your kids, parents ompletely at ease. Moreover, the lovely profile is designed both by professional industrial designer and kids visual designer. It perfectly fits children's aesthetic. Trust me, the metal detector for kids will get along well with your kids.
The Bounty Hunter Tracker IV metal detector has been designed to be highly user-friendly. It requires a minimum of technical skills to operate while delivering results in wide-ranging conditions.
It features an eight-inch open face, waterproof coil, an adjustable stem (from 44 to 51 inches), a padded armrest, and a cushioned handgrip. This is a "motion" metal detector. Unlike other detectors, this one must be kept moving over the ground for it to detect any metal objects. If the coil is stationary, then it will not detect any object beneath it.
The control box, which is not waterproof, shows a target strength meter, a low battery indicator, the sensitivity control dial, a three-position mode switch, and a 1/4-inch headphone jack. It operates on two 9V batteries and comes with a comprehensive user manual that details assembly, how to use the detector, and troubleshooting tips.
Features:
Detection depth: 24 inches
Diameter of search coil: 8 inches
Frequency: 6.6 KHz
Weight: 3.7lbs
What we love:
It's lightweight, and the handle can extend to fit your reach
The Tracker IV is simple to use, once you've read the easy-to-follow instructions
You can set the sensitivity level and the kind of metal you are looking for
We don't like this as much
The nut and bolt that holds the coil in place tend to become loose and drop off
The alert sounds could be improved, only two different tones
Sale
Bounty Hunter TK4 Tracker IV Metal Detector with 8-inch Waterproof Coil
Rugged metal detector ideal for detecting treasure in extreme ground conditions
Motion All-Metal mode, Discrimination mode, and 2-Tone audio mode
Preset ground balance neutralizes response to mineral content in the ground
Disc/notch control distinguishes between targets and unwanted metals
Rugged metal detector ideal for detecting treasure in extreme ground conditions
Although this is a pinpointer and not a full-sized metal detector, it is a very useful addition to your metal detecting arsenal.
Garrett is synonymous with metal detecting and this pinpointer is one of their best. It is fully waterproof up to a depth of 20 feet, and given that it is bright orange, you won't lose it easily.
It has three sensitivity settings plus two detection settings, and it has a "find me" alert if you leave it switched on without pressing a button for more than five minutes.
It has a pinpointing tip, a 360-degree side-scan area, a waterproof speaker, a sealed battery cover, and an LED flashlight. It also includes a woven belt holster and a 9V battery.
Features:
Detection depth: up to 6 inches
Diameter of search coil: N/A
Frequency: 11.5 KHz
Weight: 7oz
What we love:
This is a quality pinpointer, and accurate once you've mastered the sensitivity settings
Being able to put it on vibrate-only mode is a plus as the beeping can be annoying
It has all the features you could wish for, and it has a two-year warranty.
We don't like this as much
If left in the pinpointer, the battery gets drained even when it's switched off
The built-in LED light is on constantly when using it. An off button would be a good idea.
Sale
Garrett 1140900 Pro-Pointer AT Waterproof Pinpointing Metal Detector, Orange
Fully waterproof to 10 feet with orange color for added visibility underwater
Maximum Sensitivity for improved detection of nuggets and other small targets. Choose from three Sensitivity levels
Fast Retune: Quick button press instantly tunes out environment or narrows detection field for precise pinpointing of larger targets
The Bounty Hunter Gold Digger was designed to be lightweight, weighing only 2.2 pounds, which is helpful for those that like to use it for prolonged periods. This helps in making sure that their arm doesn't get tired from it. It is excellent for people of different heights because the stem of the sector can be adjusted from 34.5-inches to 45.5 inches, which is excellent for households who have different users with varying heights.
This is one of the lower-cost metal detectors for under $100, but it has a lot of features that make it a key purchase for any metal detective. It uses 2 9V alkaline batteries that are placed in an easy to access area, which is excellent if the batteries need to be changed on the go. One of the best things about this sector is that it is capable of detecting the presence of most types of metal, including silver, gold, aluminum, iron, and steel.
List of Features:
Automatic tuned ground control

Power and sensitivity control

Trash eliminator control to eliminate undesirable targets

All-metal mode for detecting all types of metal

Headphones included

7-inch weather-resistant coil
What We Love:
It can easily detect metals at least 8 inches under packed soil

The provided arm brace does assist with keeping your wrist from getting strained from prolonged use

It is adept at finding things in most terrains, including soil and snow
We Don't Like This as Much:
The included headphones are made from budget-cost materials and users recommend using a different pair for the best experience
Sale
Bounty Hunter Gold Digger Metal Detector, One size, Grey
The Gold Digger can be used anywhere to search for all kinds of valuable metal from gold coins to iron relics
Motion all-metal mode and trash elimination control help you find only the treasure you want
Identifies coin-size objects up to 6 inches deep underground, and senses larger items up to 2 feet deep
Includes headphones for private searches in crowded places
Certified Frustration-Free Packaging
The Wedigout MD-4030 is classified as a pro edition and it has several capabilities that help to set it apart from other models available on the market. This model comes with an arm cuff that helps to provide support and comfort. This model is also suitable for users of different heights because it has an adjustable stem, which is excellent for households that might have multiple users of the same detector.
It was designed to be easy to operate and it has different modes that will allow the user to narrow down the things that they want to detect. The target indicator is designed to be easy to read, even for beginners. This model comes with a headphone jack that will allow users to connect their favorite headphones to the metal detector directly, making it easier to hear when the detector is getting closer to buried metal underground.
List of Features:
Two operation modes: All-metal and disc

Adjustable volume

Earphone jack available on the detector

Easy-to-view meter and pointer

Waterproof search coil

Includes shovel for item extraction
What We Love:
This detector has a very distinct sound that grows louder when getting close to a metal object

It is easy to use, which makes it excellent for beginner metal detectives

The headphones and shovel are an added bonus
We Don't Like This as Much:
This metal detector only has a single pitch tone
Sale
Wedigout Metal Detector MD-4030 Pro Edition Hobby Explorer Waterproof Search Coil with Shovel
The advantage: Using the new technology. It is widely applied ti detect underground metal objects. It is one of the most convenient and most sensitive metal detector. You deserve to have one.
Applications: Detecting metal objects buried underground. Widely used in security check, treasure hunting, material check etc..
Features: Two Operation Modes: All Metal, Disc;Volume - To adjust the volume level of speaker and headphone
Details: Earphone Jack - Lets you connect headphones (not supplied) to the detector;View Meter and Pointer - The meter pointer swings to the right if metal is found.If you would like to see more details, please refer to our social video website.
Package list: Kingdetector MD-4030 metal detector, shovel, camouflage bag, headphones, welcome guide. We promise that you can enjoy our worry-free 12-month warranty and friendly customer service.
The Nokta Makro Mini Hoard is a metal detector that was designed specifically for children to use and learn how to use metal detectors properly. It was designed to encourage children to explore the world around them and even learn some history. It is made from high-quality materials that will not break easily and the LCD screen is easy to read. The metal detector has a retractable shaft that shifts down to 63 cm, which makes this model easy to transport and perfect for traveling to the beach or other vacation spots.
The Nokta Makro Mini Hoard metal detector is designed to be only 1.7 pounds, which is considered to be lightweight and compact. This makes it easier for kids to use because they can carry it more easily. Finally, this metal detector has two distinct audio tones that make it easier for kids to distinguish their findings and narrow down their target area.
List of Features:
Fully submersible up to three meters in water

Retractable shaft for easy transport

Lightweight and compact design

Custom LCD screen

Auto shut-off and alarm

Battery indicator
What We Love:
This metal detector is designed specifically for children

It has an easy to read LCD screen

The lightweight design makes this metal detector easy to travel with
We Don't Like This as Much:
It is not designed for adults because it has a shorter stem
Nokta Mini Hoard Kids Waterproof Metal Detector
The world's first waterproof kids detector series!
In a world where technology is king and kids are more disconnected than ever from nature, here is a way to encourage kids to get outside. Nokta Makro's Mini (and Midi) Hoard metal detectors encourage children to get outside to play, explore, and learn some history.
Retractable Shaft - Shaft retracts down to 63 cm (25"). Great for easy transport.
Lightweight (780gr / 1.7Ibs) - Lightweight and compact!
Audio Tones: 2
The Bounty Hunter QSI Quick Silver comes with a five-year limited warranty, which covers anything from defects in materials and workmanship. It operates on two 9V alkaline batteries at a frequency of 6.6 kHz. The LCD screen is designed to be easy to view and it includes a low battery indicator that will give the user a fair warning when their batteries are about to give out.
The handgrip and armrest are padded, which helps to provide the user with comfort, allowing them to use the metal detector for longer. The user can use the depth select control to ensure that the metal detector is giving off a signal that is strong enough to reach the depth they require. Finally, this metal detector comes with the Bounty arc stand, which will help to prevent any damage happening to the detector when it is placed on the ground.
List of Features:
Fully automatic ground balance

Push-button discrimination control

One-touch sensitivity control

Four-segment digital target identification

Three-tone audio identification

Easy to view LCD display
What We Love:
This metal detector has three-tone audio feedback that makes it easy to get accurate identification

It has progressive discrimination settings

It has an 8″ interchangeable waterproof coil
We Don't Like This as Much:
This metal detector doesn't have any sort of volume control
Sale
Bounty Hunter QSI Quick Silver Metal Detector, Black
Squelch-tech fully automatic ground balance eliminates false signals
Push button discrimination & 1-touch depth control
4-segment cigital target identification & 3-tone audio feedback for accurate identification of buried objects
8" interchangeable waterproof coil
Easy-view LCD display is readable at varying distances
The TACKLIFE MMD02 has an ergonomic design that is lightweight and has arm support to make it comfortable for the user to use the detector. It has a 3.55mm headphone jack that helps to support a clearer sound change, which means that users of all levels will be able to pick up on the different tone changes that happen when the detector gets closer to buried items. This metal detector also comes with a bag that makes it easy to carry while traveling or when storing it between uses.
The LCD screen shows various types of pictures that are cute and makes it easier to distinguish different prospects under the ground. The stem of the metal detector is adjustable and it can go between 24″ to 45″, which makes this metal detector suitable for kids and adults. It's fun for the entire family. This model only weighs approximately four pounds, and on the LCD screen, there is also a low battery indicator, which means the user will always know when it is time to recharge or change out the batteries in the detector.
List of Features:
Three audio tones with high accuracy

Large LCD display screen

IP68 search coil

Has a 3.55mm headphone jack

Capable of distinguishing between target and unwanted metals

DISC mode to improve detection efficiency
What We Love:
This metal detector has three audio targeting modes

It has an LCD backlit screen

It has in-depth prediction technology

Less than $50!
We Don't Like This as Much:
This model does not have a ground balance feature
Metal Detector, 24"-45" Adjustable Metal Finder for Adults and Kids, 3 Audio Tone & DISC Modes, 7.8" Waterproof Search Coil, Larger Back-lit LCD Display, Carrying Bag & Batteries Included - MMD02
DETECTION OF 3 TYPES OF METALS: MMD02 provides 3 detection to detect 3 types of different metals, for the 3 different types it will emit the 3 different sounds: a low tone alarm sound for ferrous metals, a medium tone alarm sound for low conductivity non-ferrous metals, and a high-tone alarm sound for high conductivity non-ferrous metals.
FANTASTIC DISC BUTTON: By pressing the DISC button of MMD02, you can easily detect certain types of metals: once for ferrous metals, twice to exclude even low conductivity non-ferrous metals, three times to return to normal detection. MMD02 helps to find metal faster, also thanks to the deep detection function. Depending on the depth, different icons will appear on the MMD02 display.
FUN FOR EVERYONE: The detection rod of MMD02 can be freely adjusted in length from 61cm to 90cm. Not only is it usable by adults, but it also provides the joy of treasure hunting for kids. The non-slip strip equipped with MMD02 makes it more convenient to carry. The waterproof coil also offers another detection possibility, namely shallow water detection. ? Notice: The detection rod and coil are waterproof, but the detector is not.
DETECTION OF 3 TYPES OF METALS: MMD02 provides 3 detection to detect 3 types of different metals, for the 3 different types it will emit the 3 different sounds: a low tone alarm sound for ferrous metals, a medium tone alarm sound for low conductivity non-ferrous metals, and a high-tone alarm sound for high conductivity non-ferrous metals.
PACKAGING: 1 × MMD02 Metal Detector, 1 × Carrying Bag, 2 × 9V Batteries, 1 × User Manual ? Notice: When the screen is blank and only the OVERLOAD-RAISE COIL icon flashes, it means there is a metal large underground or that the ground has strong magnetism, which causes MMD02 to enter overload mode, so MMD02 will not work normally.
The RM RICOMAX GC-1028 metal detector was designed to be easy to use by users of all skill levels, which makes it an excellent choice for beginners or those who have had ample experience. This detector comes with a P/P function that will allow kids to pinpoint their targets accurately. The LCD screen will allow the user to see what type of metal that the detector is detecting simplistically. The detector makes a variety of tones depending on the type of metal it is detecting, making it easy to search for a particular type of metal.
Some of the metals that this metal detector is capable of finding include silver, iron, gold, aluminum, and bronze. It has a lightweight design, only weighing approximately 2.31 pounds, and it runs off of 2 9V batteries. It can be used in most areas and this includes the beach because it has a waterproof coil. Finally, RICOMAX provides excellent customer service in case a user has any issues or questions about how to operate the metal detector properly.
List of Features:
True Disc mode

Higher-sensitivity, waterproof search coil

Intuitive LCD control box

Pinpoint function

Distinctive audio prompt

Adjustable stem
What We Love:
This metal detector comes with three switchable modes for accurate detection

It has a headphone jack to help drown out any excess noise

Highly accurate, making finding metals easier
We Don't Like This as Much:
The included instructions can be a little challenging to follow for some
RM RICOMAX Metal Detector for Adults & Kids - High-Accuracy Metal Detector Waterproof LCD Display [PP Function & DISC Mode & Distinctive Audio Prompt] 10 Inch Waterproof Search Coil (GC-1028) , Black
TRUE DISCRIMINATION MODE - This metal detector can detect metals including iron, aluminum, gold, bronze, silver and their articles in all-metal mode. Just press the button, you can simply set the target range Up to 7.1'' inches deep or eliminate the metal you don't want. Then, you can accurately find the certain metal you want. The crossed frame is for items eliminated and two 9V alkaline batteries are required
HIGHER SENSITIVE & WATERPROOF SEARCH COIL - The bigger the search coil is, the higher the sensitivity. The increased size of the search coil to 10 inches makes metal detecting MORE EFFICIENT. And the WATERPROOF stem and coil enable you to use our metal explorer underwater, especially suitable for outdoor activities, on the beach or in the stream. But it is should be noted that the control box is not waterproof
MORE INTUITIVE LCD CONTROL BOX - A control box with LCD will simplify your metal detecting a lot. The detection mode, sensitivity level, battery condition, and volume level can be known at a glance. An arrow displayed below the target icon will clearly tell you detecting a object. The depth of the target is also displayed. Compared to the knob and dial, button and LCD are obviously more accurate and convenient
P/P FUNCTION & DISTINCTIVE AUDIO PROMPT - There are distinctive audio tones in our metal detector for different types of metal. So after a period of time use, you can tell what type of metal you've detected just by audio tones. And the P/P function enables you to pinpoint a target accurately. Operating steps have been written in the manual which comes with the metal finder. All we have done is let you find the target more easily
YOUR INVESTMENT IS FULLY GUARANTEED - We are confident that our metal detectors are manufactured under strict quality standards to give our customers the best experience. We offer a FREE REPLACEMENT POLICY without any costs from your side and LIFETIME WARRANTY, totally no risk for you! Any problems or questions just contact us via Amazon. We will do our best to provide perfect after-sale service for you
The Minelab GO-FIND 11 Metal Detector is designed to be simple to use, which makes it perfect for beginners in metal detecting. It is the ultimate introduction to detecting and it has easy-to-follow instructions. Unlike other metal detectors that have to be set up, this one comes with several preset find modes that will flash different icons on the LCD screen to show what has been found. This metal detector has a volume control that allows the user to adjust the volume to make it easier to hear the different sounds when getting close to something in the ground.
This model only weighs approximately three pounds and folds in on itself. This feature makes it easy for this metal detector to be taken with the user anywhere and it makes it more convenient to store, allowing it to take up less space. The actual stem of the metal detector can be adjusted to make it suitable for kids or adults, and this can add a fun and educational activity to any family outing.
List of Features:
Ultra-lightweight design

Collapsible body

Two find modes

8-inch waterproof coil

Three levels of sensitivity

Three volume levels
What We Love:
This metal detector has a simplistic design

This metal detector doesn't require any sort of assembly

It uses four regular AA batteries as its power supply
We Don't Like This as Much:
This metal detector does not have a target ID

Although the Bounty Hunter BHJS is designed with children in mind, it could still work as a starter detector for an adult if needed. Unlike some of the other detectors, this one is capable of finding metals in the ground between five inches and three feet deep, depending on the type of ground and the type of metal. This metal detector has an ergonomic design that is meant to be easy to handle and comfortable and easy for kids to carry and hold for long periods.
This metal detector uses batteries for its power source and it can be used in most areas, including the beach, because it has a weather-resistant coil. It comes with a one-year limited warranty that covers any manufacturer's defects in the metal detector and it is capable of finding different types of metals. The user can even get an indication of what type of metal it is detecting before digging it up, which saves time. Finally, it has a discrimination control that helps to eliminate finding any sort of iron or other metals that might be unwanted.
List of Features:
Target indicator that measures signal strength

Discrimination control

6.5″ closed, weather-resistant coil

Lightweight and ergonomic design

Easy to use

Backed by Bounty Hunter's one-year warranty
What We Love:
This metal detector comes with a 6.5″ closed weather resistant coil

It is capable of detecting metals up to three feet deep in the ground

It has a target indicator meter that measures single strength
We Don't Like This as Much:
It doesn't have an extensive LCD screen display
FAQs About Cheap Metal Detectors
Q: Can budget metal detectors under $100 detect gold?
A: The majority of metal detectors are capable of detecting gold, but that does not mean that they will. Most of the time, you can find out the type of metals that a metal detector can detect by reading its description and doing a little research on the model. Manufacturers will generally list the types of metals that can be detected by the model in the product description. Finally, many metal detectors that can detect gold have a higher-end frequency range that could cause them to be on the higher-price range scale.
Q: Do all metal detectors require the use of headphones?
A: Although all metal detectors do not require headphones to use, the majority of detectors will provide access to a headphone jack that will allow the user to use headphones to make their detection easier. After all, depending on where you are trying to use the metal detector, there may be a significant amount of noise surrounding the user, which can make it difficult to hear when you are getting close to something. Therefore, the use of headphones with the metal detector helps to make sure that the sounds it makes can be heard clearly with little to no feedback from outside noise.
Q: How deep can metal detectors detect metals?
A: The answer to this question varies between different metal detector models. It depends on various features from the frequency, power output, and type of coil that the metal detector comes with. Therefore, it is important to read the reviews and information on each metal detector you are considering to make sure that it will have the capabilities of reaching the depths that you require before making your final purchasing decision.
To Conclude:
There are many treasures waiting to be discovered on the beach, in the woods, or maybe even in your backyard and you don't need to break the bank buying the right metal detector to find them. With metal detecting becoming an ever more popular pastime, the technology used in good devices can also now be found in budget metal detectors. So if you're a beginner, a hobbyist, or want to find a great gift for others, there's a metal detector here for all your hunting needs.
Here are our top three choices for cheap metal detectors under $100:
911metallurgist.com is a participant in the Amazon Services LLC Associates Program, an affiliate advertising program designed to provide a means for sites to earn advertising fees by advertising and linking to Amazon.com.
Disclosure: This post contains affiliate links and I may earn a small commission if you purchase through these links.