Disclosure: This post contains affiliate links and I may earn a small commission if you purchase through these links.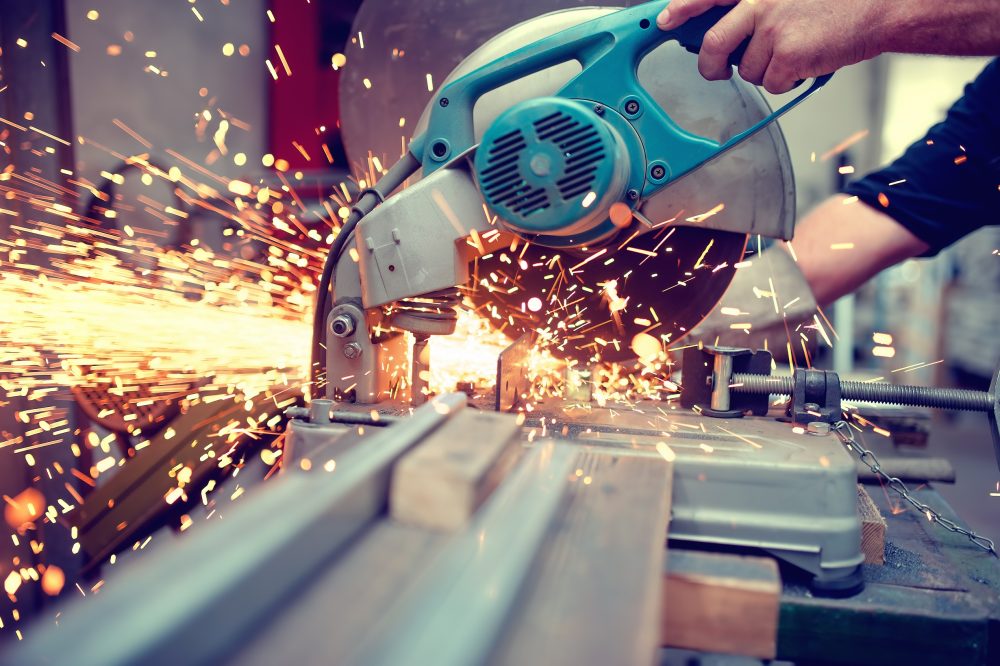 Chop saws are power tools that consist of a round disc blade mounted to a hinged arm and a stationary base that supports the material being cut.
They're often thought to be the same thing as miter saws, but these differ in two important ways:
While chop saws are used to predominantly cut through steel (although they can cut through just about anything with the right blade), miter saws are typically used for wood, plastics, and non-ferrous metals. This is why chop saws are sometimes called "metal chop saws" while miter saws are called "wood chop saws".

Chop saws cut in precise, straight, square cuts, whereas miter saws make angled cuts. The technical term for an angled cut is a miter cut, hence the saw's name.

In general, because chop saws are used for cutting into large pieces of hard materials like metal, they have a larger blade and bigger motor than miter saws or skill saws. Saws designed for cutting wood (like miter saws) have a finer blade that's meant for cutting small molding pieces, trimming angles, and making cleaner cuts on a finished product.
The large size of chop saws, immense power, and 90° cutting angle means that usually, only professionals and/or those looking to complete big projects use chop saws.
What are the top 3 chop saws for metal we recommend for 2023:
Power
120-volt/15-amp needed for power
120-volt/15-amp needed for power
Best Overall
Power
120-volt/15-amp needed for power
Best Budget
Power
120-volt/15-amp needed for power
Best Pro
All about blades
When it comes to cutting metal, it's important to note that not only should you use a metal-cutting blade, but you should use it in a metal-cutting saw. This is because metal-cutting saws have a collection bin to prevent metal chips from falling into the machine, while a wood-cutting saw has open motor housing.
Most chop saws use an abrasive disc rather than a blade with teeth because it enables a quick cut through just about any material. The blades are round like on a circular saw or grinder wheel and come in all manner of shapes and styles, even blades with teeth (although again, it's not common). Most discs are 14" but there are bigger and smaller blades available for all kinds of projects.
For cutting into non-ferrous metals like brass, aluminum, lead, or copper, a carbide-tipped abrasive cutoff wheel will do. They last up to 10x longer than regular steel blades.
For ferrous metals like stainless steel or cast iron, you'll need a ferrous blade. When you're cutting metal, its thickness will also affect what kind of blade you'll need. Generally speaking, you'll need a lower tooth count for thicker metals and a higher tooth count for thinner ones. If in doubt, the blade's packaging should tell you what the blade is appropriate for.
Diamond blades will of course cut through anything. They also last much longer as they don't wear down as fast, but they will cost you a pretty penny.
When used on metal or masonry, chop saws tend to create a lot of sparks. They won't burn your skin or clothes, but you shouldn't use them near anything flammable.
With all of that being said, I've got some recommendations for great chop saws that will cost less than you'd think. The options that I discuss below range from $129-849. These are based on our analysis of the latest consumer sentiment data and recommendations from our community of metallurgists.
Let's get into it.
1. Evolution S355MCS – $849.00
The S355MCS comes with many helpful features such as heavy-duty dual sliding cast iron clamps, a powerful 15-amp motor, a sliding head with a locking pin, positive stops at 0, 15, 22.5, 30, and 45° angles, as well as a knurled fence.
Additionally, you can enjoy safety features that include:
an ergonomic and ambidextrous handle and trigger
a quick release top clamp
3 V-block adapters
knurled front clamp feet and a top clamp bar for secure clamping
quick-release front clamps with a heavy-duty ACME lead screw
a full width clamp bar that allows for free horizontal movement of the quick-release front clamps
height adjustable front clamp bars that have positive stops on vertical posts and thumb screws for security
a 3-position head with glide rails and a locking pin for easy setting
holes in the base to fit bench dogs
and a chip deflector.
This corded electric saw gives you the choice to move the 3-posiiton cutting head up to 46° in either direction so that you can make miter cuts on either side of your material. The dual sliding front clamp not only provides you with excellent grip and safety, but it also gives you a longer blade life and high-quality, almost entirely burr-free cuts.
The height adjustable bar means that you can enjoy movement forwards, backwards, upwards, downwards, left, and right.
Features include:
120-volt/15-amp needed for power
A speed of 1450 RPM
66 teeth on the included 14" blade
A 46° cutting angle
Weight of 77 pounds
3-year limited warranty
2. Evolution Power Tools EVOSAW380 – $339.99
Ideal for cutting steel plates, square tubes, angled iron, pipe, tubing, and metal roofing, this corded electric metal chop saw cuts without requiring coolant. It produces minimal heat and sparks while boasting an 1800 watt/15 amp motor with high torque that reduces motor load and improves steel-cutting performance.
Its base is heavy-duty cast aluminum that's intended for industrial metal cutting and it outperforms abrasive saws, cutting faster even while providing a long blade life. Included is a 14" mild steel cutting blade that averages 1000 cuts in 2 in x 2 in mild steel. It's suitable for cold-cutting up to ½" of steel.
Evolution blades use the highest grade of carbide, ultra high grade brazing techniques, and hardened blade bodies.
The cold cut saw cuts metal quickly and easily with as little heat and burrs as possible, leaving a slick, workable finish. It performs 0-45° with a heavy-duty quick release vice that allows for the effortless, secure, and quick clamping of a number of industrial metal materials. Its vise is accurate and durable with an adjustable back wall that allows for fast and versatile cold cuts.
Also included are a chip deflection shield that acts to safeguard and protect you from stray metal chippings and a chip collection tray that makes it easy to dispose of metal chips, giving you a safe and clean workshop.
Features include:
120-volt/15-amp needed for power
A speed of 1450 RPM
66 teeth on the included 14" blade
A 45° cutting angle
1800-watt power output
Weight of 55 pounds
3-year limited warranty
Sale
Evolution Power Tools EVOSAW380 15-Inch Steel Cutting Chop Saw , Blue
Dry metal cutting Chop saw; cuts metal with minimal heat or sparks and doesn't require coolant
1800 watt / 15 amp motor with high torque gearbox; reduces motor load and improves steel cutting performance
Heavy duty cast aluminum base; for industrial metal cutting
Outperforms abrasive saws; faster cutting & long blade life averages 1000 cuts in 2 in x 2 in mild steel
Cold cut saw; cuts metal with minimal heat and burrs, leaving a workable finish
3. Evolution S355CPSL – $379.00
The Evolution S355CPSL is accurate, powerful, and reliable. It cuts easily and is surprisingly quiet at work. Although tough, this saw is portable – the combination of a powerful 15-amp motor and a lighter, pressed steel base mean that you have all the power you need but with welcome portability.
Included is a 14" premium carbide-tipped tungsten blade for mild steel cutting that gives you the latest in dry-cut technology, which definitively outperforms abrasive blades. It virtually eliminates sparks while giving your metals a smooth, square, instantly workable (almost) burr-free finish. The included blade can cold-cut up to ½" of steel.
Unlike other Evolution models, the S355CPSL is strictly a 14" chop saw, meaning that you can only use blades that are 14" across.
This miter saw gives you 0-45° angle cuts with a cast steel vise and fence alongside a quick-release mechanism for safe, fast, and accurate clamping. However, it is worth noting that while the cuts this machine gives you are very clean, the included guard isn't entirely adequate and chips will get thrown around your workspace.
Features include:
120-volt/15-amps needed for power
A speed of 1450 RPM
66 teeth on the included 14" blade
A 45° cutting angle
3-year limited warranty
Evolution S355CPSL – Heavy Duty 14 Inch Metal Cutting Chop Saw W/ 14 Inch Carbide-Tipped Blade | Dry Cut Saw | Miter Saw 45° | Chop Saw For Cutting Metal – Accurate. Powerful. Reliable
TOUGH AND PORTABLE – With a powerful 15 Amp motor and lighter, pressed steel base the S355CPSL has all the power you expect but with the portability you need. A chip deflector directs chips away from the operator and reduces cleaning time.
DRY-CUT, COOL TO TOUCH, BURR-FREE CUTS – The included premium tungsten carbide-tipped blade for mild steel cutting represents the latest in dry cut technology, significantly outperforming abrasives. Virtually eliminates sparks! Cuts your metals squarely and smoothly every time providing an instantly workable finish.
MITER SAW 0-45° ANGLE CAPABILITY – Make angle cuts effortlessly. Features a cast steel vise and fence with quick-release mechanism for safe, accurate and fast clamping of the workpiece.
BLADES FOR EVERY MATERIAL – Easily fit your S355CPSL with Evolution saw blades for any material – we offer a range of mild steel, thin steel, aluminum and stainless steel cutting blades for every application.
3 YEAR WARRANTY – This heavy duty metal cutting saw is extremely robust and durable, backed by our industry-leading 3 year warranty and friendly US-based customer service team.
4. DEWALT DW872 – $600
This multi-cutter chop saw offers you versatility – it can cut through a large variety of materials, including both ferrous and non-ferrous materials. With its carbide-tipped blade, you can look forward to the depth-of-cut remaining constant throughout the blade's life.
Those same carbide teeth give you precise, fast, and nearly burr-free cuts that reduce the need for preparation grinding as well as finished cuts that feel cool when you touch them.
In its class, this saw has the largest capacity. It has even more capacity than a deep-cut portable band saw, allowing you to cut a wider variety of different sized materials for more applications. In 2x2x1/4" in angled iron, this saw cuts 4x faster than chop saws and 8x faster than portable band saws.
The horizontal handle is ergonomically designed so that your wrist is in a more comfortable position, giving you reduced fatigue as well as increased productivity.
The 15-amp/4-horsepower motor offers you more overload capacity, performance, and durability while the tool-free 45° adjustable fence provides fast and accurate angled cuts.
This saw's base is incredibly safe, with an extra wide solid steel base for increased stability (that jigs or stops can be welded directly onto) and 4 predrilled holes for easy bolting down. The chip deflector is adjustable so that you can channel chips away from co-workers or hazardous materials.
Features include:
A speed of 1300 RPM
A spindle lock
14" wheel diameter
A weight of 47 pounds
30-day, no-risk satisfaction guarantee
One-year warranty
Wrench and vertical clamp included
Sale
DEWALT Metal Cutting Saw, 14-Inch (DW872)
Multi-Cutter Chop Saw offers versatility by cutting a wide variety of materials including ferrous and non-ferrous metals
Utilizing a carbide-tipped blade of the metal chop saw allows the depth-of-cut to remain constant throughout blade life
The metal cutting saw cuts 4-times faster than chop saws and 8-times faster than portable band saws in 2-inch x 2-inch x 1/4-inch angle iron
14-inch, 66-tooth, carbide-tipped blade delivers a lower cost-per-cut compared to cutting with abrasive wheels
Specially designed carbide teeth deliver fast, precise, and virtually burr-free cuts reducing the need for preparation grinding and finished cuts that are cool to the touch
5. PORTER-CABLE PCE700 – $129
Don't be fooled by the humble price tag of this saw. The PCE700 is very user-friendly while being effective; easy to both set up and use, it's excellent for cutting square tubing or angle iron and has no problem making miter cuts.
There's a quick-release material clamp that allows for easy cutting and removal, a fence with miter adjustment that allows up to 45° angle cuts, and a spark deflector that gives you safety alongside a clear line of sight for cutting.
The 15-amp, 3800RPM motor provides you with increased power and durability, clean cuts, and a long motor life.
The PCE700 is definitely not the tool for you if you want fast, clean cuts and need to do serious jobs often. It is however, perfect for occasional cuts, if you don't mind going slow in order to get high-quality results. There's a learning curve for sure, because you'll need to figure out exactly how this machine needs to be handled in order to get good results. But for this price, that might be fine with you.
The included blade isn't great as it wanders and flexes greatly, and the handle gets dirty quickly, making the machine look kind of grimy.
Features include:
120-volts/15-amps needed for power
A weight of 32 pounds
A speed of 3800 RPM
A blade length of 14"
3-year limited warranty
PORTER-CABLE Chop Saw, 15-Amp, 14-Inch (PCE700)
15 Amp, 3,800 Rpm Motor With Replaceable Brushes Provides Power And Durability For The Chop Saw
Quick-Release Material Clamp Of The Metal Chop Saw Allows For Easy Material Cutting And Removal
Cutting Fence With Miter Adjustment Of The Metal Cutting Saw Allows Up To 45 Degree Angles To Be Cut
Spark Deflector Provides Safety And Clear Line Of Sight For Cutting
Conclusion
There are tons of options for affordable chop and miter saws. The one you should get depends on how often you'll use it, what you'll use it for, your personal experience and preference, and what you can afford.
The choices that are provided here will give you enough of a range to make a decision, or at the very least give you a great starting point to look into saws and make a purchase that's right for you.