Disclosure: This post contains affiliate links, and I may earn a small commission if you purchase through these links.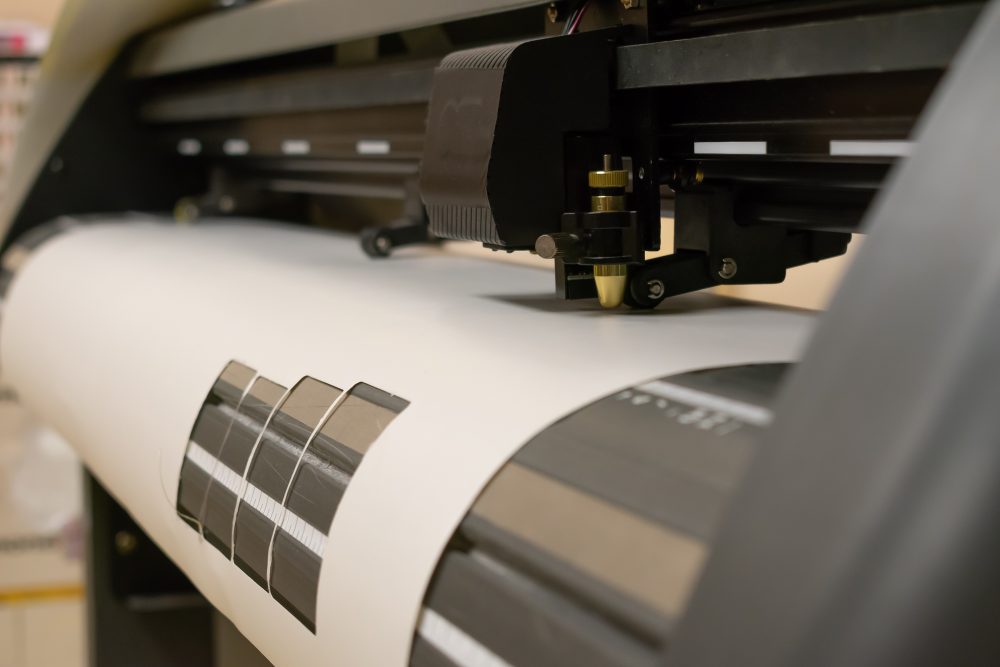 A commercial vinyl cutter is a machine used to make signs, advertisements, and banners. These devices are attached to computer applications that use vector graphics to instruct the blade to cut shapes and letters on vinyl sheets and other materials.
What is a commercial vinyl cutter?
A commercial vinyl cutter is an industrial tool that cuts vinyl and other materials into desired shapes. These machines typically look a lot like a desktop printer, but instead of having a pen, they use a blade to cut designs, shapes, and letters into vinyl so users can fix them to different surfaces.
What can you do with a commercial vinyl cutter?
Despite their name, vinyl cutters are pretty flexible. You can use them to cut a considerable range of materials and products, like t-shirts, leather, cards, stickers, and balsa wood.
Typically, they apply designs, shapes, and letters onto materials to create signs, t-shirts, cards, stickers, labels, decals, electronic circuits, and more.
What is the difference between a vinyl cutter and a vinyl printer?
Vinyl printers allow users to print images on large rolls of plastic. Typically, these rolls are treated to absorb inkjets and display high-res posters that can be adhered to different surfaces. On the other hand, a vinyl cutter is generally used to cut out shapes that you can stick to a range of objects.
What is the difference between a vinyl cutter and Cricut?
Cricut is a manufacturer of small electronic cutting machines. You can use one to cut designs on various materials, like paper, vinyl, and card stock, with some models able to handle certain woods and leathers.
Often referred to as die cutters or craft plotters, Cricut built these machines to provide a more precise way to do the job of scissors or knives in cutting vinyl.
The main differences between a vinyl cutter and a Cricut are that the latter is primarily made for home use. While some machines are capable of commercial work, the maximum material width on their devices is about 13 inches.
How much does a commercial vinyl cutter cost?
Like many other machines and tools, prices of commercial vinyl cutters vary according to specifications, makes, and models. If you're a hobbyist, you can get a decent commercial vinyl cutter for around $300. However, if you're more serious or run a business, more advanced machines will cost almost $2000.
Before investing in a commercial vinyl cutter, you should consider why you need the tool. Some things to consider are the size of the items you need to cut, precision, speed, and compatible software.
Many budget machines can easily handle smaller commercial-grade projects, with cutting feeds of around a meter. Industrial-size jobs will require a far larger vinyl cutter. The following 6 commercial vinyl cutter machines are what we recommend for 2022 based on the latest customer sentiment data and recommendations from our community of metallurgists:
#1.) VEVOR Vinyl Cutter Machine
With a feed width of 28.3" and a cutting width of 24.8", the VEVOR Vinyl Cutter Machine can handle larger work. The unit features a digital control panel and an LCD screen, giving users a high degree of control. The dividing ruler and two replaceable blades offer a cutting precision of ±0.0004in / ±0.01 mm, which makes this unit an excellent option for commercial-grade work.
The machine's three double-spring rollers are adjustable, and when combined with a high-speed stepper motor, you can reach speeds of up to 31.5ips. Caster wheels and a durable aluminum frame mean you can quickly move this lightweight cutter around your workshop.
One of the best aspects of the cutter is its flexibility. It can cut vinyl for a variety of materials, including crepe paper. It's a good machine for printing car stickers and vinyl for helmets, clothes, signs, and balloons. We should mention that it doesn't have arc cutting, so while it can make stickers, you'll need to get creative.
The product comes packaged with Signmaster software. It's pretty stripped-back, user-friendly, and suitable for beginners. However, the machine is compatible with other software, such as Signcut and Flexi. Overall, this is an excellent cutter for the price.
Highlighted Features
Max feed width: 28.3"
Max cutting width: 24.8"
Max cutting force: 500g
Max cutting speed: 31.5ips (inches per second)
Weight: 21.4 lbs
Dimensions: 37.8" x 16.5" x 13"
Supported software: SignMaster / Signcut / Flexi
Sale
VEVOR Vinyl Cutter Machine, 28inch Vinyl Plotter, LCD Display Plotter Cutter, Adjustable Double-Spring Pinch Rollers Sign Cutting Plotter, Plotter with Signmaster Software for Design and Cut
Efficient Digital Control: The max feed width: 28.3 in / 720 mm ; the max cutting width: 24.8 in / 630 mm. This Vinyl cutter machine is equipped with an LCD to control speed and force quickly. Besides, the three adjustable double-spring pinch rollers and aluminum knurled rods ensure the vinyl plotter feeding paper steadily without paper jam.
Precise Scale: The vinyl cutter is consists of two replaceable blades and a precise dividing ruler, The cutting precision: ±0.004 in / ±0.01 mm. It can meet your requirements with superior sharpness and correct the size clearly. Our plotter cutter also has a press roller to improve the level of feeding paper.
High Compatibility & Security: This plotter cutter vinyl includes the signmaster software that works with most versions of Windows via USB or serial port. It also supports other software such as signcut and flexi. There is power with fuse possesses of emergency stop function to prevent you from the danger.
Well-Designed Frame: Our sign cutting plotter has high quality whose frame is constructed by an aluminum stand and paper rod. The vinyl machine is so powerful and durable that you can operate it efficiently. Furthermore, it can move conveniently and be used in different places because of the caster wheels.
Various Application: This vinyl plotter cutter machine provides five 9.84ft / 3m stickers with different colors, a roll of crepe paper, and soft tape. As a result, the vinyl printer is suitable for different kinds of materials that you can apply to advertise engraving, heat transfer lettering film, etc.
#2. 34-inch USCutter MH 871 Sign-Making Kit
The USCutter MH 871 is a powerful machine. It's a bit bulkier than its rivals; however, its max cutting width of just over 30" makes it an excellent choice for any workshop.
The MH 871 is controlled by a pleasing touchscreen interface. It has adjustable print rollers that let you work with various materials and a ball-bearing dual roller that holds your media in place, providing a great deal of accuracy and precision.
Another great bonus is the standard blade holder that is compatible with a wide array of blades, including Roland. This feature can help keep the costs down by giving you access to some of the most economical blades on the market.
While USCutter suggests that it's incompatible with Mac OS, some users have found success by hooking it up with the Sure Cuts A Lot software. The MH 871 comes as a bundle, including five rolls of vinyl, two magnetic sign blades, and a free vinyl cutting course to help beginners get up to speed in no time.
Overall, this solid entry-level cutter is user-friendly and suitable for both hobbyists and professionals. However, while it cuts various cards and paper, it's unsuitable for laminate, reflective, or un-backed media.
Highlighted Features
Max feed width: 34"
Max cutting width: 30.63"
Max cutting force: 350 g
Max cutting speed: 39 ips
Weight: 48 lbs
Dimensions: 34 x 13 x 16 inches
Supported software: VinylMaster Cut
34 inch USCutter MH 871 Sign Making Kit with Design and Cut Software Supplies Tools (New)
Two fully adjustable pinch-rollers allow you to use a flexible range of materials.
Vinyl rolls, transfer tapes, magnetic blanks, knife, squeegee, Lifetime phone support.
Roland compatible blade holder gives you access to the most economical blades available.
Superior ball-bearing dual roller media roller system.
34 inch MH vinyl Cutter with stand plus Design and Cut software
#3.) Roland GS-24 Vinyl Cutter
The Roland GS-24 is a compact machine. However, don't be deceived by its size because it's a powerful cutter. While it might only have a max cutting width of 22.9", which is smaller than some of its rivals, it provides plenty of cutting force that makes it suitable for use with various media.
The CAMM-1 is an upgrade on previous GS-24 models. The cartridge and blade holder has been redesigned, giving the machine increased stability. Additionally, it can now cut into thicker materials and substrates, which is a welcome bonus. Some materials you can cut with the device include magnetic sheets, reflective vinyl, window frosting, and even rubber sheets.
The GS-24 is accurate and capable of producing intricate shapes, small lettering, and symbols with tight corners and thin lines.
While many of the cutters on our list come packaged with a stand, the GS-24 does not. However, you can buy one separately. However, the lack of a frame doesn't need to be a problem because Roland designed the machine to be ultra-compact and fit into any home or workshop.
Finally, the machine comes with the excellent Roland Cut Studio Software. Overall, it's an expensive cutter, but Roland's reputation for durable, long-lasting machines make it worth the price.
Highlighted Features
Max feed width: 27.5"
Max cutting width: 22.9"
Max cutting force: 500 g
Max cutting speed: 33.4ips
Weight: 29.8 lbs
Dimensions: 33.5" x 12.2" x 9.25"
Supported software: Roland Cut Studio Software
Roland GS-24 Vinyl Cutter
This is a fantastic cutter for vinyl
NO RETURNS ON THIS it is new in the box
3 year manufacturers warranty
This does not come with a stand, it is sold separately
#4.) VEVOR Vinyl Cutter 34 Inch Bundle
The VEVOR Vinyl Cutter is a beast. As its name implies, it's capable of a feed width of 34" with a cutting width of just over 30". Despite its bulky frame, the machine is relatively light. However, that doesn't stop it from pumping out a cutting force of 500g.
The unit contains a D-typed motherboard alongside a 4M cache memory. This feature gives the cutter increased speed and reliability. Another bonus is that the machine is very quiet, making it suitable for domestic and professional use.
You can control the VEVOR cutter via a handy LCD screen for improved accuracy. It's also highly compatible with different connections and has both COMPIN and USB ports. The max cutting force of 500g and a max speed of 31.5ips can be adjusted, which gives the machine a lot of flexibility and precision.
Finally, it comes with three double-spring pinch rollers that are easily adjustable, precise pressing wheels, an aluminum knurling stick, and scale lines, which ensure that paper won't deviate over longer distances, making this unit a great addition to any sign-making workshop.
The VEVOR comes packaged with Sigmaster software, which is not compatible with iOS. However, there are workarounds if you use different software.
Highlighted Features
Max feed width: 34.3"
Max cutting width: 30.7"
Max cutting force: 500 g
Max cutting speed: 31.5ips
Weight: 33.06 lbs
Dimensions: 43.31 x 20.47 x 41.73
Supported software: Signmaster
VEVOR Vinyl Cutter 34Inch Bundle, Vinyl Cutter Machine Manual Vinyl Printer LCD Display Plotter Cutter Sign Cutting with Signmaster Software for Design and Cut,with Supplies, Tools
Cutting Capacity: With maximum paper feed of 870mm (34.3"), maximum cutting width of 780mm (30.7"), cutting precision of +/-0.01mm (0.0004") and paper feed precision of 3m (118").
Strong Stability: With D-typed motherboard and 4M high speed cache memory. Double spring pinch-rollers, and roughened steel roller ensure that the paper feed will not deviate by long distance.
Digital Control: Cutting pressure with 20-500g adjustable, cutting speed with 20-800mm per second adjustable. Backlight LCD display for more intuitive operation.
High Compatibility: Available with COMPIM and USB interface. DM/PL, HP/GL language. Works with your installed Fonts, including Dingbat/Wingding Fonts. Import various file formats, including SVG and PDF.
Widely Used: With extra supplies, can be used in advertisement field, various decoration, handcraft, supplementary for heat transfer, label & sign making, etc.
#5.) Graphtec CE 7000-60 Plus
The Graphtec CE7000 is a powerful commercial machine. While its max cutting width of 24" isn't as impressive as some of its rivals, it makes up for it thanks to its solid performance. A max cutting speed of 36ips is great, but the inclusion of a DataLink Barcode system is what sets it apart. This feature allows users to process multiple jobs automatically, which greatly boosts productivity.
Another big plus with the CE7000-60 is ARMS 8.0. Standing for Advanced Registration Mark Sensor, this feature is excellent for cutting pre-printed media, like decals or car stickers. The system performs AXIS ALIGNMENT by detecting registration marks, which enhances speed and accuracy. What's more, the Tangential Emulation Mode means the cutter can produce clean and accurate corners.
The sturdy frame makes this machine easy to work with, while the roll-fed cutters are versatile enough to handle heat transfer graphics for clothes. It's also suitable for working with thin adhesive back vinyl,
Overall, this is a great machine that is worth the price because it's a total workhorse that offers precision, accuracy, and hands-free operation. Additionally, you can run jobs from a PC or via a USB stick, which is a testament to the CE7000's general versatility.
Highlighted Features
Max feed width: 28"
Max cutting width: 24"
Max cutting force: 450 g
Max cutting speed: 36ips
Weight: 55.6 lbs
Dimensions: 39.6″ W x 39.6″ D x 43″
Supported software: Cutting Master 4, Graphtec Pro Studio, Graphtec Studio (for Mac)
Graphtec CE7000-60 Plus - 24" Vinyl Cutter with Deluxe Software Package and 2 Year Warranty
Graphtec CE7000-60 PLUS Model - 24 Inch High Quality Industrial Grade Cutting Machine by Graphtec - Take Your Business to the Next Level! This machine is quiet, reliable, and a work horse.
Stand, CB09UB Blade Holder - Standard Blade for Vinyl up to .25mm Thick, CB09UB Blade - .9mm Diameter - 45 Degree, Blade Height Adjustment Loop
Pen Adapter - works well with Lumocolor Pens,Lumocolor Pen - Black, Roll Feeder
Bonus: Licence Key to Pro Studio - Powerful Design Software (Software only runs on PCs) User Guide CD, Studio Software Training Video, CE7000 Machine Training Video.
Cutting Blade Manual, USB Connector, Graphtec Studio Software, Cutting Master 4.
#6.) USCutter Titan 28-inch Vinyl Cutter
The USCutter Titan 28-inch Vinyl Cutter more than earns its name thanks to a mighty cutting force of 750g. The robust, powerful, and well-designed machine can cut a diverse mix of materials, like hard paperboard, mask material, sandblast stencil, and more.
You can control speed and cutting pressure with a user-friendly LCD control panel, while high-quality grit rollers and punch rollers help with accurate tracking. It also comes with VinylMaster Cut Software, which is compatible with Mac and PC. This software lets users perform precise contour cutting and laser registration mark reading.
Indeed, cutting on this machine is a pleasure. It can handle tiny lettering with high precision and has excellent tracking. Additionally, despite its size and high performance, the device is very quiet.
True USB is another great feature that allows users to send files directly to the cutter from Adobe software and other applications that support Vector Graphics. Finally, it comes with three different blades and a pen holder for any plotters out there.
Overall, this durable machine is well worth the price. Thanks to its aluminum frame, sturdy stepper motor, and high-quality internal parts, it will bring value to any commercial operation for a long time.
Max feed width: 28"
Max cutting width: 24"
Max cutting force: 750 g
Max cutting speed: 37ips
Weight: 58.9 lbs
Dimensions: 38.5 x 17.2 x 13.6 inches
Supported software: VinylMaster Cut Software
USCutter Titan 28 inch Vinyl Cutter with Stand, Basket and VinylMaster Cut (Design and Cut) Software
QUALITY ENGINEERING. Aluminum metal frame and internal components. High quality pinch rollers and grit rollers for accurate tracking. Laser-guided print & cut contour cutting for stickers, labels, and printed heat transfer.
DURABLE AND RELIABLE. Powerful stepper motor cuts vinyl, cardstock, sandblast, stencil, and much more. 510g of max downforce. 31.5 in/s cutting speed.
PROTECT YOUR CUT JOBS with free included media catch basket. Free included stand.
FREE US-BASED TECHNICAL SUPPORT. Lifetime phone support and web-based resources.
FREE INCLUDED VECTORIZING AND CUT SOFTWARE. Create original artwork or vectorize images with VinylMaster Cut.