Disclosure: This post contains affiliate links, and I may earn a small commission if you purchase through them.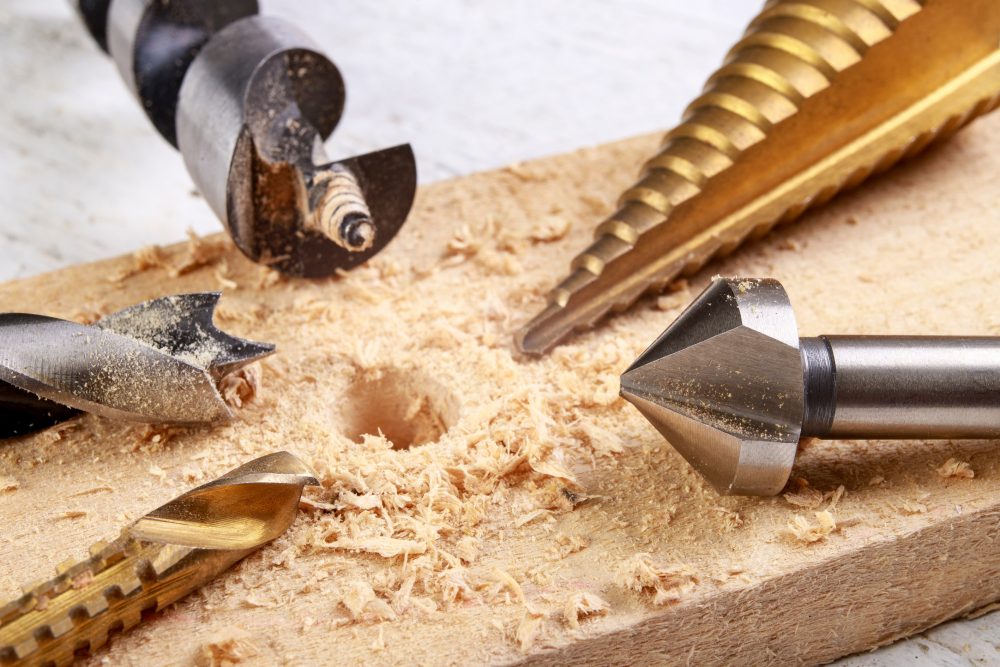 For carpenters and DIY lovers, having a good drill bit for wood is essential. It enables them to make holes in wood without damaging the rest of the surface.
Drill bits designed for wood have unique edges designed to remove the fibers from the wood by rotating on the same spot and creating a hole in that area. And the best drill bit should be capable of drilling through the highest quality of wood, including hardwood, without damaging it.
5 Best Drill Bits for Wood in 2022:
There are a dozen types of drill bits for wood available, and they serve different needs. Here are our top 5 picks. Our recommendations are based on the latest customer sentiment data and recommendations from our community of metallurgists from around the world:
1. COMOWARE Cobalt Drill Bit Set 
The Comoware Cobalt Drill Bit set has 115 pieces of M35 high-speed steel twister jobber length drill bit. Drill bits in this set can be used to drill through wood, metal, and plastic. This set also comes with a drill bit holder that enables you to store all your drill bits together according to the size index.
These drill bits contain 5% cobalt and some high-speed steel, which increases the bit's strength and makes it heat resistant. It rates at 67 on the Rockwell hardness scale, which is key in determining the types of metals it can bore through. The Comoware drill bit is efficient since it has a 135-degree split point with straight shanks, preventing walking and making the process precise and efficient. When using these drill bits, you need to follow some of the tips below:
Ensure the drill bits are vertical to the wood when drilling
Use low speed and drilling pressure when using the bits with a power drill
The thicker the bit size, the slower the speed and pressure should be
Add water or coolant between the bits and the drill if they overheat
The spiral groove designs decrease friction and reduce the heat produced during the drilling process. These drill bits are small and easy to carry around in your toolbox or pocket, making them efficient, especially when making holes of different sizes.
Highlighted Features
● Material: Cobalt/ steel
● Shank type: Round
● Brand: COMOWARE
2. DEWALT Titanium Nitride Coated Drill Bit Set 
This Dewalt Titanium Nitride Coated Drill Set has a set of sturdy drill sets that are coated in Titanium Nitride, thus making it more durable. The 21 drill bits are easy to remove and replace with the power tool and drill and come with a clip latch for secure closing.
They make drilling into wood and aluminum easier and are one of the most affordable drill bits. Some drill bits can drill 6.5-inch holes without applying too much pressure. If the drill bits get too hot when drilling, it's advisable to cool them with a coolant or cold water. The drill bits can be used with electric drills so long as there's an outlet; however, it might require an adapter or converter, depending on the compatibility and voltage.
The set also comes with a compact bulk storage size that fits well in either the small or medium tough case, making it ideal for organizing loose bits. If you want to get value for your money, this is the proper drill set to purchase, especially if you are mainly working with wood.
Highlighted Features
● Material: Titanium Nitride Coated
● Shank type: Straight
● Brand: DEWALT
3. DEWALT DWA 1181
The Dewalt DWA 1181 drill set comes with 21 black oxide-coated high-speed steel twist drill bits that are perfect for drilling materials such as hardwood, softwood, PVC, and fiberglass. It's great for DIYers who love working with a range of materials since the parabolic flute design increases the chip ejection in wood and metal drilling tools.
The black oxide coating helps prevent the drill bits from corroding and rusting, which increases their durability, thus enabling them to last longer. Some drill bits have 135-degree split point tip drills that drill on contact and prevent the drill from walking on the surface. It also increases the accuracy and efficiency of the drill bit. The 31 degrees Helix reduces the over-aggressiveness of the parabolic flute, making it ideal for drilling deep holes.
These drill bits drill the holes precisely as expected, and you can pick the bit that fits the size of the hole you need to drill. The drill bits are significant since they can be used with drills and drivers from other manufacturers. They are worth the money and can be used for heavy drilling since they hold up well without breaking.
Highlighted Features
● Material: Blend
● Shank type: Straight
● Brand: DEWALT
4. GMTOOLS 29Pcs Cobalt Drill Bits Set
This drill set has M35 HSS with 135 degrees drill set and twist jobber length drill bit for drilling holes through hard metal surfaces. The drill bits have accurate precision when grinding and drilling holes in wood, plastic, cast iron, and metal surfaces. One of the best features of this set is that it includes drill bits in all the available inches, and they come in a metal-indexed storage case for easy and efficient storage.
The 135 degrees split point and twist design enable fast cutting and penetration into the surface with less pressure, thus reducing the risk of walking; the twist design allows the user to make holes with clear chips faster. Cobalt is heat resistant, preventing the drill bits from overheating and wearing out due to excess friction. The drill bits are very sharp and quickly drill through wooden surfaces, including those made of hardwood.
When cutting through steel, it's advisable to use a slow speed, about 60 rpm. The drill bits are of perfect quality and will likely last you for a long time.
Highlighted Features
● Material: 5% Cobalt & HSS
● Shank type: Straight
● Brand: GMTOOLS
5. TICONN 230PCS Titanium Coated Drill Bit Set 
Tycoon drill bits are made from high-speed steel and coated in titanium which enables them to stay sharper, last longer without any corrosion and breakage, and drill at higher speeds than other drill bits. The bits, including the smaller ones, are strong and don't often break. They also have double U-shaped flutes that help in clearing the chips effectively.
The 135-degree angled drill bits have the rigidity and length that make them excellent for drilling through soft alloy steel, wood, and plastic. They can also be used with cordless or corded drills. The set has a rugged case to store all the drill bits according to size, enabling you to find the drill bit you need with minimal effort.
Tycoon drill bits are quality and worth the money you pay for them. However, they get dull fast and need to be polished often.
Highlighted Features
● Material: High-Speed Steel
● Shank type: Round
● Brand: TICONN
Choosing the Best Drill Bit for Wood
When choosing the best drill bit for wood, you need to consider your particular needs and the type of wood and material to be drilled. Different woods have different hardness levels and mechanical properties. Some of the main features that you need to consider before choosing a drill include the following:
Type of Material
One of the primary considerations you need to make before buying a drill bit is the type of wood you'll be drilling into. A drill that might bore well through softwood and plywood may not work well with hardwoods. The type of drill bit will also affect the holes' size and depth. It's vital that you know the type of wood you'll be working with and then choose the best attachment for your drill.
Drill bits have different hardness levels since they are made from different materials and therefore have varying hardness levels. Hard bits can bore holes in hardwoods and cured woods, whereas the softer drills can be used for plywood.
The Type of Drilling Holes You Want
Before choosing a drilling pit, you need to consider the type of hole you want to drill in the wood. Consider the width and depth, and smoothness. There are roughly three sizes of drilling holes, and different drill bits are used to produce each.
Brand of the Drill
Although drills are made similarly, some brands make better drill bits than others. Some brands make specialized drills that require a matching drill bit. If you decide to purchase one of those, you'll need to get a specialized drill bit too. However, if you get a regular drill, you don't need to worry about the brand. That said, it's still vital to check on the features of each and whether the drill bit is compatible with the drill.
Type of Material Used To Make the Drill Bit
Drill bits can be made from different materials, including cobalt, carbide, and High-speed steel. The choice of material determines the type of materials it can bore holes through.
Cobalt 
Cobalt is rarely used to make a drill bit; instead, it's alloyed with steel and other metals to increase the hardness and make the bit more durable. If you want to drill through tough surfaces, this is the drill for you. You can use it to drill holes in steel instead of purchasing two different drill bits. Although buying a cobalt drill might be overkill for carpenters and woodworkers, it comes in handy when you need to drill through metal surfaces to make hinges or other accessories.
Carbide 
Carbide drills can bore through the hardest wood and even through cast iron and fiberglass. They are more expensive than cobalt drill bits and are rarely used to drill through wood. However, they are highly durable and will last you for a long time.
HSS
High-speed steel is the most common drill bit for wood since it's versatile and affordable. It's more of a general-purpose drill since it's used to drill through wood, drywall, and steel.
Drill Bit FAQs
Q: How can you tell if a drill set is for metals or wood?
A: The main difference is in geometry; the wood drill has a spur in the center that penetrates the wood and keeps the bit stable during the drilling process. The metal bit also has a twist bit with spiral flutes.
Q: Can drill bits meant for metal be used for wood?
A: Metal drills can be used to drill through wood if you reduce the pressure to avoid damaging the wood; however, wood drills can't be used to drill through metal.
Q: Why won't the drill bit go through the wood?
A: The primary reason is that the pressure applied is insufficient to go into the wood.
Conclusion
Although most drills used to drill other materials can be used for wood, drilling bits made specifically for wood ensures the holes are precise. It also ensures that the surface is not damaged due to too much force and pressure. The small, pointed tip can identify wood bits at the end, which has spurs on each side. Steel drill bits are great for softwood varieties, while cobalt suits hardwoods.