Disclosure: This post contains affiliate links, and I may earn a small commission if you purchase through these links.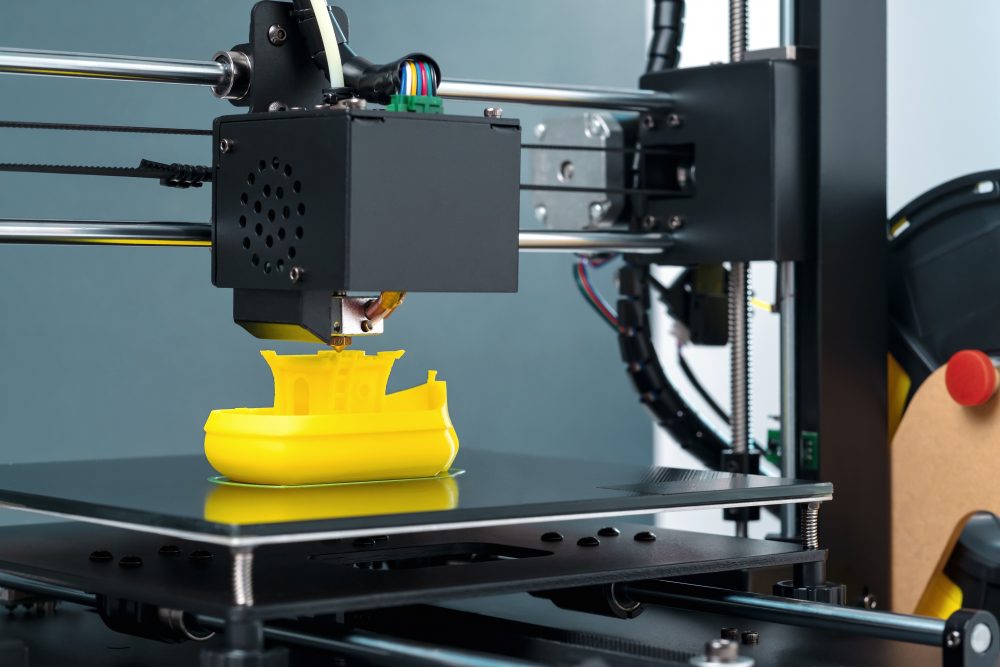 Fused deposition modeling (FDM) printers manufacture 3-dimensional objects by depositing a thermoplastic material layer by layer. To print accurately, FDM printers use an electronic file with details about the size and shape of the object.
Initially introduced in 1988 by Scott Crump, FDM printing technology was patented for 20 years. After the patent expiration in 2009, many companies started making different types of 3D printers. Their demand rose steadily; however, not all offer the best results as manufacturers claim. 
In this guide, you'll understand everything about FDM printing and what to look for when buying an FDM 3D printer. We have also compiled a list of the best FDM 3D printers in the market to help narrow your search. This was based on the latest customer sentiment data as of Jan 2023 and recommendations from our community of metallurgists from around the world:
1. Anycubic Kobra 3D Printer Auto Leveling, FDM 3D Printer 
The Anycubic Kobra 3D Printer is an easy-to-use, high-quality FDM (Fused Deposition Modeling) printer that offers reliable performance at a reasonable price. It features a sturdy aluminum frame structure and a significant build frame of 8.7 × 8.7 × 9.84 inches, giving you sufficient freedom and space to realize your creativity. Users can also print objects using various materials on the printer's heated build plate, which has a temperature range of up to 100⁰C.
In terms of speed, Anycubic Kobra 3D printer's average printing speed is 80mm/s, maximum speed is 180mm/s – 167% faster than the industry standard, allowing you to save time on waiting. Additionally, the printer has an intuitive 4.3-inch LCD touchscreen interface that makes it easy to navigate settings and menus. It can be connected to a mobile device via Wi-Fi or a computer via USB, allowing users to use the printer remotely.
The printer is compatible with the Anycubic slicing software, ensuring accurate and precise printing. It's also compatible with other slicing programs like Simplify 3D and Cura.
To use it, connect the filament spool to the printer, and attach the platform to the printer bed. The final step is loading the model onto the printer. This is accomplished by choosing it on the screen after inserting a USB drive containing it.
The Anycubic Kobra 3D FDM printer is an excellent option for anyone seeking a dependable and user-friendly 3D printer due to its affordable cost, ease of use, and high-quality prints.
Features:
Speed: Over 80mm/s
Power rating: 400 watts
Weight: 15.4 pounds
What we like:
The machine is light
How-to-assemble instructions are available on YouTube
What we don't like:
There are persistent complaints about Z offsets
Sale
Anycubic Kobra 3D Printer Auto Leveling, FDM 3D Printers with Self-Developed ANYCUBIC LeviQ Leveling and Removable Magnetic Platform for DIY Home School Printing Size 8.7x8.7x9.84 inch
Intelligent Auto Leveling 3d printer: ANYCUBIC KOBRA captured with the Self-developed Anycubic LeviQ Leveling Function equipped with 25-point precise leveling up, which can compensate the unevenness of the heated bed automatically, to achieve easy, fast and precise leveling, providing you with a more intelligent printing experience.
Fast Printing & Large Printing Size: ANYCUBIC KOBRA 3D Printer maximum printing speed is 180mm/s, Average speed is 80mm/s, 167% faster than industry standard, enable you save more time on waiting. Large build volume of 8.7x8.7x9.84in / 220x220x250mm, which has enough space and freedom to realize your fantastic creativity.
Ultra Smooth Printing: Direct drive extruder provides greater conveying force and preciser filament control. Compatible with PLA/ABS/PETG/TPU flexible materials. It can reduce jitter in filament transmission and ensure printing precision.
Removable Magnetic Platform: The models can be removed by bending the spring magnetic platform gently after printing. The platform can withstand high-intensity printing and is corrosion free, saving you a lot of maintenance cost.
More Function: ①ANYCUBIC KOBRA is an all-in-one frame 3D printer, can minimize the shaking to improve the print quality. The modular design allows the printer to be assembled only in 10 minutes;②ANYCUBIC KOBRA is equipped with 4.3-inch LCD touch screen, which brings sensitive response and brighter display, offering better using experience; ③All ANYCUBIC 3D printers backed with lifetime technical support and 24 hours professional customer service.
2. Official Creality Ender 3 V2 Neo 3D Printer
The Ender 3 V2 Neo 3D Printer is a 3D printing powerhouse that delivers reliable constant results. This cutting-edge gadget uses a silent TMC2208 stepper driver, a Meanwell power supply, an intuitive 4.3-inch color touch screen, a tempered glass build plate, and a powerful self-developed motherboard with an advanced ARM Cortex-M0 processor. The upgraded 4.3-inch user interface adds a preview function that makes it easy to monitor the printing process.
Unlike Ender-3 V2, the Ender-3 V2 Neo Printer is pre-installed, and assembly is straightforward, thus saving much time for beginners. It also features a metal Bowden extruder that has more extrusion force and is more durable than plastic extruders.
Unlike Ender 3, 3 v2, and 3 Pro, the new FDM 3D printer has a detachable PC spring steel platform. The radical printing platform combines a magnetic sticker, a spring steel sheet, and a PC coating, which immediately adheres to the surface upon release. The coating provides good adhesion, and by bending the print sheet, printed models can be easily removed.
Using the printer is straightforward. Connect it to your computer using the USB cable and load your preferred 3D design file in the supplied slicing software. Adjust settings to your ideal print quality and click "start." The Neo 3D printer will heat up and extrude the filament, constructing your 3D design layer by layer. Unload the end product after the print is complete.
Features:
Speed: 120mm/s
Power Rating: 350W
Weight: 17.20 pounds
What we like:
The self-leveling technology is amazing
Cost-effective
What we don't like:
Support teams take a long time to respond 
Sale
Official Creality Ender 3 V2 Neo 3D Printer with CR Touch Auto Leveling Kit PC Spring Steel Platform Full-Metal Extruder, 95% Pre-Installed 3D Printers with Resume Printing and Model Preview Function
1.Easy Assembly: Compared to Ender-3 V2, this Ender-3 V2 Neo printer is pre-installed, and the assembly requires only 3 steps. Friendly enough to users and beginners in assembly process, which will save much time. It is convenient for customers to install it in quick way, more efficient.
2.CR Touch Auto Bed Leveling: Upgraded CR Touch 16-point automatic bed leveling technology saves you in the trouble of manual leveling. Easy to use, the intelligent leveling system can automatically compensate for the printing height of different points of the hot bed. It saves much more time for customers in long-time leveling adjustment, quickly finish the leveling process.
3.Brand New 4.3 Inch UI User Interface: The upgraded UI adds a model preview function, making it easier to observe the printing shape and progress for customers. Which is convenient for you to know about the model status. Also, it supports nine languages for different customers demand.
4.PC spring steel magnetic build plate: Different from ender 3, ender 3 pro and ender 3 v2, this new-released FDM 3d printer comes with a removable PC spring steel magnetic build plate. The innovative printing platform is a combination of a PC coating, a spring steel sheet and a magnetic sticker, which sticks to the surface immediately when released. The PC coating brings good adhesion for filament, and the finished models can be easily removed by bending the print sheet.
5.Silent Motherboard: The mainboard is 4.2.2 version but it is silent mainboard which is different from ender 3 mainboard. This Ender-3 V2 Neo equipped with self-developed silent motherboard, which has stronger anti-interference, faster and more stable motion performance, silent printing and low decibel operation, create a quiet environment.The extruder is upgraded to full-metal extruder, which has greater extrusion force and is more durable, reducing the risk of nozzle blockage.
3. ANYCUBIC Vyper 3D Printer
The ANYCUBIC Vyper 3D printer is a versatile and powerful 3D printer with a 32-bit motherboard, an intelligent auto-leveling system, a 4.3-inch touchscreen that allows users to track their projects' progress quickly, and a Cortex-M3 architecture main control chip that enables quick printing.
It features a large printing volume of 245 × 245 × 260mm/ 9.6 × 9.6 × 10.2, which is sufficient for most projects. Its powerful extruder can precisely extrude filament at maximum temperatures of 255⁰C, while a dual-fan cooling system reduces heat-related warping, facilitating more accurate and smoother prints. It's also compatible with several filaments, such as TPU, ABS, PLA, Nylon, and PETG, making it suitable for various applications, from prototyping to production.
The printing quality is similar to standard 3D printers, but ANYCUBIC Vyper 3D printers print faster (up to 100mm/s). A patented Z-axis Gap Elimination Module can prevent layer marks and guarantee accuracy.
Its Ultrabase heat bed and filament detection system automatically pauses the print when the filament runs out. Plus, the printer features a resume print function that allows you to resume incomplete prints in case of a power outage.
Other advanced features like cloud printing, a 3D slicer, and a built-in camera are also on board.
Features:
Speed: Up to 100mm/s
Power Rating: 300W
Weight: 22 pounds
What we like:
You can assemble the printer in less than 10 minutes
Very little vibrations
What we don't like:
Shipping of replacements takes longer time than usually 
Sale
ANYCUBIC Vyper 3D Printer, Auto Leveling Upgrade Fast FDM Printer Integrated Structure Design with TMC2209 32-bit Silent Mainboard, Removable Magnetic Platform, 9.6" x 9.6" x 10.2" Printing Size
Large Print Size & Auto Leveling, Small body but Large printing volume of 9.6"(L) x 9.6"(W) x 10.2"(H) / 245 x 245 x 260mm, ANYCUBIC Vyper 3D printer equipped with intelligent leveling system, accurately detect 16-point and automatically adjust the height of nozzle to platform, 1 click to auto leveling, which is friendly use for both veterans and recruits.
Accurate & Silent Printing, Vyper FDM 3D printer Equipped with new 32-bit motherboard and high-performance Cortex -M3 architecture main control chip, enable the system to run faster and smoother. TMC2209 silent driver makes the motherboard have both silent printing and precise voltage output control, ensuring a more accurate and silent printing.
PEI Spring Steel Magnetic Platform, Vyper 3D printer adopted a new platform of a special coating combined with spring steel, which features non-deformation at high temperature, scratch-resistant coating and easy model removal by bending or popping. Widely compatible with PLA/ABS/PETG/TPU filaments.
Fast Printing, Vyper printing head adopts a double fan two-way heat dissipation system, helping to cool down models rapidly. Compared with ordinary 3D printers, the printing quality is the same while the printing speed is faster, which can reach 100mm/s. Patented Z-axis Gap Elimination Module can avoid print layer marks and ensure printing precision.
More Function, A, Fast Assembly, integrated structure and modular design. B, 4.3 inch large-size touch screen, easy to operate. C, Double-gear extrusion system, is able to reduce the chances of filament tangle and compatible with PLA and flexible filaments. D, Resume print and Material breakage detection. E, Safe power supply.
4. ELEGOO Neptune 2S FDM 3D Printer
If you want to print your favorite animated characters or toys, ELEGOO Neptune 3D printer should be your top pick. The machine is classy and built from sturdy stainless steel frames and small electronics that are easy to operate. Furthermore, the printer has a 32-bit motherboard, SMT32F chip, and large memory of up to 1M FLASH. These electronics are the brains of the printer, and from the specs, they are amazingly fast.
The accurate and stable extruder is made from metallic parts that can work under extreme temperatures of up to 500 degrees Fahrenheit. Plus, the extruder is equipped with an elastic spring adjuster and titanium alloy pipe that reduces the likelihood of Neptune from clogging after prolonged use. The adjuster also results in uniform outputs.
When working, the machine extrudes plastic on a detachable plate made from four layers to be compatible with PLA, ABS, PETG, and TPU filaments. The topmost layer is a special coating. Below it is spring steel and 3M magnetic sticker layers. The bottom layer is the print bed.
As an intelligent printer, Neptune has a detector that sounds an alarm and stops printing when the filament runs outs. At the same time, the machine will auto-resume after power loss, saving time.
Safe and secure, all components are tightly screwed and tied down on the frame, and wires are insulated.
Features:
Speed: Up to 180mm/s
Power Rating: 250W
Weight: 22 pounds
What we like:
The printer is suitable for taller objects
Price to quality ratio is good
What we don't like:
ELEGOO Neptune 2S FDM 3D Printer with Resume Printing Function Printing Size 8.66x8.66x9.84 inch
【Accurate and Stable Extrusion】The double-gear metal extruder is equipped with a spring elasticity adjustment design and a special titanium alloy pipe, which reduces the risk of nozzle clogging, makes the output more uniform, and the printing is more stable.
【PEI Magnetic Build Plate】Neptune 2S adopts a new detachable platform of a special coating combined with spring steel so you can remove moels by bending or popping. It is not easy to deform at high temperatureand has a longer lifespan.Widely compatible with PLA/ABS/PETG/TPU filaments.
【Fast and Silent Printing】Neptune 2S 3D printer is equipped with a 32-bit motherboard and SMT32 chip,a memory up to 1M FLASH making the system run smoother and faster; The Silent stepper driver ensures that the motherboard has silent printing and accurate voltage output to ensure better printing experience.
【Resume print and filament detection】 Equipped with a material break detection switch, Neptune 2S can always detect the machine power failure and pause printing, and the automatic recovery function will continue printing when the power is re-connected.
【More functions】Metal leveling screws and mold springs, which are ergonomic and convenient to use; Intelligent fan system, which automatically shuts down after cooling, prolongs the life of the machine. 3.5-inch touch screen, easy to operate.
Things to Consider Before Buying FDM 3D Printers
Buying an FDM 3D printer is an important financial decision that should not be taken lightly. Here is how to choose the best FDM 3D printer while paying less.
Cost
The price of 3D printers ranges widely from manufacturer to manufacturer and depending on who is selling them. Before buying a cheap printer, you must consider the following, nonetheless. What is the price of the printer, and how much does the filament cost?
You can get a decent printer for as low as $100. The filament, on the other hand, costs around $15 per pound. If you have a limited budget, don't go for a printer whose filaments are expensive; managing it will be very difficult.
Applications
FDM printers are designed for different roles. As a DIYer, a simple printer with a small work area is good. Don't waste money on large, sophisticated printers when you know very well you have simple projects.
If you are doing industrial prototyping, a large printer may be suitable. This will help you create large, accurate, and complex designs.
Resolution
The resolution of a device affects the quality of the printed object directly. A printer with high resolution can print minute features on an object more clearly and smoothly. 
Among different types of 3D printers (SLA and SLS), FDM printers have the highest resolution of around 100 microns. Unfortunately, the print resolution being a marketable feature; the higher the resolution, the pricier the printer.
Slicing Software
A 3D printer cannot work without coded instructions from a slicing software or slicer that directs it to follow certain geometrical paths.
Top FDM 3D printer manufacturers provide customers with free slicer packages. The good thing is they are compatible with their machines, and buyers have no problem using them together.
Without proprietary software from manufacturers, printer buyers must rely on unreliable free slicers available on the internet. Most of them are not calibrated to suit your machine, have limited features (unless you upgrade to the premium level), or may require frequent updates
So, the bottom line is to buy a printer with proprietary software from the manufacturer.
FDM 3D Printers FAQs
What Is FDM in 3D printing?
FDM is the technology of building up an object layer by layer by forcing thermoplastics through an extruder. The extruder, in turn, follows a path created by slicing software.
Is FDM Stronger Than Resin?
While resin filaments resist high temperatures and corrosion, they are brittle and break into pieces easily. FDM compensates for these weaknesses by using strong filaments. 
Why Is FDM 3D Printing So Popular?
FDM 3D printers are popular because they are cheap, easy to use, and effective at using filaments. Additionally, there are no post-production processes meaning objects are ready for use once printed.
Advantages and Disadvantages of FDM
Pros:
Impressive speed
Plenty of filaments to choose from
Allows you to print large objects
Using FDM printers is simple
Cons:
Finding a machine with high resolutions is difficult and very expensive
FDM-printed objects may break apart where layers meet each other.
Bed calibration is needed more frequently
Overall, FDM printers are available in countless options; you only need to find one that is within your budget, easy to install and use, light, and comes with free slicers from the manufacturer. The above top four FDM 3D printers are the best the market offers. They have interactive screens, and intelligent features and work with many filaments. Consider one of them for your next project.