Disclosure: This post contains affiliate links and I may earn a small commission if you purchase through these links.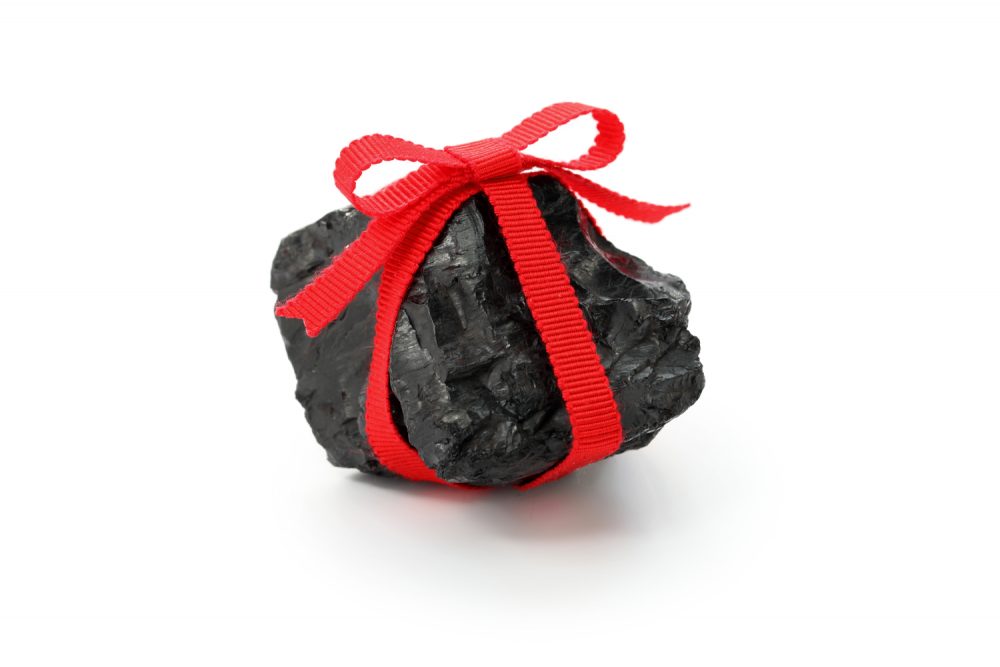 It can be hard buying gifts for friends and family members, but it can be especially difficult if you know nothing about their hobby. Don't worry, we're here to help.
While there are lots of great presents out there, finding the perfect one for the avid rock collector or geologist in your life is the tricky bit. For example, you need to know whether they're a beginner, have intermediate knowledge, or are an expert in the subject. They may be a child or an adult and there are many excellent products that make wonderful gifts for both. It's important to take your time and do some research as finding the right gift will be sure to make them very happy.
There are a range of different types of gifts and these include:
Gloves to protect hands from injury
Books, reference guides, and notebooks
Tools such as hammers, microscopes, and chisels
Flashlights for working or collecting in dark spaces
Rock tumbler kits that turn rough rocks into polished gemstones
When picking out our top picks for rock collectors, we paid close attention to the prices, ensuring that we found quality gifts for a range of budgets. We also used honest consumer reviews from people who have bought these items and excluded any fake reports.
1. INCLY 15 PCS Geology Rock Pick Hammer Kit
This 15-piece geology variety kit has it all! Included in the kit are a rock pick hammer, three rock chisels, and a three-in-one thermometer, whistle, and compass with a lanyard which can be worn around the neck. The pick hammer is a one-piece, all-steel tool with a fully polished finish. The hammer's handle, however, is rubber-coated for comfort.
Additionally, a jeweler's loupe, wooden chisels, a brush, safety goggles, and gloves come in the kit too. Of note, the chisels come in different sizes (7.8-inches, 9.8 inches, and 11.8 inches) suitable for brickwork, metal, concrete, and stone. The chisels and hammer are made of polished stainless steel for maximum durability. The jeweler's loupe is constructed of aluminum with plastic housing, making it small and lightweight. Finally, this awesome geology kit includes a shovel and a small musette bag for collecting stones. This geology kit is a great gift for experienced collectors and hobbyists alike.
What we love:
All of the stainless steel tools are coated with a rust preventative ensuring their durability over their lifetime
The tools come bundled in a messenger bag with a shoulder strap which can also fit rocks, gems, and minerals
We don't like this as much:
The black and white gloves only come in one size although they do have adjustable wrist straps
2. Ancient Landscapes of Western North America: A Geologic History with Paleogeographic Maps
This highly informative book explores the fascinating ancient North American landscapes and their geology. Within the book, readers will have access to North American geologic history as well as beautifully colorful paleogeographic maps that provide satellite images of ancient Earth. This well-illustrated, 13-chapter book explores topics like terrains, sediments, igneous rocks, Cordillera's Foundations, the amalgamation of Pangea, the continental arc, and many other pertinent topics.
The book explores how volcanic eruptions and fault line activity play a major role in how modern landscapes were transposed. The book contains useful charts, graphs, and helpful photographs. Finally, this book contains fascinating historical accounts of how modern geology has become what it is today. Authored by Ron Blakey and Wayne Ranney, experts in the field of geology, this book is a serious guide to American geology. Serious rock collectors will marvel at the history that is revealed in this book.
What we love:
With simple sentences and agreeable vocabulary, the book's tone is relatable and easy to read
Calling all professors! This would be excellent supplementary reading to assign in college courses on geology
We don't like this as much:
Although the book's content is excellent and informative, there are a few minor typos and grammatical mistakes
3. NATIONAL GEOGRAPHIC Hobby Rock Tumbler Kit
Rock tumbling is a much-loved pastime for children and adults alike. This rock tumbler kit is made with hobbyists and enthusiasts in mind. With this tumbler, you can turn rough, unrefined rocks into gorgeous polished gemstones. Of note, this tumbler is outfitted with a motor that has both time and speed settings. By simply setting your preferences you can start the tumbler and move onto other tasks while it does its job.
Included with the tumbler rock kit is one pound of rough rocks featuring nine different gemstones inside. The kit also includes five jewelry fasteners, tumbler grit, a strainer, and polishing GemFoam. Significantly, the GemFoam polisher is added to the water barrel which leaves your gems sparkling. With a user-friendly, intuitive interface, rock enthusiasts will have no trouble turning natural rocks into beautifully polished gemstones. This highly educational rock tumbler is a perfect gift for rock collectors and children interested in the sciences.
Be sure to look at the other rock tumblers for adults that we analyzed in our latest buying guide for 2022.
What we love:
The tumbler's barrel is outfitted with a stainless steel leak-proof lid so you don't have to worry about bothersome messes
Some of the gems that come with the set include rose quartz, sodalite, red jasper, aventurine, amethyst, and agate
We don't like this as much:
This tumbler, like many on the market, is very noisy which can be irksome considering how long a rock tumbler must run
4. BelOMO 10x Triplet. Jewelers Loupe Magnifier 21mm
This well-loved jeweler's loupe magnifier is a great tool for professional gemologists, rock collectors, geologists, and hobbyists. Classically designed with a three-lens framework and 10-times magnification, this magnifier is quite useful for analyzing stones. The large, 21mm lens is achromatic so it collects light and gives off a bright, clear, and color-correct view of the gem in question.
The magnifier's large viewing area is ideal for gems of all sizes, from the smallest of pebbles to the largest, most brilliant gemstones. The high-quality optical lens is certified similar to how a camera lens is; this should give you confidence in its craftsmanship. This magnifier can be used with rocks, stones, gems, coins, minerals, stamps, and inspection of any small object that will fit within the lens's parameters. The body of the loupe is non-magnetic, its metal case is shock-resistant, and the optical glass is anti-reflective.
What we love:
The lens is conveniently treated with an anti-reflection coating which prohibits pesky glares from both sunlight and artificial light
A useful jeweler's loupe, the magnifier's matte black finish is the perfect backdrop against which to grade gems
We don't like this as much:
We wish it was equipped with a UV lighting mechanism for a closer, more revealing look at a gemstone
5. My Book of Rocks and Minerals
As the title suggests, this is a great book for geology enthusiasts. Essentially, it's a guidebook that identifies gemstones, crystals, tough rocks, and ancient fossils. "My Book of Rocks and Minerals" will help young collectors to find and identify geological treasures. The book is jam-packed with interesting facts, details, and beautiful photographs of more than 60 types of rocks and minerals. The book will help you learn to differentiate between similar rocks and tell you the best places to look for them.
Moreover, this guidebook will teach children how to name rocks, minerals, and gemstones. The book is organized into chapters on topics like unearthing minerals, rock hunting, geology equipment, and so on. With rocks from deep space, dark caves, and everywhere in between, this book is a wealth of geological knowledge. This book is geared toward children so it's formatted in short, easy-to-read snippets. Your young rock enthusiast can become an expert on rocks and minerals with the help of this informative book.
What we love:
The book includes facts, information, origin details, and pictures about cool glow-in-the-dark rocks; these facts are sure to wow your child
The book provides phonetic, easy-to-sound-out spellings of difficult-to-pronounce gems, geodes, and minerals making it an appropriate read for young children
We don't like this as much:
There's a stronger focus on the monetary value of gemstones instead of the geological history of the stones
6. NATIONAL GEOGRAPHIC Rock & Mineral Collection
This kids' collection of National Geographic rocks and minerals is a great starter kit for children interested in geology. Within the kit are 15 different rocks and minerals that come from around the world. Some of the notable rocks included in the kit are desert rose, rose quartz, pyrite, zebra jasper, tiger's eye, blue quartz, and blue calcite. The kit also comes with a clear storage box and one storage pouch.
A learner's guide in full color is also included; this guide defines each specimen for your child. Finally, a small magnifier comes with the kit so your child can examine the intricacies of each rock and mineral. The kit inspires a love for science, especially geology, and STEM concepts. If your child is a science-loving kid who is fascinated by geology, this is a wonderful gift to help get their rock collection started.
What we love:
A colorful, well-illustrated fact sheet depicts and explains the origin of each of the included stones
The black, synthetic, drawstring storage pouch allows your child to take their collection on the go
We don't like this as much:
The rocks are small and delicate so it's advised that supervised children use caution in handling them
7. Leegol Electric Rotary Rock Tumbler Double Drum 6LB Lapidary Polisher
This rotary rock tumbler with a double drum can fit double the rocks as standard models. Of note, each of the two barrels can hold up to three pounds of rocks for an astounding six pounds of rocks at a time. Moreover, this tumbler is electric powered and comes with a 120V/60Hz power adapter. The tumbler also comes with two half-pound bags of walnut shells, five v-belts, and a thorough instruction manual.
The barrel is constructed of rubber which reduces the noise created by the rocks tumbling inside the drum; compared to other models, this one is much quieter. The powerful motor allows this tumbler to run for many days, ensuring a smoothly finished and polished stone. Easy to use for beginners but powerful enough for professionals, this is an outstanding rock tumbler that can also polish metal parts. If you're looking for a powerful yet easy-to-use rock tumbler, this respectable product will more than do the job.
What we love:
The barrel simulates the motion of natural moving water or ocean waves which is how naturally polished gemstones come to be
Children using this tumbler will have an improved understanding of geology, science, and how unrefined rocks become dazzling gemstones
We don't like this as much:
A metal oxide compound is recommended to polish the gems more quickly however, it's not included with the purchase of this tumbler
More: Best Lapidary Trim Saw
8. Dan&Darci Mega Rock Tumbler Refill Kit
This mega refill pack comes with all the supplies you need to create dazzling gems. Included with this kit is a one-pound bag of rocks that yields a half-pound of polished gemstones, four bags of grit, and jewelry fasteners. Significantly, nine varieties of gemstones come in each bag. Some of the gleaming gems that come with the kit include tiger's eye, sodalite, rose quartz, dalmatian jasper, and amethyst among others.
The grit bags come in four efficient grades: coarse, medium, pre-polish, and polish. This kit is recommended for children eight years old and up. This inclusive refill kit is compatible with all rock tumblers, no matter the brand. Dan&Darci has a 100% satisfaction guarantee so you can purchase this refill kit with confidence. Finally, because the kit includes everything you need to create beautiful gemstones, this one purchase makes a great gift set for rock enthusiasts.
What we love:
With the four included jewelry fasteners, you can make beautiful necklaces, rings, and earrings with the gemstones
The included grit bags are more than what's needed for the gemstones which means you'll have plenty to use for additional stones
We don't like this as much:
Instructions and recommended measurements for how much grit to use during each tumbling session are not included
9. Kellyco Retractable Brass Finds Brush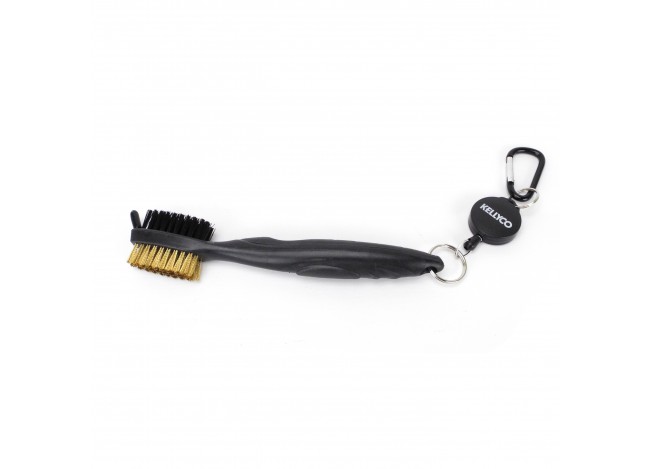 Avid geologists, hobbyists, and enthusiasts require certain tools for effective rock collecting. A good brush is one of those important tools. This retractable brass brush is a very useful tool for cleaning and dusting off geological finds when in the field. With the use of this brass wire brush, geologists and hobbyists can easily determine what they've unearthed.
The retractable brass brush is outfitted with a carabiner that easily clips to belt loops, a vest, or a backpack for convenient access and transportation. The brush is retractable and when pulled to its furthest extent, it measures a whopping 24-inches long. This means you don't have to unclip the carabiner to effectively use the brush. The plastic brush handle is ergonomic, making for a comfortable grip, and is also black with a lovely Kellyco logo accent. If you're looking for a small gift to give a rock collector, this retractable brass brush makes the grade.
What we love:
The carabiner has a spring-loaded gate making it easy to attach and detach to loops, straps, and handles
The brush's tip is equipped with a stainless steel pick for digging out caked-on dirt; it includes a safety cap
We don't like this as much:
The coarse, brass bristles could be damaging to older, more fragile artifacts; caution is recommended
Kellyco Retractable Brass Finds Brush – $12.99
from: Kellyco Metal Detectors
10. XXTOYS Kids Rocks Collection
This cool geology gem kit for children is a great gift for kids interested in starting a rock collection. The kit includes 15 magnificent gemstones that will delight curious children. The rocks in this kit are bigger than those in typical rock collection kits, making them perfect for small hands.
Some of the amazing rocks in this collection include amethyst, rose quartz, red jasper, tiger's eye, and clear quartz. These gemstones are all polished to a sparkling gleam and are quite colorful. Each of the different gemstones has a unique shape and feel. Included with this rock collection is a fill-in-the-blank collector's certificate where you can fill in the name of the child to whom you are presenting the kit. Lastly, the kit also comes with a full-color illustrated rock guide and a magnifying glass. This geode kit makes a great gift for budding young scientists.
What we love:
The rocks come with a space-saving, clear, plastic storage case that also services as an awesome display case
A colorful rock identification card affixes to the inside of the storage case; like a candy box, your child can line up the gem to the space that matches its picture
We don't like this as much:
The magnifying glass, although quite useful for closely analyzing gems, is small and quite fragile, requiring extra care when handling
11. ​​Rite in the Rain Weatherproof Mini-Stapled Notebook
These amazing mini-stapled notebooks are great for keeping notes when working in the field. This great little notebook comes in a three-pack and is perfect for rock collectors on digs. If you like to keep notes and records during your geological digs, this weatherproof mini notebook is just the thing for you. Each notebook contains 12 double-sided pages of all-weather, water-repellent paper.
Moreover, each sheet is lined and gridded making the pages perfect for writing narrative findings or creating scaled diagrams. Furthermore, you can write on the pages using a pencil, ballpoint pen, permanent marker, and even crayon. The notebook's back cover has pictured rulers on the two long edges that come in handy for measuring rocks and minerals. While the manufacturer's slogan aptly states "Defying Mother Nature," they also have a great appreciation for nature as evidenced by the entirely recyclable materials that the notebooks are made of.
What we love:
The notebook's pages are numbered for your convenience making it easy to refer back to anecdotal notes
The notebook is available in five pleasing colors: black, blue, brown, green, and yellow
We don't like this as much:
Water-based ink, like gel and fountain pens, don't work well on the notebook's pages, while permanent marker and ballpoint pens are recommended on dry paper only
12. uvBeast V3 365nmUV Flashlight
Another of many awesome tools for rock collecting enthusiasts or professional geologists, this flashlight makes a great gift. The uvBeast is a small handheld blacklight UV flashlight that works perfectly for analyzing rocks and minerals. This flashlight emits high-quality UV light at a whopping 365nm wavelength. The long-range, high-intensity beam of this flashlight can reach distances of up to 60 feet.
Furthermore, the flashlight is powered by a rechargeable lithium battery for convenience and longevity. Best of all, the button-top batteries are equipped with technology that prevents overcharging. This is a professional-grade flashlight that can be used by hobbyists as well. Equipped with a UV filter, the uvBeast blocks out unwanted light, delivering sharp details. Best of all, the uvBeast is constructed of aerospace-grade aluminum for optimal durability. If you're in the market for a desirable and utilitarian gift for your favorite rock collector, this blacklight flashlight is sure to be a hit.
What we love:
This flashlight is equipped with triple LED lights emitting UV radiant, high-intensity light
The uvBeast is fully charged out of the box so it's ready to be used upon arrival saving you the time to fully charge the batteries
We don't like this as much:
We wish it came with a belt loop hook, carabiner, or holster to make it easily accessible
13. Strongsuit Second Skin Gloves – Black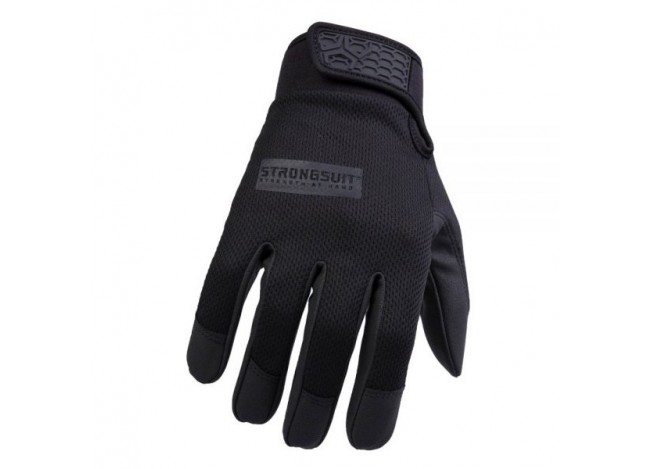 These excellent black gloves are perfect for fieldwork. The Strongsuit gloves fit like a second skin, giving you unimpeded tactility when using them. For instance, while wearing these gloves, you can easily discern minute texture differences in rocks and gemstones. Moreover, your hands will be well protected from shovel blisters, digging through rough terrain, handling craggy rocks and minerals, and kept perfectly clean in these gloves.
When digging for rocks, there's always the chance you'll encounter sharp objects; these gloves will protect your hands from injury. The gloves' non-slip grip will give you a firm handle on tools and ensure you don't drop your treasure. Moreover, the breathable mesh fabric makes for a comfortable, light fit, while the adjustable velcro wrist strap promises a perfect fit. Lastly, the gloves can be machine washed, however, a delicate cycle is suggested. The Strongsuit Second Skin gloves make a great gift for rock collectors but can also be used for bike riding, gardening, shooting practice, and more.
What we love:
The gloves are outfitted with Intek touch technology so you can use touchscreen devices while wearing these gloves
These are available in an array of sizes so you can choose the perfect fit for your hands
We don't like this as much:
They are not heat resistant and can melt if in contact with excessive heat like naked flames or a dryer on high heat
Strongsuit Brawny Gloves – Black – $19.79
from: Kellyco Metal Detectors
14. ​​LCD 7 Inch Digital Microscope
If you're looking for a cool way to outfit your favorite rock collector with the best tools of the trade, consider this clever microscope. This super LCD digital microscope works wonderfully for analyzing geodes. The microscope's 1-1200x magnification allows users to see objects with pristine precision. The camera's high-quality field of vision eliminates black edges, delivers high-resolution images, and has a large depth of field.
The high-definition camera can take microscopic pictures and videos. The seven-inch monitor far exceeds the size of comparable competitors and the LED screen produces clear images even when the light is powered off. The microscope is equipped with a front/back and up/down adjustable bracket and is powered by a rechargeable battery. Moreover, the microscope is outfitted with mini-USB and T-Flash Micro SD ports so you can save each of your rock analyses. With so many wonderful features, this microscope makes a unique and desirable gift for rock collectors.
What we love:
The LED screen display helps to reduce eye fatigue and enhance image clarity/focus – all whilst improving efficiency
In addition to analyzing rocks and gems, this microscope can be used to view antiques, textiles, insects, jewelry, and more
We don't like this as much:
The microscope is not ready to be used out of the box; it must be fully charged which takes several hours
15. Toysmith Mineral Science Kit
This mineral science kit is just the thing for your favorite rock collector. This excellent kit gives you the ability to discover the world around you. The kit includes 15 unique mineral specimens and the tools to test, identify, and classify each. Speaking of tools, this gift set comes with a magnifying viewer to give you a close look at each specimen, a metal nail to test the specimens' hardness, and a streak plate to test its powder color.
Notably, the minerals come in a handy storage box with 15 individual spaces for each mineral. The kit also includes a useful identification guide that helps you to classify each of the minerals. This is an amazing gift for young science buffs and rock collectors. To be clear, this set is recommended for children aged eight years old and up. This hands-on, interactive kit allows your child to whet his appetite for science.
What we love:
Toysmith also makes a rock science kit that is the perfect counterpart to this well-rounded mineral kit
This kit is great for performing a homeschool science lab; your child(ren) will love getting their hands on these minerals during science class
We don't like this as much:
The minerals are numbered for matching them to their descriptions; if they get mixed up during shipping, matching the mineral may require a little extra patience
16. Mohs' Hardness Test Kit for Industrial Applications
This beautiful kit would make a lovely gift for serious rock collectors, hobbyists, and geologists. Mohs' Hardness Test Kit includes eight Mohs' hardness points mounted in a durable yet aesthetically pleasing nickel-plated brass. For your convenience, the instruments are color-coded and number stamped to indicate their hardness points. The set includes four double-ended tools for a total of eight Pin Vises.
These tools are used to perform scratch tests on rocks and minerals which indicate their hardness on a scale from one to ten, one being talc and ten being diamonds. The set also comes with two hardness plates, a sharpening stone, as well as a laminated instructions guide that's permanently affixed to the inside of the carrying case. Speaking of the carrying case, it's a sturdy molded case intended for precipitous work environments. Each of the eight hardness points is made of metal and alloys commensurate with Mohs' Hardness mineral standards so the points can not only be trusted but will last for years to come.
What we love:
These tools are foremost in the geology industry and are specially built with components meeting industry standards
Replacement points can be purchased, however, it's only necessary to replace the points after they become too short from being sharpened repeatedly
We don't like this as much:
We wish the set included half-point scales for more precise testing
17. NATIONAL GEOGRAPHIC Sand Scoop and Shovel Accessories
If you're in the market for a moderate gift for a rock collector, adult, or child, this is a great choice. National Geographic is an authority on STEM-related topics and tools so you can trust that this scoop and shovel set will prove useful to your budding geologist. This sand scoop and trowel are perfect for treasure hunting in sandy, dirty, and rocky terrain.
The heavy-duty, plastic construction of these tools makes them uber durable and easy to keep clean. Likewise, the strong plastic composition makes the shovel suitable for digging through tough terrain. The tools are ultra-lightweight which makes them suitable for young children as well as adults. Of note, the trowel measures 11.5 inches long while the sifter measures 7.75 inches in length with a whopping half-gallon capacity. This National Geographic Sand Scoop and Shovel are useful tools for rock collectors who enjoy a good treasure hunt. We have more shovels for metal detecting.
What we love:
These tools are not just for rock collectors; they are excellent accessories to use in conjunction with a metal detector
Children will love to use this trowel and sifter to find seashells, beach glass, pebbles, and other desirable treasures at the beach
We don't like this as much:
The sifter holes are about the size of a dime which means that tiny treasures could get lost through the holes
18. Worksite 12 inches Heavy-Duty Masonry Chisel
This Worksite chisel is the perfect tool for geological fieldwork. This 12-inch long, 1.5-pound chisel has a one-inch blade and is constructed of heavy-duty CRV-forged steel. Of note, the chisel's sharpened flat end is designed to withstand the test of time. This tough chisel is ideal for cutting, splitting, carving, and loosening wedged rocks and minerals.
Equipped with a black and yellow, shock-absorbent handle, this chisel provides ultimate comfort. Additionally, the handle is outfitted with a hand stop that prevents your hand from being injured by overstrikes or missed hits as well as from slipping beyond the handle. The handle also has a soft rubber grip that makes it easy to hold. This Worksite chisel will help you work with precision to find and loosen rocks and minerals. An excellent gift for rock collectors and geologists, this heavy-duty chisel makes a great gift.
What we love:
As the blade of this chisel becomes dull from repeated use, it can be easily sharpened over and over again so it will last for many years
This chisel, although ideal for rock collecting, can be used for many other projects like construction jobs and beyond
We don't like this as much:
We wish the chisel's blade came with a protective safety cap as it's very sharp
19. Smithsonian Handbooks: Rocks & Minerals
This beautiful Smithsonian Handbook on rocks and minerals is a delightful gift for rock collectors. Available in hardcover and paperback formats, this handbook is an authority on rocks and minerals. Featuring more than 500 geodes, the book provides informative details, characteristics, distinguishing features, and best of all, beautiful photographs. This book makes rock and mineral identification a piece of cake! Suitable for beginner and expert rock collectors alike, this book explains what rocks and minerals are and how they are indexed.
Additionally, the book provides readers with useful pointers for beginning a new rock collection. Of significance, you can use this book to differentiate between igneous, metamorphic, and sedimentary rocks. Finally, the book includes a handy glossary that defines both technical and scientific vernacular as well as an index that makes it easy to reference particular rocks and minerals. Whether you're looking for a gift for an established collector or a novice, this book makes a wonderful gift.
What we love:
This identification guide takes a "photographic approach" which makes it user friendly and authoritative on the subject of rocks and minerals
The pictures and descriptions within the handbook are so meticulous that you'll feel like a real geologist as you accurately identify specimens
We don't like this as much:
The book was published nearly 20 years ago; as such, the resolution and quality of the photographs isn't as great as they might be if taken today
20. CKG Sand Scoop
The CKG Sand Scoop is an excellent tool for novice and experienced rock collectors. Made of heavy-duty stainless steel, this all-weather sand scooper is suitable for a variety of terrains like sand, dirt, and gravel. Of note, the steel scoop is anti-corrosive so it will maintain its integrity for many years to come. The body of the sifter has evenly dispersed, hexagonal holes that each measure seven millimeters. The length of the scoop's body is nearly 10 inches long, meaning it can easily dig that far into the soil, sand, and gravel.
This lightweight and easy-to-transport rock-collecting tool weighs a little over one pound. The top-mounted, black, rubber-grip handle makes for a comfortable scooping orientation and grip. Suitable for children and adults, this useful rock-collecting tool might just yield your next big treasure. If you're looking for a fun beach toy or a sifter for rock collectors, novice or experienced, this excellent sand scoop is highly recommended.
What we love:
A dowel rod or broomstick can be easily affixed to the hole in the handle to extend its length
This fabulous sand scoop works exceptionally well in water when digging for rocks
We don't like this as much:
We wish the handle was a bit longer so you didn't have to bend so low each time you scoop
21. Gemstone & Crystal Properties
This brochure-style, Quick Study home guide is lovely reference material for gemstone and crystal collectors. The tri-fold guide features 135 of the most popular and sought-after varieties of gemstones, minerals, and crystals. Each featured specimen depicts a colorful and vivid image of the stone as well as thorough descriptions and details. Stone descriptions include color variety, luster, and range of transparency. Additionally, each description details the stone's scientific properties and historical usages.
Much like a cheat sheet, this helpful guide provides a quick reference for rock collectors, jewelers, geologists, and artists. Additionally, this guide could be useful to buyers in the market for gemstones with particular value or meaning. A perfect treat for a rock enthusiast, this modest reference book has all he/she needs to know about popular gemstones in one succinct guide. This guide would make a great stocking stuffer or supplement to a rock-collector-themed gift.
What we love:
This reference sheet is organized alphabetically by stone name, making it easy to quickly reference the stone of your choice
Some of the awesome stones featured on this sheet include amazonite, beryl, lapis lazuli, obsidian, and opal
We don't like this as much:
We wish the descriptions included information about toxicity, rarity, and its origin, as well as details about ruling planets in the discussion of metaphysical properties
22. Apex Picks Badger 18″ Handle 3 Magnets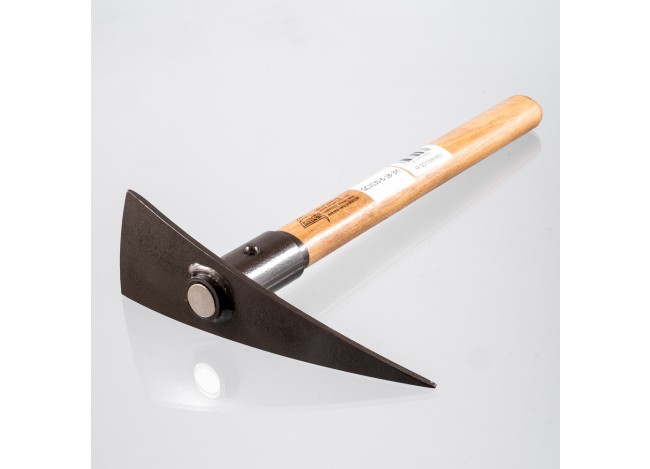 If you're looking for a practical gift for rock collectors, give this handy Apex Pick Badger a look. This beautiful badger has an 18-inch solid hickory wood handle that's both aesthetically pleasing and functional. The badger's head is constructed of a stainless steel head that measures 10 x 3 inches. The whole tool weighs just under three pounds and its compact footprint makes it easy to travel with.
One of this badger's coolest features is that it comes with three magnets mounted to its head. The magnets will not only help you to attract intended targets, but they will also allow you to differentiate between gold and other metals. Of note, one magnet is mounted to the top of the badger head while the other two are mounted to the underside on opposite sides of the handle. This handy tool will help diggers to loosen packed, hard soil and discern between precious and non-precious metals.
What we love:
This tool can easily break up hard-packed gravel and river rock to get to the bedrock of a stream or other body of water
The sharp, pointed tip of the badger makes this tool perfect for working in sharp corners and narrow crevasses
We don't like this as much:
We wish the hickory handlebar had a shock-absorbent grip for added comfort and functionality
BApex Picks Badger 18″ Handle 3 Magnets
from: Kellyco Metal Detectors
23. Estwing Rock Pick – 22 oz Geological Hammer with Pointed Tip & Shock Reduction Grip
This awesome geological hammer is the number one choice of geologists worldwide. That's saying something! If you're in the market for a sensible gift for a rock collector in your life, this hammer is an excellent choice. This hammer is forged in one continuous piece of fine steel. The hammer's head is hand-polished and its pointed pick end is hand-sharpened for craftsmanship you can depend on.
Measuring 13 inches in length, the hammer's handle is equipped with a rugged, shock-absorbent grip for optimal safety and comfort; notably, the rubber grip will reduce vibrations by up to 70%. The hammer's square head is perfect for chiseling away at packed surfaces and cracking open rocks. Finally, the drop-forged design of this hammer makes it one of the most durable on the market. If you're looking for a great gift for a rock collector or geologist, this hammer will surely wow them.
What we love:
This hammer and pick are available in two sizes, a lighter 14-ounce, 11-inch model and this model, a larger 22-ounce, 13-inch model
This hammer is solid steel to its core meaning it will never slip even in the most rugged of digging circumstances
We don't like this as much:
We wish the tool was slightly better balanced; the handle could use a bit more weight which would make it less top-heavy
24. National Audubon Society Field Guide to Rocks and Minerals
Produced by the National Audubon Society, an organization concerned with environmental causes, this field guide is well-loved by rock collectors and geologists alike. An invaluable reference material, this book explores rocks and minerals of North America, many of which can not be found in similar guide books. The small, seven-inch design of the book makes it perfect to stick in a pocket or backpack when working in the field.
With an astounding 800 color photographs, this book is the best tool for any rock-collecting adventure. Of note, the guidebook delineates rocks, minerals, and gemstones in both their natural and crystallized forms. Similarly, the book provides succinct but useful descriptions of the stones' natural environments, field marks, areas of occurrence, nicknames, and more. The descriptions also compare stones to other similar stones, providing methods for differentiating. Lastly, this guide includes tips for mineral collecting as well as a comprehensive list of rock-forming minerals.
What we love:
The book's simple but informative approach does not assume pre-existing knowledge on the topic, making it perfect for beginners
In addition to making a great field guide, this book makes a lovely coffee table or powder room read
We don't like this as much:
The photographs don't include information about the scale of the pictured stones making it difficult to know their size
25. Carson MicroFlip 100x-250x LED and UV Lighted Pocket Microscope
This Pocket Microscope is perfect for on-the-go specimen analysis. Measuring just over four inches tall and two and a half inches wide, this makes the perfect tool for geologic field work. The microscope's powerful lens can magnify a specimen up to 250 times and its LED light makes it easy to perceive objects no matter how little natural light is available.
Concerning its construction, the Pocket Microscope has a convenient flip-down slide base that can be used on any flat surface. In addition to the LED light that illuminates a specimen, there is also a UV light function that reveals otherwise imperceptible features of the specimen. Conveniently, the microscope is powered by just one AA battery. Finally, the Pocket Microscope comes with a smartphone adapter clip that allows you to use your phone to take videos and photos, a lightweight wrist strap, and a starter slide.
What we love:
The smartphone clip makes it easy to share pictures and videos on social media platforms as well as create digital media components for science reports
This microscope is compatible with any brand of slides so you can use it with slides you already have or after-market slides
We don't like this as much:
The smartphone clip works best with a phone without a case, as it does not hold as well when used with a bulky phone case
26. Leather Belt Pouch
This luxurious bag is perfect for rock collectors. This small, unisex pouch or fanny pack as it's more commonly known, makes a beautiful gift for rock collectors and field workers. Handmade of lovely, distressed brown leather, this bag is the hands-free answer to storing collected treasures. The bag's liner is made of water and stain-resistant canvas that can be easily wiped clean with a damp cloth.
On the bag's back are two leather belt loops that slide over any belt you own. The bag has a messenger-style flip-over closure with gorgeous brass hardware. The vintage-looking distressed leather of the bag is made from genuine brown goatskin. Finally, the front of the bag is stamped with the manufacturer's slight but pretty logo. An elegant and tasteful aesthetic coupled with the usefulness and practicality of this gorgeous bag, make it an exceptional gift for rock collectors.
What we love:
This bag is just as useful as a purse or everyday messenger bag; it can hold a pen, small wallet, makeup, and other personal effects
The brass buckle closure is easy to open and close with just one hand and it keeps your treasures sealed safely within the bag
We don't like this as much:
We wish the bag included a belt or waist strap that matched the bag's beautiful leather construction
27. SE Patented Stackable 13-1/4″ Sifting Pan
This stackable, green mesh sifter is a handy tool for straining and inspecting soil, sand, silt, and water for treasures like rocks and jewelry. The sifting pan's 13 ¼ -inch diameter allows you to scoop a lot of material at once. By shimmying the sifter, the loose soil falls through the sifter's holes, leaving behind any collectibles. By design, the sifting pan can fit atop a five-gallon bucket so you can neatly contain any messes.
In addition to being able to stack the sifter atop a bucket, the sifters can also be stacked upon each other. Doing so reduces the risk of lost treasure and improves sifting efficiency. This time-tested pan sifter's mesh is made of rust-resistant, stainless steel wire. By efficiently sifting through the soil, rock and treasure collectors can easily classify specimens. Lastly, the lightweight and durable construction of this sifting pan makes it easy to pack and take on the go.
What we love:
This sifting pan comes in a variety of mesh sizes and grades so you can select the size most suitable for the soil you'll be sifting
The plastic and wire construction is sturdy enough to use the sifter as a scoop as well, avoiding the need for a shovel
We don't like this as much:
Sometimes soil gets caught on the interior lip of the plastic rim while agitating the sieve to sift; by tilting the pan a bit you can rectify the problem
28. GearLight High-Powered Led Flashlight S2000
This high-powered Gear Light is the perfect companion for rock collectors. With the bright luminescence created by this tool, rock collectors and geologists can easily perceive objects in dark spaces and crevasses. The light's compact construction makes it a desirable accessory to carry in the field, but its 1200 lumens deliver blinding light.
With an ultra-wide beam, the Gear Light can easily illuminate large spaces like an entire room or backyard. In fact, this light has double the lumens as other tactical flashlights on the market. This light is equipped with multiple convenient modes like adjustable zoom modes and different light settings. Best of all, the Gear Light is water-resistant and durable, making it perfect for fieldwork in intemperate settings. Designed with an aluminum body, the Gear Light is nearly indestructible; it's able to withstand a 10-foot drop as well as brief submergence in water.
What we love:
In addition to using this on rock-collecting expeditions, this flashlight makes a great addition to a household or emergency kit
The Gear Light comes with a comfortable and handy wrist strap that keeps your light right at your fingertips
We don't like this as much:
When powered on, the Gear Light does not default to the last used light setting, instead, you have to cycle through the modes to return to it
29. Estwing – GP18 Gad Pry Bar – 18″ Forged Geological Tool with Pointed Tip & Chisel End
This clever geologic tool is useful in many different scenarios. The 18-inch tool has many desirable functions for rock digging. Forged from one piece of American steel for optimal sturdiness, this geological pry bar is double-ended. On one end, is a chisel for heavy-duty prying and lifting. The other end of the pry bar features a sharp pointed tip that is useful for breaking, chipping away, and cracking open geodes.
The pry bar's bright blue body makes it easy to recognize this tool when it's piled among other tools. The bar's handle is forged with a shock-reducing grip that reduces impact vibrations by 70%. Moreover, the exposed steel components of this pry bar are hand-polished giving them a desirable and unique look. Forged in the USA, this tool is ideal for heavy-duty geological work. This tool is highly recommended as a gift for rock collectors or geologists.
What we love:
The pry bar's pointed tip is uber sharp and remains so even after many arduous uses
This pry bar can be used with a mallet or sledgehammer to effortlessly chisel away at hard surfaces
We don't like this as much:
Like all steel, this pry bar can rust a bit, however, it remains durable and useful nonetheless
30. Discovery Kids Gemstone Dig Stem Science Kit by Horizon Group USA
This amazing gemstone kit for kids simulates an authentic rock-digging experience. Suitable for curious children aged 12 and up, this dig kit includes a rock block, a wooden mallet, a wooden chisel, safety goggles, a streak plate, a magnifying glass, and a paintbrush. Within the rock block are 11 real gemstones. Children will use the mallet and chisel to chip away at the rocks to discover the beautifully colorful stones.
After your child has unearthed the gemstones they can use the handy paintbrush to clean them and the neat magnifying glass to analyze them. Additionally, this cool science kit comes with a lovely illustrated poster that identifies and provides fun facts about the included gemstones. Speaking of, some of the gorgeous gemstones that your child will unearth include blue carnelian, rose crystal, blue turquoise, blue and red agate, yellow quartz, and clear crystal. This kit is the perfect kit for curious children who are interested in geology or science in general.
What we love:
Once your child has unearthed the gemstones they can be added to an already existing rock collection or put on display
The streak plate allows your child to determine the color of each stone in its powdered form; this is an important job that geologists regularly perform
We don't like this as much:
The rock block creates a big mess so be sure to cover surfaces or use this awesome kit outdoors to keep the mess contained
FAQs about Gifts for Rock Collectors
What do geologists study?
A geologist, or a geoscientist, is concerned with the Earth's natural resources and environment, especially concerning rock formations. Geologists work to glean a better understanding of how the Earth and other planets work. Through investigating and analyzing the Earth's soils, oceans, and atmosphere, a geologist can predict the weather, how land will change, and find new and useful resources and materials. A geologist's work can inform resource management, environmental protection, as well as issues of public health and safety. Geologists also study Earth processes like earthquakes, landslides, and floods. A geologist's work is important because it relates to necessary resources like water, energy, and minerals.
What types of tools do geologists use to gather data?
There are several useful tools that geologists use to gather data. When working in the field, geologists use magnetic compasses to measure the placement of geological structures and create field maps. Additionally, a durable rock hammer is a necessary tool for a geologist. Geologists use rock hammers to split and break rocks. They can also be used to determine the composition of soil as well as to break rocks that may reveal fossils within. Finally, a reliable hand lens is a vital geological tool. A hand lens is used to identify small mineral crystals and other fossils within rocks as well as to see the details of a geode more closely.
What does every rock collector need?
Useful tools for every rock collector include a carrying case or bag for equipment and necessities, a notebook for field notes, and even a pocket knife. While on rock-collecting expeditions, rock collectors may find a sledgehammer, chisel, and hydrochloric acid to be desirable tools as well. Depending on a rock collector's level of expertise and enthusiasm, all or none of these as well as other tools may be necessary. Close analysis and reflection of desired outcomes will inform the tools you require.
If you're in the market for a thoughtful yet useful gift for a rock collector, hobbyist, or geologist there are many options for you. There are many tools of the trade that rock collectors appreciate including a microscope, magnifying lens, chisels, hammer, and you can never go wrong with a good book or reference guide.
Best options:
911metallurgist.com is a participant in the Amazon Services LLC Associates Program, an affiliate advertising program designed to provide a means for sites to earn advertising fees by advertising and linking to Amazon.com.