Disclosure: This post contains affiliate links and I may earn a small commission if you purchase through these links.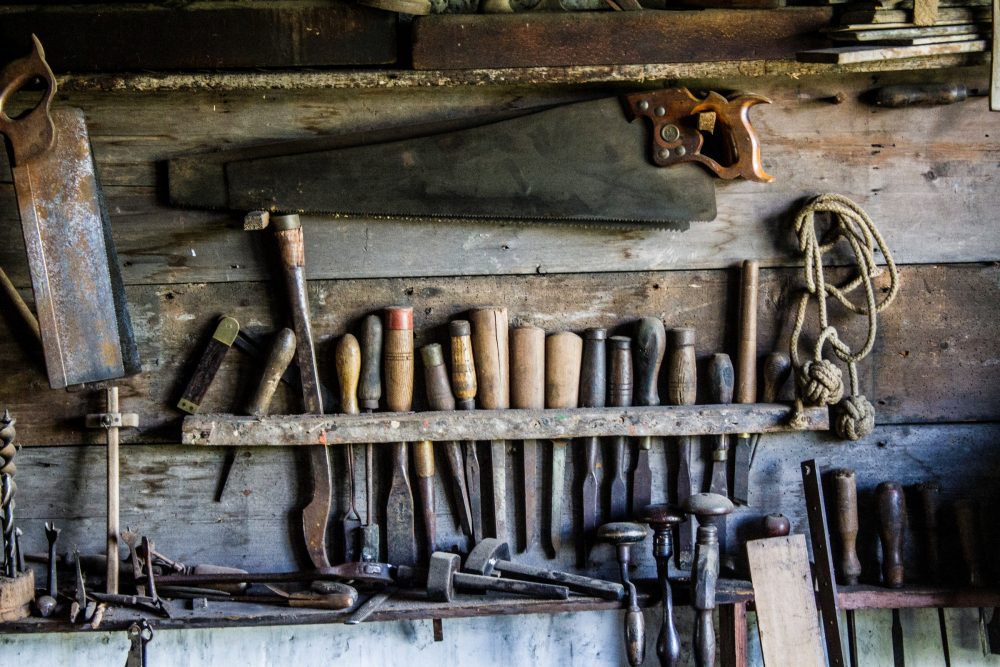 If you want to cut metal, you will need a hacksaw.
It uses a fine-toothed blade and is designed to cut metals vs other saws are designed and aimed at those working in wood.
Hacksaws look similar to bow saws (the same design but for wood), but the handle is just on the very end of the saw with a pistol grip and not the entire frame that exists for bow saws.
We spoke with the 911 Metallurgist team to find out what hack saws for metal they have used that performed well over time and which they would recommend to other professionals. We considered the latest models by the biggest names in saws, from Lennox to Milwaukee Tools.
When identifying the best hack-saw for metal, we wanted to see a strong connection between increased cost, extra performance, and longevity.
We considered the following when deciding what we think are the best hack saws for using on metal.
Cost – hacksaws range from $6 to $40 at the highest end. We only want to pay more if we get more.
Is it designed for metal?
Blade material
Ease of use
Long-term costs – blade replacement
The main issue facing hack saw buyers is if they want to pay a little more for something like the Lennox with upwards of $22 or will be happy with paying $15 for the Craftsman, a solid hack saw at the price point.
These are what we think are 3 best hacksaws for metal as of 2023:
Drill Bit
Best for Different Materials
Pros
Best value 12 inch hacksaw that you can buy
144 blades for cutting through all types of metal
If you want the very best 12 inch hacksaw this is the saw you need
Cons
Plastic handle might put some off
Blade can fall out if not secured correctly
Higher price for a more comfortable metal saw
Best Overall
Pros
Best value 12 inch hacksaw that you can buy
Cons
Plastic handle might put some off
Best for Different Materials
Pros
144 blades for cutting through all types of metal
Cons
Blade can fall out if not secured correctly
Best for Pro
Pros
If you want the very best 12 inch hacksaw this is the saw you need
Cons
Higher price for a more comfortable metal saw
Hands down, the Craftsman 12-inch hacksaw is one of the best values you will find anywhere. It features a solid, stainless steel metal frame that will hold up to many years of daily use.
It's a hacksaw so perfect for metal but can also be used with plastics.
It also has a blade length of 12 inches and a whopping cutting depth of over four inches. This means you can finally cut those wide metal and PVC pipes you once had to chop up using a table saw.
Gone are the days when the tension knob was made of metal, or worse, you had to use a screwdriver. Instead, this saw comes with a comfortable plastic wing nut that feels easy on your fingers. In addition, you can quickly get up to 225 pounds of tension on the blade.
The wide-grip handle allows large people to grip it without crushing their hands. Best of all, this economical saw is made by Craftsman. This means you can use it confidently, knowing
'you will receive a replacement if anything happens, no questions asked.'you will receive a replacement if anything happens, no questions asked.
Features:
Solid metal frame
12-inch blade length
Includes a wide cutting depth
Ergonomic tension knob
Wide-grip handle
What we love:
Made by Craftsman, the best name in tools
Comfortable for people with large hands
It can cut through large metal pipes
Lifetime manufacturer's replacement warranty
We don't like this as much:
You can find better blade replacement options
The plastic handle can feel hard for some users
CRAFTSMAN Hand Saw, 12-Inch Hacksaw (CMHT20138),Red
BLADE SECURITY: Solid metal frame of the hand saw is designed for tension up to 225 lbs.
DEEP CUTS: The handsaw has 12-inch fixed blade length and 4.375-inch cutting depth
FLUSH CUTS: 90-degree and 180-degree adjustable blade angles allow for flush cuts
COMFORT: Large, comfortable tension knob with a full-grip handle
Frankly, we were shocked at how good this little saw was for the money. You know the old saying, "you get what you pay for." However, in this case, you get much more than you may expect from a bargain-priced jeweler's saw.
For example, the all-metal frame is sturdy and well-constructed. The thumbscrews are well-designed and easy to use, and you do not have to fight with them. In addition, you can adjust both the length and the height for added versatility.
This set comes with a whopping 144 blades, so you don't have to run out and buy them at your local hardware store. Instead, everything is ready to go right out of the package.
The Megacast German-Style Jewelers Saw will cut through almost anything, including hardwoods, PVC, and metal. Still, if the blades aren't tight enough, they could slip, causing them to pop out during use.
Features:
Durable metal construction
Thumbscrews for easy adjustments
Suitable for several types of saw blades
Adjustable height and length
What we love:
Amazing value for the price
Sturdy and well made
It comes with 144 assorted blades
Easy to change the blades
We don't like this as much:
Blades may pop out if not tightened properly
Megacast GERMAN STYLE JEWELERS SAW FRAME with 144 ASSORTED JEWELERS SAW BLADES
German Style heavy duty & Adjustable for various blade lengths
Jeweler's Saw Frame with 144 Assorted Blades
For jewelry making, Name Plate's. Solder plate's. woodworking, crafts, hobbies & more.
With thumbscrews that firmly secure the blades into the frame
This saw allows you to work with various blade lengths(3-14.4cm)
The engineers at Lenox have done it again. They created a hacksaw with the latest, cutting-edge technology to make your job easier.
This lightweight, 12-inch saw can quickly and easily cut through even the toughest metal, and it will do it without breaking the bank. The secret is in the 50,00PSI tension on the blade. Although you may not need this much, the sturdy I-beam frame can handle it.
One of the other fixes Lenox addressed is the tightening mechanism. They increased the adjustment range, so removing and replacing your blades is much easier. In addition, the tightening bolt is wider, making it less likely to become stripped or damaged.
We love how the blade remains tight through the entire cut. You can turn the tightening bolt up to 12 times, but a medium setting was ample for most household jobs.
The rubberized handle fits nicely in your hand. There is a convenient blade storage compartment in the back, and you can quickly convert the whole thing into a jab saw using a Lenox reciprocating blade.
Features:
I-Beam design for increased strength and durability
You can adjust blade tension up to 50,000 PSI
It easily converts into a jab saw
Smooth, comfortable handle
Simple to adjust
What we love:
It has a lightweight, balanced feel
Good value for the price
The high blade tension makes for smoother cuts
The rubberized handle is exceptionally comfortable
We don't like this as much:
You give up some frame flexibility for sturdiness
Sale
LENOX Tools High-Tension Hacksaw, 12-inch (12132HT50), Blue
The LENOX hacksaw uses an I-beam construction, allowing the blade to tension up to 50,000 psi
Rubberized handles allow for confident handling, even in wet and cold environments
Hacksaw accepts any LENOX reciprocating saw blade to be used as a jab saw
LENOX hacksaw stores up to 5 extra 12-inch hacksaw blades in the I-beam
All hacksaw come with one 12-inch, 24 TPI hacksaw blade
Do you ever wish you could reach into your back pocket or potable toolbox to grab a hacksaw quickly? Well, now you can with this handy blade-holder from Milwaukee Tools.
Get into tight areas easily with this compact cutting device. It works well between joists, wall framing, or under almost any structure. Moreover, it requires no tools to change the blades. Just loosen the wingnut, pull the old one out, set the new one in, and tighten it.
We especially love the way you can reach pipes deep within a wall void or a foundation structure. You no longer have to grab the blade with your hands. Instead, you load it, adjust the length, and you're all set to make a clean cut.
Although this little saw is convenient, there are limitations. First, cutting pipes less than 1/2 inch in diameter is best. Also, you will need a regular hacksaw for bigger jobs requiring more power.
Features:
Simple to replace the blades
Easy to use, especially around tight spaces
It does not require tools to change the blade
Adjustable blade length
It has a comfortable grip handle
Includes 10-inch blade
What we love:
Works great in tight spaces
Super easy to change blades
You can adjust the blade length
Small, portable, and convenient
A better alternative to older compact hacksaws
We don't like this as much:
Not suitable for pipes over 1/2 inch
Sale
For small jobs around the home, or if you desire cleaner cuts for your plastic models, this mini saw from Honoson will do nicely. It comes with a set of nine stainless steel blades and an adjustable holder.
One often overlooked use for this type of saw is 3D printing. You can use it to clean up hanging support structures containing standard PLA resins.
Replacing the blades is a snap with the twist-style handle mount. The only problem we encountered was keeping the blades from moving during use. Even when tightened, they tend to wobble a bit.
Still, this set is beautifully crafted and works pretty well if you need to cut a piece of plastic quickly. However, we recommend not using them for metal or PVC.
Features:
Stainless steel blades
Serrated edges
Small and compact
Suitable for cutting plastic
What we love:
Easy to install the blades
Blades are made of stainless steel
It comes with nine blades and an adjustable holder
Great for plastic hobby kits
We don't like this as much:
Blades may move around even when tightened
Mini Hand Saw Model Craft Tools Modelling Knife Hobby DIY Razor Saw Hacksaw Tool Kit with 9 Pieces Craft Blades for Hand Cutting Tree Limbs and Branches
Easy to install: just loose the silver handle and insert the desired blade into the gap, then screw it back the handle; If you want change the blade, firstly, rotate around the end of penholder in order to loose the clamp, secondly, take off the blade carefully, then put the replacement blade, finally, rotate around the end grip to lock the clamp
Quality material: mini hand saw is made of metal and plastic, safe and durable; Meanwhile, it features with stainless steel fixed interfaces to make the blades solid; In addition, it is comfortable for hand operation with non-slip rubber rings and the handle has a reinforced set screw, stable and reliable; A nice hand tool to cut tree limbs and branches
Coming with blades: the package comes with 3 different blades for use on various types of materials; And you will receive 1 piece penholder, 1 piece pen cap, and 9 pieces blades; Enough quantity and various types of blade can meet your different needs and replacement
Wide range of uses: the model craft saw blade is a practical and safe household tool, suitable for novices and skilled users, widely applied for pruning, carving, cutting branches and so on
Warm note: during operation, please be sure to keep the tools and materials safe to avoid damaging the materials or injuring yourself; And do not try to saw hard metal parts for hard metal parts
This is probably the most comprehensive set of hacksaws in this review. Each of the three included here is constructed of rugged aluminum alloy to ensure rigid support for almost any blade.
The 12-inch saw features an ergonomic handle design that makes sawing into metal a breeze. It also has an easy-turn knob for quick blade adjustments. Use the 10-inch saw to make intricate cuts around large openings, while the six-inch saw is ideal for getting into tight areas.
The set has six extra blades, so you will never run out. They are great for cutting through wood, metal, or PVC material. The set comes with a dual-sided blade for cutting metal or wood.
One of the best things about the 12-inch hacksaw is that you can cut at two different angles: 45 degrees and 90 degrees. This feature allows you to tackle nearly any job with ease.
Features:
Frames are made of durable steel
It comes with six blades
Suitable for cutting metal, wood, and PVC
Blades can be set to 45 degrees or 90 degrees
Ergonomic handle for comfor
What we love:
You get a lot for one low price
It comes with a multi-purpose blade for both wood and metal
Excellent for small jobs around the house
Versatile enough to use at work
We don't like this as much:
You need a screwdriver to change the blade on the six-inch saw
BEETRO Hacksaw Frame Set, 12'' Hacksaw Frame, 6'' Hacksaw Frame and 10'' Mini Hacksaw, Including Six Extra Blades, Handsaw for Metal, Wood, PVC Pipes
Three Different Size Hacksaws – this type hacksaw frame set is equipped with three different size hacksaws, including BEETRO TC0254 12'' hacksaw, TC0258 6''hacksaw, and TC0259 mini hacksaw frame. All of them come with two extra blades.
DIFFERENT BLADES – TC0254 12'' hacksaw is equipped with 1 pcs 300mm multifunction double teeth (12" 8TPI for wood, 12"24TPI for metal) and 2 extra pcs 60# carbon steel flexible saw blade (12"×18T,12"×24T ). TC0258 6'' hacksaw is equipped with 3pcs 6"×24T blades. And TC0259 mini hacksaw is equipped with 3pcs 10''×24T blades. Different blades meet your various needs.
TWO ANGLES – TC0254 hacksaw allows adjustable blade angles of 45 and 90 degrees, ensuring different angles of cutting as well as meeting your different needs.
MATERIAL – Our hacksaw is made of quality aluminum alloy and sturdy high carbon steel, which is high hardness,durable and solid.
ERGONOMICALLY DESIGN – Ergonomically designed handle for security, and comfortable cutting. The handle can reduce hand's fatigue which greatly save your strength and also improve user's work efficiency. And these three type hacksaws are easy to change blades.
This hacksaw set comes with three different saws. The 12-inch hacksaw frame is made from aluminum alloy and is lightweight and easy to handle. The junior hacksaw is also made of metal and is six inches long. Finally, the 12-inch mini saw is plastic and does not seem to match the quality of the other two.
Despite that, this set works well for small projects around the house. You can cut metal, plastic, and wood fairly quickly using the correct blade. Depending on your project requirements, you can also change the angle to either 45 degrees or 90 degrees.
We especially like the value for the money. You get a lot for the price, and the manufacturer seems to stand by their products. However, the tiny miter box it comes with is too small to be of any value.
Features:
12-inch metal hacksaw frame
6-inch metal junior hacksaw
12-inch plastic mini handsaw
It comes with seven assorted blades
What we love:
Reasonably priced for everything you get
Blades are incredibly simple to change
You can change the blade angle from 45 degrees to 90 degrees
We don't like this as much:
6-inch saw is made of plastic
The miter box is too small to be useful
Hacksaw Set, Steel Saw 12 inch with Replaceable Saw Blades and Metal Miter, 3PCS Handsaws (Hacksaw Frame, Mini Hacksaw, Junior Hacksaw), Metal Saw, Multifunction Hand Saw for Metal, Wood, PVC Pipes
【3 Pcs Hand Saw】: The first one is 12 Inch Hacksaw frame (metal) 1pcs 12 inch mini handsaw (plastic), 1 pcs 6 inch junior hacksaw (metal), metal miter for guiding accurate cutting
【Multi-function Handsaw】: The Hacksaw set contains 3 pcs Hacksaw frames, 6 pcs saw blades. 4 pcs 24T black saw blades(6&12 inch,) suiable for sawing metal, platic, 1pc silvery saw blades (12 inch, 10T) for sawing wood, 1pc wire (12inch) for woodworking
【Compact and Safety Design】: The multi saw set is lightweight, compact and easy to carry. The saw blades are easily fitted to the bow saw and replace the blades
【Widely Use】: This handsaw kit is used for cutting general wood, rubber, soft metal, tile, ceramic and PVC etc. And widely used in construction, decoration, handicraft processing and other industries
【Quality Material】: The hacksaw made from high quality material, durable and solid. The hacksaw blades can be set as 45 degree or 90 degree according to different situations
Hacksaw FAQs
Can you cut metal with a hacksaw?
A hacksaw is the best hand tool for cutting metal such as steel, copper, brass, or aluminum. It is also the plumber's choice for sectioning PVC pipes. However, it is not suitable for cutting through stone objects.
Hacksaws work by running the teeth of the blade over the metal back and forth in a sawing motion. They come in a wide variety of handle configurations, and the best ones hold the blade securely in place.
One drawback of a hacksaw is that you have to keep enough tension on the blade. Otherwise, it can bend, and you will not get an even cut.
How thick of metal can a hacksaw cut?
A hacksaw is typically only as good as the blade you are using. For example, when cutting through steel-reinforced pipes, use a coarse blade with 18 teeth per inch (TPI). For electrical conduits, use a medium blade with 24 TPI, and for aluminum and PVC, use a blade with 32 (TPI).
You choose the blade type by its teeth-per-inch (TPI) rating, so selecting the correct blade for your current task is vital. Also, since a hacksaw cuts on the forward stroke, the blade teeth should be facing forward.
Will a junior hacksaw cut metal?
A junior hacksaw is also sometimes called a mini hacksaw. It is just a smaller version of a standard hacksaw.
Like regular hacksaws, you can cut through metal pipes or PVC tubing with them. The most significant difference is its size. Since it is much smaller than a standard hacksaw, you can work within smaller spaces.
The blade length is another difference between a regular hacksaw and a junior hacksaw. Since a junior hacksaw blade length is much smaller, it can only typically handle much thinner metal.
Finally, a regular hacksaw will have a large handle for gripping it securely. In contrast, the junior hacksaw typically has a straight handle to save space. This presents the problem of having less power through the forward-cutting stroke.
Which hacksaw is best for cutting metal?
We recommend the Lenox Tools 12-inch hacksaw if money is not an issue. While it is possible to find cheaper options, you will not be able to receive a better value for your money.
It features a lightweight, sturdy I-beam frame that will stand up well in most conditions. That means you can crank up the blade tension to 50,000 PSI, resulting in a more precise cut.
Another thing we liked about this saw was its rubberized handle, which can fit even the largest hands. It also has a built-in blade holder, and you can even convert the entire thing from a hacksaw into a jab saw in under 30 seconds.
On the downside, you give up some flexibility for its rigid, sturdy frame. However, that should not be a problem, especially if you use it to cut through thick metal pipes.
Will a hacksaw cut stainless steel?
Stainless steel is a metal alloy consisting mainly of iron and at least 11 percent chromium. In addition, you can further its corrosion resistance by adding at least eight percent nickel and small traces of molybdenum to its composition.
Surprisingly, a hacksaw can cut through stainless steel. However, since the material is so hard, you will typically receive a jagged cut. Despite that, it is probably your best option, especially when working outdoors in remote areas.
Selecting the correct blade to achieve the best results while hacking through stainless steel is essential. Bi-metal varieties are the best choice because the manufacturer utilizes a unique welding process that makes them suitable for cutting through hard metals. Therefore, look for the term "bi-metal" when searching for hacksaw blades to cut through stainless steel.
Another consideration here is the blade length. When cutting through harder materials, the longer, the better. Choose a blade that is at least 12 inches long. However, 24 inches will get the job done a lot faster.
Can I cut metal with a hand saw?
A traditional hand saw is normally unsuitable for cutting metal because the blade is typically made only for sawing wood. Also, since most hand saws bend easily, they are not ideal for this task.
One of the unique features of a hacksaw is its blade. Usually, you will get more teeth per inch than you will with a hand saw. In addition, hacksaws are designed to pull the blade tightly so it will not bend or wobble, providing a precision cut to the end.
The handle on a hacksaw is also uniquely different from a hand saw. It typically has a larger area for gripping and will provide more support on a downward stroke. This is important, especially while powering through heavy metal objects.
What is a power hacksaw?
A power hacksaw is a hand-held power tool often called a "reciprocating saw." It uses an electric motor that draws the blade across the object in a push-pull (reciprocating) motion.
The latest models you can purchase online are reasonably lightweight and easy to use. Some you have to plug into an electrical outlet, while others operate on battery power.
Speed is the obvious advantage of using a power hacksaw over a hand-held saw. Also, by utilizing a fast-moving power saw, you are less likely to wear out your arm getting through a thick metal pipe.
911metallurgist.com is a participant in the Amazon Services LLC Associates Program, an affiliate advertising program designed to provide a means for sites to earn advertising fees by advertising and linking to Amazon.com.