Disclosure: This post contains affiliate links and I may earn a small commission if you purchase through these links.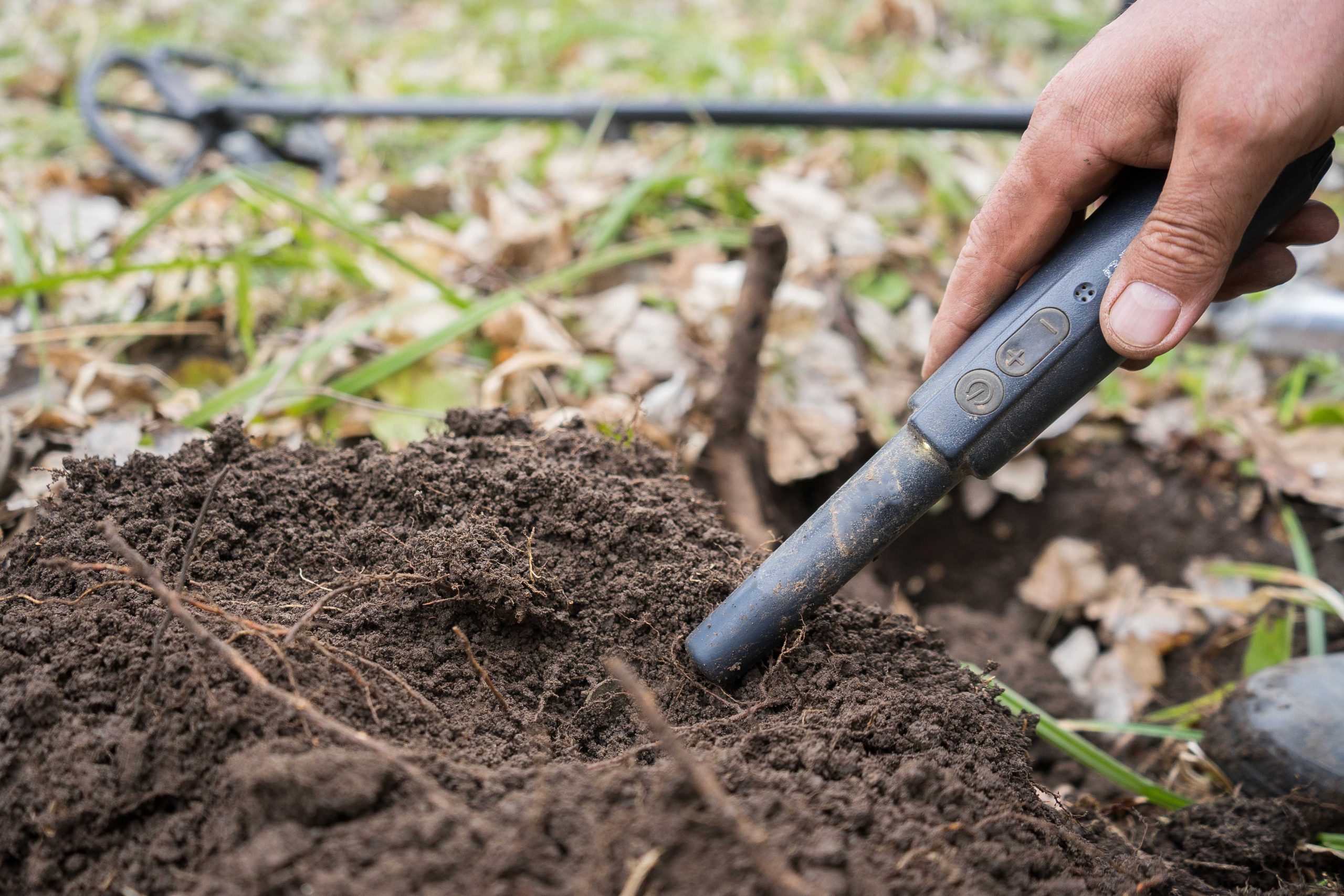 Handheld metal detectors and pinpointers are easy to use, portable, and lightweight. They can also be more efficient at identifying targets when compared to heavier metal detecting devices. You can combine a pinpointer with your regular metal detector. Once you've been alerted of a target, simply dig your plug and then use your deivce to find the precise location within the hole. Having a pinpointer handy can facilitate the process considerably.  
We recommend choosing a Pulse induction (PI) pinpointer over a Very Low-Frequency detector (VLF) when choosing a handheld device. PI detectors can detect deeper and are ideal for saltwater hunts, providing more accurate signals than VLF detectors. This means you may dig up some junk during the process but they won't be tricked by all of the minerals found in saltwater or on the beach. 
Using a pinpointer will help you save time and energy. You can find models that are:
Waterproof

Have built-in LED lights for night hunts

Feature sensitivity settings 

Have vibration settings so you don't disturb others when hunting for treasures.
If you are wondering where to start when it comes to investing in a pinpointer, take a look at our list of the 6 best handheld metal detectors. We've sorted through tons of customer reports and identified the best of the best according to experienced users, making sure to exclude any options with suspicious or manipulated reviews.
1. Garrett Pro-Pointer AT Waterproof pinpoint with Z-Lynk.
If you are looking for accuracy in locating treasure buried in the ground, the Garrett Pro-Pointer is top of its class for precision and durability. It has the capability of being paired with Garrett MS-3 Z- link wireless headphones so you can listen to the signals in the headphones if you are on a noisy beach. It is also waterproof to a depth of 20 feet and, with its high frequency, it can find the smallest of objects (gold nuggets for example) better than other pinpointers in today's market.
Unlike most full-size metal detectors, the Pro-Pointer has a fast re-tune feature that allows you to tune out minerals in the ground, such as salt, wet sand and other environmental challenges for the hunt. It measures only 9in. in length, but you shouldn't worry about losing such a small detector or misplacing it because an alarm within the unit will emit a chirping sound to make it easier to find.
With improved maximum sensitivity, choosing one of three sensitivity levels makes finding nuggets and other small objects simpler. The Pro-Pointer AT comes with a one-button operation for power, retuning, sensitivity adjustments and choice of either sound or vibration only mode.
Features:
360-degree detection area and pinpoint tip

11.5kHz operating frequency

Shrink detection field for precision pinpointing targets

Patented proportional sound/vibrate system

Operating temperatures: -4ºF (-20ºC) to 130ºF (54ºC)

LED flashlight for those low-light searches
What we love
It's accurate and is sturdy enough to withstand probing

Battery life is 8 hours for Rechargeable, 16 hours for Carbon and 30 hours for Alkaline

Connects easily to Z-Link headphones
What we don't like that much
The ruler on the side printed in black
Garrett Pro-Pointer AT Z-Lynk Waterproof Pinpointing Metal Detector with Woven Belt Holster and 9V Battery, 11.5kHz
One-Press Syncing to Garrett Z-Lynk wireless receivers.
Wireless Convenience: Hear both detector and pinpointer alarms in your headphones, even in noisy environments (beach,high winds, congested urban areas, organized hunts).
Fast Retune: Quick button press instantly tunes out environment or narrows detection field for precise pinpointing of larger targets.
Single-button operation for Power, Retune, Sensitivity adjustment (3 levels), and Silent Mode (vibration only).
LED Flashlight for low light uses. New power button is easy to operate even with gloves.
2. Minelab Pro-Find 20 Pinpointer.
The Minelab Pro-Find 20 Pinpointer is ideal for anyone starting to get into the metal detecting hobby. They have designed it to be easy to use but with all the features you would expect to get. It has audio and vibration target indicators, permitting you to locate gold, jewelry and rings with extreme accuracy. It is not waterproof so it cannot be submerged, but it has a rugged splash-resistant design protecting it from rain and wet conditions.
The Pro-Find 20 Pinpointer will find targets buried in holes with high precision, or in situations where a full-size metal detector coil will not fit. The advantage is that you only need to dig a small hole to get hold of your treasure and you will also locate it faster.
It boasts Detector Interference Free (DIF) technology which will reduce interference with other operating metal detectors by disengaging the coil's magnetic field when the Pro-Find 20 is switched off.
It has variable audio tones which get louder as the probe gets nearer to the target, making it easier to get a location for the target. If you choose to have the audio turned off then the vibration response will still let you know you're approaching your treasure.
Features:
Pinpoint tip

Splash-proof

Fixed sensitivity

Sound and vibration feedback

Battery life – up to 30 hours

Weight – 6.82oz.
What we love
The bright colors make it easy to spot 

A semi-rigid pinpointer holster attaches to your belt is included 

The lost alarm will sound after a period of inactivity
What we don't like that much
Minelab PRO-FIND 20 Pinpointer
DIF TECHNOLOGY: Detector Interference Free (DIF) technology reduces interference with an operating metal detector.
SPLASHPROOF DESIGN: Rugged, splash proof design protects the pinpointer from rainy and wet conditions.
AUDIO & VIBRATION INDICATION: Intensifying vibrations accompany increasing audio tones as the pinpointer probe approaches the target, ensuring you never miss a hit.
LOST ALARM: Useful alarm sounds after a period of inactive use so you don't forget and leave it behind as your search moves forward.
BELT HOLSTER: Keep the PRO-FIND 20 readily accessible with a durable holster that attaches to your belt.
3. Nokta-Makro PulseDive 2-in-1 Scuba Detector and Pinpointer.
The Pulsedive Scuba Detector from Nokta-Makro is a 2-in-1 handheld unit. Not only is it fully waterproof to a depth of 200ft. but by a simple twist of the wrist the Scuba coil can be removed and replaced with a Pinpointer coil, complete with a hard-shell cover, making it ideal for use both underwater and on land. You have the choice of two colors, black or yellow, and comes in a hard-shell carrying case.
If you are a keen diver and treasure hunter then you will find the Dive Mode in the PulseDive convenient. It makes the underwater exploration easier by locking the keys and preventing them from being pushed in by the pressure while deep diving. The built-in wireless module is compatible with Nokta-Makro 2.4GHz wireless headphones.
Making use of powerful Pulse Induction technology, you can detect in saltwater or any kind of soil. The PulseDive has three alerts and indicators so you can choose how you want to be notified when you have located your target. Choose between audio-only, vibration-only, or audio and vibration. There is also an LED indicator that will help you track down your target in arduous environments, and an LED flashlight so you never miss a thing.
Features:
Operating frequency – 3kHz

Waterproof to 200ft.

5 levels of sensitivity

Rechargeable 1650mAh Lithium Polymer battery

Choice of two scuba coils – 5.5″ and 8″

Weight – Pinpointer: 10oz., Scuba Detector: 14.8oz.
What we love
Well-balanced and easy to use

The detector can be easily heard and felt underwater

Has everything you need to get started in the hard case
What we don't like that much
After recharging the battery make sure the battery cap is well secured or it won't be waterproof
4. Garrett Pro-Pointer II Pinpointer
The Pro-Pointer II Pinpointer from Garrett is one of the most popular pinpointer detectors. Its patented proportional audio/vibration technology increases as the target gets closer, making finding that buried treasure a little bit simpler. The detector has a 360-degree side-scan detection area with a pinpoint tip.
Unlike the Garrett Pro-Pointer AT detector, the Pro-Pointer II is not waterproof and should not be fully submerged in water. However, it is water-resistant and can be used in the rain and shallow depths as long as the power switch is kept dry.
It has fast on/off cycles, allowing you to quickly tune out unwanted materials such as wet sand, ground high in mineral content and even seawater. This feature allows you to quickly shrink the detection field to pinpoint large targets with some degree of precision while pinpointing multiple targets, as opposed to one large target signal.
There is a built-in LED flashlight for low light occasions and a scraping blade to help you find what you are looking for. Should you forget to turn it off when you have finished it will chirp for 60 minutes providing a warning, and will automatically power off to save the battery.
Features:
Operating frequency – 12kHz

Microprocessors ensure maximum sensitivity without retuning

Probe coil diameter of 4in.

A Lost Pinpointer alarm

The large power button is easy to use while wearing gloves

Weight – 6.5oz., including battery
What we love
The audible and vibration alarms intensify the closer you get to the target

The battery can last twice as long as other pinpoint detectors

A woven belt holster is included, which will fit most standard size belts
What we don't like that much
5. Vulcan 360 Pinpointer
The Vulcan 360 Pinpointer is an ideal choice for someone just starting to get involved in metal detecting. It has 360° scan detection on the lower part of the detecting shaft as well as the tip, 5 selectable levels of sensitivity and built-in pulse wave audio indicators.
It is simple to operate and because it has been programmed to be fully automatic there is no tuning involved. Just switch on and after the unit does a self auto-balance test, you're ready to find those hidden gems.
The Vulcan 360 is water-resistant and splash-proof so you can use it in wet conditions, but it cannot be submerged in water. Only the probe is designed to be waterproof.
All the necessary functions and controls are located in one convenient area. The power button, LED power indicator, sensitivity adjustment button and speaker are all within easy reach of your thumb when holding the pinpointer. With its search/probe feature you can search and locate objects in full 360°. It does require one 9V alkaline battery, which is supplied with the unit, and the battery compartment has a bright orange cap making the unit stand out and therefore easier to find if you drop it in long grass, for example.
Features:
Probe length – 10.5in.

Waterproof probe and tip

Built-in vibration target indicator

Auto shutoff after 5 minutes of inactivity

Audio and vibration increase as you close in on the target

Low battery indicator: continuous beeping
What we love
The Vulcan 360 Pinpointer is priced well within everyone's reach

The fully automatic function means no fiddling with settings

The battery cap is easily removed and comes complete with an O-ring seal
What we don't like that much
There is no lanyard attachment hole or slot
6. Treasure Products Vibra-Tector 740 PI Waterproof Pinpointer
If you are an enthusiastic treasure hunter and you are considering buying a handheld metal detector then you should take a good look at the Vibra-Tector 740 from Treasure Products, their latest revised state-of-the-art handheld metal detector. It incorporates new firmware algorithms which help find targets faster while retaining the advanced features of its predecessors.
The entire unit is completely waterproof and can be used in almost every environment including fresh or seawater, making it an ideal metal detector for use on the beach. It uses Pulse Induction technology, allowing you to search in locations such as mud, dirt, grass and sand. When you approach a target the 740 emits signals with vibration pulses and its built-in white LED flashes to let you know that you are getting closer. The closer you get the more intense the signals become.
One really exciting additional feature of this unit is its unique "Tilt On & Off" system, which eliminates the need for the usual on/off button. They have designed it with automatic microprocessor circuitry, which eliminates the need for tuning. Weighing in at 1lb., with a 4in. coil and its 17in. overall length, it is easy to carry around.
Features:
Frequency: Pulse Induction

Waterproof: Fully submersible to depths of 100ft.

Fully automatic tuning

Powered by one 9-volt standard battery

Belt and wrist strap included

Low battery indicator
What we love
Lightweight, and easy to carry in a small bag on the beach

It can detect objects located well below the surface, even in sand

The battery is easily replaced and the compartment has a compression seal
What we don't like that much
Because of the "Tilt On & Off", having to remove the battery before traveling to prevent it from draining
Frequently Asked Questions About Handheld Metal Detectors.
1. Why is a pinpointer important when metal detecting?
Traditional metal detectors, with standard 8in. coils, are the most popular and perform well under the majority of situations and conditions. They will locate a buried item and give you a rough indication of where it is and how deep it is buried. The quality of the metal detector you use determines how accurate the results will be.
A pinpointer can help you hone in on your target quickly once you have demarcated the general area. No more digging around hoping you're in the right spot. With a pinpointer you can be far more precise and efficient because it helps narrow down the search area.
2. Can PinPointers Detect Gold?
A good quality pinpointer will detect gold nuggets down to 2 or 3mm in size, and it will pick up gold rings and jewelry as well. The biggest problem with using pinpointers as the only means of detection in such scenarios, is that it may prove to be a struggle since they have difficulty in distinguishing gold from other metals.
That being said, the improvement in handheld metal detector technology has evidenced the development of several pinpointers capable of finding that elusive golden nugget. Many serious gold prospectors use a pinpointer as an aid to speed up target recovery. If, for example, you swing your detector over rocks and you know there is gold somewhere in the cracks, then a pinpointer can fit in those tight gaps and help locate it.
3. Can You Use PinPointers Under Water?
Some PinPointers are water-resistant and can work in wet conditions or puddles. However, not all water-resistant pinpointers are made the same. With some, it is only the tip that is water-resistant. Some have the shaft up to the power switch protected, but if you are going to be using a pinpointer underwater then you must get a waterproof one.
Every pinpointer that is designed to be waterproof will specify the maximum depth it can be submerged in. Some will state up to 3ft., others 10ft. and some even up to 100ft., but the majority of handheld pinpointers are waterproof for use in shallow water not deep-sea diving.
Whether you choose a slim hand-held pinpointer metal detector or a slightly larger handheld metal detector, you will benefit by using one. Every handheld detector is an aid to locate the target after the full-size coil has been swept over the ground, beach or below the water surface. If you are going to the park or on a trail to search for treasure then choose a water-resistant model. If it rains, you will still be able to continue searching, but should you venture onto the beach then a waterproof handheld model is a must.
In our opinion:
Best Budget buy

– Vulcan 360 Pinpointer – priced well under $100; this is ideal for those on a budget

Best Mid-range buy

– Minelab Pro-Find 20 Pinpointer – an ideal handheld device for beginners

Best High-end buy

– Garrett Pro-Pointer AT – for serious treasure hunters; you can't go wrong with this unit
911metallurgist.com is a participant in the Amazon Services LLC Associates Program, an affiliate advertising program designed to provide a means for sites to earn advertising fees by advertising and linking to Amazon.com.