Disclosure: This post contains affiliate links and I may earn a small commission if you purchase through these links.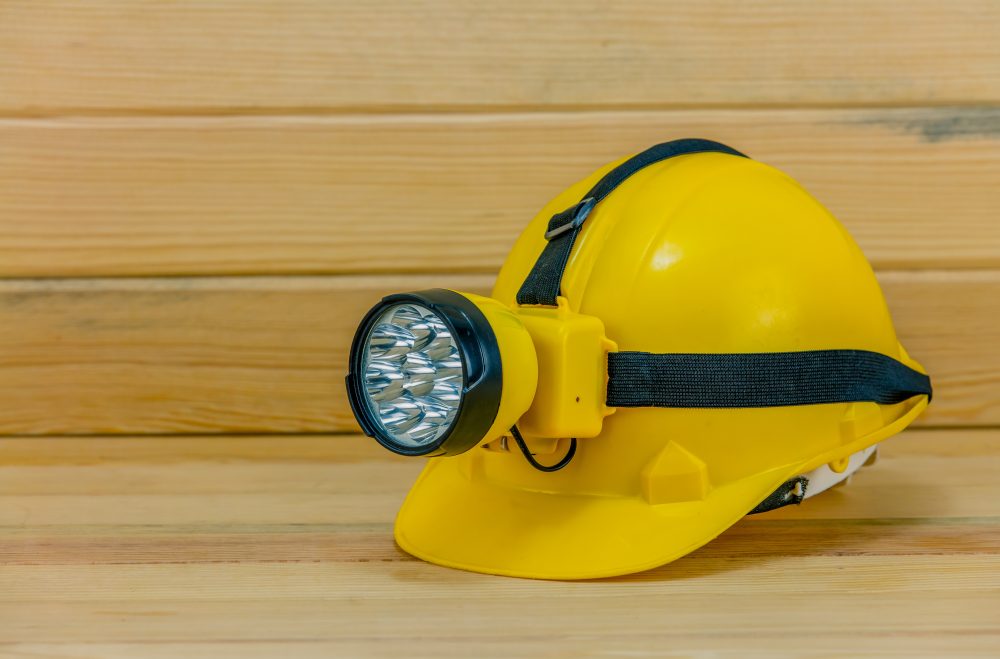 Working with limited lighting could be hazardous, and sometimes holding a flashlight isn't always a viable option.
The best solution to staying safe and productive when working in the dark is to use a quality hard hat light. If your job requires you to work night shifts in obscure dark areas, wearing a hard hat lamp can help you perform your duties efficiently. In some cases, it's a company protocol.
Hard hat lamps attach to your hat via a clip or strap and illuminate your project and surroundings, allowing you to work seamlessly in low-light conditions.
These handy lights have various features, like adjustable brightness, rechargeable batteries, and different light modes. The best hard hat lights are bright, lightweight, and, depending on the working environment, resistant to certain elements like water. 
However, with so many options on the market, choosing a suitable one that matches your requirements can be challenging. We compiled this guide to help you narrow your choices to only the best hard hat lamps on the market today. 
Is 500 Lumens Bright Enough for a Headlamp?
In short, Yes.
Generally, 100 to 250 lumens are sufficient for most needs, but specific tasks may require more lumens for a brighter light.
For instance, a lineman would need better visibility in low-light conditions. These professionals will opt for lights that emit between 25 of flood mode to around 600 lumens of spot mode. For those in the mining industry, lumens matter a lot.
Experts recommend headlamps with over 1,000 lumens for miners, like Armytek Wizard or Zebralight H600/602. A good and effective headlamp offers around 500 – 1,000 lumens. Anything brighter than that can be harmful to the eyes. 
How Do You Put a Headlamp on a Hard Hat?
Securing your headlamp to a hard hat isn't difficult.
Simply attach the hooks of the light around the helmet. Ensure it fits perfectly to all the edges when you place the straps on the hat. 
After that, adjust the clips carefully and insert the band of the headlight into the fitting groove of the clip. Next, secure the hooks to the base of the hard hat. These clips are designed to secure the headlamp to the hard hat and prevent it from falling off when you move.
Once the clips are locked, shake the hat several times to check if the lamp is securely attached to the helmet. If it's tightly secured, you're ready to go. But your visibility may be compromised if the headlamp doesn't stay on the hard hat. 
What Headlamp Shines the Farthest?
If you're in the market for the brightest hard hat light, opt for units that generate over 1,000 lumens in high mode.
The brightest headlamps emit over 8,000 lumens. A few of the most impressive units exceed 10,000 lumens. For example, the Olight H67, considered the brightest headlamp on the market, produces 14,000 lumens at turn-on, which lowers to 13,000 after 30 seconds of use.
How Much Do Hard Hat Lights Cost?
The price of hard hat lights varies based on product size and color. But you can expect to pay between $15 for the most affordable option to around $200 for the ultra-premium models.
Best Hard Hat Lights with a Strap Option
Most headlamps come with a strap option that helps to keep the light securely fit to a hard hat. Here are the best head hat lights with strap options. 
The following 5 hard hat lights are based on the latest consumer sentiment data as of Feb 2023 and include brands and devices recommended by our community of metallurgists:
This rechargeable headlamp from BIAT is an excellent option for those looking for a powerful lighting solution for professional use. It has a soft silicone adjustable elastic headband, suitable for adults and children.
This headlamp made it to the top of our list for various reasons.
First, it's lightweight and comfortable.
At only 2.47oz, this gear is extremely lightweight with a small, foldable design. You can fold it and put it into your pocket to easily carry it to the project site. 
Secondly, this headlamp is waterproof and multipurpose. The IPX4 rating means it's resistant to water splashes from any direction. So, whether you're working outdoors in the rain or indoors in a leaky house, this headlamp will not disappoint.
Plus, this headlamp provides enough lighting for any project, offering a maximum brightness of 350 lumens. BIAT says the headlights have a long-distance spotlight of 150 feet. This means you can focus the light on one spot and see further—up to 150 feet.
This LED rechargeable headlamp is suitable for all types of helmets. The headband is adjustable, so you can adjust it to fit any helmet perfectly. Plus, you get enough juice with the BIAT headlamp—enough to run up to 8 hours when fully charged, thanks to the generous 1200mAh battery. 
Product Features
Power source: Battery powered
Light source: LED
Max. brightness: 350 Lumens
Material: Silicon
Weight: 4.99 ounces
What We Liked
230-degree wide view headlight allows you to illuminate your viewing area without moving the head
Long-lasting batteries that can last up to 8 hours of continuous usage
Equipped with motion sensors
IPX 4 waterproof rated
What Could Be Improved
Some users reported product shipping with a defective battery
If you're looking for an extremely bright headlamp, the DanForce Headlamp won't disappoint. Delivering an impressive 1,080 lumens in 4 light modes, this headlamp is ideal for all sorts of projects, including mining operations.
Like the BIAT headlamp, the DanForce Headlamp features an adjustable, sweat-resistant strap, so you can perfectly fit it on any helmet. 
DanForce has equipped these headlights with two rechargeable batteries that ensure long-lasting illumination. On the high mode, these headlamps can last up to 8 hours.
Additionally, this quality LED headlight has an IPX54 rating, which makes it waterproof, dustproof, and damage resistant. Also, the headlight can be rotated to 90 degrees, so you can easily illuminate your viewing area without moving your head.
Features-wide, DanForce has equipped the headlamps with cutting-edge features that give it an edge over the competition. From zoom functionalities to red light features for tough duties, the DanForce headlamp is truly future-proof.
Product Features
Power source: Battery powered
Light source: LED
Max. brightness: 1,080 Lumens
Material: Rubber
Weight: 11.7 ounces
What We Liked
Very bright hard hat light at 1,080 lumens
Offers 4 light modes—high, low, medium, and strobe
IPX54 rated for waterproof, dustproof, and damage resistant
Affordable at only $39 for the features
What Could Be Improved
Some users complained of poor build quality
Best Helmet Mounted
Here are our top 3 choices for the best helmet-mounted hard hat lights.
For those looking for an affordable hands-free light for professional work, the Life Mounts Led Mounted Light is an excellent choice. For only $29, this hard hat light will give you the best bang for your buck. It's also the most affordable option on our list.
This gear uses one AA battery, so you can buy a multipack of batteries to ensure you don't run out of power. Despite the small battery, this light performs exceptionally well. It delivers 300 lumens, sufficient for most night projects, and offers three modes: high, medium, and low setting.
Life Mounts say that the flashlight can project over 1,000 feet and rotate 360 degrees on its mount, so it can point whenever needed.
The light's bracket is secured to the helmet with two thumb screws that can easily be manipulated while wearing gloves and allows the light to be positioned either below or above the brim. It comes with an attachment strap that easily removes the light from the mount for handheld use. 
Product Features
Power source: Battery powered
Light source: LED
Max. brightness: 300 Lumens
Material: Aluminum, silicone
Weight: 0.1 kg
What We Liked
Competitively priced
360-degree rotation
The flashlight can project up to 1,000 feet ahead
Weatherproof and drop proof
What Could Be Improved
Drains the battery fast. Some users reported the unit draining the battery in less than three days
The Streamlight 69331 Vantage 11 is dubbed the next generation of reliable hand-free lighting tools, and for a reason.
This lighting gear has won the hearts of many consumers owing to its versatility and reliability. With an impressive 4.8-star rating from over one thousand happy customers, you can never go wrong with the Vantage 11 when it comes to performance.
This gear delivers high 350 lumens, ideal for many low-light projects.
It's not the brightest hard highlight out there, but it's surely one of the best and most advanced units. The light features the latest in power LED technology, including the blue taillight LED that ensures you can see even from behind.
The Streamlight Vantage 11 is lightweight, powerful, shockproof, and virtually indestructible. It securely attaches to the helmet above or below the rim in seconds. It also has a safe-off feature that protects the light from accidental activation. 
Product Features
Power source: Battery powered
Light source: LED
Max. brightness: 350 Lumens
Material: Aluminum
Weight: 0.23 pounds
What We Liked
Sealed for water resistance – IPX 7 waterproof
Shockproof and virtually indestructible
Blue LED feature that ensures you can see from behind
Easily attaches to the helmet in seconds
What Could Be Improved
Lower than average battery capacity – last only 2 hours on high mode
Compact, lightweight, and low profile, the Streamlight Vantage 69189 light is an excellent choice for those looking for a high-performing LED hard hat light.
Streamlight has been in the flashlight manufacturing business since 1973. Its products are known for power and performance, and the Vantage 69189 is no exception. This gear delivers 115 lumens, ideal for medium to heavy projects at a competitive price.
And much like the Vantage 11, the Streamlight 69189 features the blue taillight LED that ensures you can see even from behind. It rotates 360 degrees on a stand, allowing you to illuminate your viewing area without moving the head.
Product Features
Power source: Battery powered
Light source: LED
Max. brightness: 115 Lumens
Material: Aluminum
Weight: 6.4 ounces
What We Liked
Sealed for water resistance
Blue LED feature that ensures you can see from behind
Easily attaches to the helmet in seconds
What Could Be Improved
Does not fit on all helmets
Wrapping Up
Hard hat lights are convenient and a requirement for those working in low-light conditions for safety purposes. With our choices above, we hope you found the best hard hat light for your needs and budget.