Disclosure: This post contains affiliate links and I may earn a small commission if you purchase through these links.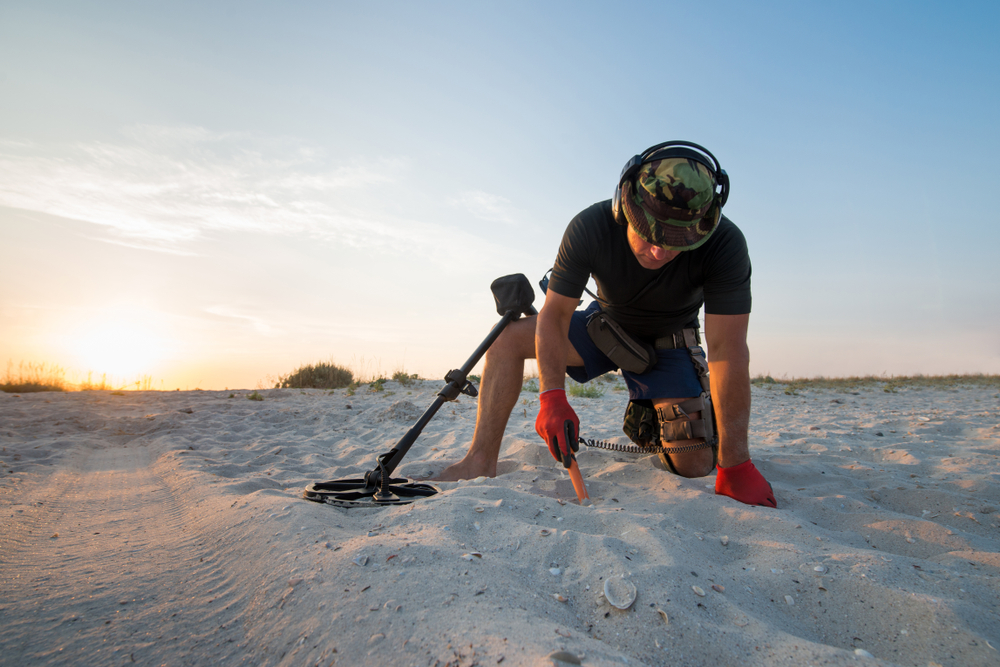 One of the most integral parts of a metal detector is the headphones. Without a good set of headphones, you're highly likely to miss potential valuable targets, not to mention how annoying you'll be to other detectorists if using a loudspeaker. Headphones provide consistency to your hunting as they will block out any distracting outside noises like wind, traffic, rivers, and streams. 
Simply using the headphones from your 1998 walkman won't cut it when you're out in the field. Modern headphones are designed to output the various frequencies your device picks up which can make the difference between getting an exact location on a target and digging in the wrong place.
When purchasing headphones you should consider the following:
Comfort

Volume control

Weight

Weatherproof

Wired/wireless
There are different rules and regulations for metal detecting that change from place to place.
Follow this link to find the metal detecting laws in your area:
Canada: https://detectingschool.com/metal-detecting-in-canada/
US: http://www.mdhtalk.org/maps/fp-map-regulations.htm
To find the best headphones for you, we looked at which sets came highly recommended by experts and real detectorists who have tested them in the wild. We covered most bases by choosing a variety of headphones for your potential needs, waterproof, wireless, etc.
What Are The Best Headphones for Metal Detecting?
9 Best Headphones for Metal Detecting: In-depth Review
1. Garrett MS-3
Straight in with the high-end option are the Garrett MS-3 Z-Lynk wireless headphones. Garrett are well known in the industry for producing quality, rugged products using the latest technologies, and these headphones keep up that tradition.
The Z-Lynk works by attaching a receiver to your metal detector which plugs into your device's output and transmits the signal wirelessly to the headset. Having its own receiver means you can use these headphones with metal detectors that don't already have wireless capabilities. 
The MS-3's can handle a huge range of frequencies so you can hear a response to even the dullest of targets. It's thick ear cushions not only serve for comfort but also act as noise cancellation. Garrett products are built to withstand the test of time so if you have the budget, these will only compliment your hunt.
Features:
Wireless

USB chargeable

Speaker impedance: 8 ohms Frequency response: 30-18,000 Hz

Ear cushions
What we love:
Fast response time, no delay

Have a large volume dial

No cord getting in the way
We don't like this as much:
Neither the transmitter nor the headset is waterproof 
2. Minelab ML 80
Minelab is another highly respected name in the world of metal detection with their 35+ years of manufacturing a wide range of devices and accessories for beginners to professionals. They have a few different models of headphones on the market but we have chosen the ML80s for their popularity and great reviews.
These wireless headphones use Bluetooth to transmit frequencies without the hassle of cables getting in your way. Connection to your metal detector only takes a few seconds then you're ready to go. 
They have separate + and – volume buttons on the right earphone which are easily pressed even with gloves. As for extras, you'll receive a USB charging cable, a carry case, and an aux cable in case your device doesn't have Bluetooth. A downside is that the cable has a ⅛" jack, so if your device has a ¼" jack, you will have to buy a separate cable.
Features:
Bluetooth wireless

⅛" input

USB charging

Lightweight
What we love:
They are small and unobtrusive

The ear cushions cancel outside noise

Fast connection
We don't like this as much:
Your device has to have Bluetooth capabilities to use wirelessly
3. Bounty Hunter HEAD-PL
Bounty Hunter have their own headphones to use with their wide range of metal detectors, but as they are so loved, we've added them as our best for beginners option to use with other devices. There are no fancy bells and whistles on this headset, they are simply a great pair of headphones that are comfortable to wear.
The HEAD-PL's may look bulky, but they only weigh 1.1 lbs which is ideal for detectorists who go out for long periods of time. The headband is adjustable and padded to save your head any wear and tear and the large ear cushions block out any outside noise as well as adding extra comfort.
There's a large volume dial on both ears which can be easily adjusted if you're using true stereo mode and one side is louder than the other. There is also a switch to change the signal from stereo to mono to suit your needs or the needs of your metal detector.
Features:
True stereo sound

Adjustable volume

⅛" jack

¼" jack adaptor
What we love:
It comes with a jack adaptor for different devices

Volume dials are big enough to adjust with gloves on

Can adjust to fit big heads
We don't like this as much:
Your ears get quite warm in hot temperatures
4. DetectorPro Gray Ghost Amphibian II
With over 20 years of manufacturing metal detectors, DetectorPro has also released a line of headphones made to emit buzz tones instead of beeping. Their solid-state speakers are designed for maximum sensitivity, efficiency, and durability in dry or wet conditions.
If you're in need of headphones to hunt underwater, the clue is in the name. The Amphibian II are completely 100% submersible up to 200 ft and don't compromise on sound quality or functionality at that depth or on land. 
The ear cushions are designed to eliminate ambient noises up to 24 decibels by fitting plush to your head. They are comfortable on the ears and won't come off when submerging or if you encounter any waves. Also, the head frame has no wireframe and no screws so you won't need to worry about rust over time. 
Features:
Solid-state speakers

Waterproof up to 200 ft

Polymer ear cushions

Padded headband
What we love:
Comfortable for all-day use

2-year warranty

Adjustable for larger heads
We don't like this as much:
Sale
DetectorPro Gray Ghost Amphibian II Headphones for Garrett AT Pro/Gold and Infinium Metal Detectors
Radical redesign of the traditional method of waterproofing wired connections on Piezo transducers: All underwater headphones use a Piezo type "buzzer" speaker system because land use paper speakers would disintegrate after getting submerged. However, the tonality of the piezo system is unfortunately compromised due to the piezo being dampened with silicone to waterproof the connections... Actually degrading the "buzzing" action of the Piezo.
Quality, comfort, fit and finish you expect from Gray Ghost: Once worn, you won't believe our headphones are designed for underwater use. They are as plush or more plush than most land phones. They fit snug and have soft cushions that won't slip off when encountering waves, submersing your head, or diving for treasure. Detect for hours in total comfort.
Attention to details: We read the user forums to learn everything we could to improve and surpass the Garrett headphones. Our improvements make the detecting experience much better. Improvements like lengthening the coiled wire cord and leaving enough straight wire coming off the connector to allow clipping to the hook under Garrett's arm cuff. This feature keeps the cable out of your way, eliminates a stress point at the rear of the detector, and helps keep the cable tangle free.
IP68 rated connector: Our connectors are manufactured to exact Garrett standard. You can connect into the Garrett AT Pro, AT Gold and Infinium metal detectors while maintaining a 100% waterproof seal. Some users are trying to cut and splice Garrett connectors to an older version of waterproof headphone. Get our quality, fully waterproof connector and protect the integrity and functionality of your Garrett metal detector.
5. Nokta 2.4 GHz Wireless Headphone
Another selection for the modern detectorist is Noktas' entry into metal detector wireless headphones. They may look like a normal pair of Bluetooth headphones but there's more going on under the hood.
The speakers are specially designed to cope with the special frequencies that metal detectors give off so they can respond to the subtle differences of multi-tone audio and depth gauges. They are light and slim so long days don't take their toll on your head and ears.
If your device doesn't have Bluetooth capabilities, don't worry, there's an input on the side to connect a ⅛" jack cable. The main thing letting these headphones down are the size of the control buttons. It can be a struggle adjusting the volume if you're out in work gloves.
Features:
2.4 GHz frequency

Mono audio output

14-20 hours battery life

10m transmission range
What we love:
They are slim and stylish

They are charged through USB

Long battery life
We don't like this as much:
There's a continuous light that can be distracting.
6. Califone 3068AV
For our budget option, we have chosen the 3068AVs by Califone. They may only be ten bucks but the company is well known for making quality headphones for a number of purposes. This wired set is large and comfortable, sealing your ears in to block out any interfering noises.
You can change the speaker settings from stereo to mono depending on your preference or the signal your metal detector emits. At this price, you can't expect the speakers to be high-end so they do miss some of those important frequencies that smaller objects at greater depths give off.
They come with a ⅛" jack connector but it does come with an adaptor so double-check what connection your device takes. These headphones are perfect for hobbyists who are looking for a pair to use casually on the weekend. 
Features:
Mono/Stereo

Dual volume

Padded leatherette ear cushions

Noise-reducing ear cup
What we love:
Can be used for multiple purposes

Has a large volume dial

Adjustable for adult and children's heads
We don't like this as much:
Not as sensitive to frequencies as other headphones
7. 3M WorkTunes
You may already be familiar with 3M for their massive range of workwear including masks, gloves, and ear defenders often used as an industry-standard in many trades. They've now taken the plunge into headphones designed to hold up to these rugged, hard wearing standards.
If you're interested in technology and gadgets or use your metal detector in loud areas like next to a freeway or around machinery, these are the headphones for you. They use Bluetooth to seamlessly connect with the push of a button (which is large enough to press with a glove on) and have Hi Fidelity speakers to cope with the frequencies your device will throw at them.
The large ear cushions will reduce outside noise by 24dB so you can concentrate on any faint signals coming from deep or small objects. The issue with these is the fact that they only work with Bluetooth metal detectors as there is no cable input.
Features:
Bluetooth wireless technology

Noise reduction

Hi-Fi sound

Integrated microphone
What we love:
No fear of breaking them if dropped

Flexible headband designed for comfort

Charged through USB
We don't like this as much:
Your ears can get very hot
Sale
8. Garrett Submersible Headphones
Another set of headphones from Garrett and another choice for those who want to use their metal detector underwater. These headphones are designed to fit snug against the side of your head stopping water from getting into your ears.
They are bright blue in case you drop them, they remain visible and they come with a coiled cable so that you're not dragging around any loose wires when diving that can become snagged and damaged. The headband may not be the most comfortable of our selection but Garrett were thinking more about them staying on when underwater.
These use a 2-pin connection to your metal detector which screws in tight to remain waterproof as a jack connection will not keep the water out. Be sure to check the connection on your device as many non-submersible metal detectors won't accommodate these headphones. 
Features:
Padded ear cups

2-pin connector

Fully submersible up to 200 ft

Lightweight
What we love:
Great audio performance underwater

Built to last

Not bulky or heavy
We don't like this as much:
There's no volume control
9. Koss UR20
Our last selection also caters to the low budget crowd. The UR20's from Koss works great for hobbyists who are out in the woods or on a quiet beach with no audio distractions. The headband and ear cushions are comfortable but don't do an amazing job at canceling out other noises.
They are intended for studio work so the speakers have a great bass and treble response. They don't match the standard of some of the other headphones built specifically for metal detection so some frequencies will be missed.
These Hi-Fidelity headphones are ideal for those on a budget or for detectorists who are out for the adventure not for the treasure. They come with an eight foot cable so you have plenty of room to maneuver your device without getting tangled. 
Features:
Studio sound

⅛" jack connection

Flexible sling headband

Treble and Bass clarity
What we love:
Can be used as everyday headphones

They fold up for traveling

Balanced stereo sound
We don't like this as much:
You can't take them out in the rain
Sale
Koss UR20 Over-Ear Headphones, Flexible Sling Headband, Black
Frequency Response - 18Hz-24kHz and Impedance - 16 ohms
High fidelity stereophone utilizes neodymium rare earth magnet and 16 micron mylar element for deep bass and treble clarity
Flexible headband with sling allows for easy, single sided listening and maximum durability
Straight, single-entry, 8-foot cord for home and portable use
Includes 1/8-inch and 1/4-inch stereo plugs for home and portable use
FAQs about Headphones for Metal Detecting
Can you use normal headphones with a metal detector?
The short answer is yes, as long as you have the right connection you can use any old headphones. The issue is that normal headphone speakers aren't built to handle the subtle changes in frequency that you need when hunting.
Do wireless headphones have a slower response time?
The most common method for wireless headphones used is to use Bluetooth which has become the go-to technology. The response time is impeccable in new wireless headphones and you're not likely to know the difference. In the case of Garrett, they use Z-lynk which comes with its own transmitter which boosts the signal to make sure there's no lag time at all.
Headphones are an important part of metal detection. You want to hear every subtle change in frequency to find a variety of targets that will tell you what they're made of through audio. Having headphones that cannot transmit these signals will mean losing out on potential valuable targets. And as you may be spending hours in the field, you want to have headphones that are comfortable and non-intrusive.
911metallurgist.com is a participant in the Amazon Services LLC Associates Program, an affiliate advertising program designed to provide a means for sites to earn advertising fees by advertising and linking to Amazon.com.