Disclosure: This post contains affiliate links and I may earn a small commission if you purchase through these links.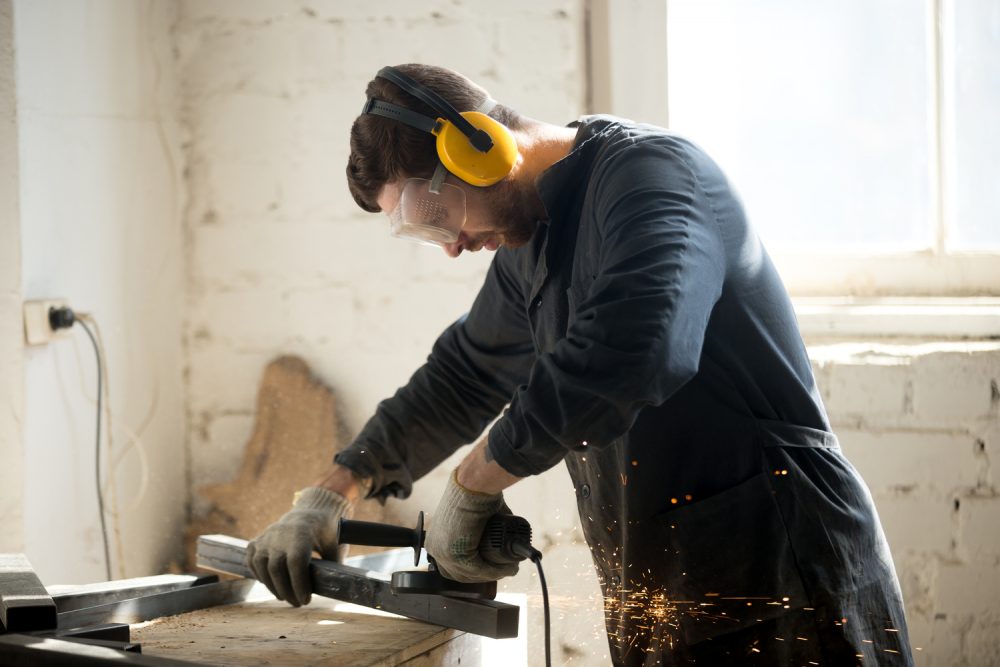 It's fair to say that we live in a noisy world and, for some, this also applies to the workplace. Workshops can be especially loud places, and as we know, extraneous noise can seriously affect and potentially damage your hearing.
It's important to protect your hearing if you work in a workshop and use loud machinery or equipment. If you're constantly exposed to noises above 85 decibels, this can slowly damage your hearing. Whereas being exposed to sounds above 120 decibels may immediately lead to permanent hearing loss. Hearing protectors are essential for preventing such damage.
Yet it's important to be aware of the different types of protection available:
Earplugs – these are inserted inside your ears and help to block off the ear canal.
Semi-insert earplugs – similar to earplugs but less invasive as they have a headband to keep them in place.
Over-the-ear protectors or muffs – the soft padding fits snugly over your ears and works to block out harmful noises.
To select the 10 best hearing protectors, we paid close attention to the noise reduction rating (NRR) of each pair and also considered comfort and usability. We used consumer reviews from people who have purchased these protectors. All fake reports were eliminated, however, to guarantee complete authenticity.
1. HEAROS Xtreme Earplugs
The HEAROS Xtreme Earplugs are designed to handle the high decibel environments commonly found in workshops as well as home improvement projects, providing the freedom to use whatever tools necessary without damaging your hearing. These disposable earplugs feature clear instructions on how to use them. They are designed for multiple uses, but it's strongly recommended to dispose of them if you notice wax build-up.
The earplugs are soft to the touch, making them comfortable to wear for long periods of time. As they combine comfort and performance, you will not have to adjust them constantly, which allows you to work without interruption. Additionally, they are designed so that they will not hinder your movement or your ability to wear safety glasses, giving you the maneuverability you need in the workshop.
With their bright blue style, these earplugs are remarkably easy to locate. There's little concern about misplacing them among your other supplies so you can snatch them up and get to work quickly.
Features:
33 NRR
Hypoallergenic polyurethane foam
Tapered-shaped with a flat back
Latex-free
What we love:
Material is gentle against sensitive skin
Comes in a pack of 14
We don't like this as much:
Those with smaller ear canals may find the earplugs a bit obtrusive
Sale
HEAROS Xtreme Ear plugs - Best In Class Noise Cancelling Disposable Foam Earplugs With NRR 33 Hearing Protection, 14 pairs
BEST IN CLASS QUALITY with Silky smooth, hypoallergenic, super soft proprietary formulation of polyurethane foam for an ultra premium user experience. Popular tapered shape with flat back and its well known blue color.
ORIGINAL FORMULA - EASY TO INSERT and use. Comfortable roll down slow recovery foam gives user time to properly insert ear plugs and achieve the best, most comfortable fit every time
NOISE REDUCTION RATING (NRR) 33 Decibels . The highest rating for a foam earplug. HEAROS Certified hearing protection offer provide an uncomprimized balance between performance and comfort. People with a smaller ear canal may want to try HEAROS Ultimate Softness Series
PROTECT your hearing in loud environments at work and home. Block snoring noise so you fall asleep and stay asleep. Protect your hearing at concerts and jam sessions. Block annoying noises while traveling. Protect your hearing when shooting guns. Block noise so you can focus and study
USES - Ideal for all of your noise reduction needs such as sleeping, studying, travel, meditation, reading, concerts, loud events, shooting and many more
2. 3M WorkTunes Connect Hearing Protector
The 3M WorkTunes Connect Hearing Protector can keep you entertained and still protect your hearing while in the workshop. With its Bluetooth technology, the over-the-ear headphones can connect to any compatible device such as a smartphone. The high-fidelity speakers provide quality sound without canceling out the noise reduction from outside sounds.
Further convenience is found with the integrated microphone function. You no longer have to worry about stopping your work to answer a phone call, and you don't have to purchase batteries for it either since it has a built-in rechargeable battery. There's an indicator on the headset to notify you when the battery life is low, and it auto shuts off to save on energy.
The headband on this device is flexible, and there are vented cutouts that should make it more comfortable if you wear the headset with hats. Furthermore, the ear cushions are soft with low-profile cups for a secure fit. Due to its cordless and antennae-free design, there is nothing in the set that will impede your work.
Features:
24 NRR
Bluetooth technology
Integrated microphone
Built-in rechargeable battery
What we love:
Long-lasting battery life
User-friendly design with its one-button operation
We don't like this as much:
Breathability is minimal, so they may be better suited for cooler environments
3. ISOtunes PRO 2.0 Bluetooth Earplug Headphones
The ISOtunes PRO are a stylish choice that guarantees both ear protection and entertainment. They're semi-insert hearing protectors that feature heat-activated memory foam ear tips that expand to effectively block out excessive outside noise. This comes with four pairs of ear tips as well as a single pair of silicone triple-flange ear tips.
Featuring Bluetooth connectivity, you can watch TV, listen to music, or enjoy hands-free calls any time with these earplug headphones. It works at a distance of more than 30 feet, so you can place your phone or tablet out of the way of your workspace and still be able to listen. For additional hearing safety, it also features SafeMax volume-limiting technology.
It is equipped with a noise-suppressing microphone with echo cancellation technology in case you must take a call while working. This will block out steady outside sounds, canceling ambient noise and isolating the sound input you will want to focus on. These headphones should last through frequent use thanks to their dust, sweat, and waterproof protection.
Features:
27 NRR
16+ hour battery life
Bluetooth 5.0 technology
Memory foam earbud
What we love:
Memory wire ear hook for a secure, slip-free fit
Comfortable design for wearing across extended periods of time
We don't like this as much:
The cord can loosen up over time, which might get in the way of shirt collars
ISOtunes PRO 2.0 Bluetooth Earplug Headphones, 27 dB Noise Reduction Rating, 16+ Hour Battery, IP67 Durability, Noise Cancelling Mic, OSHA Compliant Professional Hearing Protector (Matte Black)
BLOCK NOISE: heat-activated memory foam eartips expand like an earplug to significantly reduce outside noise. ISOtunes PRO 2.0 are ANSI-certified and OSHA-compliant with 27 dB Noise Reduction Rating (NRR) and SafeMax volume-limiting technology. Comes with 4 pairs of foam eartips and 1 pair of silicone triple-flange eartips.
WIRELESS MUSIC & CALLS: wirelessly play music and take calls 30+ feet from your device with Bluetooth 5.0 technology. High quality sound is achieved with high-fidelity speakers and aptX audio.
MORE POWER: Improved 16+ hour battery life of music and talk time to get you through multiple work days between charges. Comfort-Fit earhook wraps over and around to provide a comfortable, secure fit all day for any ear.
CLEAR CALLS IN LOUD ENVIRONMENTS: Signature noise suppressing microphone with echo cancellation technology help block steady state noise like engines, mowers, fans, vacuums, and saws for clear calls in loud environments. Isolation for you, cancellation for them.
BUILT TO LAST: ISOtunes PRO 2.0 is rated IP67 sweat, dust & water proof and comes with a best-in-class 1-year limited manufacturer's warranty.
4. ProCase Noise Reduction Safety Earmuffs
The ProCase Noise Reduction Safety Earmuffs provide ergonomic protection for long-term wearing. It features a padded headband as well as skin-friendly imitation leather covering the ear cushions. Additionally, you can rotate the cups 360-degrees for a personalized fit no matter the size of your ears.
There is still plenty of space inside the ear cups so that they breathe better, allowing you to wear them comfortably even in warmer conditions. However, the room doesn't detract from the sound-proof seal provided by the imitation leather material. It works alongside the thickened foam material to effectively block or dampen sounds in your workshop.
Another remarkable aspect about these safety earmuffs is their overall appearance. They are available in five different colors. For those of you who also mind the aesthetics of their accessories, these earmuffs have a sleek look about them, looking more like regular headphones rather than protective gear.
Features:
28 NRR
Padded headband
ABS+ foam material
360-degree rotatable ear cups
What we love:
Foldable design for portability and storage purposes
Afford enough space to allow you to wear additional earplugs for extra protection
We don't like this as much:
Brief break-in period as they initially fit tight on the head
ProCase Noise Reduction Safety Ear Muffs, Shooters Hearing Protection Earmuffs, NRR 28dB Noise Sound Protection for Shooting Range Mowing Construction Manufacturing Woodwork Men Women Adult -Red
Ergonomic headband with soft padding reduces the pressure on your head for superior comfort. Generous space inside the ear cups ensure breathability meanwhile soft imitation leather provides a tight sound-proof seal
Constructed by solid ABS-shell and thickened noise-dampening foam, the ear muffs offer a NRR 28dB rating and block out noise by a great amount, ANSI S3.19 (US) certified
Adjustable headband and 360 rotatable ear cups with comfortable foam can be adjusted to fit all sizes from kids to adults (pull / push the earmuffs from the metal string to adjust the size)
Compact folding design for easy storage and convenient portability; the noise-canceling headphones fold up nicely to fit in a range bag, backpack or briefcase while take only a small space
The stylish hearing protectors are ideal for shooting, hunting, sports events, studying, woodworking projects and lawn care, extremely suitable for operating heavy machinery or landscaping business
5. 3M PELTOR X5A Over-the-Head Earmuffs
The 3M PELTOR X5A are designed with ear cup tilting pivot points to offer an acoustic seal for your head. You can even replace the cushions and inserts so that the headset lasts through frequent wear. Moreover, the plastic cup design is rigid enough to be impact-resistant, further protecting you in tougher work conditions.
In addition to their primary purpose of protecting your hearing, these earmuffs also focus on delivering comfort. With the twin headband style, the headset reduces heat build-up. By doing so, you can work in warm environments without feeling sweaty all day. The height of each ear cup is adjustable too, and you can adapt the headset until it sits well on your ears without exerting too much pressure that can bother you while working.
This headset will also protect you against potential workplace hazards. Its headband is electrically insulated, otherwise referred to as a dielectric headband. What this will do is offer protection against low vault electrical hazards, affording you the freedom to work on a variety of projects in a safe and secure workspace.
Features:
31 NRR
3M proprietary foam cushions
ABS plastic ear cups
Internal stainless steel headband wire
What we love:
Memory foam ear cushioning for a contoured fit
Clamps to the head well to reduce slippage
We don't like this as much:
The headset is quite heavy, so only suitable to wear for short periods of time
Sale
3M PELTOR X5A Over-the-Head Ear Muffs, Noise Protection, NRR 31 dB, Construction, Manufacturing, Maintenance, Automotive, Woodworking, Heavy Engineering, Mining
High attenuation: very high attenuation earmuffs recommended for high noise; Exposure applications NRR 31 dB CSA Class AL
Advanced Technologies: high attenuation as a result of newly designed spacers, specially formulated ear cup liners and innovative foam contained in the cushions
COMFORTABLE: Wide, soft foam ear cushions and ear cup tilting pivot points designed for high comfort and an effective acoustic seal with the head
Extended comfort: Internal stainless steel wire in headband helps maintain consistent force over an 8 hour period for extended comfort; Twin headband design helps reduce heat buildup
Durable: ABS plastic cups create a rigid, high strength and impact resistant earmuff to handle tough environments
6. ClearArmor 141001 Safety Earmuffs
The ClearArmor 141001 Safety Earmuffs are a go-to option for affordable protection gear that doesn't skimp on performance. Their NRR sound technology features multiple layers to block out excessive outside sounds.
First is the LRPu foam to handle low-mid sound frequencies. Next up is the sound ring that can isolate outer shell vibrations. Then you get to the thicker acoustic foam that helps cut back on mid-high frequencies. There's another layer of the LRPu foam, and finally, the headset reaches the SoundBlocker shell to seal it all together.
The headset is lightweight too, letting you work for hours with them on without feeling fatigued or weighed down. Additionally, the padded headband provides another layer of comfort while preventing the headset from snagging in your hair. This is also a good headset to take with you on your travels due to its foldable design. Otherwise, it's still a useful feature for storing the set out of the way in your workshop when not in use.
Features:
31 NRR
Foldable design
Soft ear cup acoustic foam
Padded headband
What we love:
Soft earpads make the headset comfortable to wear with glasses
Adjustable style to fit most head sizes
We don't like this as much:
The headset is a bit stiff, so it may take some effort to adjust them
ClearArmor 141001 Shooters Hearing Protection Safety Ear Muffs Folding-Padded Head Band Ear Cups, Black
SonicSeal - ClearArmor's exclusive sound technology provides better protection to save your hearing.
Comfortable, premium quality, lightweight, super soft ear ring foam for maximum long wear comfort.
Padded head band adjusts to fit most head sizes . . . Industrial grade. . . Engineered to last
Compact folding design for efficient storage. . . Snug reliable fit to keep our muffs on your head.
ANSI S3.19 & CE 352-1 Tested Certified. . . Over head ear muff, perfect fit swivel cup design
7. EarPeace Reusable Safety Earplugs
The EarPeace Reusable Safety Earplugs can get you through various projects in your workshop thanks to their three interchangeable filter sets. These different filters offer specific levels of protection from medium to high and even max. Therefore, you can customize the earplugs to the task that you're working on. The kit also comes with three earplugs just in case you misplace one.
Thanks to the Hi-Fi attenuation technology, the earplugs can reduce outside noise while still delivering true-to-life audio at levels that are safer for your ears. They are discreet and can be worn without anyone noticing them. This design also ensures they won't get in the way of other safety gear you might be using in the workplace, such as safety glasses.
The earplugs are intended for all-day wear due to their dual flange design. It offers a gentler seal around the ear without any hard edges to irritate your skin or the ear canal. The use of silicone also makes them easier to wipe clean, prolonging how long you can keep using them.
Features:
17, 20, and 26 NRR
Dual flange design
Hi-Fi sound
Silicone material
What we love:
Includes a carrying case for easy portability
Easy to insert and remove
We don't like this as much:
There may be some slight slippage after extended wearing
EarPeace Reusable Safety Ear Plugs – High Fidelity Hearing Protection for DIY, Construction, Work, Loud Environments and Airplane Noise Reduction (Standard, Black Case)
SAFETY AND PROTECTION: EarPeace noise cancelling ear plugs include Medium, High and Max protection filter sets, making them ideal work earplugs for use with power tools, heavy machinery or just for mowing the lawn.
SOUND WITHOUT NOISE: Our high fidelity ear plugs feature attenuation filter technology to deliver clear, crisp sound while offering in ear protection from loud industrial noise. Hear a conversation but lose the background din.
ALL DAY COMFORT: You will forget you are wearing EarPeace industrial ear plugs. Noise cancelling technology is now available in the softest, premium silicone earplugs for work on construction sites, industrial areas and DIY.
PREMIUM FINISH: Our high quality, reusable ear plugs are crafted from industry leading silicone, and come in a case made of milled aluminium. The ear plugs case has a carabiner clip to attach your ear safety protection to your keyring.
TRIED AND TRUSTED: Industry heavyweights like Ford and Caterpillar choose us for their professional ear plugs because we are committed to producing the best noise cancelling ear plugs we possibly can.
8. Peltor Sport Tactical 100
The Peltor Sport Tac 100 uses proprietary 3M technology to suppress harmful noise and to amplify low-level sounds. There is also the adaptive frequency response to help cut down on background noises. This leads up to a well-rounded experience while handling various tools in the workshop. There is even the variable suppression time feature that provides optimal echo reduction.
Operating on two AA batteries, this headset features an easy-access battery compartment so you can quickly replace them when required. The headset will auto shut off if the battery is low or when idle for two hours.
It features a re-engineered headband that offers padding and adjustability. There are even low-profile ear cups so that the headset won't get in the way while you handle different tools. The headset is also a good tool for entertainment purposes as much as it is for protection, with its 3.5 mm audio input jack that makes it compatible with common MP3 players and 2-way radios.
Features:
22 NRR
Adaptive frequency response
Adjustable headband
Battery operated
What we love:
Recessed microphones to prevent damage
Fits comfortably on people with a large or small head and ear sizes
We don't like this as much:
There might be some noticeable echo sounds following louder noises
Sale
9. Howard Leight Honeywell Impact Pro
The Howard Leight Honeywell Impact Pro offers superior protection against dangerously high sound levels you can encounter in your workshop, emitted by tools such as electric saws and loud machinery. Its amplification cuts off sounds at 82 decibels. Meanwhile, the airflow control technology reduces noise throughout all frequencies. You'll still have situational awareness, however, thanks to the directional microphones that raise the range of environmental sounds to safer levels.
This headset provides a customized fit thanks to the telescoping headband. It is padded as well for long-term comfort. To prevent any scratching, the headset is designed with rubberized pressure points. Extending their lifetime is simple due to the snap-in ear cushions, which allow for quick replacement when required.
You can use the headphones for entertainment while you work too. There's an AUX input jack and cord so the headset can connect to audio devices like an MP3 player. It won't drain the batteries either since the headset will auto shut off after four hours of continued use. Once you're done with them, simply fold them up and put them aside.
Features:
30 NRR
Built-in directional microphones
Padded, adjustable headband
Snap-in ear cushions
What we love:
Breathes well so they can be worn in warmer environments
The headset stays on well even if worn with hats
We don't like this as much:
With their larger size, they can come across as bulky
Howard Leight by Honeywell Impact Pro High Noise Reduction Rating Sound Amplification Electronic Shooting Earmuff for Indoor and Covered Ranges or Other Extremely Loud Shooting Environments (R-01902), Large
HIGH NOISE REDUCTION RATING (30 NRR): Designed for handgun and pistol shooters looking for high NRR; perfect for indoor ranges, covered ranges or other extremely loud shooting environments
AMPLIFIES AMBIENT NOISE UP TO 4X: Built-in directional microphones amplify range commands and other ambient sounds to a safe 82 dB, providing more natural listening and enhanced communication
BLOCKS HAZARDOUS NOISE: Actively listens and automatically shuts off amplification when ambient sound reaches 82 dB; passively blocks out noise at 30 dB
COMFORTABLE, SECURE FIT: Rubberized pressure points prevent gunstock scratching; super deluxe padded headband features telescopic height adjustment for a secure and comfortable fit
INCLUDES: 3.5mm connection cord for MP3 players and scanners; includes 2 AAA batteries; automatic shut-off feature engages after 4 hours to help save battery life; approx. 350 hours battery life
10. 3M H7B Peltor Optime 101
The 3M H7B Peltor Optime 101 are a unique behind-the-head styled ear protectors. This design makes it easier than ever to wear the headset alongside various types of headgear, from common hats to protective helmets. There's a stainless-steel band that works to better distribute the weight of the headset too.
With foam-filled cushions, the headset should feel comfortable against the ears. There are also pivot points that tilt for greater efficiency and support. With its one-size-fits-all design, people with different head sizes and ear shapes should be able to wear the headset without causing problems.
They are easy to slip on quickly, so you can get to work without hesitation. If you need to wear these on the job, they are color-coded to adhere to compliance sighting. With their NRR rating, they are optimal at muffling sounds from strong tools like power saws.
Features:
26 NRR
Stainless steel band
Earcup pivot points
Liquid foam-filled cushions
What we love:
The included straps help them stay on without slipping
Still able to hold conversations while wearing them
We don't like this as much:
Might have to readjust often as the plastic ear cups can cause pressure issues
Sale
FAQs About Hearing Protection While in the Workshop
What are the types of hearing protection?
There are three main types of hearing protection: earplugs, semi-insert earplugs, and over-the-ear.
Earplugs work by blocking off the ear canal, and this can significantly reduce what decibel levels you are able to hear. As they are typically made of soft foam material, they'll expand once you compress them and place them inside your ears. This way, they take the shape of your ear canal for a personalized fit, preventing excessive noise from disturbing you.
Semi-insert earplugs have a headband that has either foam or rubber plugs on the end. As it has a rigid design, the headband clamps the plugs over your ears with just enough pressure to block out excessive noise. The rounded or cone-shaped design of these plugs creates an effective seal around your ear without being as invasive as earplugs.
As for over-the-ear protection, you don't put anything inside your ears. They are muff-style, so they fit directly over your ears with some type of soft foam padding. Since they seal the entire ear, they too are effective at keeping out loud noises.
What is a dangerous decibel level?
Typically, we are able to withstand sound levels measured in less than 75 decibels. This includes brief and extended exposure. Sounds within this range are common noises within your home, soft music, office noise, and even the inside of your car.
However, once you go beyond 85 decibels, that's where the sound levels start getting dangerously unhealthy. Sounds around or above this threshold include the subway, heavy traffic, rock concerts, a boom box, a chainsaw, and a motorcycle. Repeated or continuous exposure to sounds above this threshold can cause hearing impairment and loss.
What hearing protection is a safe level of NRR when using a saw?
Circular saws operate at around 90 decibels, so hearing protection is necessary. You'll want protection with a 20 NRR rating or higher. NRR, or noise reduction rating, determines the effectiveness of the protection in question. To calculate the ideal level for the task at hand, you'll take the NRR number, subtract that by seven, and then divide it by two.
In the case of the saw above, you'll have the following equation: (20-7)/2 = 6.5 or 7 (if rounded up). From there, subtract the result from the 90 decibels of the saw, and you're left with around 83 decibels. This is roughly the noise level you'll be exposed to if using that NRR level of protection.
Wrap Up
While in your workshop, you'll encounter a wide range of noises depending on the tools you're using. It's easy for anything to get loud enough to go beyond the dangerous level of 85 decibels, and this can cause hearing loss. Therefore, to protect your ears, you will need to be equipped with proper hearing protection.
Hearing protection comes in numerous styles from earplugs to over-the-ear designs. What works best for you depends on what you're most comfortable with. Also, don't forget to look at the NRR rating. This number plays a vital role in knowing whether the product will protect you.
Here, we have reviewed a variety of products to make your search a little easier. Don't forget to check out our top picks for the best budget hearing protection, our favorite mid-range option, and our favorite high-end product.
911metallurgist.com is a participant in the Amazon Services LLC Associates Program, an affiliate advertising program designed to provide a means for sites to earn advertising fees by advertising and linking to Amazon.com.