Disclosure: This post contains affiliate links and I may earn a small commission if you purchase through these links.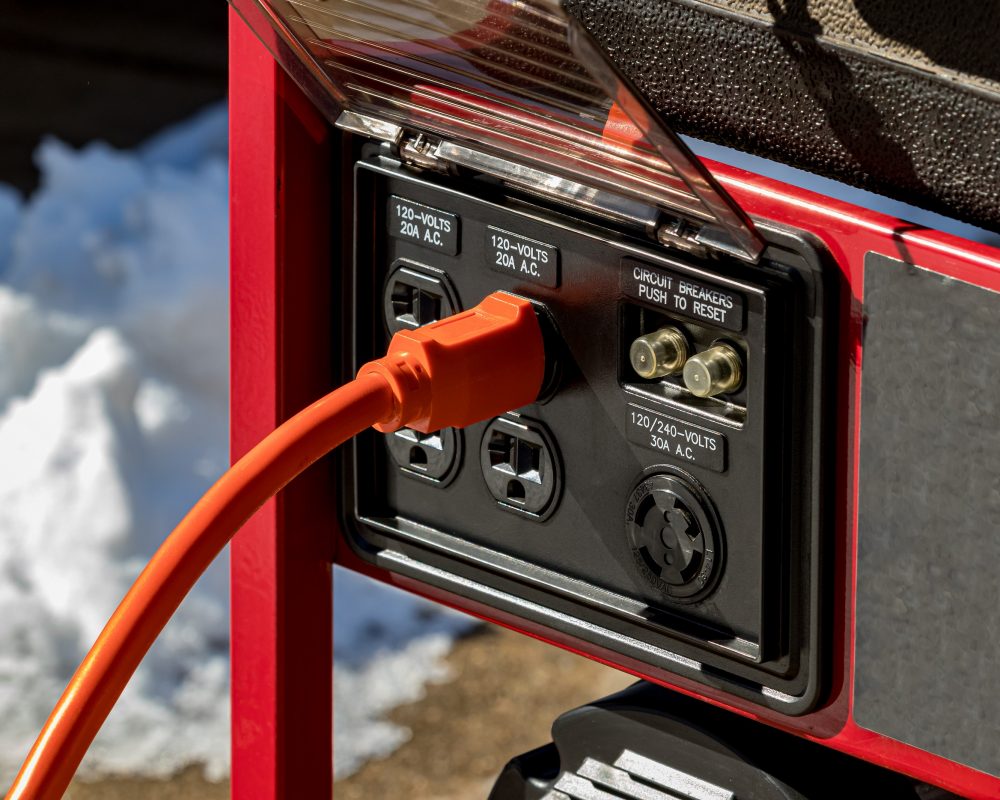 Looking for a reliable generator that protects your sensitive electronic gadgets but don't know where to start? An inverter generator might be the solution you need. But what exactly is an inverter generator? What do you what to look for in an inverter generator? How do inverter generators compare to conventional generators? Are they reliable?
In this guide, we've researched for you and compiled a list of the best inverter generators in 2023. We'll help answer these and more questions to help you make a perfect choice.
What Is an Inverter Generator?
An inverter generator is a portable generator that uses inverter technology to produce a stable and clean power output, typically in the form of a sine wave. An inverter generator uses an inverter to convert AC (alternating current) power into DC (direct current) and then invert it back into a more stable AC power that can run appliances and tools.
Traditional Generators Vs. Inverter Generators
Traditional DC or AC home generators use a combustion engine and electric generator to convert mechanical energy into electrical energy. The combustion engine runs at high speeds to power the generator head, which then produces an alternating current of electricity. Generators are generally more powerful than inverter generators. Still, they tend to be louder, heavier, less fuel-efficient, and have a high total harmonic distortion (THD) which means their power has more fluctuations.
Inverter generators, on the other hand, use more efficient technology to produce cleaner energy on demand. Instead of relying entirely on a combustion engine to power the generator head, they use sophisticated electronic circuits and computer chips to produce a clean alternating current (AC). The chips control the generator's output, monitor its performance, protect it from damage and provide features such as remote control, parallel operation, and automatic voltage regulation. 
Inverter generators tend to be pricier than conventional generators but are typically quieter, lighter, and more fuel-efficient. They also offer greater control over voltage and frequency, which makes them suitable for powering sensitive electronic devices such as laptops and perfect for recreational activities such as camping and tailgating.
Factors to Consider When Choosing an Inverter Generator
When selecting an inverter generator for your home or job site, there are a few important factors to consider.
First, you need to determine what type of power you will need from your generator. Inverter generators are available in various wattage sizes and fuel types, so choosing one that can handle your specific power requirements is important.
The noise level of an inverter generator is also something to consider. This is especially true if you plan on using the generator in residential areas. Fortunately, many inverter generators are designed to run very quietly, so this shouldn't be a major issue.
Regarding fuel efficiency, different models offer different levels of fuel efficiency, so make sure to check out the manufacturer's website before making your purchase.
Finally, portability is another important factor to consider. Many models are designed with wheels, handles, and other features that make them easy to move around, so make sure to think about where you will be using the generator and how often you will need to move it around.
Considering these factors, you can easily find the best inverter generator for your needs and budget. Below are the best inverter generators in 2023 based on our data science analysis of all available inverter generators available to buy in the United States as well as recommendations from our community of metallurgists around the world:
1. Champion Power Equipment 200988 Portable Inverter Generator
The Champion Power Equipment 4500-Watt Portable Inverter Generator boasts a 4.7-star overall rating by over 1300 users on Amazon and over 1400 5-star reviews on Champion's official website. The high ratings can be attributed to its super-quiet and versatile nature.
Its EZ Start Dial is perfect for quick starts. This electric start features Lithium-Ion batteries, Cold Start Technology, and Extended Run Time.
Being a Dual Fuel inverter generator, it runs both on gasoline and propane, all while allowing you to easily switch fuels using the EZ Start Dial. On gasoline, the 212cc engine offers a powerful 4500 watts of starting power and 3500 watts of running power, running up to 14hrs at 25% load when the 2.25-gallon tank is full. Consequently, when using propane, the engine produces 4500 watts of starting power and 3150 running watts, running for 21hrs at 25% load.
This RV Ready inverter generator also features covered power outlets which include a 120V 30A RV, two 120V 20A household outlets, and a 12V DC automotive-style. Since this EPA-certified and CARB-compliant inverter generator produces clean energy with a THD of less than 3% and is low on noise (61 dBA), it's ideal for a variety of settings and a top choice for most households. It also comes with a 3-year limited warranty and free lifetime technical support.
Features:
RV ready
Low oil shut off
Quick Touch Panel
Dual USB adapter
Low oil shut-off sensor
What we like:
The no-tool access panel and oil drain tube help ease maintenance
Low noise, no louder than normal speech
Best power outlet options.
What we don't like:
2. Champion Power Equipment 200954 Open Frame Inverter Generator
The highly-rated Champion Power Equipment 4250-Watt Open Frame Inverter Generator is an excellent choice for a powerful yet portable generator. This inverter generator has a maximum output of 4250 starting watts and 3500 running watts running on an efficient 224cc Champion single-cylinder, 4-stroke OHV engine. This Champion inverter generator will run up to 22 hours at 25% load when its 4-gallon gasoline fuel tank is at full capacity.
This Digital Hybrid inverter generator also features an innovative open-frame, lightweight design, which makes it easy to transport and store. The Quick Touch Panel is easy to use, and its Intelligauge display provides operating data like the voltage, frequency, and running hours. Additionally, its Economy Mode helps monitor real-time power consumption to control the electrical load.
The Champion Power Equipment 200954 has various power outlets, including a 120V 30A RV outlet, two 120V 20A household outlets, and two 2.1A USB ports to power your smart devices. Since this inverter generator is also equipped with Quiet Technology, it operates at 64 dBA, just a little louder than normal speech. It is perfect for camping trips, RV outings, tailgates, home emergency backup power, and much more!
Features:
RV ready
Low oil shut off
Clean Power, low THD (3%)
Parallel ready, increase your power output with the optional Parallel Kit
What we like:
50% quieter than a traditional generator of the same wattage
The Economy Mode helps extend engine life and lower fuel consumption
What we don't like:
3. Honda EU2200i Portable Inverter Generator
The Honda EU2200i 2200-Watt Portable Inverter Generator is a 4.8-star rated compact generator. This generator is powered by Honda's GXR120 Commercial Series engine and produces 2200 watts of maximum power at 121cc. It features an improved inverter system that offers clean and stable power output that is perfect for sensitive electronics, such as computers and phones.
Rated as best for RVing, the unit is also extremely quiet, with a noise rating of 48 to 57 dB(A) at 25% load. Additionally, its Co-Minder system is a critical safety feature as it monitors and shuts off the generator once it detects unsafe levels of carbon monoxide.
This generator also has a low oil shut-off feature that helps protect the engine from damage if the oil level gets too low. The unit has an Eco-Throttle system that can automatically adjust the engine speed to match the load, helping to reduce fuel consumption. This allows the generator to run up to 8.1 hours on 0.95 gallons of fuel.
Through Honda's My Generator smartphone app, you enjoy wireless stop and generator monitoring via Bluetooth while also getting service reminders.
Overall, the Honda EU2200i 2200-Watt Portable Inverter Generator is an excellent choice for anyone who needs a dependable and efficient power source. It has a durable design and quiet operation, making it an ideal option for camping trips, tailgating parties, RVing, or emergency power backup.
Features:
Honda My Generator app
Parallel ready
Electronic circuit breaker
What we love:
Super quiet operation, noise is lower than that of a normal conversation
Compact, portable and lightweight
Fuel efficiency
What we don't love:
It can only function as a recreational inverter generator
4. GENMAX GM9000iED Portable Inverter Generator
This large inverter generator is perfect for job sites, powering your home, or even camping trips. It has a maximum wattage of 9000 watts, with a 7600-watt running power and 10-hour runtime on gasoline at 50% load. The inverter is also extremely quiet, coming in at only 62 dB.
The GENMAX is equipped with a reliable 458cc 4-stroke OHV engine and comes with a remote electric start with a key fob for easy starting and emergency power. This unit is also dual-fuel compatible, meaning it can run off of either gasoline or propane. The GM9000IED is designed to run any electronics you can think of and features overload protection as well as low oil shutdown protection. The generator also has an intuitive control panel that allows you to easily monitor your load, voltage output, frequency, running hours, and fuel gauge.
The GENMAX GM9000IED is also equipped with a carbon monoxide detector so that you can safely run it indoors without worrying about dangerous levels of carbon monoxide in the air. It also features a 120V 30A locking outlet, four 120V 20A household outlets, and a 120/240V 50A locking outlet with a dual USB adapter.
The generator is EPA approved and meets all applicable safety standards. Overall, the GENMAX GM9000iED is one of the best inverter generators available on the market today.
Features:
Remotes start
Parallel ready
6.9 gallons fuel tank capacity
What we love:
Reliable performance and impressive wattage output
Impressive safety features
What we don't love:
Heavy to move around (280 pounds)
5. DuroMax XP9000iH 9000-Watt Digital Inverter Hybrid Portable Generator
The DuroMax XP9000iH is considered one of the largest inverter generators in the market today. It is powered by a 459cc 4-stroke OHV engine and can operate on gas and propane. When running on gasoline, the generator produces a maximum of 9000 starting watts and 7600 running watts, while on propane, it does 8550 starting and 7200 running wattage.
This unit also has CO (Carbon Monoxide) Alert, which will shut off the unit when dangerous levels of carbon monoxide are detected. It also features an electric push start and a digital control panel that allows you to monitor power output, the load, and running hours.
This generator has multiple outlets, including four 120V 20A household outlets, a 240V 30A twist lock backup outlet, and USB A and USB C outlets. The XP9000iH is designed for various applications, including home backup, RV use, tailgating, and camping. It's also lightweight and easy to transport with two built-in handles and four transport wheels and comes with a 3-year warranty.
Features:
Remote start
Parallel ready
Automatic Transfer Switch Ready
Low oil sensor
What we love:
Offers Clean Power for a wide array of tools and electronics
Perfect fit for a home backup generator
What we don't love:
Though portable, it's still heavy to move around (250 pounds).
Finding the perfect inverter generator that meets all of your needs doesn't have to be a difficult task. Consider factors like fuel efficiency, noise level, wattage, and must-have features when purchasing. Once you have everything in check, it's easier to find an inverter generator that meets your budget as well.