Disclosure: This post contains affiliate links and I may earn a small commission if you purchase through these links.
We all have treasured possessions that, now and then, deserve our undivided attention. Part and parcel of being a collector requires us to have an intimate knowledge of our beloved valuables, and often the only way to uncover their most interesting aspects is to see them under the microscope.
When seeing your objects up close, the best option is to use a jeweler's loupe. These handy, pocket-size magnifiers are widely used by watchmakers, models, antique dealers, and of course, jewelers, enabling the user to inspect the finer details of small objects. 
Some of the key features to consider when purchasing a loupe are:
Magnification – how much larger the object will appear
Field of View – the amount of objects you can inspect through the lens
Lens coating – this reduces glare allowing you to observe the object clearly
LED Lighting – enabling the object to be seen in the best possible light
Whether you're dying to take a closer look at your rock collection, gemstones, or even that old coin you found while metal detecting, a good quality loupe will help you scratch that itch. 
To help you in your search, we've put together 14 top loupes with various features across various budgets. When selecting our recommendations, we analyzed product reviews through Fakespot to ensure genuine users were happy with the quality and performance of their loupe.
I have been having great luck with using the Carson MicroBite microscope to view small objects and I find it easier to use than a traditional Jewelers Loupe and can provide a much higher level of magnification.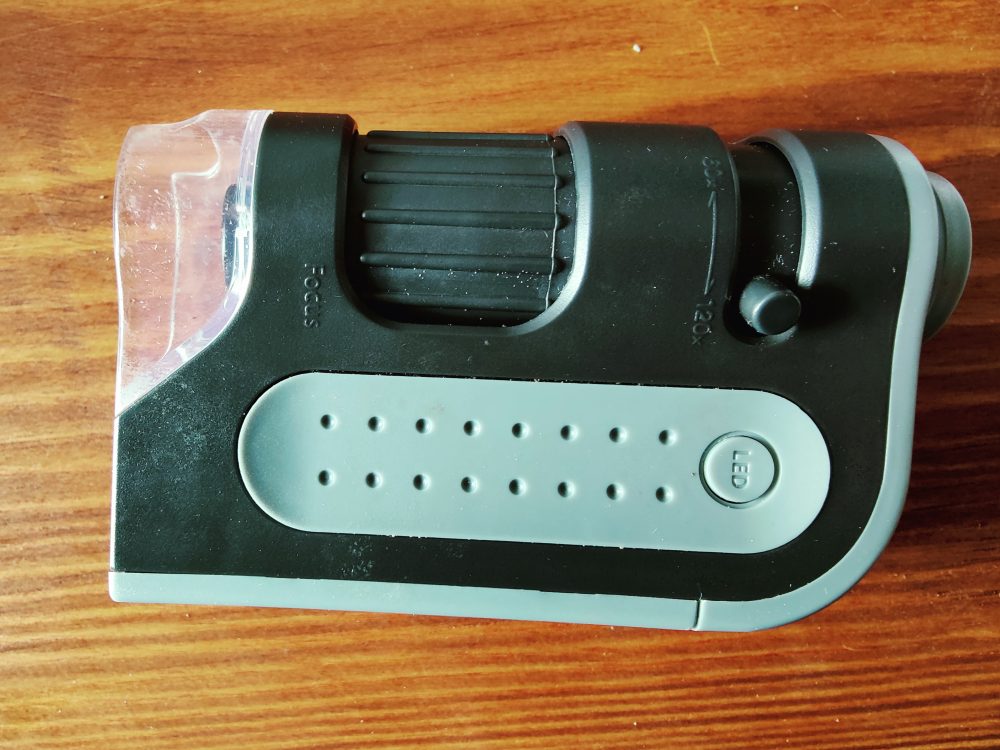 Although I am sure it's not a good option for every situation, it's worthy of consideration. Carson is a major name I respect in loupes and microscopes, and I would also recommend you look at their range of traditional jewelers' loupe designs in their Lumiloupe series.
The Top 3 Jewelers Loupes as of 2023:
All the jeweler loupes we tested for 2023:
1. BelOMO 10x Triplet Jewelers Loupe
The BelOMO Triplet Jewelers Loupe Magnifier is a professional tool made for skilled users from geologists to photographers. It's built with a large viewing area that totals at .67-inches (17mm) and the loupe has an overall size of .85-inches (21mm). This is even made with a nonmagnetic body and a shock-resistant case useful for withstanding those accidental bumps or drops. The protection is further given thanks to the outer steel casing. Meanwhile, the inside boasts a reliable, firm plastic material.
When you use this jewelry loupe, you will notice that it's made with 10x magnification power that hobbyists and professionals often use. An achromatic magnifying lens also backs this loupe. The three-element lens pulls in plenty of light to give users higher clarity and a color-correct view. These are bonded together, and because of this, they straighten out the light going through the front. This ensures that the light is identical when passing through the loupe. Such a feature will give you a stronger chance of viewing everything as precise to the original.
This design helps this be a more versatile tool to handle a slew of work, handling the details on insects as well as it can on precious stones.
Features:
10x magnification
Achromatic triplet lens
Shock-resistant metal case
What we love:
Thanks to the optical coating on the lens, there is next to no surface reflections
Good resistance in the lens pivot so it won't swing when it's closed
The lens produces clarity that is edge-to-edge without distorting the image
We don't like this as much:
Out of the box, you may need to adjust the screws to ensure they are tight
2. Nikon 10x Jewelry Triplet Loupe
The Nikon Jewelry Triplet Loupe is a high-end tool designed for those who are professional or serious about their hobbies. This magnifier is designed with a coated lens. Thanks to this build, it offers crisp images. The design is intended to help you look at various items, from watches to precious metals. There is enough magnification, 10x, to meet industry standards which means that professionals can use it in their arsenal without issue. Geologists can benefit from it too, as well as those who are building up a reliable rock or stamp collection.
If you are an avid treasure hunter, then adding this to your gear can make your metal-detecting journey all the more profitable. This is because such a jewelry loupe can help you examine the smallest of details in various minerals and fossils. Also, this device is built with a fold-out design. Such construction ensures that you can keep the optics inside the case whenever it's not in use such as when transporting it. This helps keep everything safe and protected from accidental bumps or potential scratches.
The stylish jewelry loupe has a lens diameter of 0.51-inches (13mm) and a focal length of 0.98-inches (25mm). This provides a comfortable viewing range even when zoomed in.
Features:
10x magnification
Triplet lens design
Swing-style close-in case
What we love:
Zooms in without distortion to read laser inscriptions in the likes of diamonds
There's no color correction to help view things closer to the original
Lightweight so that you can attach it to a keychain or lanyard without feeling weighed down
We don't like this as much:
There could be more resistance in the hinge as the lens may close in on its own
3. Loupe by Bausch & Lomb
The Loupe by Bausch & Lomb is a fine jewelry loupe that is constructed with three separate glass lenses. These are bonded together so that they form a compound lens, which then leads to providing sharper magnified images with less risk of distortion. Additionally, the lens will remain protected whenever you are not using it thanks to the swing-away case. It is also plated nickel, granting it a bit more longevity and security in the event you ever drop it.
Even with this bold design, the jewelry loupe is remarkably compact. Such a size makes it easy for you to slip this inside your pocket or pack it alongside any other gear that you may bring with you on your journey or for work.
This loupe is powered with 14x magnification, zooming in close enough to see detailing in the likes of coins, gemstones, rocks, and more. It goes well beyond the standard 10x without ruining the clarity of the image. Thanks to the sides of the lens being coated in black, there is minimal glare so that your view isn't hindered. It still has a nice diameter of 0.49-inches (12.5mm) with a focal distance of 0.8-inches (2.0cm).
Features:
14x magnification
Triplet lens design
Swing-away case
What we love:
Comes with a protective storage pouch that gives you a way to carry it without taking up space
The housing is firm and keeps the lens protected
Magnifies without showing any chromatic aberrations
We don't like this as much:
The smaller size makes this a loupe better suited for experienced users, as opposed to beginners
4. JARLINK Illuminated Jewelers Eye Loupe
The JARLINK Illuminated Jewelers Eye Loupe Magnifier is an affordable loupe that can provide hobbyists a chance to experience something on a professional level. It is easy to carry around thanks to its build. The device is already a compact size, fitting not just in your pocket but also in the included drawstring bag that you can then slide inside your own gear. Also, the tool is made with lightweight plastic and aluminum materials so there's no weight added to your load.
This jewelry loupe features two lenses. The primary one magnifies at 30x, while the second one provides 60x magnification. This can provide you with far more variety in what you can examine, making it helpful for people in multiple careers or hobbies such as clock and watch repair, rock collecting, or fossil exploration.
Another useful component of this jewelry loupe is the LED lighting. There are two LED lights, in fact, providing you with the ideal amount of clarity even in low-light environments. So that you can always have your light at the ready, it's very easy to replace the battery as it comes with a tiny tool that you can use to remove the cover to the battery slot.
Features:
30x and 60x magnification
2 LED lights
Foldable design
What we love:
Designed with fantastic ergonomics so it's easy to hold at multiple angles
LED lights function independently to work for each magnification level
Comes out of its foldable design smoothly
We don't like this as much:
We wish the lights provided a little more coverage of the object under observation
5. Gain Express Mini Folding Illuminated Loupe
The Gain Express Mini Folding Illuminated Loupe is built with the standard 10x magnification level, giving you enough zoom power so that you can view what you need no matter what you are examining, from coins to photographs. This can even easily be used for stamp collectors or for numismatics, and with its budget-friendly range, it is a more helpful tool for beginners, hobbyists, and for professionals that require a simple, yet effective tool.
Along with the magnification level, this loupe is also designed with a 0.83-inch (21mm) lens diameter. This is a build that allows you to see far more of the area even with it being zoomed in. If you require a touch more light, then you can always activate the LED function. There are two sets of lights. First are a band of six built-in LED lights that wrap around the edge of the lens. The other is a UV light that's built into the base.
You can see with reliable clarity thanks to the triplet lens, allowing you to better inspect for imperfections as in the case with diamonds. Furthermore, the loupe is designed to fold up so that you can protect the lens when it's not in use, slipping it easily into its case.
Features:
10x magnification
Triplet design
LED and UV lighting
What we love:
The central vision is free from distortion
The glass lens provides it with a good amount of weight to feel more reliable and long-lasting
Comes with a cool synthetic case for travel purposes
We don't like this as much:
We wish the image produced under the UV light function was a little clearer
6. Bransio Jewelry Loupe – 2 pack
The Bransio Jewelry Loupe, available in a white or black design, is made from aluminum, ABS plastic, and acrylic for the lenses. Speaking of the lenses, there are two different ones you can choose to use. You can either go for the 30x magnification level or opt for the 60x magnification power. It's quick and easy to switch between them so the loupe will adapt with you on the spot to suit whatever you need. This gives you a greater application so that pros and those just experimenting can equally find use in it.
For more help, the jewelry loupe features bright LED lighting. With a flick of a switch, you can turn the light on and off as needed to adapt to low-light situations. When you use it, there is good clarity that expands edge-to-edge so that nothing looks distorted no matter what angle you're viewing it at. This has a 360-degree free-angle adjustment process.
This means you can read up on some important information without missing a beat, such as if you're examining a small-print map or stamps. In addition to receiving two of these loupes, you also get a key to change out the battery and a cloth bag to carry everything in.
Features:
30x and 60x magnification
The 360-degree free angle adjusting
LED lighting
What we love:
Built large enough to be easy to handle without being bulky
The LED lighting is just bright enough without overpowering the item you're looking at
100% money-back guarantee so you can try it without investing at first
We don't like this as much:
Could benefit from having a wider range of focus
7. VIVOSUN Illuminated Jewelers Loupe
The VIVOSUN Illuminated Jewelers Loupe is a beginner-friendly tool. It has a double lens design, allowing you to use a magnification level that is more to your preference. This comes with both 30x magnification power and 60x magnification power, granting you more than enough to view a multitude of items such as money, fossils, stones, and diamonds.
Thanks to the built-in LED lights, you can always find the right amount of illumination. So, you can go out when the sun is setting and still get the same level of quality as if it were a clear, sunny day. This is helpful if you must work in lower lighting conditions too as a job or for the sake of your hobby. Such a design can make this tool useful for those of you that even need to examine plants or insects at various times of the day.
This loupe is also designed to withstand light impacts so that there's minimal worry about accidentally dropping it. Even when you travel, you can keep it in the included case to add protection against dust and any other damage.
Features:
30x and 60x magnification
LED lighting
Ergonomic heart-shape design
What we love:
Comes with a key for the battery case as well as a lens wipe for cleaning
It's easy to fold and unfold for quick use
Easy to maintain the loupe and the lenses for long-term use
We don't like this as much:
It would be nice if the 60x lens had a larger diameter for easier viewing
8. Leffis 40x Jewelers Loupe Magnifier
The Leffis Jewelers Loupe Magnifier has a professional appearance and design, all without breaking the bank, making it a worthwhile tool for hobbyists and at-home professionals. There is a wonderful balance between ease of use and portability with this tool. It is compact enough that you can freely pack it away or even pocket it while traveling around without worry. At the same time, there is enough heft to it to make it easy to maintain your grip without feeling awkward.
This is designed with a single lens, allowing you to look at things zoomed in at 40x magnification. It grants this amount of zoom without losing clarity. This can be useful for reading the fine print on documents as well as checking out all the nooks on different stones. It is even helpful for those attempting to make repairs or work on delicate crafts.
If you need to work where there isn't much lighting or outside when the sun is going down, you can activate the bright LED lighting feature. This loupe even has a built-in UV lighting effect. It is a great feature if you want to check out currency or anything else that can be counterfeited.
Features:
40x magnification
LED and UV lighting
Foldable design
What we love:
Even with the magnification, there is crisp imaging that is further improved with the lights
There is good color correction if you are using this for diamond identification purposes
The included battery replacement key is simple and quick to use
We don't like this as much:
Best used for brief examinations as it is a little weighty and may feel heavy after prolonged use
9. DANOPLUS Magnifier Jewelry Loupe
The DANOPLUS Magnifier Jewelry Loupe is a reliable magnifying tool that is designed in the industry-standard 10x magnification style. It features an achromatic lens that is designed to limit the potential effect of chromatic and spherical aberrations. This means that it will reduce the chance of any color degradation, allowing you to see items as they should be even when zoomed in.
Besides that, the loupe is made in a triplet style. With the three lenses combined to form one, there is better clarity in the color as well as great sharpness all around, freeing you to examine objects at various angles and still get the same clear view. This is helpful for users to look at multiple items such as rocks, stones, stamps, and coins without missing anything.
The outside of the jewelry loupe is made just as reliable as the lens. It features an aluminum body, the metal adding enough protection to keep the loupe safe when you're using it and when you pack it away for travel or storage. This kit does come with a protective carrying case as well as a lanyard cord so you can keep it close by.
Features:
10x magnification
Black frame
Triplet design
What we love:
Designed so that you don't have to deal with any chromatic aberration
With the included lanyard, you can tie this up with ease so that it remains close by
The lighting is placed well so that there is great coverage all around
We don't like this as much:
The case could have a smoother opening so you can open and close the lens with one hand
10. Gain Express 10x Illuminated Jewelers Loupe
The Gain Express Illuminated Jewelers Loupe is a fantastic magnifying tool designed for hobbyists and professionals. It can make pros feel right at home while also allowing those who examine things in their free time to feel like career jewelers thanks to the traditional design of the tool. It can not only help if you are collecting various items or are working with them but it can simply be used to read the details on a newspaper or magazine for those who need some extra assistance viewing smaller lettering.
This magnifies the traditional 10x too, making it industry-standard. Even with such a zoom level, you are still given more than enough area to see at a time without shifting the magnifier thanks to the 25mm field of view available. If you need even more assistance in viewing items, you can always take advantage of the built-in eight LED lights.
This features a single glass scale chart, but it is designed in a way that you can attach it to eight different glass scale charts so that you can measure the range of more items. This portable and stylish device can be taken with you on the go, and you can use the included leather case for easier carrying.
Features:
10x magnification
8 LED lights
25mm field of view
What we love:
You're able to get a smooth and solid rotation, making it easier to adjust the tool to suit your needs
Through the use of eight LED lights, it illuminates enough without taking away from the original image
It is easy enough for you to detach the comparator reticle so that it won't get in the way if it's not needed
We don't like this as much:
The light switch could use more resistance as it can be turned on accidentally
11. Wesley's As You Wish Jewelers Loupe
The Wesley's As You Wish Jewelers Loupe makes anyone feel just like a professional! With its all-metal construction, you don't have to worry about accidentally dropping it, and it even comes with a handy travel case that keeps it even safer as well as for when you simply want to store it somewhere out of the way.
With this loupe, you will experience close examinations with the 40x magnification power. There is still a 25mm diameter available so that you aren't forced to look at it in too many different angles since even zoomed in, you can see more than enough of the item you're viewing. Alongside that, you can benefit from the built-in white LED lighting effect that helps in low-light situations.
This tool is especially helpful if you are out in the field to examine different plants. It zooms in close enough to provide optimal clarity to view every detail, especially if you are trying to discover any potential issues with the plants at hand. 
Features:
40x magnification
White LED lighting
Foldable design
What we love:
It is simple enough to open and close the battery case cover so that there's no risk of them slipping out while using it
The blue UV lighting is just as bright as the white LED lights so that you can switch between them without losing illumination power
The provided illumination is centered to make up for the natural shallower focus
We don't like this as much:
We'd love to see a 60x magnification version of this loupe available for closer inspection of objects
12. OXMUL Loupe Magnifier
The OXMUL Loupe Magnifier is a lightweight, pocket-style magnifier. It offers high-power magnification, coming in at 40x so that you can see an incredible amount of detailing on multiple items. The double lens is even made with diopter glass that not only helps improve reliability but also reduces the likelihood of seeing any distortion. So, you can look as closely as possible without the risk of losing the overall clarity of the item and seeing something that isn't actually there.
Using it is easy too, even if you haven't handled a loupe before. This jewelry loupe features a helpful built-in measuring scale. This measures in both millimeters and inches so that you can view things in whichever way you are most comfortable with or whatever works with the specific job. If you have to use this when there is little lighting, or if you require more light to experience less eye strain, you can use the three LED lighting effects.
With a metal body, the magnifier is designed for long-term use across multiple adventures outdoors. If you need it, you can use the included storage case so that you don't have to worry about it ever getting lost or damaged while you travel around with it.
Features:
40x magnification
3 LED lights
Diopter glass lens
What we love:
The built-in scale makes it seamless to view different items and measure what you need without disrupting your work in any way
The metal construction provides it with a solid feel that doesn't add much weight so you don't feel uncomfortable holding it
Features a scratch-resistant body so it stays looking brand new
We don't like this as much:
We'd like to see some UV lights added to this loupe to increase its functionality
13. VIVOSUN Jewelry Loupe
VIVOSUN Jewelry Loupe Magnifier is designed for those of you who require far more versatility in a single tool. This is because it features three magnification levels that gradually get stronger, namely 30x, 60x, and 90x. Use this loupe to keep a close eye on plant growth, to properly handle watch repairs, look at circuit boards, and more. Such magnification levels can also help you check out the authenticity of different items like diamonds.
This jewelry loupe features a slide-out design with an easy-to-reach on/off switch to control the built-in LED white lighting. Besides helping illuminate objects so you can see more clearly, especially in low-light settings, this also comes with a UV feature that can further help authenticate certain items like money.
The sleek jewelry loupe does not just feature a modern appearance for the sake of style. Rather, it makes it much easier to slip into a pocket or a bag, especially as it is extremely lightweight.
Features:
30x, 60x, and 90x magnification
LED and UV lighting
Slide-out design
What we love:
Each magnifying level has its own lighting so that you don't have to worry about losing out on illumination
Comes with a cleaning cloth for easier and quicker maintenance that doesn't leave scratches behind
Slides in and out smoothly without damaging any of the lenses
We don't like this as much:
When using the 90x magnification, it can be a little tricky to attain a clear picture if your hand is shaking. We recommend mounting the loupe if possible.
14. Amoper Loupe Magnifier
The Amoper Loupe Magnifier is a handy and affordable way for hobbyists to examine items just like the pros. It's designed for use across many different areas of work. Use it to look closer at photographs to note any slight imperfections, or you can use it to examine minerals or fossils out in the field to identify better what you're looking at. It has an adjustable focal length that better helps you view different items too on top of the strong 30x magnifying power.
Thanks to the black finish, there is a reduced chance of you experiencing any glare that will get in the way of your work. There is still a nice 1.1-inch diameter, granting you a wide view without the zoom interfering with how much you can see. This way, you don't have to change your angle too much.
If you need some extra backup, you can always turn on the built-in LED lamp beads. They are made in the usual white lights to help with standard magnifying jobs. However, this also includes three UV lighting modes too. It is simple to navigate through these light modes too with quick button presses.
Features:
30x magnification
3 white LED lights and 3 UV lights
ABS plastic material design
What we love:
The LED lights are able to effectively illuminate the entire surface area without leaving any dark corners
It is simple and quick to access the lens so that you can properly clean it without damaging the loupe
Easy to view the scale markings inside so that you don't have to refer to a separate measurement chart
We don't like this as much:
We would like to see a dedicated switch to turn the lights off, rather than having to tap the button twice
FAQs About Jeweler Loupes
What is a jewelry loupe?
As jewelers examine plenty of precious stones, silver, gold, and gemstone items, they need a tool to look closely at them. This comes in the form of a jewelry loupe. It is a portable, small magnifying glass. These are usually designed with one or more lenses to provide perfect optics, giving you a close-up view of what you're examining.
Not only are these vital for jewelers, but they are helpful for everyday collectors. A jewelry loupe will help with fossil, stone, rock, and mineral identification. This is why it's beneficial that jewelry loupes are designed in a compact size, allowing them to fit inside a pocket so anyone can travel with them anywhere.
Because of the versatile items one of these loupes can identify, they are not all created equally. Many have specific levels of magnification that work best for certain items over others. It's why jewelers typically own multiple loupes to switch out for different tasks. Some loupes have more versatility in their construction as they have several magnification levels to set. These types may be best for home users rather than professionals.
A jeweler loupe is not just essential for this level of identification, but it is also straightforward to use. This, besides the portability, is why they work so well for collectors, just as they do for professionals.
How strong is a jeweler's loupe?
A jeweler's loupe can have different levels of magnification power. Commonly, people seek out loupes with 10x magnification. This level is more than enough strength as it can help you examine what you need without leaving much behind or going too deep.
Of course, there are jewelry loupes made stronger. You may find some that feature 20x or 30x magnification, for instance. These may be overkill for some people, but others may enjoy thoroughly examining an item as deeply as they can. Of course, the quality of the jewelry loupes needs to be high. Otherwise, things might get blurry the more you zoom in.
As long as the quality is correct, then you can take advantage of a loupe with a higher power. There won't be much change in what you're looking at beyond what's expected. For example, if you use a 20x magnification level, then you may see about a third of the surface of whatever item you're examining such as a rock or a coin. If you go higher, then you'll see far more detail in a specific spot. However, that does come with viewing less of the area in general.
How do you tell if a diamond is real with a loupe?
A few key features to look out for when determining if a diamond is real. Using a jewelry loupe with about 10x magnification should be enough to get things going. From there, you want to look for internal imperfections. Diamonds are naturally occurring precious stones. Because of this, they will not be perfect inside.
These imperfections are known as inclusions. The only trouble is that although a jewelry loupe will help zoom in close enough to find these small inclusions, not everyone will always know what to look for. When this happens, it can be difficult to tell real diamonds from fake ones. This process is even more difficult because there are some flawless diamonds in the world, but these are typically lab-grown and expensive.
If you are unsure what small inclusions to look for, then you can always reach out to someone like a jeweler. They will know better as to what tiny imperfections to keep an eye out for as they can also spot whether or not a diamond is too far damaged to be of any worth.
Wrap Up
For jewelers examining precious items like gemstones, collectors who seek to add the right stone or rock to their collection, or even professionals in need of examining fossils closer, a jeweler's loupe is an essential tool. Without a jeweler's loupe, you may miss out on important qualities, strengths, or hidden imperfections.
The use of these compact items goes beyond that though. They can even be used to look closer at stamps for stamp collecting or even check out more details in plants or other vegetation. Their portable design makes them appealing for anyone who wants to examine something on a closer scale.
Choosing the right jewelry loupe isn't as easy as purchasing the first one you see. There are some key features to consider such as price point, magnifying power, and ease of use. Some loupes are intended for the more professional scale, while kids can use others as a fun tool to support their hobbies. Others may have extra features like LED lighting. It all depends on what you're looking for, so we hope that by finding a variety of jewelry loupes, you'll have a better chance of narrowing down your search.
In the meantime, check out our favorite picks from our list in the following three categories:
Related:
911metallurgist.com is a participant in the Amazon Services LLC Associates Program, an affiliate advertising program designed to provide a means for sites to earn advertising fees by advertising and linking to Amazon.com.