Disclosure: This post contains affiliate links and I may earn a small commission if you purchase through these links.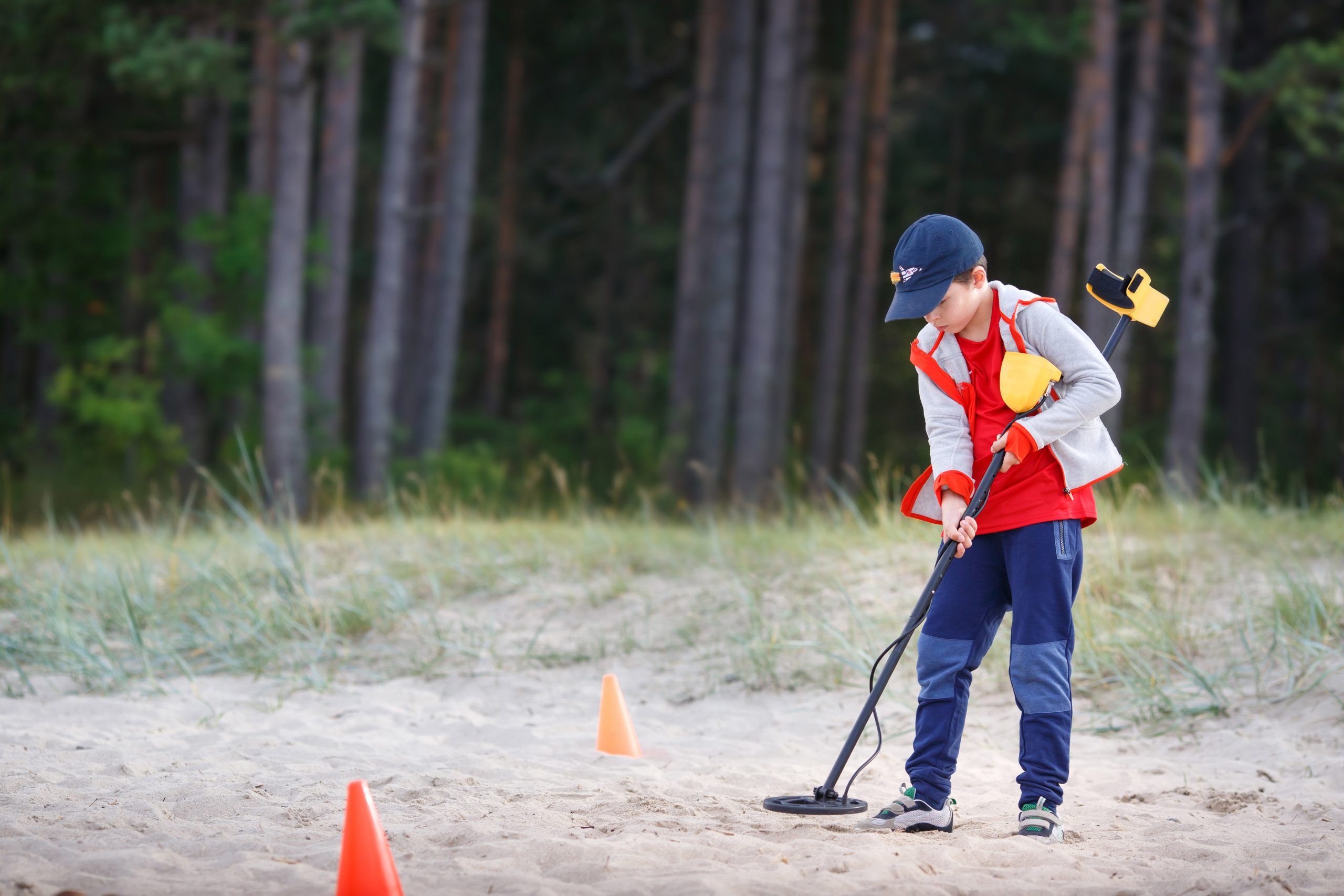 Children love discovering things, and there is something extremely special about finding objects that are old and unique long buried in the yard, which can also spark an engaging interest in history. Apart from the benefits for children when spending plenty of time in the fresh air, someday they might even be able to make a career out of metal detecting.  Not only do metal detectors make for fantastic holiday or birthday gifts for kids but they also provide a great opportunity for bonding when hunting for treasure together with them.

They make easy-to-use beginner models that are designed with children in mind while still offering a wide range of features, including:
Knob control

Waterproof models

Pointer indicators

Adjustable backlights
Always remember, there are laws regarding metal detecting, so it's always best to do some research before you go out for a hunt. 
We've compiled a list of the best kids' metal detectors so you know exactly which one you should get for your child. By examining trusted reviews we have found which models are most suited for children, and made sure to weed out any selections promoted through false reviews by using fakespot. 
1. Bounty Hunter BHJS Junior Metal Detector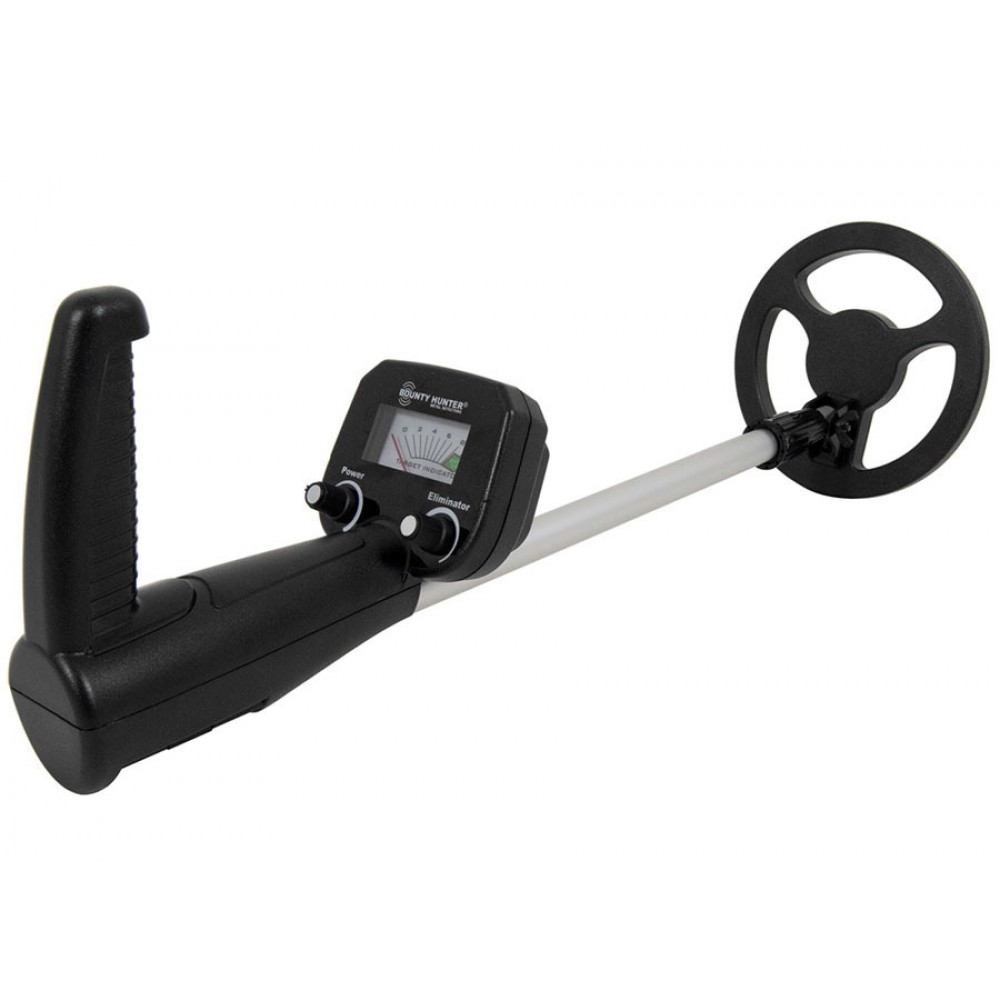 The Bounty Hunter's Junior Metal Detector provides professional-grade functionality in a lightweight form that's effortless to use. With this metal detector, both children and adults alike can locate items as small as a coin. This product offers the ability to search for specific material and eliminate unwanted metals from registering their presence on the detector. With discrimination control, you can spend more time uncovering interesting treasures rather than old tin cans.
This user-friendly metal detector is an excellent choice for children up through adults looking for a fun and accessible hobby. The analog display provides a needle for measuring target strength, swinging from left to right indicating proximity. The knob controls offer easy-to-use power and sensitivity options for fine adjustment. The simple color scheme of black and silver gives the unit an appearance that is gratifying for both children and adults. Metal detecting can provide hours of entertainment in the outdoors and foster an appreciation for local history. The Bounty Hunter's Junior Metal Detector comes with a 1-year limited warranty that protects from quality or material defects.
Notable Features:
6 1/2in. closed coil with weather-resistant build

Audio signal with proximity volume increase

6.6kHz frequency operation with included battery tester

Can detect large objects up to 3ft. underground
What we love:
It comes with a detailed manual that explains how to set up the detector for certain metals

Can collapse for easy and compact storage, making trips to the beach more convenient

The pole offers a telescoping ability that allows height adjustment

Very affordable for parents who aren't sure whether their kids will take to detecting
What we don't like that much:
The materials aren't as durable as we'd like for a product marketed for all ages

Bounty Hunter Junior Metal Detector – $75.00
Retail Price: $89.54
You Save: $14.54
from: Kellyco Metal Detectors
2. Striker Detectors z60 Metal Detector
The Striker Detectors z60 Metal Detector provides an accessible approach to the world of metal detecting. This unit caters for those who are curious about uncovering buried items but aren't familiar with all the aspects of this hobby. With a compact design, the z60 is elegantly portable and definitely a great option for those planning to travel. Take the Striker z60 camping, to the RV park or even to a rest stop for a break from the road.
With such accurate readings, the z60 provides feedback and results within seconds of coming across a potentially buried treasure chest. Similar to exercise, metal detecting can take a physical toll when first getting started. Fortunately the z60 is exceptionally lightweight at 2lbs 10.6oz., allowing for comfortable extended hunting sessions that don't contemplate your arm tiring out or going numb. From the control box down this detector is waterproof, making puddles, creeks and shallow water safe terrain for metal detection exploration. The color scheme of black and purple may not appeal to everyone but it certainly offers some personality.
Notable Features:
7.8kHz frequency operation

Quick feedback results with 8 levels of sensitivity control

Waterproof 10in. coil with cover included

Pinpoint, jewelry and coin modes
What we love:
The intuitive design makes detecting accessible to those with little to no experience in the hobby

The z60's reliable performance sees through common obstacles, making it even more versatile

The high visibility backlit display makes the detecting experience easy in various lighting situations

The high rate of recovery makes this unit work faster than any other entry-level detector
What we don't like that much:
With 6 AAA batteries required, carrying additional battery replacements can be inconvenient
Striker Z60 Professional Metal Detector for Adults with LCD Display and High Accuracy Waterproof Coil, Disc & Pinpoint Modes, Lightweight Metal Detectors for adults for Gold & Treasure Hunting
Built for Speed - The Striker Z60 was born out of a desire for an ultra-lightweight detector with ease of use, accuracy, and quick recovery. The Z60 hunts faster than any entry level detector ever built, and is great for both small kids, of all ages, or a professional.
All the Features, Half the Price - The Z60 features a backlit screen, waterproof 10" coil, pinpoint mode, adjustable discrimination, 3 elimination modes, and Ground Grab technology. Perfect for a beginner, a child, or as a backup machine for seasoned detectorists.
Ground Grab & Go - Easy to ground balance, so easy in fact that we named it Ground Grab. The Z60 grabs on to the soil's unique mineralization signature, tempers those spectral bumps, adjusts on the fly and never lets go.
Lightweight & Waterproof - Weighing only 2 pounds 10.6 ounces, an hour of casual hunting and your arm retains all feeling! It's waterproof from the control box down, puddles, creeks, the beach, and shallow water are no problem!
The Striker Z60 is a Kellyco exclusive, Kellyco Metal Detectors is one of the largest retailer of metal detectors in the world and has provided customers with the best metal detectors and accessories for over 65 years.
3. Nokta Makro Mini Hoard Metal Detector
The Mini Hoard Metal Detector from Nokta Makro is an excellent excuse for children to get outdoors and spend more time in close proximity to nature. Instead of passively sitting in front of the television, this summer kids can be out exploring their backyard or the neighborhood with newfound purpose. This unit keeps children moving and promotes healthy exercise in fresh air.
Nokta Makro has ensured the Mini Hoard's construction features strong, quality materials for a durable and youth-friendly design. The unit is retractable for easy storage and travel options. With its incredibly lightweight form the Mini Hoard is an excellent choice for children interested in metal detecting. Being light is critical for a product aimed at a younger age demographic so that they don't tire out too quickly after beginning their search. The lime green and black color scheme makes the unit easy to spot and provides extra fun for kids. As a bonus, this product includes the Nokta Makro Cool Kit that comprises a sand scoop, sifter, decorative stickers and ground markers.
Notable Features:
Completely waterproof and submersible up to 3ft.

Includes the Nokta Makro Cool Kit

3 sensitivity levels and 2 discrimination modes, including iron setting

6in. search coil operates at 15kHz
What we love:
The LCD screen interface is child-friendly with a cartoony fun style

There are multiple sensitivity levels and audio tones that provide enough variety for kids

Comes with a 2-year limited warranty for additional peace of mind

The automatic shut-off feature prevents battery drain when not in use
What we don't like that much:
Doesn't offer a headphone jack, so anyone in the area will hear the audio tones
Nokta Makro Mini Hoard Kids Waterproof Metal Detector
The world's first waterproof kids detector series!
In a world where technology is king and kids are more disconnected than ever from nature, here is a way to encourage kids to get outside. Nokta Makro's Mini (and Midi) Hoard metal detectors encourage children to get outside to play, explore, and learn some history.
Retractable Shaft - Shaft retracts down to 63 cm (25"). Great for easy transport.
Lightweight (780gr / 1.7Ibs) - Lightweight and compact!
Audio Tones: 2
4. TACKLIFE Metal Detector
The TACKLIFE Metal Detector is a fantastic choice when searching for coins, gold and jewelry, among others. With its powerful performance and comprehensive feature list, the TACKLIFE is excellent for kids and adults looking to get into the hobby. The Pinpoint function adds another tool in searching for lost buried objects and provides visual feedback when homing in. The control box includes 6 buttons, apart from the Pinpoint option, and makes navigating the intuitive display effortless.
A series of lights will indicate the proximity of the buried object, moving clockwise as you get closer. There are many adjustments the unit enables, such as volume and sensitivity, for an experience adaptable to the environment being explored. The blue LED light on the TACKLIFE makes hunting for buried items in low-light conditions simpler. The all-black color design of the TACKLIFE makes it look more mature than some of the other units on this list.
Notable Features:
4 adjustable modes with a Pinpoint feature, enabling LED proximity feedback

Pointer indicator that is equipped with an LED light

8in. IP68 waterproof coil

Adjustable backlight with blue LED light standby indicator
What we love:
The more comprehensive detection ability provides up to 8.7in. of sensing power

Comes equipped with a headphone jack

4 modes allow you to search for specific metals while ignoring trash

Adjustable volume levels provide an experience customized for the user
What we don't like that much:
The included set-up guide could be more descriptive and comprehensive for beginners
5. Bounty Hunter Junior T.I.D. Metal Detector
This inexpensive metal detector is a fantastic way to involve your child in a hobby that takes them outdoors, delivering incredible value. Get your child into a healthy alternative to the afternoon cartoons and video games with some quality detection products. Made in the USA, the Bounty Hunter Junior T.I.D. Metal Detector provides the powerful options found on adult units but converts them into child-friendly designs. The bright blue and black outer shell gives this unit a more kid-oriented look than some other detectors.
With adjustable size, the Junior T.I.D. can be customized to several different lengths for optimal comfort. In addition, the Junior TID is considerably lightweight, ideal for children and those who want to continue hunting for extended periods without fatigue. The Junior T.I.D. Metal Detector comes equipped with a 6in. coil and utilizes a 7.69kHz frequency for impressive searchable depths. The unit offers the ability to target specific objects such as iron, rings, coins and other materials.
Notable Features:
6in. coil operating at 7.69kHz

Discrimination control with 3 target id options for iron, rings and coins

Graphic depth indicator on LCD backlit display

3-tone target id with volume proportional to proximity
What we love:
Durable construction and provides longevity, which is especially relevant when children are involved

The display uses emojis to help engage children of all ages, increasing the fun factor and the desire for hunting treasure

It only requires 2 AA batteries for extended use and convenience, providing for hours of entertainment

The wing stand protects the unit from damage when placed on the ground
What we don't like that much:
There isn't an arm brace included with the handle, as you would typically find in metal detectors
6.NATIONAL GEOGRAPHIC PRO Series Metal Detector
The National Geographic Pro Series Metal Detector provides several high-tier features with both usability and interface designed for kids. The Pro series is adjustable to accommodate children of all sizes and comes in a very lightweight package. With possible treasures located anywhere, from the beach to the park, a mountain trail or even the backyard, children will have plenty of places to explore.
One of the benefits of the Pro series design is that it is telescopic and so the unit can collapse into an incredibly portable form. A sizeable 10in. coil provides the enhanced technology and power equal to more expensive adult models. There is no assembly required and the LCD format is straightforward to use, so beginners can jump right into detecting out-of-the-box. This unit offers the power to enable searches for up to 12in. below the ground. The black and silver design, complete with the National Geographic logo, give this unit a slick appearance. With the National Geographic brand name endorsing it this unit certainly doesn't disappoint.
Notable Features:
4 sensitivity levels offer detection up to 12in. deep

10in. waterproof coil

Detection audio alert that includes volume adjustment and headphone jack

3 detection modes and Pinpoint features help eliminate junk metal
What we love:
The extra-large coil allows you to cover more ground quickly

Includes a National Geographic full-color learning guide to get kids excited about treasure hunting

Reviewers have highlighted excellent customer service that is responsive and pleasant

The manufacturers offer a 100% satisfaction guarantee for added confidence in purchasing
What we don't like that much:
Reviewers cautioned that the detector sometimes erroneously indicates a buried item when bumped
NATIONAL GEOGRAPHIC PRO Series Metal Detector - Ultimate Treasure Hunter with Pinpointer, Large Waterproof 10" Coil - Lightweight and Collapsible for easy travel
FIND BURIED TREASURE - Feel the thrill of discovery when you locate cool treasure like gold, coins, jewelry, and more with the advanced technology and powerful searching features of this Pro Detector. A fun outdoor gift for any treasure hunter!
EASY TO USE – Fully adjustable and lightweight with an easy to understand LCD display make the Pro Detector accessible for all ages, sizes, and skill levels from beginner to advanced. Just unfold and go!
GREAT FOR TRAVEL – Portable yet powerful! The large, waterproof, 10-inch coil is lightweight, and the collapsible design makes it easy to transport. Use it in your yard, bring it to the beach, or any of your favorite treasure hunting spots!
PACKED WITH PROFESSIONAL FEATURES – Detect treasure as deep as 12 inches with 4 sensitivity levels, while filtering out "garbage metals" with the 3 detection modes. Use the pinpoint feature for added precision and to help you distinguish trash from treasure.
SATISFACTION GUARANTEED – The National Geographic STEM series provides kids high-quality educational toys that are a whole lot of fun! If your experience is anything less than extraordinary, let us know so we can make it right for you.
7. Teknetics Digitek Youth Metal Detector
The Teknetics Digitek Metal Detector offers robust features that include sensitivity controls and a Digital Target ID system which helps you identify a variety of metals by their conductivity. Produced under the same strict product requirements as the adult models, the Digitek Youth Metal Detector delivers accurate detection with a scaled-down version built for children. This unit provides serious hunters a reliable manner to find treasure on their next adventure. The Digitek showcases an all-black design, except for the space around the display that includes a unique and colorful addition.
For enhanced detection, a Pinpoint mode helps to more accurately identify the location of a buried object. This unit also comes with a bonus pack that provides the child with a composite digging trowel, a screen cover for the display and a Teknetics hat, among other items. A single 9-volt battery can power up the Digitek Youth Metal Detector for up to 20 hours of exploration fun. Also, a lengthy 5-year limited warranty covers any defects so that the treasure hunt can continue well into the future.
Notable Features:
Displays metal conductivity scale from 0-99 for accurate metal identification

9-segment target id excludes all worthless metal and trash

Up to 20 hours of battery life

Bonus pack comes with a hat, digging tool and cover for the control box
What we love:
The large 7in. waterproof search coil allows children to cover larger areas in less time

The included screen cover provides additional protection from moisture for the control box

Display is easy to read with simple graphics surrounded by a colorful and eye-catching design

Manufactured in El Paso, Texas; replacement materials or other concerns are handled nationally
What we don't like that much:
The powerful features may be too complex for some first-time users to grasp fully
8. Garrett Ace 150 Metal Detector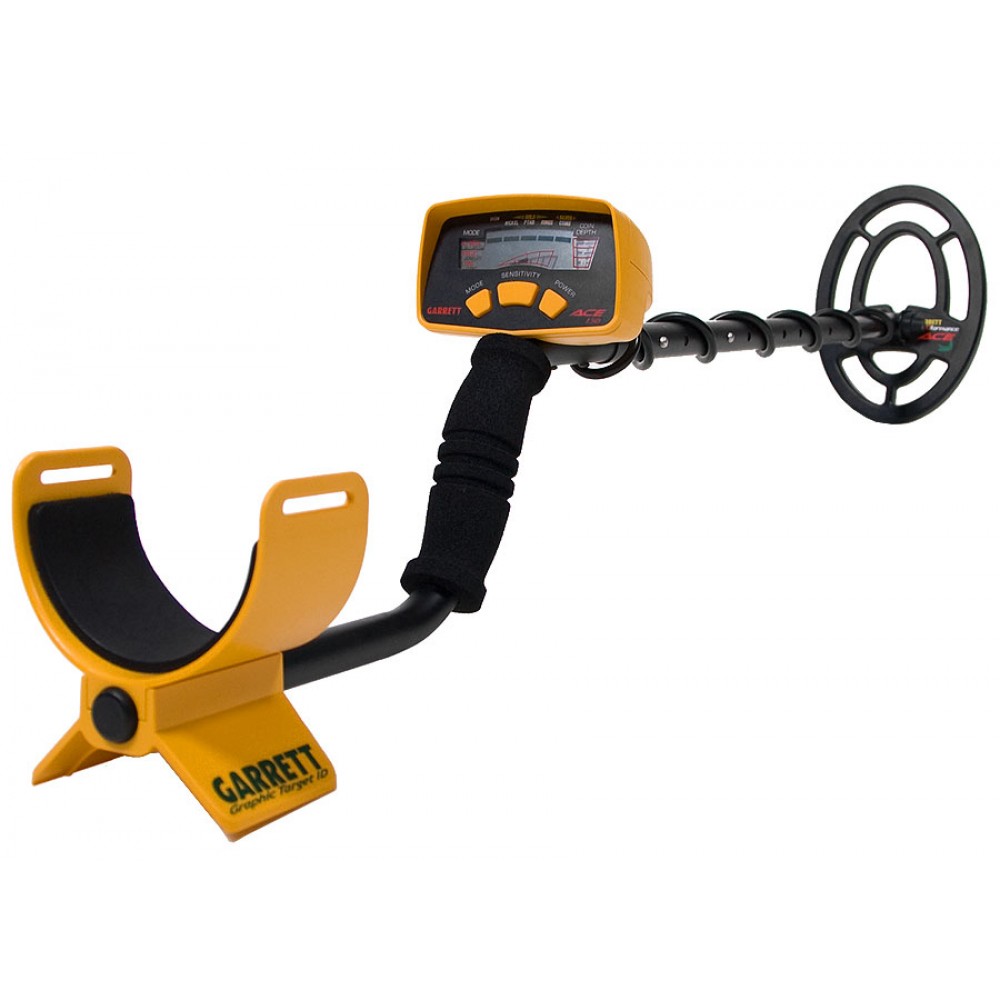 The Garrett Ace 150 Metal Detector provides excellent value and includes several beneficial features for young hunters. A large LCD offers multiple modes, depth information and proximity indicators for an enhanced detection ability. Program and isolate specific metal types for a more focused search at a frequency of 6.5kHz. With one touch of the control box your child is ready for exploration fun without the need to go through a complicated set-up process. The large buttons and Touch-n-Go operation make this detector a great introduction to metal detecting.
Equipped with both an external speaker and a headphone jack, the Garrett Ace 150 can operate in a variety of environments and situations, with options that won't disturb anyone else in the area. The construction of the Garrett Ace 150 is solid but lightweight at 2.7lbs. and can break down into 3 pieces for convenient storage and travel. Since the unit can dismantle easily it makes for one of the most portable products you can purchase. The yellow and black color scheme provides for an alternative look but may not appeal to older kids.
Notable Features:
6.5in. x 9in. ACE coil operating at a frequency of 6.5kHz

Custom notch discrimination with conductivity identification feature

4 sensitivity levels with programmable target id

One-Touch Treasure Hunting feature and adjustable arm cuff
What we love:
Durable construction provides a long-lasting detector that can handle rugged and continual use

Long battery life, which means that the detecting fun can last long with fewer battery replacements required

The unit offers beginners serious detection strength and features, beyond what some of its competitors can provide

Consistent performance on several different terrains
What we don't like that much:
There isn't a volume adjustment option for either the headphones or the external speaker

Garrett ACE 150 Metal Detector – $152.95
Retail Price: $179.95
You Save: $27.00
from: Kellyco Metal Detectors
FAQs about Kids Metal Detectors
Q: Is metal detecting fun for kids?
There's no requirement to be a professional treasure hunter and enjoy looking for hidden items. For an inexpensive and fun day outdoors, metal detecting can be a great option for kids and the whole family. One challenge many parents face is trying to get their children to step away from video games and television screens, even for just a few hours. With metal detecting, once your children start exploring, the hobby starts becoming very engaging. When the first coin, piece of jewelry or other precious metal discovery falls prey to the child's metal detector, there will be renewed motivation to keep the hunt going. A significant aspect of detecting is that it's full of surprises. Another which should not be discounted is that gives children the freedom to dig into the dirt at their heart's content. For some additional tips before your next family's treasure hunt, see Metal Detecting For Kids on detectorlist.com.
Q: Is Metal Detecting Educational?
There are plenty of learning opportunities in metal detecting, from planning to researching unique finds. One of the most important first steps is deciding where to start looking and what materials will be required. If you get your children involved in planning your next adventure they can learn where buried material might lie and what kind of preparation and discipline is required to unearth hidden objects. Beyond that, the metal detector is a great learning tool as kids can also learn how the technology works to achieve its purpose. For more information visit Why Metal Detecting is Great For Kids at LPmetaldetecting.com.
Q: What features should I consider when buying my child a metal detector?
Depending upon your children's age, you should choose a unit with an interface that will hold their attention and be easy to understand. For example, for younger kids choose a more fundamental and cartoony graphical display that shows them pictures instead of just data.
Price range is another factor and one you'll have to determine that based also on your child's interest level. If you're not sure they'll take up the hobby of metal detecting then you're better off spending less on a unit until you're sure they want to continue.
Rugged construction is an essential feature of the metal detector you choose as children can be hard on electronics. Can the unit hold up to multiple drops or bumps during use? Something else to consider is the weight of the metal detector. If the unit is too heavy your child will most likely not use it for very long because holding it will get tiring. You want to ensure that the metal detector is light enough for your child to use it for extended periods without difficulty.
Conclusion
There are several excellent options for children's metal detectors. Some units offer clear and user-friendly graphics for enhanced ease of use, while others provide powerful performance and lightweight design. Select models feature things like waterproof components, larger coils, additional tools, and stickers for personalization.
911metallurgist.com is a participant in the Amazon Services LLC Associates Program, an affiliate advertising program designed to provide a means for sites to earn advertising fees by advertising and linking to Amazon.com.