Disclosure: This post contains affiliate links and I may earn a small commission if you purchase through these links.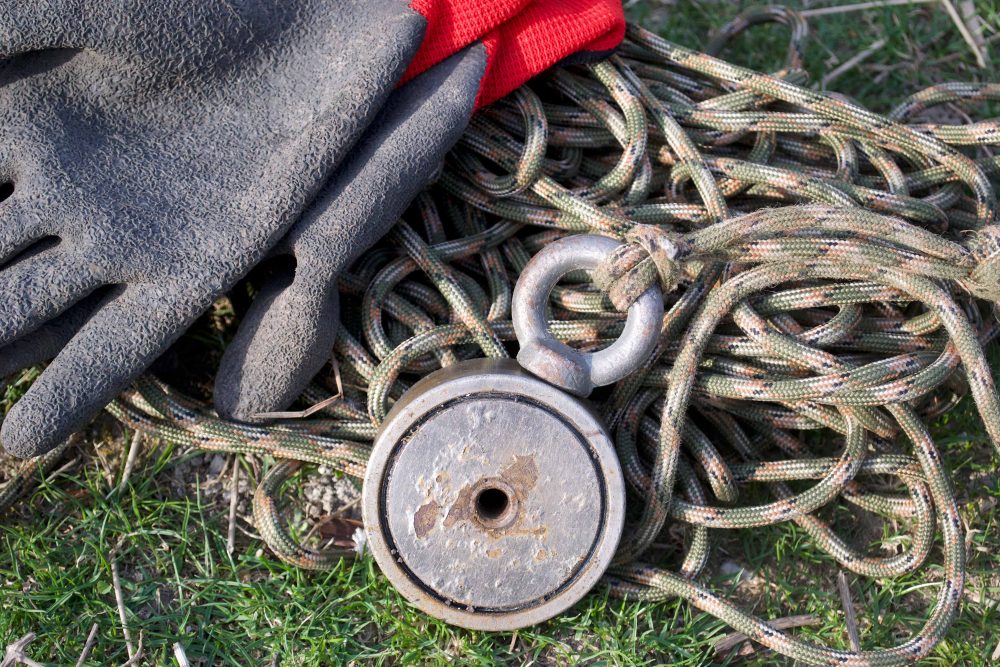 Have you ever wondered what treasures might lie at the bottom of your local river, lake, or harbor? As items are dropped and sunken over countless years, these valuables will undoubtedly accumulate, leaving quite the bounty to be found.
In order to get your hands on these untapped treasures, you can leave your metal detector at home and begin hunting with a magnetic fishing kit instead. Magnet fishing consists of casting a strong magnet into a body of water in the hope of finding and retrieving metallic valuables.
Although this might seem simple in practice, you'll need to make sure you have all the right kit before getting out on the water. To get you started, you'll need:
Neodymium magnet
Heavy-duty nylon rope with carabiners
Durable gloves
Threadlocker adhesive
Neodymium magnets are part of the Rare-Earth magnet family and are the strongest magnets you can buy. They are capable of pulling a variety of metal objects, from jewelry to phones to bikes. With some magnets, such as the Woodland Deluxe, capable of pulling metal objects over 900kg!
Although you can magnet fish anywhere, we recommend heading to spots with high human traffic, whether that's under bridges, along breakwaters, or off harbors and piers. But don't forget to check which rules apply before you head out treasure hunting:
Each of our recommended kits contain the key components listed above, so you can get started right away. We also made sure to include kits across a range of budgets and have analyzed consumer reports and reviews to verify genuine users were satisfied with these magnetic fishing kits.
1. Brute Box The Original Magnet Fishing Bundle
The Original Magnet Fishing Bundle from Brute Box is a reliable kit that contains many of the essential tools needed. With a pulling force that exceeds 1,200lbs, it may be a better fit for those who already have some experience with magnet fishing. The steel casing and 304 stainless steel eyebolt confer reliability to the product.
It comes with a durable nylon rope and carabiner that are resistant to UV fading and rot. Additionally, everything in the included storage box remains separate and intact since it has an IP 67 waterproof rating.
Features:
4.72in. x 0.70in. neodymium magnet
Over 1,200lbs pulling force
Double braided nylon rope (65ft)
1,600lbs breaking strength (rope)
Cut-resistant gloves
Hardshell storage case
What we love:
Sturdy case to secure the magnet
Magnet has a strong pull
Reliable eye bolt
We don't like this as much:
Susceptible to rust if not cleaned properly after use
Brute Box 1,200+ lb The Original Magnet Fishing Bundle (4.72" Magnet + Rope + Carabiner + Gloves +Threadlocker)
BRUTE CONVENIENCE - Everything you need to start magnet fishing right away. This handy waterproof, hardshell carrying case includes our strongest magnet, threadlocker, and 65 ft. double braided 1/4" nylon rope with carabiner, nestled in a custom foam insert. Buy now and see what you can discover!
BRUTE CARE - Always rinse and thoroughly dry your magnet after each use to keep it in tip-top condition. Store securely in your Brute case.
BRUTE 100% GUARANTEE - First and foremost we stand behind our quality craftsmanship 100%! If you're not completely satisfied with your purchase—don't worry, we always have your back. Simply contact us and together we'll resolve any concern to your full satisfaction.
BRUTE FAMILY - The excitement and thrill of magnet fishing can be shared by the whole family. Kids love treasure hunting, so give them the time of their lives with their very own Brute Box Junior. Those memories will last a lifetime!
BRUTE BONUS - With each purchase, we've included a 6 ml bottle of threadlocker which will prevent loosening of the eyebolt. Simply apply 2-3 drops on threads and screw into eyelet. To ensure lasting attachment, cure indoors for 24 hours then you're ready to go!
2. Woodland Home Deluxe Magnet Fishing Kit
The Woodland Home Deluxe Magnet Fishing Kit is a high-end set that can last a good deal of time with proper care. It features a high-performing neodymium magnet delivering massive pull power of over 2,000lbs. This is accompanied by an equally reliable rope and carabiner combination that is of sufficient length for use in most bodies of water.
The orange rubber sleeve of this magnet significantly reduces the risk of rust and early signs of wear. Included in the kit are also a durable pair of magnet fishing gloves as well as threadlocker glue for maintenance.
Features:
5.3in. diameter neodymium magnet
Over 2,000lbs pulling force
8mm thick rope (52ft)
Over 2,000lbs strength (rope)
Bright orange rubber sleeve
Deluxe carrying case
What we love:
It's bright orange design makes it easier to navigate underwater
Strong magnet with next to no slippage
Reliable strong rope
We don't like this as much:
Can drag at the bottom and turn on its non-magnetic side
Strong Magnet Fishing 2000 LB Kit for Father Day Gift, with Case, Rope, Gloves and Durable Orange Rubber, Neodymium Rare Earth Magnet, Fishing Magnet Special Gift for Dad, 5.3inch, Lake Treasure Hunt
WOODLAND BIGEST AND STRONGEST MAGNET KIT

- Both Magnet and Rope are tested and rated for Over 2000 LB (907KG) of pulling force. The uniqueness of this Woodland fishing magnet set is its tremendous power and its beautiful design, great father day gift for evrey man. Super strong and powerful magnet. 5.3 inch (135mm) diameter body with a sturdy and more durable M10 eyebolt with a higher 2000 LBS capacity weight hold. 2000 LBS Strength 8mm Thick Rope 52 Foot (16 Meter).

PREMIUM QUALITY

- Bright orange rubber sleeve designed to protect your magnet from chipping or cracking while maintaining maximum holding power is both durable preventing rust and wear, and bright color makes it easy to spot in the water so you will never lose your treasure again! Comes Thread locked & Locking Washer And Extra Thread Locking Glue. Most Beautiful and purposeful Niodinium magnetics for recovery. Safe and strong.

VARIOUS USES

- Your round neodymium retrieving magnets can be used in the workplace, garage or yard to lift, collect, hang, and clear your workspace. Use it to clean up magnetic items like nails, screws, bolts and other metal objects. Great for your many large DIY projects, Awesome father day gift for your husband, dad or grandpa. Stronger than a Hippo or a fish! Huge and muscular!

POWERFUL NEODYMIUM RARE EARTH MAGNET

- Recovering tools, fishing lures, rare coins, watches and long lost items. Find scrap metal to salvage and recycle. Have fun searching piers, docks, ponds, lakes, streams and rivers, become an underwater treasure hunter and investigator. Even use your Woodland Home Magnet to find items on land. Magnet fishing makes the perfect gift for the outdoor adventurer in your life.

USER TIPS

- Comes with threadlocker, please apply before use Backed by a 100% lifetime guarantee against manufacturer defects. Woodland Home Magnet Fishing, Treasure hunting in the river or lake has never been so easy Kit Includes Deluxe Carrying Case, 2000 LB Magnet and Rope, 2 glove, Thread Locker, Rubber Sleeve. This premium quality giant fishing magnet Kit makes the perfect gift for father day gift from daughter, son or wife.
3. Double-Sided Magnet Fishing Kit with Case
The Double-Sided Magnet Fishing Kit is a versatile kit that comes with multiple accessories to kick off your magnet fishing journey on the right foot. It has a long rope and carabiner so you can fish in numerous lakes and rivers, and the rope can even reliably withstand a 2,100lbs breaking strain.
The kit also comes with the added bonus of a stainless steel grappling hook. It's good for managing other items you may find. For safety purposes, it also includes insulated gloves that offer a good grip on the treasures you will retrieve.
Features:
Neodymium magnet with 2,600lbs pull
Double-sided magnet
8mm rope (65ft)
Grapple hook
Magnet cleaner
Cut-proof gloves
What we love:
Ideal for beginners
The rope is a comfortable length
Includes reliable storage case
We don't like this as much:
The magnet would benefit from being a little stronger
Double Sided Magnet Fishing Kit with Case - Strong Magnet for Magnet Fishing 2600 Pound Pull Neodymium Magnet for Heavy Duty Use | Includes a Durable 65 ft Rope and Carabiner, Gloves and Case
Our "2600" POUND PULL MAGNET Fishing magnets are tried and tested in all underwater environments that will pull even the heaviest of treasures out of the water during your expedition. When considering the cheaper option above or below this page please consider the strength and diameter of the fishing magnet and the diameter of the rope. Not all magnets are created equal. "
OUR MAGNET FISHING KIT WITH CASE includes a STRONG! 65 ft rope for retrieving those various metals that have sunk deep down underwater, a 4.567" triple layer coated steel a pair of gloves for protection when releasing items found and a water proof case for easy storage and safe keeping
100% SATISFACTION GUARANTEE: We know you will love our magnets for magnet fishing but if for any reason you are unsatisfied with your purchase, please contact us and we will make it right for you. Our magnet kits are made with quality in mind so you never have to worry about your magnet fishing finds being anything short of successful. Get yours today!
MULTI PURPOSE USES: Not only can you use our neodymium retrieving magnet for discovering lost treasures underwater, you can also use our magnet to help suspend everyday items up in the air - like hanging your boxing bag up in your shed for training purposes. You can utilize our kit for your various magnet activities and everyday needs
GREAT GIFT FOR A MAGNET FISHING LOVER: Is your dad into river magnet fishing? Or maybe you have a brother who likes to go magnet treasure hunting for fun. Our magnetic fishing set will be the perfect addition to any magnet fishing lovers' treasure trove of gear used on a regular basis. Give the gift of treasure hunting fun to your loved one today!
4. MHDMAG Magnet Fishing Kit
The MHDMAG Magnet Fishing Kit's more affordable price point makes it a good choice for those just getting started with magnet fishing. Featuring two double-sided magnets with a powerful pull, you can easily drop this magnet into the water without worrying about it not picking something up.
Additionally, it comes with a stainless steel grappling hook if you want to look for a variety of items that might be buried in the area. The waterproof gloves should hold up to frequent fishing expeditions, while the accompanying nylon rope is long and thick enough to help drag heavy loot.
Features:
2.95in. diameter neodymium magnets (2)
500lbs pulling source (double-sided)
Nylon rope (65ft)
Grappling hook
Waterproof gloves
Threadlocker glue
What we love:
Includes extra accessories such as grappling hook
Great performance for beginners
Watertight storage container
We don't like this as much:
Carabiner could be more secure
MHDMAG Magnet Fishing Kit, 650LBS Fishing Magnet with Rope, Grappling Hooks and Gloves, 1000LBS Combined Pulling Force Double Sided Neodymium Rare Earth Magnet for Salvage and Retrieval
【Strong Magnet】LNM75-3 fishing magnet is magnet with unique design and it has double sided magnetic strength. The magnet could provide two sided surface to absorb targets, It is with super strong magnetic strength: 1000lbs combined pulling force, 650lbs pulling force each sided of the fishing magnet. And the diameter of the magnet is: 2.95in diameter *4.33in height. J75 fishing magnet with 600lbs pulling force in the bottom of the magnet.and the diameter is: 2.95in diameter*2.59 in height.
【Fishing Magnet kit】The fishing magnet Kit included two pack fishing magnet, one grappling hooks,one nylon rope, one gloves, one hand towel, one glue. The fishing magnet: one is 650lbs fishing magnet, the other is 1000lbs combined strength double sided fishing magnet. The fishing magnet kit is the best tools for your outdoor fishing ,you just only take it and go fishing directly without other anything.
【Nylon Rope&Grappling Hooks&Gloves】The nylon rope is 1/4 diameter and 65FT long. The gloves is best choice for your outdoor magnetic fishing. The Grappling Hooks is 5.6in diameter *7.08in height. The glue help threadlocker, the handtowel help clean. The package is with two fishing magnet, one rope, one grappling hook, one gloves, one hand towel, one glue. You could select one fishing magnet matched with the rope and gloves and grappling hooks freely as you like in your outdoor activity.
【Multi Useful】You could use fishing magnet to treasure hunting, salvaging underwater, magnet fishing in river or lake, as well as seeking for something old and mysterious. Using the fishing magnets to find some missing metal parts at your workshop or house yard. treasure fishing underwater and so on. When you use fishing magnet kit to go out for your magnet fishing, the gloves is your best choice to protect your fingers
【After Sales】Our fishing magnet kit are high quality, your purchase is protected , Any questions contact us kindly and freely, best service for you is our target.
5. King Kong Magnetics Fishing Magnet Kit
The King Kong Magnetics Fishing Magnet Kit is a readily accessible, budget-friendly, kit that's suitable for all ages. It comes with a lightweight magnet that's sturdy and strong enough to still pull out of the sea most buried items.
There are tough fishing gloves included as well, so you can maintain a firm grip. For successful fishing right out of the box, it also includes a thick nylon rope and premium threadlocker glue so you can secure your magnet tightly.
Features:
2.36in. diameter neodymium magnet
400lbs pulling strength
Nylon rope (65ft)
Over 660lbs tensile strength (rope)
2 carabiners
Cut-proof gloves
What we love:
Strong and dependable carabiners
Magnet is easy to throw
A good amount of rope for most landside water
We don't like this as much:
The rope will start to fray if not looked after
Sale
King Kong Magnetics Magnet Fishing Kit - 2.36 inch (60 mm) Strong Neodymium Magnet w/ 400 lb Pulling Force - Gloves, Nylon Rope, Thread Locker and Carabiners Included
Super Strength: May the magnetic force be with you in your metal detecting adventures! Our fishing magnets are designed to pull up to 400 lbs from underwater.
Heavy-Duty: Designed with longevity in mind, each fishing magnet is crafted using pure neodymium that's steel-plated and rust-resistant.
Versatile: Recover lost treasures, artifacts, tools, and other metal objects with this strong magnet, ideal for use in rivers or lakes.
Everything You Need: Our fishing magnet kit also includes protective gloves, steel carabiners, a 65 ft nylon rope, and an effective thread locker.
Great Gift: Whether it's a holiday or birthday present, this magnetic fishing kit is perfect for anyone looking to take a deep dive into treasure hunting.
6. Hercules Magnetics Magnet Fishing Kit
The Hercules Magnetics Magnet Fishing Kit is a quality kit backed by a magnet with a comfortable amount of pull strength. It features a bright golden paint job on the magnet as well as a bright yellow rope with matching protective utility gloves. This is very straightforward to use as the magnet isn't too heavy to pull back once you have hooked onto a sunken item.
With the length of rope available, it is great for use in both shallow and deep waters. It is especially useful for lugging smaller items, but as a complete kit, it is ideal for use when you are still in the early stages of exploring the magnet fishing hobby.
Features:
Ni-Cu-Ni coated magnet
900lbs pulling strength
Gold-painted magnet
Heavy-duty rope (30m)
Protective gloves
Stainless steel carabiner
What we love:
Colored for quick detection underwater
Great for catching small items that are easy to pull up
Quality anti-slip gloves
We don't like this as much:
Carabiner can have a hard time connecting to the magnet
Hercules Magnetics Magnet Fishing Kit – 900Lbs Fishing Magnet with 30M Rope – Fishing Kit – Ultra-Powerful Fishing Magnets with Rope – Triple-Layer Ni-Cu-Ni Coating – Unique Gold Magnet Fishing Magnet
WHAT YOU NEED: The Hercules Magnetics fishing magnet kit is definitely a must for anyone who enjoys magnet fishing as a hobby or has to deal with finding, fixing or retrieving lost underwater objects.
UNIQUE GOLD COLOR: The Hercules Magnetics magnet fishing kit is made from superior quality, highly durable materials, guaranteed to withstand the test of time without water damage, corrosion or rusting. The gorgeous gold color makes it easy to spot while adding a unique touch to your kit!
ULTRA-POWERFUL & STURDY: These fishing magnets with rope feature an ultra-strong 900lbs pulling force, being ideal for lifting heavy underwater objects. Find and collect any ferrous metal in deep or shallow waters!
THE COMPLETE KIT: This fishing magnet kit includes everything you need for a complete magnet fishing experience. You'll receive an ultra-powerful 900lbs triple layer Ni-Cu-Ni magnet and a 30-meter rope, all set for your needs!
ENHANCED VERSATILITY: Whether you're an enthusiastic antiques and lost treasures hunter, for industrial jobs such as fixing water pumps or tools, this fishing magnet with rope will provide wide applications!
7. Brute Magnetics Magnet Fishing Bundle
The Brute Magnetics Magnet Fishing Bundle is a basic kit, mid-range in price, that's good for those of you new to this pastime. It includes a neodymium magnet, rope with a carabiner, and threadlocker, all of which are essential tools for simple magnet fishing.
With its Ni-Cu-Ni coating and A3 steel plate, this average-sized magnet is built to last and more than capable of pulling out a wide variety of hidden treasures. It gives you room for investigating multiple bodies of water, from large lakes to small drains.
Features:
4.72in. diameter neodymium magnet
Over 1,200lbs pulling strength
Ni-Cu-Ni coating
Double braided nylon rope (65ft)
Carabiner
6ml bottle of threadlocker
What we love:
Will withstand rust and corrosion well
Sturdy nylon rope
Great pull strength to latch onto larger items
We don't like this as much:
The quality of the threadlocker could be better
8. Logui Magnet Fishing Kit
The Logui Magnet Fishing Kit is affordable, but its pull strength may be best suited to those who are used to magnet fishing or fishing in a group. This does help you haul heavier items, and along with the grappling hook, you can handle items of different shapes and sizes.
It includes a one-size-fits-all pair of anti-slip gloves for your safety, as well as an extra eyebolt and threadlocker, so you don't have to supplement the kit with too many additional items before you get started on your hunting.
Features:
Combined neodymium fishing magnets
1,200lbs pulling strength (combined)
2 eyebolts
Nylon-wire rope (65ft)
Grappling hook (150lbs capacity)
Protective gloves
What we love:
Magnet is balanced well between being compact and strong
The rope is a good length
Double-sided magnet for versatile use
We don't like this as much:
The quality of accessories (rope and gloves) could be better
Sale
Logui Magnet Fishing Kit - Fishing Magnets 1200 LB Pull (Combined) - Double Sided Magnet Includes Grappling Hook, Heavy Duty 65FT Rope, Gloves, Locking Carabiner & Threadlocker - Neodymium Magnet
✅ Ready, Set, Go! - You've got all you need to have a great magnet fishing trip. We made sure our kit included not only a top-quality magnet but all the other tools you need to retrieve those cool treasures! Use our heavy duty rope, protective gloves, reliable carabiner, threadlocker and strong grappling hook to pull bigger items.
✅ Double The Chances, Half The Effort - 2 Fishing Magnets 600 lb are combined here to double your chances of retrieving just what you need. Too much strength will leave you struggling to release your magnet from your finds. As for weak, well nobody likes weak.
✅ Enjoy Reliable Quality - Hanging out by the ocean pier, lake dock, bridge or slow waters to find cool objects should be all that is on your mind. Let us worry about the rest.
✅ Feel Safe While Having Fun - So that you can find those treasures! Have our gloves help you hold on tight those wet slippery items and protect your hands from rusty surfaces.
✅ Satisfaction Guaranteed: Love it or send it back for a full refund - No questions asked! We take pride on standing behind our word. If you have any questions, send us an email- . Order today, risk free.
FAQs About Best Magnet Fishing Kit
Where are the best places to go magnet fishing?
You can visit just about any body of water. This includes lakes, rivers, streams, creeks, canals, dams, and ponds. Yes, you can also search in sewers and swamps if you wish. The best areas include more urban places, often frequented by people since these locations will obviously present higher probabilities of hidden treasures beneath the surface.
The countryside is a great place as well since they might be hiding valuable targets in their lakes and streams, which others have not yet uncovered. When you do, be on the lookout for wells and drains too.
You might also be able to discover some historical finds from the distant past in older towns and locations that can date back many years.
What other equipment will I need?
When you're going out to magnet fish, there are several essential items that you must make sure to pack and take with you. Some of them are related to searching for treasure, while others deal with practicing magnet fishing safely.
Here are the basic items you should be certain to have for a proper "fishing" expedition:
Strong rope
Neodymium magnet
Threadlocker
Now, there are additional items that will make your time both easier and safer:
First aid kit
Gloves
Hat, sunscreen, and sunglasses (for sunny days)
Bucket
Water bottle
Brush
Knife
What can I find when magnet fishing?
When magnet fishing, there are a host of items you may come across. In fact, there are dozens of items made from iron that could be hiding underwater. This includes tools, nuts, bolts, and even bicycles, but you might even pull up a safe or, even better, one that hasn't been emptied yet. It is perfectly possible, but nonetheless rare, as most people usually find empty safes.
Wrap Up
Magnet fishing may seem difficult initially, but it can be a rewarding experience once you get the hang of it. Having the right tools can go a long way toward increasing your chances of success. Of course, you should combine this with searching in the right locations, so be sure to do a little research before embarking on your journey.
Take a look at our top three favorite choices for the best budget kit, the best mid-range kit, and the best high-end kit respectively:
911metallurgist.com is a participant in the Amazon Services LLC Associates Program, an affiliate advertising program designed to provide a means for sites to earn advertising fees by advertising and linking to Amazon.com.
Disclosure: This post contains affiliate links and I may earn a small commission if you purchase through these links.