Disclosure: This post contains affiliate links and I may earn a small commission if you purchase through these links.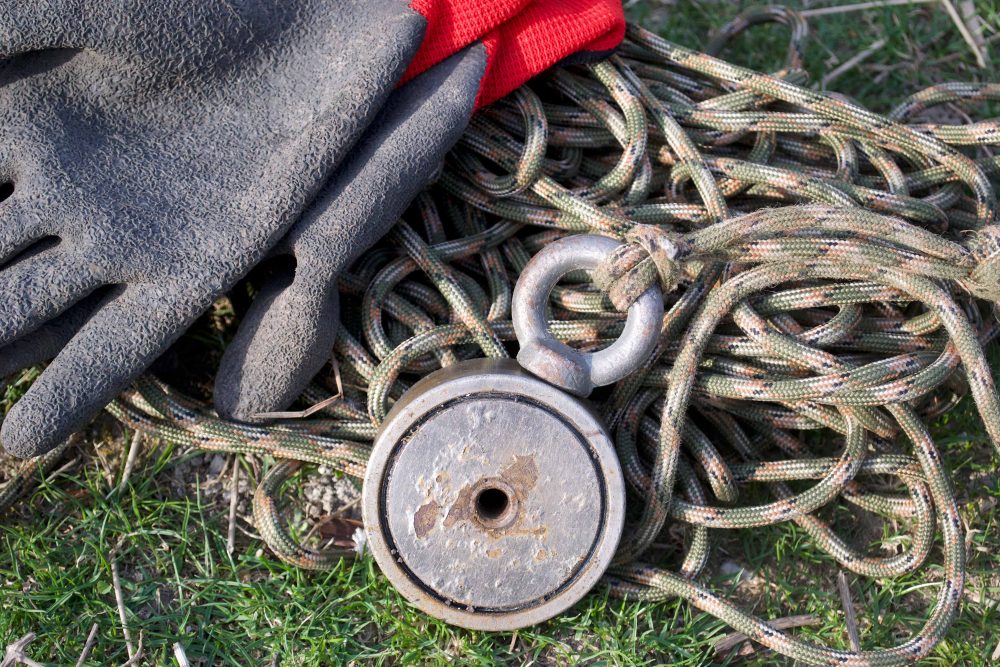 Have you ever wondered what treasures might lie at the bottom of your local river, lake, or harbor? As items are dropped and sunken over countless years, these valuables will undoubtedly accumulate, leaving quite the bounty to be found.
To get your hands on these untapped treasures, you can leave your metal detector at home and begin hunting with a magnetic fishing kit instead. Magnet fishing consists of casting a strong magnet into a body of water to find and retrieve metallic valuables. 
3 Best Magnet Fishing Kits in 2023:
Although this might seem simple in practice, you'll need to make sure you have all the right kits before getting out on the water. To get you started, you'll need:
Neodymium magnet
Heavy-duty nylon rope with carabiners
Durable gloves
Threadlocker adhesive
Neodymium magnets are part of the Rare-Earth magnet family and are the strongest magnets you can buy. They are capable of pulling a variety of metal objects, from jewelry to phones to bikes. Some magnets, such as the 2400 Alpha Series are capable of pulling metal objects over 2400lbs!
Although you can magnet fish anywhere, we recommend heading to spots with high human traffic, whether that's under bridges, along breakwaters, or off harbors and piers. But don't forget to check which rules apply before you head out treasure hunting:
Be aware to be careful when magnet fishing especially in areas that might contain old bombs as magnet fishers are usually the first person to pull these out of bodies of water.
Always be aware when you bring two rare earth Neodymium magnets together as they are not toys and can potentially attract each other and are a pinching risk.
Each of our recommended kits is based on quality products that are 100% based in the United States. We also made sure to include kits across a range of budgets and have analyzed consumer reports and reviews to verify genuine users were satisfied with these magnetic fishing kits. Be sure to contact us with your magnet fishing kit experiences.
We updated this guide on February 15th, 2023 and removed some kits and added new ones.
The Complete Magnet Fishing Kit is a good starter set filled with nine pieces. You get cut-resistant gloves, rope with carabiners, threadlocker, a grappling hook, a neodymium magnet, microfiber towel, a carrying case, and even an eBook guide.
Thanks to the waterproof case, there's no worry about any damage by keeping it close by while near the water. Also, the rope is extra long so that you can search deeper to discover more hidden treasures. The addition with the stainless-steel grappling hook has good wear-resistance to last longer as well as a high bearing force.
With the cut-resistant gloves, you also keep yourself safe with whatever you manage to drag up from the water. The magnet itself weighs less than 3lbs, and as such, doesn't add too much more weight to anything you catch.
Features:
N52 grade neodymium magnet
Combined pull force up to 1320lbs
65ft heavy duty rope with stainless steel carabiner
Non-slip, insulated protective gloves
242 medium strength threadlocker
What we love:
Contains numerous supplies suited for beginners
Designed easy to clean and to remove water
Reliable storage case for travel
Weight is well-balanced for easier throwing
We don't like this as much:
The quality level isn't the same with all the pieces
May have to use both the grappling hook and magnet to pull in items large and small
The Logui Double Sided Magnet Fishing Kit contains a top-quality magnet to handle everyday things you can find while magnet fishing. With it being doubled, you have a greater chance at pulling up a larger haul.
This set is filled with seven total pieces to get the job done: a magnet, rope thimble, rope, carabiner, threadlocker, grappling hook, and a single pair of gloves. The gloves are designed with a non-slip design so that you can handle anything in wet conditions, ensuring you don't actually lose your find.
Meanwhile, adding in the grappling hook can help you get some larger items. The rope is a good length too so you can go deeper into various lakes and rivers. With the nylon material, the rope should hold up to carrying larger items too.
Features:
Double sided magnet with 2 eyebolts
5.4″ x 4.7″ grappling hook
65ft. rope length
242 threadlocker
500lb total pull force
What we love:
Grappling hook appears welded well with good strength and reliability
Gloves stretch well to support wearers of different sizes
Good weight to the magnet to withstand changing water conditions
Included rope organizer helps to keep things neat and put together
We don't like this as much:
A case would be beneficial for easier carrying and transport
May want to invest in different carabiners for the rope
With the Fishing Magnet Bundle Pack, you get a magnet kit designed in a professional quality so that everyone can feel like a pro when using it. Even if you are a beginner, this bundle comes with a free eBook guide. This way, you can steady learn while having a reliable kit at your side.
The kit gives you all you need to get started too. This has a pair of gloves for safety, a rope, tape, threadlocker, a grappling hook, and of course, the double sided magnet. The kit is designed for long-lasting use thanks to the anti-rust coating on the magnet.
Anything you find remains secure on its journey on the rope thanks to the stainless steel carabiner. Also, the stainless steel design ensures that the carabiner won't get caught up in the magnet itself so you can focus on capturing actual treasures.
Features:
N38 neodymium double sided magnet
2625lb pull strength
100ft nylon rope with carabiner
Grappling hook with 132lb loading strength
Water-resistant gloves
What we love:
Comes with reliable tape to further secure the line to the magnet
Hook is still lightweight despite its strength for better managing
Triple braided rope design for longer use
Good length of rope so you can fish in a better variety of areas
We don't like this as much:
Gloves could benefit from more puncture protection
Not much of a non-slip design on the gloves
The AnglerMag Magnet Fishing Kit is an affordable kit useful for both scavenging and simple treasure hunting. Good for oceans, lakes, and rivers, this kit includes numerous gear to help you get the job done. You get a reliable magnet, grappling hook, threadlocker, a rope with a carabiner, a pair of gloves, a microfiber towel, plastic scraper, and a free eBook.
Thanks to the additional accessories, you can also safely remove any items you find while magnet fishing. Also, the accessories such as the scraper and towel makes it simpler to keep the magnet clean.
With the reliable rope, you are able to search beyond things in the water like vegetation and algae. This way, nothing can hinder your treasure hunting journey.
Features:
3.4″ diameter magnet
1000lb pull strength
Cut-resistant gloves
60ft nylon paracord rope
Threadlocker
What we love:
Rope comes pre-tied for quicker set up and use
Large mesh bag to help keep everything dry
Not difficult to remove the magnet from various items
Quality eBook to help beginners learn at an expert-level
We don't like this as much:
The gloves may not be a one-size-fits-all design
May require frequent cleaning to combat rusting
The Deluxe Double Sided Fishing Magnet Kit is a high-end kit is ideal for use in the workplace just as much as it can be used leisurely. In fact, the kit is designed for use anywhere whether you are at an ocean, river, lake, or even on drier ground like a garage or yard. It's designed with quality pull strength so you can lift various items.
This kit includes the basic items you need to handle the job. You get the magnet, threadlocker, rope, carabiner, and protective safety gloves. The magnet has a good thickness to it, indicating it can handle hauling various items at different weights and sizes.
Besides having all the items you need to get started, this kit also comes with a deluxe carrying case. The hard case can protect everything from drops so that you can bring it into your workplace without worry something may happen to it. Also, the threadlocker has good reliability so that you know your magnet has a slim chance of breaking free while in-use.
Features:
5.31″ thick, double sided magnet
2000lb pull strength with the rope
4000lb pull strength with the magnet
52ft long rope
100% lifetime guarantee on entire kit
What we love:
Orange rubber protector on the magnet so it won't crack
Maintains a strong grip on anything you find
Color design keeps it within sight while underwater
Well-made gloves wear well and last long
We don't like this as much:
The magnet can turn on its side when dragging it
A bit heavy in weight when it comes to tossing it
The MIKEDE Double Sided Fishing Magnet Kit is an affordable kit ideal for those just starting out in this hobby. Even so, it comes with a well-made magnet designed to hold various items. This kit even has a rope, carabiner, a pair of gloves, a scraper, threadlocker, and tape. With all this, there's no need to take a trip to a hardware store to buy more items.
The magnet also holds well in the water so you can use it just as well in lakes as you can in the ocean. So, take it as far as you wish for your own leisure or for fun time with family and friends.
With the coating design on the magnet, it is designed to prevent chipping and cracks. This way, you can rest easy in the case of accidental drops. Also, the magnet is double sided so that you can pull in various ways. This frees you up to finding a range of items.
Features:
2.95″ x 0.98″ diameter neodymium double sided magnet
Total pull force of 1300lbs
65ft rope
Non-slip protective gloves
13ft tape with threadlocker
What we love:
Reliable threadlocker with tape does well at keeping the magnet in place
Rope is made well to handle deep underwater searches
Can easily separate rings and magnets for cleaning and storage
Can still pull items off the magnet without extra help
We don't like this as much:
Both sides of the magnet don't seem to have the same strength
May need gloves with more heavy-duty protection to handle larger or sharp items
The Double Sided Fishing Magnet Kitj is another user-friendly kit so that not only a beginner can use it, but it can also be a fun time spent with older kids for families. You have everything you need so you can start magnet fishing as soon as you get to your location.
This kit includes a grappling hook, magnet, fishing gloves, nylon rope and carabiner, yellow scrapers, and threadlocker. With the double sided magnet, you get a combined pulling force so you have a better chance at tugging up heftier items. The threadlocker is reliable too to give the magnet a better seal and connection.
The magnet is given a rust-resistant coating that also does well at protecting it from chips. Thanks to the protective gloves, you should be able to handle anything you find and stay safe from cuts.
Features:
Double sided magnets with 2 eyelets
65ft nylon rope
Grappling hook with 150lb load capacity
Combined pull force of 1725lbs for the magnet
Stainless steel carabiner with 550lb load capacity
What we love:
Comes with a reliable carrying case that securely fits everything
Easy to retrieve the magnet whether you catch something or not
Weight is balanced well so it's still easy to throw
Magnet does a good job at staying flat rather than dragging on its side
We don't like this as much:
Could benefit from better setup instructions for beginners
Important to dry fast after done using to ward off the rust
This is the main magnet fishing kit that we recommend here at 911. The reason is simple because it's the best-performing kit that has all the things you need to get magnet fishing tomorrow. The icing on the cake is that it's a family-run US-based company and our specialists.
Many kits out there fail to include absolutely everything you need to get started but now with Centurion includes all the knowledge required to get started in this hobby. A powerful magnet is included so it won't be long before you will pull up treasure.
Features:
625 lbs of pull force from the rare earth neodymium magnet
Kit also includes Cut-resistant gloves
1 fishing magnet scraper
1 magnet fishing rope with organizer
threadlocker
stainless steel carabiner
rope tape.
What we love:
Don't need anything else to get started
Decent magnet power
Quality rope
We don't like this as much:
You will want more power, eventually…
The Original Magnet Fishing Bundle from Brute Box is a reliable kit containing many essential tools. With a pulling force that exceeds 1,200lbs, it may be a better fit for those who already have some experience with magnet fishing. The steel casing and 304 stainless steel eyebolt confer reliability to the product.
It comes with a durable nylon rope and carabiner resistant to UV fading and rot. Additionally, everything in the included storage box remains separate and intact since it has an IP 67 waterproof rating.
Features:
4.72in. x 0.70in. neodymium magnet
Over 1,200lbs pulling force
Double braided nylon rope (65ft)
1,600lbs breaking strength (rope)
Cut-resistant gloves
Hardshell storage case
What we love:
Sturdy case to secure the magnet
Magnet has a strong pull
Reliable eye bolt
We don't like this as much:
Susceptible to rust if not cleaned properly after use
The Woodland Home Deluxe Magnet Fishing Kit is a high-end set that can last a good deal of time with proper care. It features a high-performing neodymium magnet delivering massive pull power of over 2,000lbs. This is accompanied by an equally reliable rope and carabiner combination that is of sufficient length for use in most bodies of water.
The orange rubber sleeve of this magnet significantly reduces the risk of rust and early signs of wear. Included in the kit are also a durable pair of magnet fishing gloves as well as threadlocker glue for maintenance.
Features:
5.3in. diameter neodymium magnet
Over 2,000lbs pulling force
8mm thick rope (52ft)
Over 2,000lbs strength (rope)
Bright orange rubber sleeve
Deluxe carrying case
What we love:
It's bright orange design makes it easier to navigate underwater
Strong magnet with next to no slippage
Reliable strong rope
We don't like this as much:
Can drag at the bottom and turn on its non-magnetic side
The Double-Sided Magnet Fishing Kit is a versatile kit that comes with multiple accessories to kick off your magnet fishing journey on the right foot. It has a long rope and carabiner so you can fish in numerous lakes and rivers, and the rope can even reliably withstand a 2,100lbs breaking strain.
The kit also comes with the added bonus of a stainless steel grappling hook. It's good for managing other items you may find. For safety purposes, it also includes insulated gloves that offer a good grip on the treasures you will retrieve.
Features:
Neodymium magnet with 2,600lbs pull
Double-sided magnet
8mm rope (65ft)
Grapple hook
Magnet cleaner
Cut-proof gloves
What we love:
Ideal for beginners
The rope is a comfortable length
Includes reliable storage case
We don't like this as much:
The magnet would benefit from being a little stronger
The MHDMAG Magnet Fishing Kit's more affordable price point makes it a good choice for those just getting started with magnet fishing. Featuring two double-sided magnets with a powerful pull, you can easily drop this magnet into the water without worrying about it not picking something up.
Additionally, it comes with a stainless steel grappling hook if you want to look for a variety of items that might be buried in the area. The waterproof gloves should hold up to frequent fishing expeditions, while the accompanying nylon rope is long and thick enough to help drag heavy loot.
Features:
2.95in. diameter neodymium magnets (2)
500lbs pulling source (double-sided)
Nylon rope (65ft)
Grappling hook
Waterproof gloves
Threadlocker glue
What we love:
Includes extra accessories such as grappling hook
Great performance for beginners
Watertight storage container
We don't like this as much:
Carabiner could be more secure
The King Kong Magnetics Fishing Magnet Kit is a readily accessible, budget-friendly kit that's suitable for all ages. It comes with a lightweight magnet that's sturdy and strong enough to still pull out of the sea most buried items.
Tough fishing gloves are also included, so you can maintain a firm grip. For successful fishing right out of the box, it also includes a thick nylon rope and premium thread-locker glue to secure your magnet tightly.
Features:
2.36in. diameter neodymium magnet
400lbs pulling strength
Nylon rope (65ft)
Over 660lbs tensile strength (rope)
2 carabiners
Cut-proof gloves
What we love:
Strong and dependable carabiners
Magnet is easy to throw
A good amount of rope for most landside water
We don't like this as much:
The rope will start to fray if not looked after
The Hercules Magnetics Magnet Fishing Kit is a quality kit backed by a magnet with a comfortable amount of pull strength. It features a bright golden paint job on the magnet as well as a bright yellow rope with matching protective utility gloves. This is very straightforward to use as the magnet isn't too heavy to pull back once you have hooked onto a sunken item.
With the length of rope available, it is great for use in both shallow and deep waters. It is especially useful for lugging smaller items, but as a complete kit, it is ideal for use when you are still in the early stages of exploring the magnet fishing hobby.
Features:
Ni-Cu-Ni coated magnet
900lbs pulling strength
Gold-painted magnet
Heavy-duty rope (30m)
Protective gloves
Stainless steel carabiner
What we love:
Colored for quick detection underwater
Great for catching small items that are easy to pull up
Quality anti-slip gloves
We don't like this as much:
Carabiner can have a hard time connecting to the magnet
The Brute Magnetics Magnet Fishing Bundle is a basic kit, mid-range in price, that's good for those of you new to this pastime. It includes a neodymium magnet, rope with a carabiner, and threadlocker, all of which are essential tools for simple magnet fishing.
With its Ni-Cu-Ni coating and A3 steel plate, this average-sized magnet is built to last and more than capable of pulling out a wide variety of hidden treasures. It allows you to investigate multiple bodies of water, from large lakes to small drains.
Features:
4.72in. diameter neodymium magnet
Over 1,200lbs pulling strength
Ni-Cu-Ni coating
Double braided nylon rope (65ft)
Carabiner
6ml bottle of threadlocker
What we love:
Will withstand rust and corrosion well
Sturdy nylon rope
Great pull strength to latch onto larger items
We don't like this as much:
The quality of the threadlocker could be better
The Logui Magnet Fishing Kit is affordable, but its pull strength may be best suited to those who are used to magnet fishing or fishing in a group. This does help you haul heavier items, and along with the grappling hook, you can handle items of different shapes and sizes.
It includes a one-size-fits-all pair of anti-slip gloves for your safety and an extra eyebolt and threadlocker, so you don't have to supplement the kit with too many additional items before you get started on your hunting.
Features:
Combined neodymium fishing magnets
1,200lbs pulling strength (combined)
2 eyebolts
Nylon-wire rope (65ft)
Grappling hook (150lbs capacity)
Protective gloves
What we love:
Magnet is balanced well between being compact and strong
The rope is a good length
Double-sided magnet for versatile use
We don't like this as much:
The quality of accessories (rope and gloves) could be better
FAQs About Best Magnet Fishing Kit
Where are the best places to go magnet fishing?
You can visit just about any body of water. This includes lakes, rivers, streams, creeks, canals, dams, and ponds. Yes, you can also search in sewers and swamps if you wish. The best areas include more urban places, often frequented by people since these locations will obviously present higher probabilities of hidden treasures beneath the surface.
The countryside is also a great place since they might be hiding valuable targets in their lakes and streams, which others have not yet uncovered. When you do, be on the lookout for wells and drains too.
You might also be able to discover some historical finds from the distant past in older towns and locations that can date back many years.
What other equipment will I need?
When you're going out to magnet fish, there are several essential items that you must make sure to pack and take with you. Some of them are related to searching for treasure, while others deal with practicing magnet fishing safely.
Here are the basic items you should be certain to have for a proper "fishing" expedition:
Strong rope
Neodymium magnet
Threadlocker
Now, there are additional items that will make your time both easier and safer:
First aid kit
Gloves
Hat, sunscreen, and sunglasses (for sunny days)
Bucket
Water bottle
Brush
Knife
What can I find when magnet fishing?
When magnet fishing, there are a host of items you may come across. In fact, there are dozens of items made from iron that could be hiding underwater. This includes tools, nuts, bolts, and even bicycles, but you might even pull up a safe or, even better, one that hasn't been emptied yet. It is perfectly possible, but nonetheless rare, as most people usually find empty safes.
Wrap Up
Magnet fishing may seem difficult initially, but it can be a rewarding experience once you get the hang of it. Having the right tools can go a long way toward increasing your chances of success. Of course, you should combine this with searching in the right locations, so do a little research before embarking on your journey.
Take a look at our top three favorite choices for the best budget kit, the best mid-range kit, and the best high-end kit, respectively:
Related:
911metallurgist.com is a participant in the Amazon Services LLC Associates Program, an affiliate advertising program designed to provide a means for sites to earn advertising fees by advertising and linking to Amazon.com.