Disclosure: This post contains affiliate links and I may earn a small commission if you purchase through these links.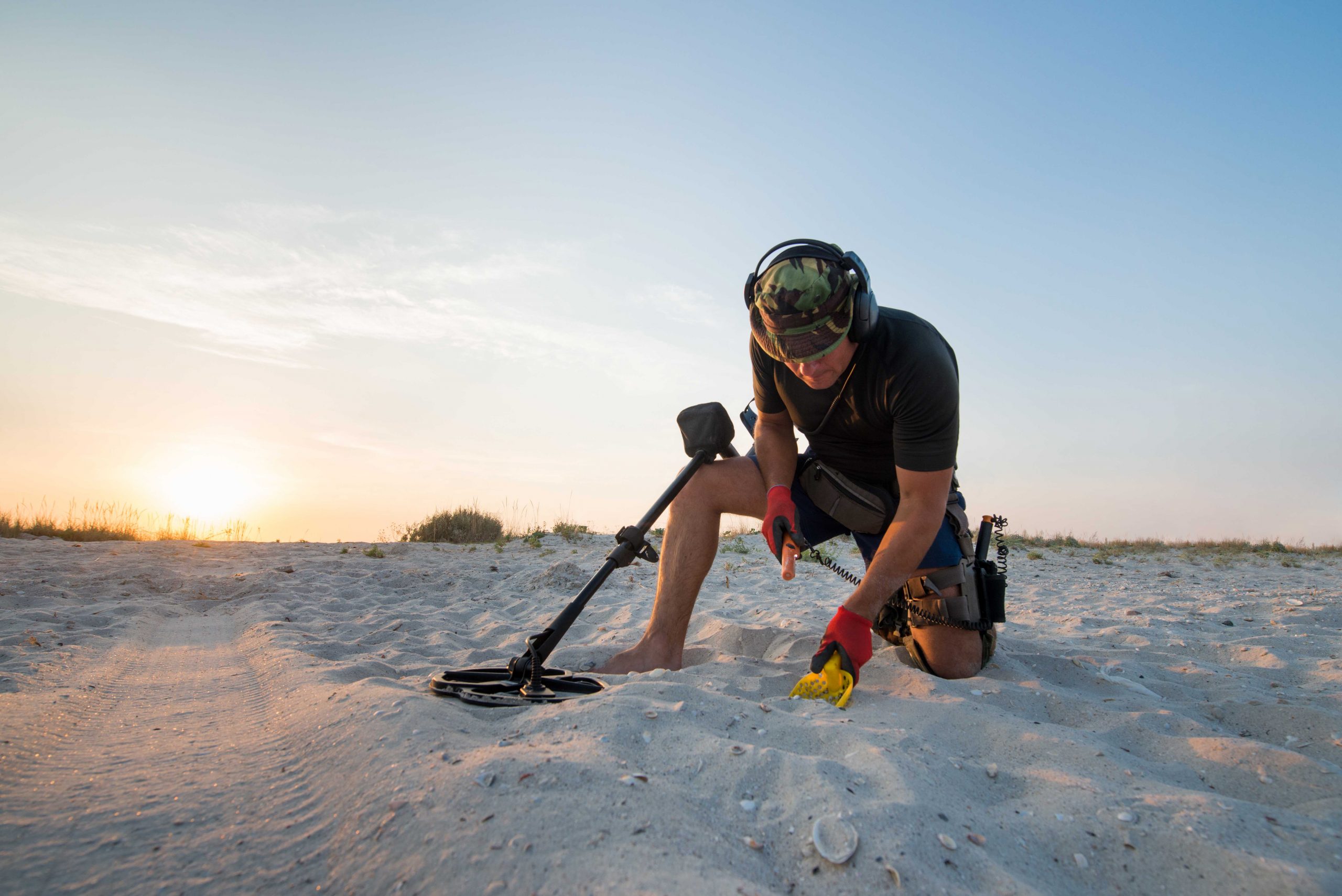 Detectorists out in the field don't want to spend hours digging for one target or wasting precious energy carrying tools which will never be used, so choosing accessories wisely will be the key to having a fun-filled day hunting in any conditions. Once you have them, you'll wonder how you ever lived without them.
The right accessory might just make the difference between finding hidden gems like foreign jewels, historical relics, lost gold, and coming back empty-handed and defeated. When there are potentially valuable artifacts on the line, a new set of quality headphones, a pinpointer, or even having a place to carry your digging tools might just change your whole experience.
Our choices cover a range of accessories, taking into consideration all types of terrains and weather conditions. We focus on:
Digging material

Weatherproof items

Electrical pinpointing (for areas a detector cannot reach) – worth checking out our list of the best Pinpointers for metal detecting in 2021.

Sound and noise-canceling headsets 

Size / Weight / Comfortability  
It is important to be aware that in some areas of Canada or the US, there are restrictions in particular places, so please make sure you check the laws of your local area to avoid trespassing on private land.
Canada: https://detectingschool.com/metal-detecting-in-canada/
US: http://www.mdhtalk.org/maps/fp-map-regulations.htm
In order to choose the best metal detector accessories, we investigated consumer reports and took recommendations from multiple users who have the experience and knowledge of the particular tools needed for your days in the wild. We then analyzed our research through fakespot to pick the best possible choices for you.
1. Garrett Edge Digger with Sheath for Belt Mount
The Garrett Edge Digger is a straightforward digging tool designed to make your metal detecting hunt a simpler process. It is made with cutting-edge teeth so that it may dive right into various types of soil in a uniform pattern. This way, you can take it with you on any of your adventures whether you're digging through clay-like soil in your backyard or sliding with ease through sand on the beach.
Made from high-quality carbon steel material, the blade is designed durable for frequent and rough use. With the rubber material covering the handle, the tool is even comfortable to hold for longer or tougher digs. The thumb indentation further ensures your hold is secure, while the blade guard provides you with much-needed security to keep your fingers away from the blade.
Besides the quality blade, when you get this kit, you will also receive a sheath to carry it in. It's a basic black holder that can attach directly to your belt, keeping the digging tool within reach at all times during your hunting. Along with providing you with convenience, this sheath also gives you an added layer of protection since the blade won't be exposed to you or anything else while you're searching.
Features:
Carbon steel material

Serrated teeth

Rubber grip

Handle thumb indentation

7.5in. blade | 12in. overall

Non-slip blade guard
What we love:
You can maintain a firm grip without slippage

Good placement of the teeth for more efficient digging

Blade connects well to the base so there's no threat of it breaking off
We don't like this as much:
Might have to sharpen it initially to remove the smooth coating from the teeth
Sale
2. DEX FIT Level 5 Cut Resistant Gloves Cru553
The DEX FIT Cru553 are cut-resistant gloves that can make digging up treasure, no matter the size, an easier and safer task. There are a few risks taken during your metal detecting journey. Typically, the shovel is sharp to cut through soil and roots. Even some of the targets you find have some sharpness to them depending on what they are. So, it's important to have the right protection in place.
These gloves are made from quality cut-resistant and puncture-resistant material to lower the likelihood of you coming into harm on your finds. Meanwhile, the material is also cool with air ventilation so that you can wear them for extended periods of time with no issue. The fingers are designed to work with smartphones too which may assist you in using the control panel on the metal detector.
Rather than be too tight, they tend to fit like a "second skin", so to speak. The firm anti-slip coating is helpful in making sure you keep a firm grasp on the digging tool and whatever treasure you manage to find. Also, this may help you hold onto your metal detector while searching so you don't have to stop and put on or remove the gloves when it's time to look in a new spot.
Features:
13-gauge cool HPPE and spandex material

High elastic knit wrist cuff

3D stretch fit

Cool foam nitrile coating

Abrasion level 4 | cut-resistant level 5 | puncture resistant level 4

Air ventilation
What we love:
Easy to slip on and pull off

Offers a good fit that doesn't hinder your dexterity

Breathable design so that you won't get hot while wearing them
We don't like this as much:
Might have to order a size up as they can run small
DEX FIT Level 5 Cut Resistant Gloves Cru553; Firm Non-Slip Grip; Thin & Lightweight; Durable & Foam Coated; Touchscreen Compatible; 3D-Comfort Fit; Cut Proof Work Gloves; Grey L (9) 1 Pair
HIGHEST CUT PROOF CE EN388 4544 - Protect hands from cuts and punctures while handling sharp metals, knife, blade, glass, plastic sheet, paper, construction materials, and cutting meat
SO COMFORTABLE 3D SNUG FIT into all fingers. Second-skin feel. Lightweight 13-gauge cool HPPE & Spandex performs outstanding MANUAL DEXTERITY at various delicate professional work
NON-SLIP EVEN IN LIGHT OIL & UNDERWATER - Prevents the slippage on a pipe or hard materials and minimizes hand fatigue. Convenient SMARTPHONE TOUCHSCREEN. Extremely DURABLE water-based foam nitrile rubber coated. Passed FDA Food contact coating test
PREMIUM & STYLISH - Easy on and easy off thanks to the high elastic knit wrist cuff. Silicone free. Excellent for mechanics, gardening, carpentry, kitchen, plumbing, filleting, fishing, oyster sucking, woodworking, metalworking, auto, HVAC, and carving. Suitable for boys and girls. Next level cut-proof gloves for men, women, chef, ladies, and children
RELIABLE OUTSTANDING PERFORMANCE - CE Qualified and met ANSI Cut standards
3. Minelab PRO-FIND 35
Many high-end metal detectors feature a pinpointer. However, if yours doesn't, it pays to have a separate pinpointer such as the Minelab PRO-FIND 35. It can help you zero in on a target with greater accuracy so you can get to your finds faster whenever you discover something in a small crevice or hole that your detector simply can't reach into. This has a host of different features that can help make your metal detecting journey not just fun but effective and rewarding.
A quality trait of this device is that it features DIF technology, an acronym for "detector interference free". This means that the unit has less of a chance to interact negatively with your metal detector. It does so by disengaging the magnetic field on the coil when the pinpointer is turned off. You never have to worry about losing this either as it has a bright handle that's instantly noticeable and a lost alarm so it'll emit a sound when not in use for a certain amount of time.
When in use, this pinpointer can help you separate between ferrous and non-ferrous targets thanks to the two different response tones. As you approach a target, you'll notice that it can emit both an audible alert and a vibration. Also, thanks to its waterproof protection, this can even be felt and heard if searching underwater. To handle a variety of ground conditions, you can adjust the sensitivity through five levels.
Features:
Audio and vibration indication

Adjustable sensitivity

DIF technology

Ferrous Tone ID

Waterproof construction (3m | 10ft)

Lost-alarm
What we love:
Features good accuracy

Responds to targets rather fast

Straightforward operation so it's simple for beginners to use
We don't like this as much:
LED light may benefit from being brighter
Minelab PRO-FIND 35 Pinpointer
WATERPROOF DESIGN: Full waterproof housing allows this pinpointer to be effectively used on beaches, riverbeds and wet soil.
DIF TECHNOLOGY: Detector Interference Free (DIF) technology reduces interference with an operating metal detector.
FERROUS TONE ID: Two different responses help distinguish ferrous junk from nonferrous treasure. It adds another layer of performance…even with non-discriminating detectors.
5 SENSITIVITY LEVELS: Adjust sensitivity to maximize depth, minimize noise and accommodate all ground conditions.
AUDIO & VIBRATION INDICATION: Intensifying vibrations accompany increasing audio tones as the pinpointer probe approaches the target, ensuring you never miss a hit.
4. Drop Leg Bag Tactical Metal Detecting Thigh Pack
The Drop Leg Bag Tactical Metal Detecting Thigh Pack is a great inexpensive accessory that can add much-needed convenience to your metal detecting experience. When you are out hunting for treasures, you're more than likely going to be out with more than just your detector. Perhaps you have your keys on you, or a phone, or other small gadgets. A thigh pack like this is the perfect thing to free up your hands.
Both the waist strap and the detachable leg strap adjusts accordingly. You have the option of wearing this on your leg or you can use it as a shoulder bag if you wish. No matter which way you decide to wear it, this features a breathable sandwich pad for an extra layer of protection and comfort. This way, you can walk around with the bag for hours on end without feeling any chaffing or discomfort.
The well-made material features waterproof protection, a useful application for when you're wading through the shoreline in search of treasure. There is plenty of space to stash smaller items you find, too, if you don't use all eight pockets. Also, if you know you're going to be out for awhile, more so if the weather is warm, this comes with a water bottle holder too. You can hook it anywhere you want it to be.
Features:
Nylon material

17in. shoulder drop

Waist strap: 21in. to 60in. | Leg strap: 17in. to 30in.

8-pocket capacity

Waterproof protection

Cut-resistant material
What we love:
Features a useful drawstring dray-bag built into the main bag

It hangs off to the side so that it's out of the way and still easy to access

Made from quality and lasting nylon material
We don't like this as much:
The strap could be longer
Sale
Jueachy Drop Leg Bag for Men Tactical Metal Detecting Thigh Pack with Water Bottle Pouch
✅ NYLON MATERIAL: Made of thick&durable density Nylon material men leg bag provides a guarantee for its long life, tear resistant. Pure color and not easy to fade.
✅ BIG CAPACITY: 8.3"W x 11.9"H x 5''L, 8 pockets, this thigh bag is big enough for your digital camera, Mini Pad, cell phone, wallet, power bank, keys and other small gadgets. An extra bag for water bottle attached.
✅ EASY USE: Waist strap with 21''-60" and detachable leg strap with 17''-30" make it suit for different size people, and the buckles on the straps make this double leg drop bag easy to fasten and take off.
✅ HUMANIZED DESIGN: Breathable sandwich pad protects your thigh from being hurt. Widened waist strap and shoulder pad reduce the pressure. It would be a great idea to be treated as a cool motorcycle leg bag.
💯 WIDE APPLICATION: Waterproof leg bag for men is a perfect 🎁 for your friends and families. It is suitable for outdoor activities, such hiking, fishing, detecting, traveling,cycling, camping, military, hunting, climbing, photographing, vacation and so on.
5. Radius Garden 22011 Root Slayer Shovel
Radius Garden Root Slayer Shovel is as its name implies. It's designed to help you cut through those harsh roots in the ground. When metal detecting, it's easy to come across some rather harsh soil conditions, and not all shovels are designed to handle it. Instead of carrying multiple tools to cut and dig, you can use the Root Slayer as an all-in-one tool that lets you get through those rough obstacles.
It's built for durability and not prone to breaking or flexing even if you put your weight into it as you dig. With the powder coating on the blade, the shovel can withstand impact if you happen to hit something like a rock. This also helps it withstand scratches so you should be able to use it for a while and it will still look new.
For your convenience, this shovel is also built with wide foot placement. As such, you should be able to push the shovel into the soil with no difficulty. This can give you better precision so that you're digging at the right spot. Along with that, the shovel features an inverted-v shape, and this makes it even more accurate as you don't want to lose what your metal detector just found by digging in the wrong area.
Features:
13in. blade length | 44.5in. total length

Natural radius o-handle grip

Non-latex thermoplastic elastomer handle

Powder-coated carbon steel blade

V-shaped cutting tip

Serrated shovel blade
What we love:
Can manage to get through a variety of obstacles

Sturdy build that may withstand rough use

The unique handle design can make it more secure to hold
We don't like this as much:
Might benefit from a more comfortable handle to limit hand fatigue
Radius Garden 22011 Root Slayer Shovel, Red
Serrated shovel designed for reducing stress on your hands and wrist
Digging shovel with V-shaped cutting tip to easily rip roots and dirt
Garden digging shovel with durable powder-coated carbon steel tip
Sturdy tip suitable for any garden task- not meant for prying
Lifetime manufacturer warranty (continental US only)
6. Garrett MS-3 Z-Lynk Wireless Headphones KIT Metal Detectors
The MS-3 Z-Lynk Wireless Headphones from Garrett can be an excellent sidekick on your metal detecting adventure. Headphones themselves are a necessity as it's tough to hear your target without them. Many people use wired pairs, but it's easy for those cords to get in the way. With a wireless set such as this one, you no longer have to worry about yanking the headphone cord out if you move wrong with the detector.
With its over-the-ear design, this features padded ear cushions for all-day comfort. The headband is adjustable, too, so that the headphones can fit a variety of users. Beyond that, you can adjust the volume if you need to enhance targets that are a bit tougher to catch or if you are hard of hearing and simply need everything to be a bit more audible.
It comes with everything you need to recharge it as well. Otherwise, once you're done searching, the headphones can fold down for simple storage. Something to keep in mind is that these are best used in dry conditions as they are not waterproof.
If you are looking for the best headphones for metal detecting, then be sure to check out the recently updated list of our top recommendations in 2021.
Features:
2-pin AT USB connector

1/4in. headphone cable jack

30 to 18,000 Hz frequency response

High-fidelity audio

Adjustable volume control

Over-ear design
What we love:
The headphones have a fast response

Comfortably made and may keep you warm in colder weather

Offers good volume control
We don't like this as much:
They may take a while to re-charge
7. CKG Beach Diving Sand Scoop Metal Detecting
The Beach Diving Sand Scoop is a great accessory to use if you're taking your metal detector to the beach. Not only is it designed for easy use on the sand, but it can also be used underwater so you can take it to the shoreline without worry. It works in various ground conditions from soft sand to sand that may be clogged with shells.
This makes it quicker to go through all that sand to find your treasure. It's because the holes are individually sunk on either side. Such a design will improve the speed of the sand seeping so you're not waiting too long for the sand to drop through. This is spacious enough to handle a lot of sand at once too.
With a lightweight design, it isn't difficult to use and maneuver with. However, there's still enough weight to feel reliable. The size of the hole on the handle attachment may allow you to put on a variety of handles to best suit your needs and comfort.
Features:
Stainless steel material

11.8in. length | 5.12in. width

0.4in. holes

1.98lbs

Anti-corrosion material

Hole for handle attachment | 1.18in.
What we love:
Sharp edge to easily dig into deeper sand

Doesn't have any flex or give

Good sized holes to quickly sift out the sand
We don't like this as much:
Would be helpful if it came with a handle to attach
Sale
CKG Lightweight Beach Diving Sand Scoop Metal Detecting Stainless Steel 1.5mm
Lightweight stainless steel (not the magnet) model for working in the surf
Lenght: 11,8 Inches / 30 cm;
Width: 5,12 Inches / 13 cm; Weight: 1,98 Lb / 0,9 kg
Hole 0,4 Inches / 10 mm; All of the holes were individually counter sunk on both sides. It's improves the sand seeping.
Internal pipe size for handle: 1.22 Inches / 31 mm
8. Quest 1V_1701.101 Scuba Tector-Orange
The Quest Scuba Tector is a bright orange tool to add to your metal detecting accessory kit if you're searching near the water. This is because it is designed with underwater use in mind. It has great waterproof protection to explore hard-to-find treasure, and it can work in saltwater too so you can take it with you to the beach without risk of it being damaged.
Additionally, this has a "Dive Mode" feature to make it even easier to use underwater. This even has a nice lengthy 5×4-inch mono coil that gives it more sensitivity and better depth penetration. For comfortable use, this has a lightweight build and a ribbed body design. This makes it more ergonomic and stable to use.
It's a good unit to use in multiple conditions such as an LED flashlight, a vibration alert, and even a buzzer. If you want to keep it close by at all times, you can utilize the lanyard attachment. This makes it even simpler to cart around without it getting in the way.
Features:
Pulse induction (PI) technology

Waterproof housing | protection up to 200ft.

2-button control operation

LED flashlight

Lost-alarm

Ribbed body design
What we love:
Features a good battery life

Compact design so it's simple to store and transport

Durable build
We don't like this as much:
Instructions on use are somewhat difficult to understand
FAQs About Metal Detecting Accessories
Why is having the right accessories important?
Having the right tools out with you on hunts will make your life a whole lot easier. This includes things like headphones to properly hear every alert from your detector, having sturdy tools to actually dig up the treasure you find, being able to cut through any roots in your way, and being able to get an exact location on your target with a pinpointer. Otherwise, you're creating more unnecessary work for yourself.
To Conclude
Finding treasure isn't just about using a quality metal detector. The accessories are important too since they can make your job easier, safer, and more convenient. It doesn't matter if you're just casually hunting for treasure or are an expert at it. Without the right accessories, you may not get the most out of your search. 
Here's our recommendations based on your budget:
Other products worth checking out:
7 Best Metal Detectors for Gold
911metallurgist.com is a participant in the Amazon Services LLC Associates Program, an affiliate advertising program designed to provide a means for sites to earn advertising fees by advertising and linking to Amazon.com.