Disclosure: This post contains affiliate links and I may earn a small commission if you purchase through these links.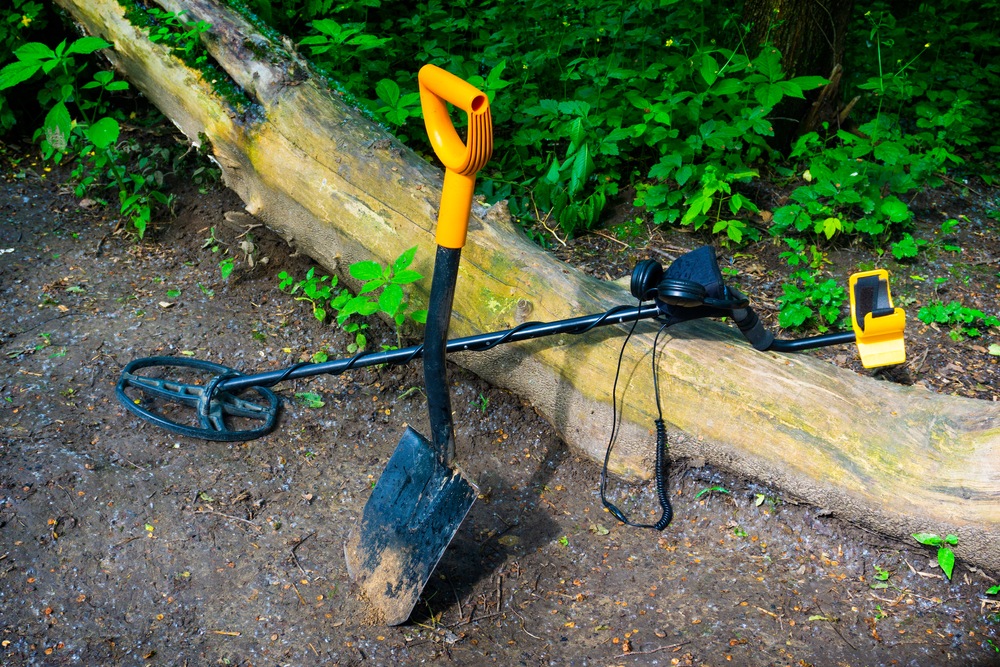 So you've chosen your metal detector and you're ready to get out into the wilderness to hunt for treasure, you now need the perfect tool to dig underneath the ground to find your target. 
You'll find that some targets are hiding in hard to reach areas. Depending on what the ground is like, you may need different tools to dig into different surfaces. You'll also need to think about a tool that's durable, lightweight, and easily transportable as you will be carrying it around with your other equipment.
To find the best tools for detectorists, we looked for items that come highly recommended by both hobbyists and professionals alike. We then found where to buy the items online and made sure they weren't plagued by fake or stolen reviews which often make online shopping a nightmare. 
Before you do anything, be sure to check the rules and regulations of digging in the area you have chosen.
Follow this link to find the metal detecting laws in your area:
Canada: https://detectingschool.com/metal-detecting-in-canada/
US: http://www.mdhtalk.org/maps/fp-map-regulations.htm
This list covers a few considerations that we found important when looking for tools that will make your metal detecting more effective. 
We concentrated on:
Different budgets

Tools for different surfaces

Durability

Ease of transporting for long periods of time
What Are the Best Metal Detecting Shovels?
9 Best Metal Detecting Shovels
:
In-depth Review
---
1. Yeacool Portable Folding Shovel
When you're hunting across a variety of terrains, you will want a tool with multiple functions. This portable folding shovel from Yeacool is an extremely durable multipurpose tool that's lightweight, compact, and can fit into smaller gaps.
It comes with a handy carry bag that you can attach to your pack to whip out when it's needed. The handle is comfortable non-slip rubber so your hands don't get sore even after a full day in the field. One side of the shovel board has a sawtooth edge to cut through hard dirt while the other side is a flat edge blade. If you need to get into a small crack, the Yeacool can quickly morph into a pickaxe by folding the shovelhead 90 degrees.
A cool feature of this invaluable piece of equipment is when you've had a hard day out on the hunt for precious metals, you can crack open a beer or soda with its bottle opener.
Features:
Made from high carbon steel

1.1 lbs

Can also be used as a pickax, bottle opener, and saw

Comes with a carrying pouch

Fully collapsible
What we love:
Looks great in matt black

Easy cleaned

Will not collapse on its own
We don't like this as much:
A bit small for deep or wide digs
2. Garrett Edge Digger
Garrett is a well-respected name in the metal detector community, it's no wonder their range of accessories and tools hold up to the same high standard. One of their highly-rated products is the Edge Digger.
This black digging blade has cutting teeth on either side and a pointed tip so you can get straight into the ground to excavate your target. There's a non-slip blade guard to protect your hand from sliding down when you're digging into hard dirt and it has a rubber handle for extra grip. The Edge Digger also comes with its own sheath that can easily be attached to a belt or pack. 
This quality tool will last the test of time and can cope with hard/wet soil and sod in the toughest of conditions. You can use its point to flick away any small rocks and debris that are in your way whilst the dual cutting edges break down the soil as you dig.
Features:
It has a padded handle

7.5-inch digging blade

It weighs 1 lb

Made from carbon steel
What we love:
Ideal for tough soil and roots

Slim body

Tough enough to dig out rocks
We don't like this as much:
3. CKG Stainless Steel Detecting Digging Tool
When you're out in all weathers, you need tools that are going to hold up through tough conditions. For detectorists who do most of their hunting in soft soil and dirt, there's the CKG digging tool. 
Made from durable stainless steel and coated with a rust-resistant finish, this handy trowel is narrow enough to get into tight gaps to remove small targets. One edge of the tool is serrated to cut through any roots and weeds in your way, and the other is a smooth blade to cut away slim branches.
The handle is covered with rope so your hand won't slip when digging which can also be used to attach to your belt or pack, and there's a hole in the top where you can insert a long wooden handle for when you don't want to get your knees dirty. It also has a bottle opener on the side to help you keep refreshed.
Features:
Made from stainless steel

Can be attached to your belt

Has a rust-resistant finish

Has a sharpened and a serrated edge
What we love:
Optimum for soil and sand

Only weighs 6.2 oz

Easy to clean and maintain
We don't like this as much:
 You have to wrap the handle with rope yourself
4. REDCAMP Military Folding Shovel
This folding shovel may be described as a military tool, but we found that it will adapt easily to aid you in digging up targets on your detecting adventures. This model was chosen as it's 8.2" shovelhead is wider than the Yeacool shovel for excavating larger areas.
Unlike the Yeacool, it has a triangular handle making it easier to dig as you can apply more pressure. It is made from high carbon steel and comes in either green or black. The 3-way folding handle means it can be broken down and transported easily. You have to unscrew a part to be able to do this so you don't need to worry about it folding up mid-dig.
One side of the shovel head is serrated to cut through any hard dirt, roots, sand, and snow. If you need to chip away at any really hard surfaces, just push the shovelhead 90 degrees and fold out the pickaxe which is made of the same heat-treated durable steel.
Features:
Can be used for digging, cutting, hammering, and shoveling

Weighs 2.5 lbs

Comes with a carry pouch

Has a sharpened and a serrated edge

Fold-out pickaxe
What we love:
It fits in a car glove box

You can saw straight or at an angle

Won't bend under body weight
We don't like this as much:
 Too big to attach to a belt
5. SE Prospector's Choice 12″ Serrated Edge Digger
The first item on our list by outdoors, prospecting, and survival tool experts SE is this 12" digging tool. Its slim design makes it perfect for making narrow, deep holes in the ground to uncover smaller targets.
As it is made from heat-treated carbon steel, the point of this digger will crack through hard soil and will get under any rocks in your way. The double serrated edge is great for breaking down dirt, making your dig easier, and will also saw through weeds and roots cutting deep, clean plugs.
You can take this tool anywhere, it's extremely lightweight and comes with a sheath that attaches to your belt. As well as an oversized grip on the handle, there's also a blade guard just in case you hit rock whilst applying pressure.
This is a reliable tool that can cope with almost any surface and will have you reaching for it time and again out on the hunt.
Features:
7.5" dual-serrated blade edge

Heat-treated carbon steel

Comes with sheath 

Oversized comfortable grip
What we love:
Low cost, high effectiveness

Orange handle is great for visibility

Will dig through red clay
We don't like this as much:
6. NATIONAL GEOGRAPHIC Scoop and Shovel
If you've never heard of National Geographic, it may not be wise to leave the house at all. To go with their metal detector which is aimed at young hobbyists, they released a sand scoop and trowel set.
This set is perfect for beginners who want to spend time on the beach with their new metal detector discovering the treasures that hide underneath the sand. They may be made from plastic, but don't be fooled, they are extremely durable and won't get picked up by your device.
The trowel will make light work of digging into sand and dirt so the scoop can easily filter it out separating it from your target. They are both ultra-light and easy to carry for long periods of time.
These tools aren't built for rugged hunting through all terrain and won't cut through hard soil and rock, but they are geared towards having fun with family and friends on a day out to find coins, artifacts, and maybe even gold nuggets.
Features:
Made from heavy-duty plastic

Weighs just 12 oz

Two separate tools in one box
What we love:
Can scoop up large amounts of sand and dirt

The trowel is easy to grip for smaller hands

Won't weigh you down
We don't like this as much:
 The holes won't capture small targets 
7. Sahara Sailor Survival Shovel
This next tool we chose is aimed at hardcore detectorists and those who are hunting across a variety of environments. The Sahara Sailor survival shovel may be the most expensive item here but for good reason.
For starters, it's made from military-grade solid carbon steel with aerospace-grade anodized aluminum tubes, which means it won't bend, break, or warp even in the harshest of conditions. The handle is extendable up to 30-inches to get to those deep targets or scale it right down to use as a trowel.
Like the other shovels, you can fold its head 90-degrees to use as a hoe, as well as using the serrated edge to soften the soil and cut through roots. The biggest feature of this shovel is the number of multi-tool attachments it comes with. In the pack, you get a knife, screwdriver, whistle, and ice crusher, to name a few. It's not the lightest shovel, but add this to your pack and save yourself from needing to take any other tools on the hunt. 
Features:
Made from military-grade carbon steel

12 functions and tools to choose from

Fully collapsible

Weighs 3.7 lbs
What we love:
Folds down into a small camouflage carry case

There are no plastic parts

Comes with a shoulder strap
We don't like this as much:
 Doesn't come with instructions
8. SE Green Prospector's Scoop
The second item from SE may not be an all-singing all-dancing multi-tool, but it's a must-have for those looking to find gold on their hunt. When you need to get under soft ground to uncover small targets, the prospector's scoop will aid you in your discovery.
It's made from plastic so it won't get picked up by your metal detector and there's no worry it will rust when out in bad weather. The material is heavy-duty, built specifically for digging through dirt and scraping away rocks without cracking or scuffing.
Its narrow head can reach into small gaps and doesn't hold a lot of dirt so you won't miss your target. There's a hole in the handle so you can attach it to your belt or pack. This tool is the perfect size for gold panning and small target excavation.
Features:
12.5-inches long

Made from heavy-duty plastic

Hole in the handle to attach to pack
What we love:
It's extremely lightweight

Won't interfere when using a pinpointer

Its bright color makes targets easy to spot
We don't like this as much:
9. SOG Folding Survival Shovel
The last choice in the selection is the SOG folding survival shovel. We chose this tool for long days out hunting. Its lightweight steel construction is ideal for if you have to hike to your destination. Simply fold it up to fit inside its carry pouch and attach it to your belt.
It has a triangular handle so you can apply a good amount of pressure when digging without fear of your hand slipping onto the shovelhead. The head itself is only slightly bigger than a hand and has a sharp saw tooth edge to help cut through hard soil and tackle any roots and weeds in the way.
This tool is designed to move heavy loads like rocks and soil. Its powder-coated carbon steel head won't bend or break under the pressure of digging into most surfaces which makes it a great tool to take with you into the field.
Features:
Weighs only 24.5 oz

Fully collapsible 3-way folding design

Serrated edge

Made from high carbon steel
What we love:
Super compact when folded

It has a double locking mechanism

Head can swivel 180-degrees
We don't like this as much:
 More of a trowel than a shovel
---
FAQs about Metal Detecting Shovels
What makes a good metal detecting shovel?
When considering a shovel to aid you in metal detecting, you have to ask yourself a few simple questions. First, what type of surfaces are you dealing with, are you a beach hunter? Mostly digging through the soil? Or a bit of everything? This will dictate which tool will be most effective.
Second, you want to decide how much weight you want to be carrying around for your time out there. Choosing a lightweight tool may make the difference between having a full day out and going home early because your arms hurt. 
Third, are you searching for large or small targets? If you need to dig large holes, you'll waste a lot of energy using a small tool. It may seem obvious but if you spend all day digging for one target it can be demoralizing. 
What's the best technique for using a metal detecting shovel?
Digging incorrectly may result in damaging your target, give yourself enough room on either side of the target so you can excavate to avoid scratching it. If you have a depth meter on your metal detector, check how far you'll need to dig first. Items such as coins are usually found close to the surface and relics may be buried further underground. If you've chosen the right tool, you won't have any issues. 
911metallurgist.com is a participant in the Amazon Services LLC Associates Program, an affiliate advertising program designed to provide a means for sites to earn advertising fees by advertising and linking to Amazon.com.