Disclosure: This post contains affiliate links and I may earn a small commission if you purchase through these links.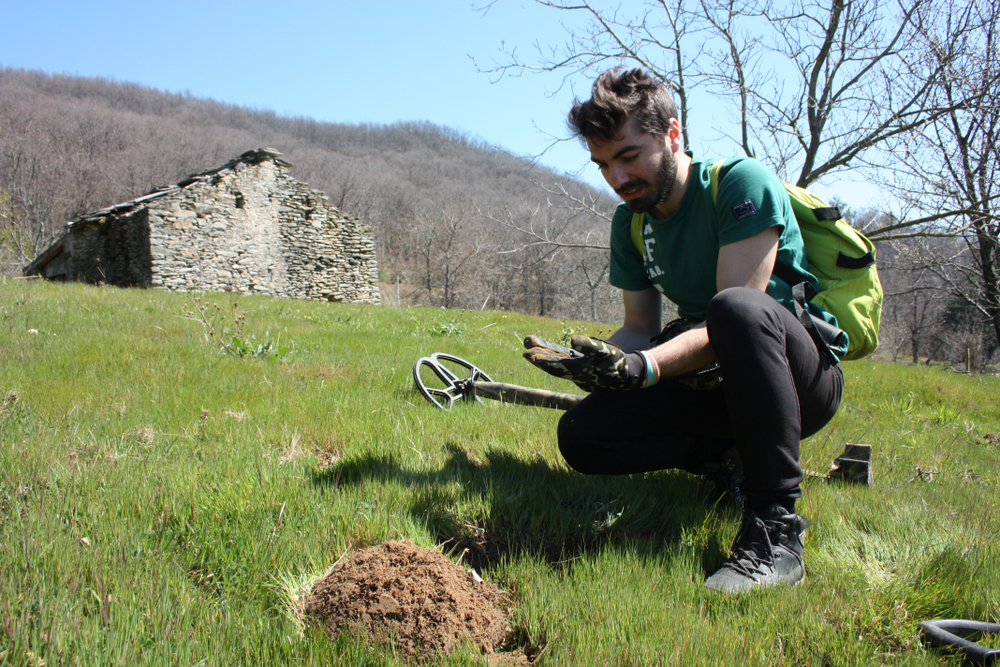 The story of how the metal detector came to be is an interesting one. It all started in 1881 with a Scottish inventor named Alexander Graham Bell. You might know him better as the inventor of the telephone. When U.S. President James Garfield was shot, Bell set out to create a metal detector that could be used to find the bullet inside him. 
While his invention ultimately failed to find the bullet, it paved the way for the current metal detectors. This handy device has evolved into a tool that can help people uncover hidden treasures, metal items, and other objects buried in the ground. 
With so many different models available, knowing which is best for you is hard. Well, if you're starting in the metal-detecting world, this guide is here to help!
3 Metal Detectors We recommend for Beginners in 2023:
Pros
Easy to customize your search profiles and save the settings (6 slots)
Rechargeable battery offers long battery life and waterproof
Trainable. You can place an item under the search coil, and the detector will "learn" to recognize it.
Cons
Pricey model for beginners or hobbyists
More chatter from ground noise compared to top models.
The screen isn't as complete as the top models.
Frequency
12kHz freq in all 4 search modes
Best Overall
Pros
Easy to customize your search profiles and save the settings (6 slots)
Cons
Pricey model for beginners or hobbyists
Best Waterproof
Pros
Rechargeable battery offers long battery life and waterproof
Cons
More chatter from ground noise compared to top models.
Frequency
12kHz freq in all 4 search modes
Best Kit Made in USA
Pros
Trainable. You can place an item under the search coil, and the detector will "learn" to recognize it.
Cons
The screen isn't as complete as the top models.
Who Should Buy A Metal Detector?
First and foremost, metal detectors are ideal for any hobbyists interested in uncovering hidden treasures. Metal detecting is a great way to explore your local area while hunting down valuable items that would otherwise be lost forever. It's also perfect for those interested in history or archaeology who want to see what artifacts can be found beneath the earth's surface.
Don't go quitting your day job just yet, though. Most metal detectors are designed for recreational use and won't automatically uncover hidden treasures of significant monetary value. Like any hobby, you'll need to keep at it if you want to find something truly special.
Understanding Metal Detectors
Before we get into the meat and potatoes of metal detectors, we should also discuss some basic principles. Most metal detectors work on the same basic principle – they use electromagnetic induction. An electromagnetic coil generates a magnetic field acting like a metal searchlight.
When this magnetic field comes in contact with metallic objects, it causes the metal detector to beep, alerting the user to its presence. The type of signal it emits depends on the item in question's size, shape, and composition.
The maximum depth a metal detector can detect is usually measured in inches. This is affected by several factors, including the type of object detected and the ground mineralization level. As such, it's essential to research the detector's capabilities before buying.
What To Consider When Buying a Metal Detector
When perusing our list of the best metal detectors for beginners, there are a few things to keep in mind before purchasing.
Battery Life
Metal detecting as a hobby often involves long hours in the field, so it's important to have a detector with good battery life. You likely won't want to be lugging around replacement batteries and wasting valuable find time. Make sure to check the estimated battery life of each model before you buy.
Ease of Use
Metal detectors come with a wide range of features and settings. Some models are specifically designed with beginners in mind, sporting more intuitive controls. Others are more complex and may require some practice. Choose one that won't be too difficult for a beginner to use.
Weight
Metal detectors can be relatively cumbersome to carry around for long periods. Look for models that have a lightweight design so you won't tire out easily in the field. Remember that the lighter, the better!
Quality
Sturdiness and durability are crucial when it comes to metal detectors. Look for models with solid construction and quality parts that can withstand the wear and tear of regular use. You might also get caught off-guard by rough weather, so make sure your detector is waterproof if you use it in the rain.
Features
Finally, take some time to assess the features each model offers. From ground balance and iron discrimination to pinpointing and digital display, specific options could come in handy while detecting. Some models might even boast advanced features like Bluetooth connectivity.
Operating frequency is also something to consider. Lower frequencies provide better sensitivity, while higher frequencies often lead to a broader detection area.
With help from our community of metallurgists from around the world as well using data science to analyze the latest customer sentiment data from the largest of e-commerce companies we are confident that these are the 5 best metal detectors for beginners as of 2023:
1. Minelab Equinox 600 Metal Detector – Best Overall for 2023
Let's start with the cream of the crop—the Minelab Equinox 600 Metal Detector. This multi-purpose model features more advanced technology than its counterparts, delivering superior performance in all types of environments. It's also great for beginner and experienced metal detectorists alike, thanks to its simple menu system and intuitive controls.
The Equinox 600 features Multi-IQ technology, which combines the power of multiple single-frequency detectors into one machine. In other words, it can detect a wider range of objects and provide better target separation simultaneously. With this beast of a machine, you can find virtually any type of metal object in any terrain.
Minelab's metal detector also chooses three preset search modes: Park, Field, and Beach. Each mode is tailored to the corresponding environment and will help you quickly identify targets and eliminate the trash. The target I.D. display is also a great addition, as it will indicate the type and size of the metal detected.
As fully waterproof equipment, the Equinox 600 can be submerged up to 10 feet in the water. This allows you to go treasure hunting in rivers, lakes, and other wet environments. With its streamlined construction and ergonomic design, you'll have no problem carrying this detector around all day. In fact, the plastic body and armrest only weigh 2.96 pounds, making it one of the lightest models on the market.
What we like:
Included A.A. batteries provide an impressive battery life of 12 hours

Easy to customize your search profiles and save the settings (6 slots)
What we don't like
Pricey model for beginners or hobbyists
Sale
Minelab Equinox 600 Metal Detector with EQX 11" Double-D Waterproof Coil
MULTI-IQ TECHNOLOGY: Minelab's revolutionary technology combines the power of multiple detectors into one, allowing you to effectively search all metals, all soils, all the time.
FULLY WATERPROOF: Don't stop at the beach or the bank, this fully submersible model allows you to detect under the surface of oceans, rivers, streams and lakes up to 3m (10 ft).
3 DETECT MODES: Easily select from Park, Field or Beach modes to focus on target types or ground conditions.
ACCURATE TARGET ID: Identify your targets quickly and confidently to efficiently sort between trash and treasure.
CUSTOM SEARCH PROFILES: Enjoy 6 custom Search Profiles and save your favorite 2 settings in each mode.
2. Nokta Makro Simplex Waterproof Detector – Best Waterproof
Coming in at a close second, the Nokta Makro Simplex Waterproof Detector is a great choice for beginners. What makes this model stand out is its ease of use and intuitive controls. Boasted as a "turn-on-and-go" metal detector, the Simplex will provide a hassle-free treasure-hunting experience.
The Simplex features four search modes: all metal, field, park, and beach. This allows you to quickly switch between hunting for coins, jewelry, and relics in different terrains. It also has a sensitive target indicator system that can detect even the smallest objects up to 10 inches deep. To make things even easier, the display screen will tell you exactly what type of metal object it detected.
This lightweight detector has an 11-inch waterproof coil that offers great coverage and detection range. The adjustable stem makes it easy to handle, while the armrest provides extra comfort during long treasure hunts. Note that the coil is also waterproof up to 10 feet, so you'll be able to use it in shallow waters.
Another great feature is the lighting for night searches. The built-in flashlight will allow you to detect metal in the dark without lugging around an external light source. The LCD screen and keypad also have a backlight, so you can always see what you're doing.
Finally, it weighs slightly more than the Minelab Equinox 600, at 7.69 pounds. However, it makes up for it by being significantly more affordable.
What we like
A retractable shaft helps to make it more portable

Rechargeable battery offers long battery life
What we don't like
More chatter from ground noise compared to top models.
Nokta Makro Simplex Waterproof Detector with 11" Coil
IP68 - Fully submersible up to 3 meters (10 ft) and protected from total dust ingress.
Iron Volume - Turns off or adjusts the volume of the low iron tone.
Notch Discrimination - Discriminates Target IDs of unwanted metals.
Search Modes - All Metal / Field / Park / Beach
Fabulous Lighting for Night & Underwater Use - SIMPLEX+ has it all - LCD Backlight, Keypad Backlight and LED Flashlight.
3. Garrett ACE 400 Metal Detector – Best Made in USA Kit
Next up is the Garrett ACE 400 Metal Detector, which offers an excellent combination of features and performance at a budget-friendly price. This model boasts an impressive 10 kHz operating frequency that provides better sensitivity on low/medium-conductive targets like gold and lead. The search coil is 8.5″ x 11″ and waterproof, making it perfect for underwater hunts.
Like previous models, the Ace 400 has Iron Audio which allows you to hear discrimination signals as you sweep your coil over a target. This will help you quickly determine whether it's worth digging up. The Garret Master Sound audio output helps to enhance the sound of faint targets and reduce interference from ground noise.
It also has a 0-99 target I.D. range, so you'll know what kind of metal you've found. The digital target I.D. will provide the type, size, and depth of each object for easy identification. Use one of the five search modes or eight sensitivity adjustments to fine-tune your search and get the best results.
This detector is lightweight enough to carry around all day without causing strain. It weighs 7.69 pounds, so children or seniors should have no problem using it. And for added convenience, a carry bag and headphones are included with your purchase. The high-quality carry bag prevents your detector from getting damaged during transportation.
Another cool feature is the Pro-Pointer. This tool comes in handy after you've dug up a target and want to pinpoint its exact location. It's also handy for recovering objects in tight spots, like crevices or rocks.
What we like:
Online tutorials and user guide to help you get the most out of your detector

Trainable. You can place an item under the search coil, and the detector will "learn" to recognize it.
What we don't like:
The screen isn't as complete as the top models.
4. PANCKY Metal Detectors for Adults – Best for Budget
As one of the most popular metal detector brands on the market, PANCKY has a proven track record of producing great detectors. Their flagship model is the PANCKY Metal Detectors for Adults, a mid-range option for beginner treasure hunters.
This model has an adjustable stem and armrest to ensure comfort during your search. The armrest also has an ergonomic design, making it easier to carry and handle. The anti-slip grip prevents it from slipping in your hand, even when you're sweating. And a backpack bag is included to make it easier to carry around.
The search coil on this model is 10″ in diameter, giving you a large detection area to cover. It's also waterproof and submersible. However, remember that only the coil is waterproof, not the control box. As such, you should stick to shallow waters when using this detector. The waterproof coil can also be washed easily, allowing you to keep it in top condition.
As for features, the PANCKY comes with five preset search modes, which makes it easy to find different types of metals. For example, the jewelry mode is great for finding jewelry, coins, and other small items. Additionally, the DSP chip helps to find targets up to 10″ deep.
What we like
A large LCD color screen makes it easier to read

Low power consumption gives it a 20-hour battery life
What we don't like
Poor pinpointing accuracy compared to more expensive models.
Sale
PANCKY Metal Detectors for Adults Waterproof - Professional Higher Accuracy Gold Detector with LCD Display, 5 Mode, Advanced DSP Chip 10" Coil Metal Detectors - PK0075
【5 Modes of Operation】PANCKY adults metal detectors has 5 distinct modes allow you to effectively search for the desired metals. 🚩All METAL MODE , 🚩DISC MODE , 🚩MEMORY MODE , 🚩JEWELRY MODE, 🚩PINPOINTER We are equipped with a full range of accessories and you can start your treasure hunt as soon as you open the package.
【10inch Waterproof Search Coil】PANCKY IP68 waterproof metal detector enables you works well in shallow water. Perfect for beach, stream, and rainy day. which means that you can freely dive with it and find treasures hidden from the eyes of the majority. Metal detectors can be easily cleaned and save. (Note: the control box is not waterproof).
【Upgraded DSP Chip】Upgraded DSP chip metal detector which improves search range and sensitivity, greatly conducive to detecting efficiency. It's so powerful it can locate a quarter coin up to 10" underground. It can find larger objects at even greater depths.
【Intuitive LCD Display 】Large color LCD display allows you to get the detection dynamics at any time. It's convenient for you to get the type of metal target, depth, recognition, sensitivity level, operating mode, which let you detecting more efficient and time-saving.
【Ergonomics Design】 Equipped with 39.37" to 47.24" adjustable stem applicable to different height gold detector enthusiasts. It has got an ergonomic design that involves adjustable armrest and an anti-slip handle that equips your hunting experience with comfort. Besides, we also provide one Backpack, convenient to carry and store the metal detector.
5. Bounty Hunter TK4 Tracker IV Metal Detector – Best for Cheapest (if you can spend a little more)
Finally, we wanted to review a model for those just dipping their toes into the world of metal detecting. The Bounty Hunter TK4 Tracker IV Metal Detector is an entry-level model and also the cheapest one on the list. Despite its low price, it still has enough features to help you find some interesting items.
For starters, it has an 8″ circular coil that detects coins and jewelry up to 6″ deep. Larger targets, such as relics, can be found up to 2 feet deep. The coil is waterproof up to 8 inches in water, so you can use it for shallow wet searches. It also has a sensitivity adjustment that lets you tweak the detector for better results in certain ground conditions.
And while it doesn't come with headphones like other models, it does come with a headphone jack. So if you decide to buy headphones later on, you can still use them with this detector. The low price seems to have made it very popular, with many satisfied customers. It's easy to use and well made, making it a great choice for those new to metal detecting.
What we like
Inexpensive entry-level model

Lightweight and easily portable (3.70 lbs)
What we don't like
Knob controls are not as complete as LCD displays.
Sale
Bounty Hunter TK4 Tracker IV Metal Detector with 8-inch Waterproof Coil
Rugged metal detector ideal for detecting treasure in extreme ground conditions
Motion All-Metal mode, Discrimination mode, and 2-Tone audio mode
Preset ground balance neutralizes response to mineral content in the ground
Disc/notch control distinguishes between targets and unwanted metals
Rugged metal detector ideal for detecting treasure in extreme ground conditions