Disclosure: This post contains affiliate links and I may earn a small commission if you purchase through these links.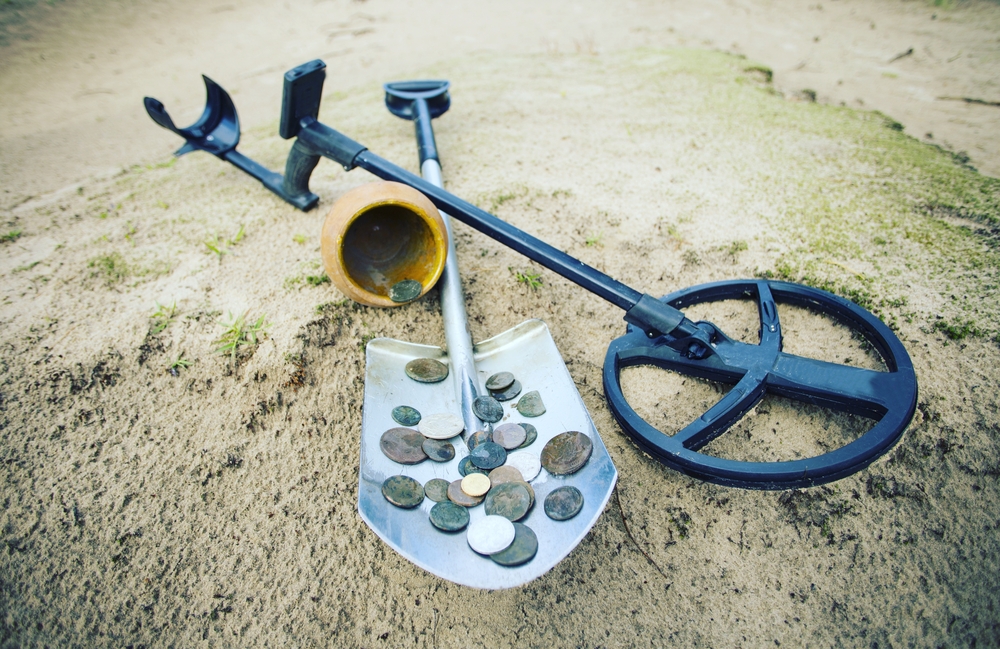 For detectorists across the world, the most common target found (other than bottle caps) is coins. These treasures could be anything from a 1911 Canadian Silver Dollar to a 2020 nickel and everything in between. If coins are your main targets, you'll need the best metal detector at locating them.
Depending on the age of the coin, they can be laid on the ground or buried far beneath it. Different denominations are often made from different metals so using a device that can detect them all is paramount. Most metal detectors are generally built with hunting coins in mind, but some are better than others. 
Unfortunately, whilst searching for coins these days you'll probably come across a lot of trash on the ground. It's important to have a device with a good discrimination range to filter out the signals from unwanted garbage. 
As the rules on metal detecting change from place to place, be sure to know where it's legal to hunt for coins.
Follow this link to find the metal detecting laws in your area:
Canada: https://detectingschool.com/metal-detecting-in-canada/
US: http://www.mdhtalk.org/maps/fp-map-regulations.htm
To find the best metal detectors for coins on the market today. We searched through reviews and recommendations from real detectorists who use their devices specifically to hunt for currency. 
We've put together a variety of metal detectors for a range of needs, wants, and budgets so you can choose the best one for your adventure out in the field.
If you want to find other things beyond coins then you will likely be also interested in our list of metal detectors for beginners as those on this list are aimed the very best for finding coins.
What Are The Best Metal Detectors for Coins?
Preview
Pros
All weather with 20 levels of depth and 4 modes of operation
7 Modes of operation and recovery speed of much higher priced units
Cons
Needs 2AA batteries which run out fairly quickly
The buttons can be tricky to press especially when using in cold
Low Budget Option
Preview
Pros
All weather with 20 levels of depth and 4 modes of operation
Cons
Needs 2AA batteries which run out fairly quickly
Best for $300
Preview
Pros
7 Modes of operation and recovery speed of much higher priced units
Cons
The buttons can be tricky to press especially when using in cold
8 Best Metal Detectors for Coins: In-depth Review
1. Garrett ACE 400
It's highly likely that if you've ever shopped for a metal detector you will have come across the name Garrett. Charles and Eleanor Garrett have been in the game since 1964 building a reputation for being leaders in metal detection technology. 
The ACE range is all about powerful performance at affordable price points. The ACE 400 is no different. The flexibility of its settings allows detectorists to search for a wide range of targets but is particularly powerful at locating coins with its 10 kHz adjustable frequency and five discrimination modes. 
As well as its digital numeric target identification, it also has a target graph that shows a target's conductivity and its depth. So you can get a precise location on a target, the ACE 400 has electronic pinpointing to save any unnecessary digging.
This lightweight device is comfortable to hold for those long days in the field and its interface is informative and easy to understand. It comes with headphones and a waterproof search coil all for under $400 making it great for both beginners, intermediates, and pro coin hunters.
Features:
Digital target ID

Electronic pinpointing

Iron check

Graphic target analysis

8.5" x 11" DD search coil
What we love:
Works straight out the box

Its trash discrimination reduces finding unwanted targets

Can be used for finding gold
We don't like this as much:
Not the best performance in saltwater
Sale
Garrett Ace 400 Metal Detector with Waterproof Coil and Headphone Plus Accessories
Extra Accessories: Garrett 8.5" x 11" Search Coil Cover, ClearSound Headphones, Garrett ACE Rain Cover
Also Includes: Garrett 8.5" x 11" PROformance DD Waterproof Search Coil, Adjustable Arm Strap, Garrett ACE 400 Instruction Manual, Garrett Search Coil Hardware Kit, 4 "AA" Batteries Included, FREE Garrett Catalog, FREE Garrett Searcher Magazine, Exclusive 2 Year Warranty
Includes Electronic Pinpointing: precisely locates targets and speeds recovery Notch Discrimination: Modify discrimination patterns based on what you are seeking.
New Adjustable Frequency, New More Stable Camlocks, Enhanced Iron Resolution
2 year Warranty, 5 Search Modes, New Higher Frequency 10 kHz, Digital Target ID
2. Fisher F75
Another big name in quality metal detectors is Fisher. The F75 boasts the latest in detection technology making it extremely versatile in finding different targets in a variety of environments. This rugged device is aimed at intermediate to pro hunters who want to discover coins with ease.
The interface on the F75 is simple yet intuitive. There is only one button and one dial to scroll through settings and adjust its double-filter discrimination modes which make hunting in high trash areas less frustrating and time wasting. Along with the numeric target ID, the digital screen indicates the target depth and type of metal.
Fisher has developed their signature FASTGRAB ground balancing which is perfect for hunting on terrains that may change from grass to rock or from sand to soil. It has a trigger-actuated pinpointer with a variable audio pitch making it one of the most accurate built-in pinpointers on the market.
The oval double-D search coil makes this device ideal for searching in cracks amongst rocks which is also waterproof when hunting in the rain or in shallow water. The large battery pack on the F75 is located out of the way under the armrest giving the user over 40 hours of life. With its adjustable search modes and powerful performance, the F75 is a testament to Fisher's dedication to making high spec multi-purpose metal detectors.
Features:
Double-filter discrimination modes

Adjustable audio pitch

Magnetic mineralization bar graph

0-99 Numeric target identification display

Trigger-Actuated FASTGRAB ground balance
What we love:
It has a large LCD screen

It's lightweight

There's a backlight for night hunts
We don't like this as much:
Can take a while to learn its settings
Sale
Fisher F75 Multi-Purpose Metal Detector
Lightest weight / best ergonomics in the industry - powerful performance trigger-actuated target pinpointing with variable audio pitch - large lcd screen with 0-99 numeric target identification display
Double-filter discrimination modes for searching in trashy areas - magnetic mineralization bar graph and readout - trigger-actuated fastgrab ground balance
Non-volatile memory saves settings - backlight – for low light hunting conditions - low operating cost – typically 40+ hours with 4-aa alkaline batteries
Double-D Waterproof Search Coil - Rain Cover for Control Housing & Battery Housing Available
Recommended for: coin shooting, relic hunting, beach hunting, gold prospecting. Operating humidity range: 0-90% non-condensing
3. Bounty Hunter Land Ranger Pro
Bounty Hunter metal detectors provide a range of devices for the novice hobbyist to the pro detectorists. The Land Ranger incorporates their years of experience with modern technologies to provide a cross-section of their previous releases which can be used by everyone.
The digital interface is laid out to give you all the information you'll need when on the hunt with large, labeled buttons for easy navigation. It has the standard numeric target ID as well as a depth indicator, pinpoint mode, and computerized ground balancing which Bounty Hunter calls Ground Grab.
There are seven operating modes to play with, four-tone audio ID, and a variable tone breakpoint. The oval 11" double-D search coil is waterproof so searching for coins in shallow river beds will not be an issue. It is designed to minimize ground mineralization to help with unwanted trash. 
With its Ground Grab technology and variety of modes, the Land Ranger works straight out of the box making it an excellent device for detectorists who want to up their coin searching game by learning how to use the more advanced features like notch discrimination. 
Features:
Computerized ground balancing

0-99 numeric target ID

7 modes of operation

4 tone audio ID

Pinpoint mode with depth indicator
What we love:
Can detect targets up to depths of 10-inches

The recovery speed matches high-end devices

Length is adjustable 
We don't like this as much:
The buttons can be hard to press
Sale
Bounty Hunter Land Ranger Pro Metal Detector, 11 Inch Waterproof DD Searchcoil, Adjustable Length, Lightweight, Ergonomic, Comfortable Padded handgrip, and armrest, Detect Coins Up To 10 Inches Deep
ADVANCED TARGET ID TECHNOLOGY: The Land Ranger Pro utilizes state-of-the-art technology to locate and identify metal targets buried deep underground. This metal detector has 99 points of TARGET-ID resolution and 4-Tone TARGET-ID, providing the most accurate target identification possible. Programable target discrimination, decide what you want to detect, like gold and silver and what you don't want to detect, like nails and aluminum foil.
ALL TREASURES ALL ENVIRONMENTS: 7-Modes of operation allow quick set-up for any treasure hunting (Coin Hunting, Relic Hunting, Jewelry Hunting, etc.) in many environments (Parks, yards, fields, and beaches). Or customize your settings to fit your exact needs. Ground Grab (computerized ground balancing) automatically tunes the Land Ranger Pro to ground mineralization with one button press.
DEEP-PENETRATING METAL DETECTOR: The Land Ranger Pro has an 11" DD waterproof searchcoil for increased depth and target separation. Finds coin-sized metal targets on the surface and buried up to 10 inches deep.
ALL PURPOSE METAL DETECTOR: Can detect all types of metal. Perfect for jewelry, coins, and artifacts, and you can even find gold nuggets on land and shallow water.
LIGHTWEIGHT AND EASY TO CARRY: It weighs just 2.5lbs and is well balanced with an ergonomic handle and padded armrest so you can treasure hunt all day.
4. Garrett AT MAX
The second device from Garrett on the list represents the high-end of sport metal detectors. The AT MAX not only comes with the detector itself, but offers some extras for you to use out in the field including a pinpointer (check out the review), wireless headphones, and the all-important cap which shows off your exquisite taste in metal detectors.
No matter what terrain you're hunting on, this device will work on sand, soil, rock, and is fully submersible up to 10 ft in both fresh and saltwater allowing you to get to those valuable coins others can't get to. Its 13.6 kHz operating frequency combined with its eight sensitivity adjustments makes it great at detecting coins.
The AT MAX has a sophisticated automated ground balance that can be switched from automatic to manual when needed. The ground balance is spread out to drastically reduce ground response in severely mineralized areas. The Iron Audio feature allows you to hear any discriminated iron which is normally silenced, saving you from digging up bottle caps and washers instead of valuable coins.
There's a lot going on in terms of buttons and settings on the interface but each one is there to maximize your search. The LED screen shows the usual numeric target ID and depth indicator but also has a numeric iron discriminator.
Features:
Enhanced pinpointer

Auto/manual ground balance 

Freshwater/Saltwater search modes

Wireless headphones

Enhanced depth detection
What we love:
The wireless headphones use Z-Lynk over Bluetooth

It has a backlight for night hunting

Has a fast recovery speed
We don't like this as much:
Batteries can drain quickly 
5. Fisher F22
The second Fisher metal detector in the list is our choice for hobbyists who want to dive straight into finding coins and other treasures. We chose this device for its ease of use and its multiple features all at a low-budget price.
The F22 is designed for hunting in all weathers, rain or shine, on a variety of terrains including sand and soil. It has four different modes of operation which are displayed on the interface. This includes a coin mode which adjusts the settings in the device to hone in on your required target.
When you scroll through the menu, you'll find 10 levels of adjustable sensitivity and 20 levels of adjustable volume which makes light work of coin shooting. The numeric target ID, depth indicator, and pinpoint mode are principal weapons in a detectorist's arsenal.
The F22 is proof that a metal detector can house all the modern features that aid coin shooting from a reputable brand without having to break the bank to buy it. 
Features:
Waterproof 

4 modes of operation

9 segment visual and numerical target ID

Non-volatile memory save settings

Static pinpoint
What we love:
Weighs just 2.3 lbs

The volume can go loud

The comfortable foam handle
We don't like this as much:
Operates on only 2 AA batteries
Sale
Fisher F22 Weatherproof Metal Detector with 9 Inch Weatherproof Coil, All-Purpose, High-Sensitivity, Deep Seeking Metal Detector, Pinpoint, Easy to Use
ALL PURPOSE METAL DETECTOR: Weatherproof metal detector that can detect Jewelry, Coins, and Artifacts on land and shallow water. Finds metal targets on the surface and buried up to nine inches deep.
TREASURE HUNT IN ANY CONDITION: This metal detector is weatherproof for use in the harshest weather and environments. Rain or shine, this metal detector can find treasure.
JUST TURN-ON-AND-GO: A metal detector made for adults but easy enough for a child to operate. Easy-to-use features like discrimination, sensitivity, notch, and pinpoint make finding treasures buried deep underground a breeze.
ACCURATE ALL METAL DETECTORS: This underground detector distinguishes between valuable targets and unwanted metals. Quickly identify all types of buried targets by Target Categories and a 0-99 numeric Target-ID, enhanced with a 4-Tone Audio-ID System.
LIGHTWEIGHT ERGONOMIC & COMFORTABLE: This well-balanced weatherproof metal detector weighs approximately 2 pounds and has a padded hand grip and arm cup for comfortable treasure hunting.
6. Whites TreasurePro
Unfortunately in 2020, Whites announced the suspension of operations after 70 years of making high-quality, innovative metal detectors for the sports market. The good news is that detector titans Garrett announced their acquisition of the company shortly after meaning loyal Whites customers can rest easy knowing they're in good hands.
The TreasurePro is a mid-range, turn-on-and-go metal detector design to take you from intermediate to pro with its ease of operation and slick modern build. Ground balance is an important part of hunting and learning how to use it to your advantage can seem daunting at first. This device boasts a true automatic ground balance feature that adapts to any ground mineral conditions so you don't start in the deep end.
With 5 search modes, 16 segment discrimination, and pinpoint mode, there's a lot of features to play with before getting out in the field. But also if you're a novice who wants to get straight out there, the TreasurePro gives you the simple option.
The large digital interface not only gives you a numeric target ID but also displays your current settings, battery life, and a discrimination graph that looks more modern than most other metal detectors on the market.
Features:
8 audio tones

5 search modes

10" DD search coil

Adjustable discrimination

Pinpoint mode
What we love:
Intuitive modes and settings

High recovery speed

Quality headphones
We don't like this as much:
7. Minelab Equinox 600
If you know metal detectors, you'll already be familiar with the name Minelab. Since 1985 they've been making high-quality metal detectors using the latest innovations and technology for detectorists. If you have the budget and you're serious about finding coins, the Equinox 600 will take you there.
Using its intelligent simultaneous multi-frequency operation, the 600 is extremely adaptable to all environments and conditions. It has three detect modes that will instantly adjust its settings to the terrain you're hunting on. There's park, field, and beach to choose from.
A great feature of this device is its six custom search profiles. These allow you to save your settings for when you've dialed into a regular hunting spot so you don't have to spend valuable time finding them each visit.
The Equinox 600 is fully submersible up to 10 ft so you can get to targets that others will miss. This device also comes with low latency wireless headphones so you don't need to worry about getting any wires wet when hunting in water.
With its large digital display and versatile settings, this well-crafted metal detector is the perfect tool for hunting coins that other detectors may not pick up.
If you're looking for fully submersible devices, check out our full list of the best underwater metal detectors.
Features:
Simultaneous multi-frequency

Fully submersible up to 10 ft

Wireless headphones

6 custom search profiles

Auto/manual ground balance
What we love:
The LCD is very clear

It's lightweight

Batteries are rechargeable through USB
We don't like this as much:
It may take some time learning how to use its features
Sale
Minelab Equinox 600 Metal Detector with EQX 11" Double-D Waterproof Coil
MULTI-IQ TECHNOLOGY: Minelab's revolutionary technology combines the power of multiple detectors into one, allowing you to effectively search all metals, all soils, all the time.
FULLY WATERPROOF: Don't stop at the beach or the bank, this fully submersible model allows you to detect under the surface of oceans, rivers, streams and lakes up to 3m (10 ft).
3 DETECT MODES: Easily select from Park, Field or Beach modes to focus on target types or ground conditions.
ACCURATE TARGET ID: Identify your targets quickly and confidently to efficiently sort between trash and treasure.
CUSTOM SEARCH PROFILES: Enjoy 6 custom Search Profiles and save your favorite 2 settings in each mode.
8. Tacklife MMD02
For our choice for beginners, we have selected the MMD02 from Tacklife. This device offers a more fun approach to metal detecting by using characters to hunt with instead of numeric information displayed on its screen. The three little round happy faces each hold a sign showing what your target is with one dedicated to alerting you of when you've found a coin.
With only three buttons, the interface is very easy to use allowing you to toggle through its three discrimination modes and turn on its backlight. There's also a depth meter and an overload warning sign. The interface is bulky and can get heavy after a few hours in the field. 
The search coil is smaller than most at 7.8-inches but it is waterproof and is ideal for hunting in small patches like the back yard and your pitch on the beach. The MMD02 is aimed at hobbyists who are out for fun and for those who are picking up a metal detector for the first time.
Be sure to check out our full list of metal detectors for beginners
Features:
Discrimination mode

3 tone audio

3 segment graphic depth indicator

Large LED display

7.8" search coil
What we love:
It's fun to use

Doesn't rely on having knowledge of settings

Height can be adjusted for kids
We don't like this as much:
Uncomfortable to hold for long periods of time
FAQs about Metal Detectors for Coins
What makes a metal detector good at finding coins?
Pretty much all metal detectors will be able to locate coin targets, but some are better at it than others. When looking for a device you should be thinking about what environment you'll be hunting in and in what conditions, your budget, and your knowledge of metal detectors. For example, if you've never used a metal detector before you'll find the Equinox 600 confusing and frustrating to use but if you have intermediate knowledge and want to progress, it'll be a worthwhile investment.
What other tools aid in finding coins?
To be successful in finding coins it's helpful to have the right tools to accompany your metal detector. At the very least we recommend taking a shovel and a pinpointer and a pair of work gloves on your hunt.
Have a look at our choices of the best shovels, gloves, and pinpointers to help you find valuable old coins over last year's lost nickels.
To Conclude:
Sometimes the high price tag devices aren't always the best for you. There's no need to spend hundreds of dollars on a metal detector for gold to search for coins when a lower price metal detector can do the job just as well. Choose a metal detector that suits your abilities and needs in a device.
911metallurgist.com is a participant in the Amazon Services LLC Associates Program, an affiliate advertising program designed to provide a means for sites to earn advertising fees by advertising and linking to Amazon.com.