Disclosure: This post contains affiliate links and I may earn a small commission if you purchase through these links.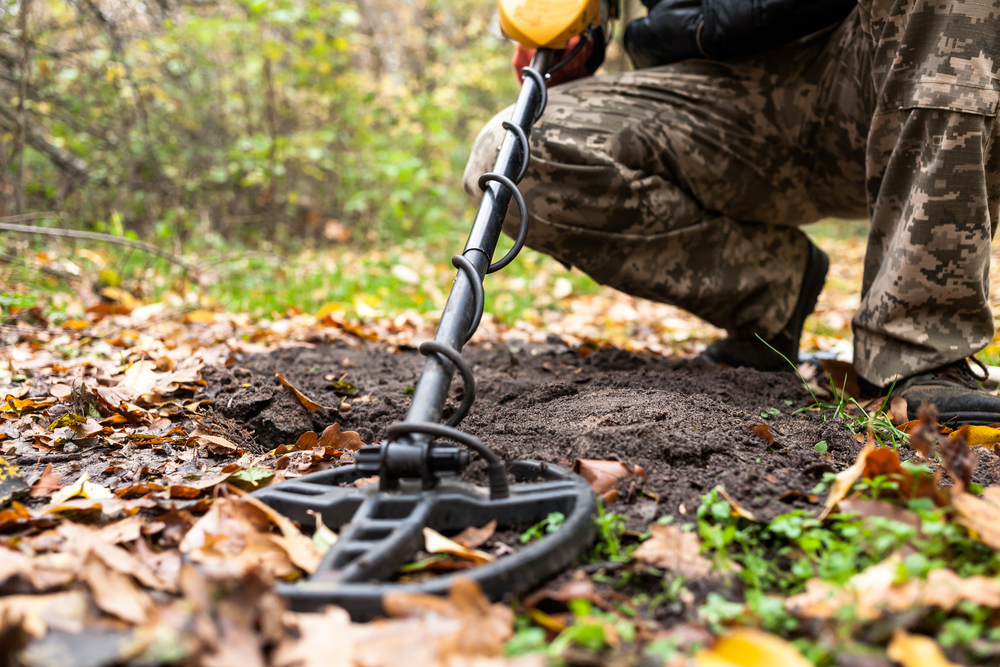 Last updated: 22/01/23 we added FAQ based on and fixed some image issues
The thrill of finding gold is a big rush and can be a highly profitable activity. But locating those shiny nuggets doesn't come easily. Luckily there are many products on the market to aid your exploration. Having the best metal detector for gold can make the difference between striking rich and finding trash.
Not all metal detectors are designed to find gold. The right detector must also measure inductance and conductivity.
Inductance refers to the amount of current produced in the target
Conductivity refers to how easily the currents flow
Before you start, it's best to check the rules and regulations for the area you intend to hunt for gold as some National Parks have different rules which may see you losing your loot. Check this link to see which rules apply: https://geology.com/usgs/gold-prospecting
To find the best selection, we delved into reviews and recommendations from people who have used the detectors and have been successful in finding gold. We then whittled down our selection by looking at different considerations.
Budget
Beginner to advanced
Frequency measurements
Extra features
Many of the detectors are high-end aimed at professional buyers looking for serious amounts of gold. You don't need units like this if you just want to dip your toe in the hobby and you can see that with our list of the best cheap metal detectors and best metal detector for beginners.
What Are The 3 Best Metal Detectors for Gold in 2023?
Pros
Has all you need to look for gold for less than $150
High quality unit for the price
With gold mode you can find nuggets even in mineralized soil and near salt water
Great single frequency and gold capable metal detector
Cons
It's not going to have the same performance but is great for those new to the hobby
Doesn't come with any kit
This unit is an all rounder so gold only performance is better with the Gold Monster 1000 but this is the better unit for more general usage
Won't be close to performance on Minelab but a great unit for the price
Frequency
7.69 kHz Operating Frequency
Multi, 5kHz, 10kHz, 15kHz, 20kHz, 40kHz
7 Best Metal Detectors for Gold In-depth Review
1. Minelab GPZ 7000
If you're serious about finding gold (and we mean super serious) then let us introduce you to Minelab's GPZ 7000. This beast of metal detector will up your prospecting game to the next level. Before you look at the price tag, let's go through some of the features and you will understand why Minelab has priced this device the way they have.
Minelab has coined the GPZ 7000 as 'The Future of Gold Detection' as it uses the ZVT (Zero Voltage Transmission) technology to detect up to 40% deeper than its previous models. It's designed to find larger gold nuggets typically around 100 grams using the powerful sensitivity in its Super-D coil giving you the edge over other prospectors which may have failed in the same locations. This 14-inch coil is also waterproof up to 1m allowing you to hunt in rivers, shorelines, and in wet conditions.
A really cool feature of the GPZ 7000 is its GPS locating and mapping. This allows you to log your gold finds, see where you've already searched, and create your own 'hot spots' all using XChange 2 and Google Maps.
You can use standard wired headphones, but with its in-built Wi-Stream technology, this device can utilize a wireless, low-power digital audio output that gives you high-quality sound with near enough zero lag time. As soon as you get the faintest of signals, you'll hear it.
The digital display has everything you need at the push of a button making the GPZ 7000 simple to set up and a breeze for adjusting settings on the fly.
All in all, if you want to find gold in a multitude of terrains and conditions, this device is the one for you.
Features:
Automatic ground balance

Full color LCD display

(320 x 240 pixels)
USB interface for XChange 2 PC software
Gold Mode (High Yield, General, Extra Deep) Ground Type (Normal, Difficult, Severe)
Li-Ion Rechargeable Battery
What we love:
8 hour battery life on a single charge
Comes with a pack of accessories
Has an easy to follow 6-step beginners setup
We don't like this as much:
There's no depth indication
Sale
Minelab GPZ 7000 Gold Detector
SUPER-D COIL: Specially engineered for deeper detection, you can find nuggets passed over by other detectors.
GROUND BALANCE: Automatically adjust to weed out interference from mineralized ground so you can precisely find more gold.
ENHANCED NOISE IMMUNITY: With 256 integrated noise canceling channels, you experience smooth quiet detecting without distracting interference.
SIMPLE MENU: High tech doesn't need to be complicated. All the detector's functions are intuitively presented for quick mastery.
WIRELESS AUDIO: A WM 12 Wireless Module allows you to freely detect using your favorite headphones, the supplied headphones or the built-in speaker.
2. Minelab SDC 2300
The perfect unit is you don't fancy spending the time to learn all the processes involved with owing something like a GPZ 5000 or 7000.
This metal detector was set with the task of having just one job to do – finding elusive sub-gram gold nuggets both on dry land and water.
This unit is not cheap and is aimed at those who have are likely not new to the hobby but it doesn't require excessive knowledge to get going.
It uses Pulse Induction and Multi-Period Fast and is usable under 10ft of water.
It's fairly portable compared to something like the GPZ 7000 and is smaller enough for carry-on luggage.
As with many of the higher-end Minelab, it's military-grade construction for dealing with tough conditions.
If you are serious about metal detecting for gold, then you will want to at least look at the SDC 2300.
Features:
5.7lbs and folds to 15.7 inches with batteries
Been in production since 2014
Pulse induction with MPF
NiMH rechargeable C cell batteries
Great unit that is even usable by beginners
What we love:
Ground balance is almost a non issue with this detector
EMI resistant compared other Minelab detectors
Great at doing it's one job well
Batteries lasted a good 7 hours
We don't like this as much:
Armrest could be better designed for comfort
Stock options can be limited during busy periods
Minelab SDC 2300 All Terrain Gold Metal Detector with SDC Waterproof Headphones
Compact- Folds to small portable size, 8.5" (216mm) by 15.7" (400mm). Fits into carry-on luggage and most backpacks.
Waterproof Capability- Fully submersible to 10' (3m) for detecting riverbeds and shorelines, allowing you to transition with ease from land to water.
Rugged & Assembly Free- Military grade construction, one piece detector designed to perform in the toughest conditions. No assembly required.
Easy Patch Hunting- Search quickly and efficiently in hard to reach and remote places to find those elusive gold bearing clustered deposits.
MPF (Multi Period Fast) technology- incorporates extremely fast Pulse Induction switching between Transmit (Tx) and Receive (Rx) detector signals. Therefore minimal residual transmit signal is present during the receive cycle, enabling clear sharp detection of very small gold.
3. Minelab Goldmonster 1000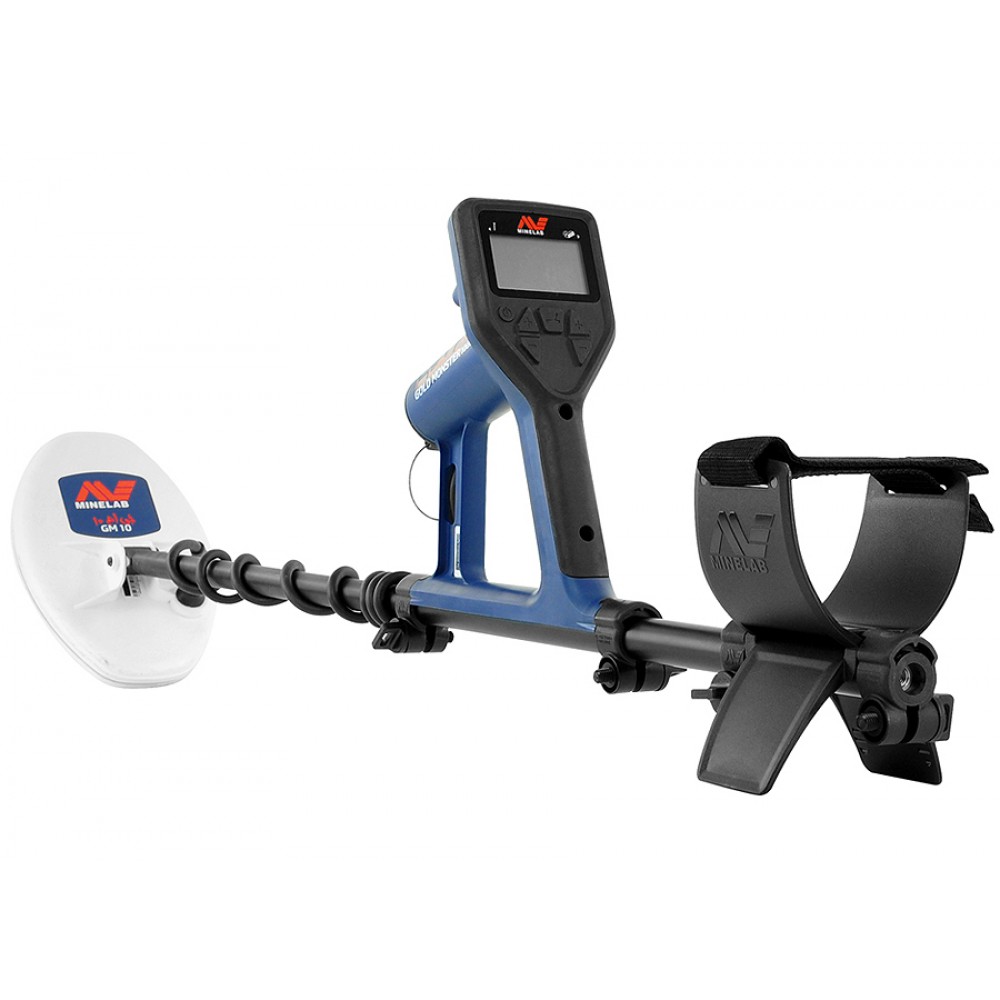 With the Minelab Goldmonster 1000, the clue is in the name. This monster of a metal detector will set you back $899 but for good reason. Minelab is one of the leading companies in metal detection and has a few models made for gold detection on the market.
The Goldmonster 1000 uses an ultra-wide dynamic range of 45kHz VLF which is ideal for locating small nuggets and gold flakes as well as other metals. It features automatic ground tracking so you don't need to adjust it every time you move locations. This unit comes with both a 10 inch elliptical and a 5 inch round DD coil which are both waterproof up to 1m so can adjust to your surroundings with ease.
Its monochrome LED display lets you seamlessly change the detect modes from Deep All-Metal to Gold, adjust the sensitivity or switch to auto, and adjust the volume. It also shows you the strength of the current being received.
This metal detector can be easily collapsed and packed away for ease of travel and comes with a few accessories in the box. As well as the unit itself, you get a pair of headphones, a digging tool, AC charger, and carrier for a replaceable charger.
All in all, the Minelab Goldmonster is a great tool if you're a keen hobbyist and want a metal detector that's easy to use, comes with accessories, and will adjust to different environments.
Features:
Ultra-wide dynamic range 45kHz VLF
Gold Chance Indicator (high/low)
Internal speaker or headphones 3.5mm (1/8″)
Noise cancel
Automatic ground balance
What we love:
It is pretty lightweight
Automatic settings for beginners
Comes with headphones
We don't like this as much:
Minelab Gold Monster 1000 Gold Detector
FULLY AUTOMATIC: The Gold Monster detector does it all for you with automatic noise cancelling, auto-ground balance and automatic sensitivity.
EASY-TO-USE CONTROLS: The touchpad interface provides a gold chance indicator, 3 detection modes, sensitivity options and adjustable volume controls.
ADAPTABLE FORM: The Gold Monster 1000 enables detecting on wide ground and in confined spaces. To fit your height, simply adjust the telescoping shaft.
WATERPROOF COIL: Follow the gold without worry. The Gold Monster 1000 coil is waterproof to 1 m (3 feet) and comes with a rain proof control box.
DISCRIMINATION: Improved ferrous/non-ferrous identification enhances searches in conductive (salty) soils for more precise detection.
4. Garrett AT Gold
Another key name in the metal detector game is Garrett. The AT Gold is designed for those who want a metal detector with multiple features. It retails for around $750 and is ideal for intermediate detectorists who want to immerse themselves further into their hobby.
The great thing about this detector is that it is easily adjustable for different terrains. You can switch between manual and automatic ground balance or take advantage of its special Ground Balance Window. This allows you to spread the ground balance to reduce response to variations in the terrain. Plus it can be submerged up to 10ft if you're willing to get stuck into underwater detection.
The AT Gold display has all the information you need and more. It will show you the depth, mode setting, and battery life, but will also give you a digital target ID. This will tell you what type of metal the target is by giving you a number.
This detector runs on an 18kHz VLF frequency and comes with a 5 inch DD coil. It runs on AA batteries so you'll have to stock up as these can drain on a long day out detecting. In the box, they provide you with a pair of headphones, a waterproof ProPointer, and batteries to get you started.
The AT Gold is for those who want to take their detector to different environments and have the option to detect underwater. It is extremely easy to use and the display makes it plain what your target is most likely to be.
Features:
Fast track ground balance
Adjustable threshold
Ground balance window
Graphic target analyzing
Electronic pinpointing
What we love:
You can fully submerge it in water
They include a pointer
Only weighs 2.8lbs
We don't like this as much:
The headphones are not waterproof
5. Nalanda MD056
The Nalanda MD056 is our choice for those who are looking to expand their gold-finding skills but don't have the budget to go straight for a Minelab. It retails for around $140 so won't break the bank but will aid you in discovering the treasure you'll want to make bank.
This 18kHz high sensitivity VLF metal detector uses its 8.5-inch coil to find small particles of gold in shallow areas. The coil is waterproof but the digital control box is not, so you can't fully submerge it like the Garrett AT Gold.
The digital control box will give you all the information you'll need when out in the field. The backlit LED display will show you which type of metal you've targeted, an indication of depth has an in-built speaker, and will tell you when your batteries are running low.
With five different detection modes to choose from, including pinpoint mode, custom mode, and memory mode. In memory mode, you can select which specific metal you want to target so you're not wasting your time digging up lost cutlery.
In the box, you also get a pair of headphones that you can assign one of four different alarm tones and a multi-function folding shovel to aid you in digging up your new discovery.
With the digital display, different modes to choose from, and pinpoint option, the MD056 is easy to use and takes the stress out of operating if you're not confident in the mechanics of gold detection. That combined with the price tag makes the Nalanda an attractive option for beginners-intermediate detectorists.
Features:
3-speed adjustable volume
5 segment depth level; 2"/4"/6"/8"/10"
Pinpoint precise positioning function
Preset ground balance
Memory mode
What we love:
Adjustable rod
The coil is waterproof
Detailed display for amateurs
We don't like this as much:
It needs six AA batteries
NALANDA 18 kHz Metal Detector with 5 Detection Modes, Outdoor Gold Digger Handheld Metal Finder with Adjustable Sensitivity Waterproof Search Coil LCD Display (Included Foldable Shovel and Headphone)
【18 kHz High Frequency / 10'' Waterproof Search Coil / metals discrimination 9 kinds 】With Automatically Ground Balancing and adjustable sensitivity, this 18kHz high-sensitivity detector easily and accurately locates even the tiniest pieces of gold. The 10'' waterproof search coil will detect 9 kinds of metals including Gold, silver, copper, coins, artifacts, jewelry, etc. in no matter beach, shallow cave, rivers where a lot of gold is located.
【5 Detecting Modes includes Discriminate Mode(Disc) etc.】①All METAL - the metal detector notifies you whenever it sees any metal. ②Disc mode - you can utilize this metal detector to discriminate other types of metal for a specific one. ③MEMORY - remember some kind of metals you choose, and it will only respond to this metal. ④CUSTOM – be free to choose the combination of metals that do not need to be detected.⑤PINPOINT - This mode aids in the detection of metals.
【75 * 55mm LCD display / 4-Discrimination mode Tones】The LCD display, showing possible metal type, target depth, sensitivity level, battery level, volume (3 levels adjustable), backlit cursor and target ID display. Low power - a red light will be displayed to remind you to replace the battery (Please note: the control box is not waterproof). The sound discrimination system will sound four frequency tones to help you discriminate the targets.
【Length-Adjustable 44'' to 54'' / Coins Depth Indication 2'',4'',6'',10''】The Nalanda detector is detachable and length-adjustable, suitable for adults and also children. Earphone included in the Package can help to find target metal easily. 18kHz high-sensitivity also make our detector grade up the depth indication to 10''. 5 Sensitivity Levels to have a deeper indication(2〞,4〞,6〞, 8〞and 10+) of target metal.
【12-months Warranty / with Full Accessories】What you will get: 1x metal detector, 1 multi-function foldable shovel, 1 x headphone, 1 x professional manual. 12-months warranty. *Any of the technical issues, please feel free to contact us to get a satisfactory solution.* Now start your treasure hunting with just 1x9V battery (not included) for up to 40 hours.
6. Bounty Hunter TK4 Tracker IV
Bounty Hunter is known for their entry-level metal detectors perfect for new enthusiasts and hobbyists. The Tracker IV is a great addition to their range. There's no fancy gadgetry, digital display, or knobs galore on this product. It is designed to be as straightforward as possible. This is why we've chosen it as the best metal detector for beginners.
It is only a 6.7kHz VLF detector so keep in mind that it will only find the gold that is on, or pretty close to the surface. It is also a motion metal detector which means it has to be moving to detect metal. Simply holding it over a target won't trigger a signal.
The control box is the most simplistic on our list. There's a target indicator dial, headphone input, sensitivity knob, discrimination notch knob, and a discrimination tone switch. That's it. The lack of features makes the Tracker IV easy to operate with no complicated buttons or displays.
It retails at around $85. For that low price, you sacrifice any of the box candy you get with our other picks. No alternate coils, multi-tools, or headphones which you should invest in as there's no volume control on this model.
There are three search modes included in this device, All-Metal, Tone, and Full Discriminate so you can adapt to different environments. A major demerit to the Bounty Hunter is that you can't adjust the ground balance. This will seriously limit the number of different terrains you'll be able to use it on.
Overall, the Tracker IV is an ideal introduction to the world of metal detection. It's the price point, minimal features, and build quality make for a quick learning curve to give you a taste of treasure hunting.
Features:
8-inch waterproof coil
3 operation modes
Built-in speaker
Low battery indicator
Analog meter
What we love:
Two-tone audio mode for discerning trash signals
Batteries can last up to 30 hours
Ready to use straight out the box
We don't like this as much:
No ground balance adjustment
Sale
Bounty Hunter TK4 Tracker IV Metal Detector, 8-inch Waterproof Coil Detects, Black
Rugged metal detector ideal for detecting treasure in extreme ground conditions
Motion All-Metal mode, Discrimination mode, and 2-Tone audio mode
Preset ground balance neutralizes response to mineral content in the ground
Disc/notch control distinguishes between targets and unwanted metals
Rugged metal detector ideal for detecting treasure in extreme ground conditions
7. Fisher Gold Bug-2
At a whopping 71kHz, the Gold Bug 2 from Fisher is one of the highest frequency detectors under $1000. It is designed with extreme sensitivity to the smallest gold nuggets over a multitude of terrains.
This model is built for one job, detecting gold. It doesn't come with a fancy digital display, automatic ground control, or pre-sets. The analog control box has three dials, two switches, and a headphone input.
A beginner may feel a little out of their depth with the Gold Bug 2 but for detectorists who don't need high-tech buttons and meters, and know-how ground control works this model could be ideal. It comes with a 6.5-inch elliptical coil that comes in handy when navigating through rocky landscapes.
It has three operating modes including an audio boost and iron discrimination mode which will reject any targets made of iron. We would recommend using it with headphones because of the sensitivity in its iron discrimination mode, you may not hear the faint changes in frequencies if you're searching in a loud environment like next to a river.
A downside for some is that the coils are waterproof but the control box isn't so you can't submerge it if you want to search a deep riverbed.
With a price tag of just under $700, this model is designed for those who are on a mission and know how to find gold. The fine adjustments you can make to the ground control means you can take this detector anywhere and make it work for you. If you're serious about finding gold, you should really consider the Gold Bug 2.
Features:
Ultra-high 71kHz frequency
High precision dual control ground balance
Deep target audio boost
3 operating modes
Built-in speaker
What we love:
Made in the USA
Only needs two 9V batteries
Simplistic control box
We don't like this as much:
You should also take a look at what we think are the best magnet fishing kits as of 2022 – you can still find treasures without the need of a metal detector.
Sale
Fisher Gold Bug-2 Metal Detector with 10" Coil, 6.5" Coil by Fisher Labs
Powerful 71 kHz Operation for extreme sensitivity to small gold nuggets
'IRON DISC'' mode rejects iron (trash) targets and hot rocks.
Both 6.5 inch and 10 inch coils included.
Only 2.9 pounds and convertible to hip mount or chest mount
Dual-knob ground control for coarse and fine adjustment.
FAQ About Gold Metal Detectors
What is the best metal detector for gold?
If you aren't concerned about budgeting, then the Minelab GPZ 7000 Gold Detector is your best bet. It is a high-end model for serious users rather than hobbyists. Even so, this still has helpful tools for beginners considering the easy-to-read and navigate LCD screen in full color as well as the 6-step beginner's setup process.
This detector offers deeper detection, tracking large gold nuggets that some other models may have missed. Also, the Minelab GPZ 7000 comes with cool extra features like GPS mapping and location so you can keep track of your finds. This works with numerous terrains too so you can take it anywhere whether on land or in water, freeing you to take your gold hunting as far out as you'd like.
How deep can a metal detector detect gold?
Generally, metal detectors don't have a standard maximum detection depth. Instead, it largely depends on the individual unit. Some that work to detect gold can reach around 15in. or so. However, there are many gold detectors that offer far greater detection depths than that.
There are factors that contribute to how deep a metal detector can detect though. For instance, the soil plays a large role. Detecting in soil with a high mineral count is tough. Size matters plenty here too. The smaller a gold flake or nugget is, the more difficult it is to detect.
Also, coil and frequency on the metal detector is vital. Higher frequencies penetrate deeper while larger coils can reach deeper into the soil. Consider an all-terrain detector to search in various conditions without issue.
Is there gold in every river?
This might surprise some of you, but gold indeed exists in every river around the world. A lot of it exists on such a microscopic level that you can just see it at a glance. Because of this, it's truly not worth exploring every river and hoping to come across some gold, making panning or using a gold detector useless in these cases.
So, why does every river have gold? Well, it's because they've all flowed throughout gold-bearing grounds. Rivers easily pick up gold through exposed and eroded gold veins from the ground, transporting the gold further and further away.
If you want to check a river, remember that gold is more commonly found in quartz. Quartz can be located around riverbeds, so it's worth checking those areas out whether you are panning or using a top-rated gold detector.
What frequency is best for gold detection?
If you want to detect gold, even gold that's hiding deep beneath the soil or water, then you need a higher frequency. Thanks to gold having a low conductivity, you need something penetrating to find them. This is even truer with those smaller pieces.
So, what frequency works best? Consider looking for a detector with at least 14kHz. Higher is better, of course, as there are gold detectors with 18kHz.
Remember though that the frequency is only a part of the overall picture. You still need to pair that with other strong elements like a large coil. Also keep in mind the terrain as that can make things either more difficult or easier.
How deep can a metal detector find gold?
The depths that a metal detector can go to find gold varies. There are some metal detectors intended to reach around 18in. underground, while others boast going over 50in. So, when shopping around for a metal detector, keep an eye out on its length so you know just how much you can investigate.
Another thing worth remembering is that there many detectors that are waterproof. In this case, how deep they can go when submerged further varies and may be completely different than how deep they can find gold on land.
Furthermore, gold nuggets are typically not discovered too deep. Much of it is hidden about 1ft or so underground. The most time you'll spend is actually tracking the location of said gold.
Do gold detectors really work?
Gold detectors are useful if it's only gold you want to find. They are typically designed with discrimination to weed out other metals so you aren't sent off on a chase for things other than gold. The filtering process is more than useful in this case.
Additionally, the gold detectors are also made to cancel out mineralization. By doing so, you are ensuring that you can search in a variety of terrains and locate gold that you may have otherwise not notice without that mineralization process.
This is wonderful since gold detectors can be found closer to the surface or a couple of feet deep.
How much is a gold detector?
Like with metal detectors, the price of a gold detector varies widely. You can find some models under $200. However, those are the more budget-friendly options and typically work out well for beginners or simple hobbyists.
At the same time, there are gold detectors that will easily scale $2,000 and more. These are, of course, high-end models. They also have numerous features that can help increase the price range even more. Some provide a full-color LCD screen to keep track of things. Frequency seems to add things to the cost as well.
How much you are willing to spend is what matters the most. If you want to feel like a pro, then it's worth it to invest in a new gold detector with all the extra features.
Is there a difference between gold detector and metal detector?
Yes, there is a difference between a standard metal detector and a gold detector for gold.
For one thing, a metal detector does as the job implies. It can help you find numerous items and not just gold. Some metal detectors are designed to handle that though, offering a different mode you can switch in to track some gold.
As for a gold detector, it's also obvious what it does: track gold. There may be differences into frequency, how it works in various terrains, etc.
If you want to be able to track more than gold, then finding a reliable metal detector is the way to go. Otherwise, you'll find with sticking with a gold detector if you know that's all you're interested in finding one.
Related Kit Worth Checking Out: Men's Work Socks, 8 Best Knee Pads for Work and 10 Best Waterproof Work Boots