Disclosure: This post contains affiliate links and I may earn a small commission if you purchase through these links.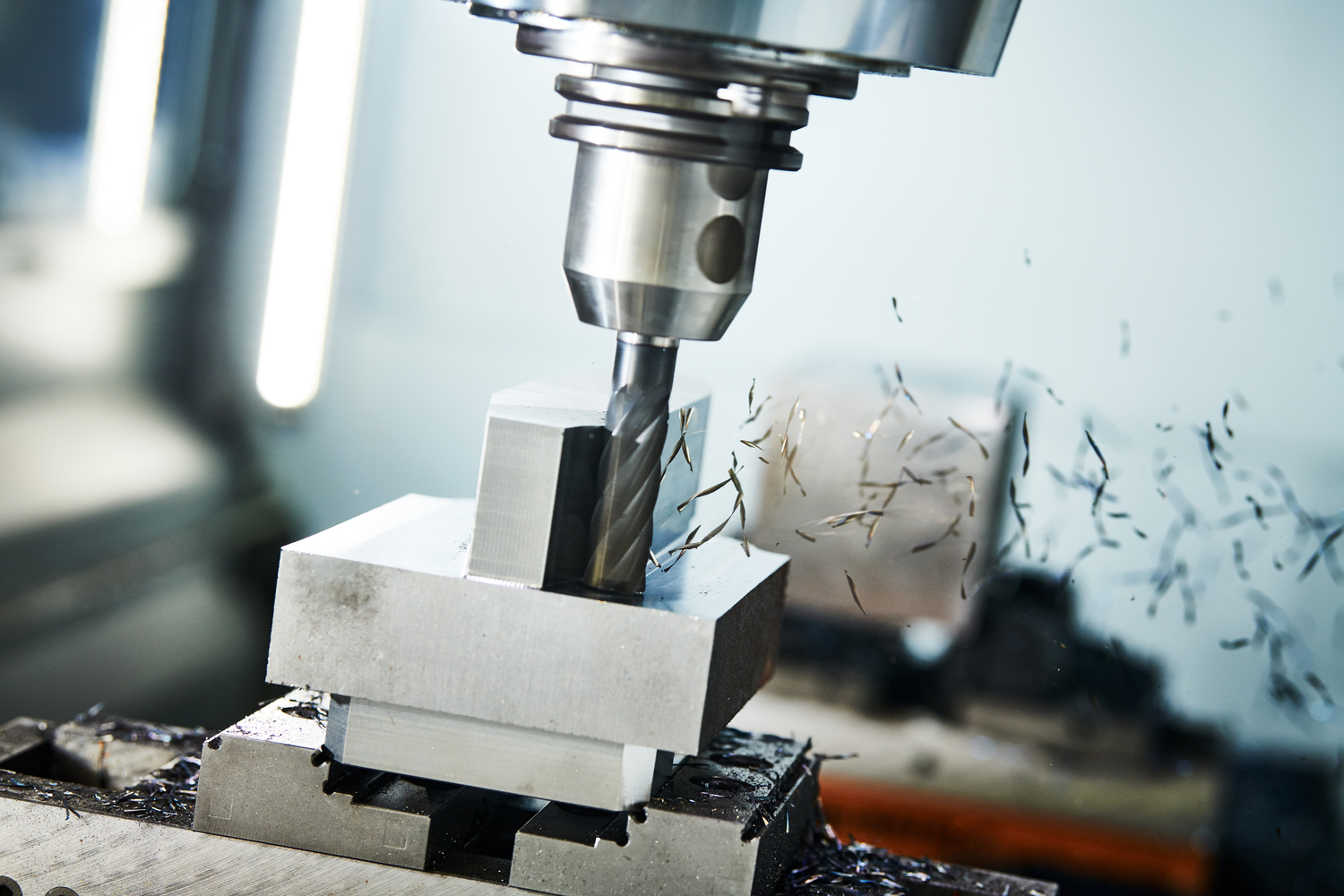 If you have a home shop, investing in a milling machine will improve and enhance your store. A milling machine holds the material in a stationary position via a clamp. Rotary tools then shape the material into any shape you like. The only limit is your creativity. 
These versatile tools often make flat surfaces by shaping items and removing metals and other materials. Yet they can also make irregular surfaces, drill, bore, produce slots, and can create flutes in a drill. 
If you are in the manufacturing industry, you know the importance of a good milling machine. These machines are common in assembly lines and tool and die shops. Almost every industry requires a milling machine from the automotive industry to the science labs and many others. You can use them to produce parts with more precision than the standard 3D printer.
As with using any other type of machinery, it's essential to take safety precautions when operating a milling machine. Wearing safety glasses and hearing protection can help ensure your well-being. We even analyzed the best knee pads for work so be sure also to check out that list.
When picking out our top milling machines for your home shop, we considered elements such as:
Design – You can shop for a vertical or a horizontal machine, depending on the direction in which the blades and other cutting tools work on the material.
Features – A good machine should offer features, such as digital readouts, cast-iron construction, 3- or 4-axis movements, high-speed spindles, head tilt, and heavy-duty horsepower to handle different tasks effectively.
Precision – If you want ultimate precision, pick a CNC mill that uses computer numerical programming to program operations. Although such mills will be more expensive, they are worth the cost.
Size – Milling machines can handle large industrial-sized pieces, such as engine blocks and parts for aeronautic technology, and you can have others that create small tools. If you want a mill that creates the largest pieces, go for industry-sized mills. The mini machines are small and typically used on a benchtop. Some micro-mills work on jewelry and small smartphone components.
Tooling and Accessories – You want to buy a mill whose tools and accessories are readily available in the local market. Perform enough research on tools and accessories.
To ensure we found the best machines for you, we sourced legitimate consumer reviews from people who have bought these milling machines. All fake reports were removed to guarantee complete authenticity. We also tapped into our community of worldwide metallurgists who regularly use milling machines as part of their professional activity. Grizzly stood out as one of the best brands in the hobbyists/workshop space and is one of the milling machines we recommend for most people as of 2022.
The 4 Best Milling Machines available in 2023:
Milling Machine
Decent option for beginners
Pros
Lots of options for extra features
Great option for beginners at low initial price with big upgrades available
Industrial level quality for the home
Cons
There are more powerful milling machines out there
Initial investment is high
Be wary of damage on delivery
Best for Small Workshops
Pros
Lots of options for extra features
Cons
There are more powerful milling machines out there
Decent option for beginners
Pros
Great option for beginners at low initial price with big upgrades available
Cons
Initial investment is high
Best Overall
Pros
Industrial level quality for the home
Cons
Be wary of damage on delivery
If you are looking for a milling machine for small parts and tools, the Grizzly G8689 Mini Milling Machine will meet your needs. The 3/4-hp machine comes loaded with several advanced features to handle different milling tasks up to a 1/2-inch drilling, 1/2-inch end mills, and 1-inch facing. The small mill sets up on your bench easily and securely, allowing you to precisely control the cuts. Even better, its variable speed control and its gear drives ensure that you can mill with no hassle at all.
For efficiency of operation, the machine offers a safety shut-off switch to protect you while you mill. Further, you get an adjustable depth stop control through which you can set the machine for precision cuts. Even better, you get a fine feed head control for when you are working on small parts and tools. All the knobs and controls are easy to set up to get you started. Features, such as zero setting dials and adjustable dovetail ways ensure that you have the best setup to get the right cuts.
Although this is a mini milling machine, you can use it to create small engine heads for motorcycles with no problem. However, most people use this for small tools and parts, such as for gunsmithing. It is powerful enough to mill hardened steels, thanks to the heavy-duty cutting tools.
Notable Features
• Motor: 350W
• Head travel: 7-1/2-inches
• 3/4 Horsepower
• Table travel: 7-5/16-inch longitudinal and 4-inch cross
• Safety shut-off switch
What we love:
• The tool is able to work on hardened steel and other tough materials
• You can use it to make a variety of parts, such as small engines with great precision
• Repair parts are readily available online
• The mini milling machine is easy to set up with easy-to-use controls
We don't like this as much:
• Climb milling is not effective and you have to only use the standard cut

Grizzly Industrial G8689-4" x 16" Mini Milling Machine
Now here is a Mini Milling Machine that has more features than some Mill/Drills and is affordable for everyone. This little brute will handle any kind
No belt changes necessary! The variable speed control and gear drive saves you time and hassle—Truly a remarkable machine
Features: • Dovetail column • Safety shut off switch • Adjustable depth stop • Fine feed head control • Geared drive • Clear guard on spindle • Rubber
This mill drill is lightweight and easy to move around your workspace. It offers a simple belt-driven drill, but with the abilities of a larger milling machine's table for precision cuts. Its light construction ensures that people with a small workshop can move this device as much as they want. To make it strong and effective, the mill sports a one-piece cast iron column that offers the support needed.
Like all other JET machines, the 350017/JMD-15 is tested to ensure high standards of operation and to ensure it delivers consistent quality. With more than 750 service centers in the U.S., you are assured that you will have the parts and the service you need from experienced technicians. Its 1 HP motor is powerful enough to work on hardened steel and other tough materials to create the parts you need. You can adjust the speed of the machine from a meager 110 RPM all the way to 2,580 RPM, depending on the materials you are working on and the precision you need for the finished product.
During use, the model offers a positive quick-stop knob, giving the user the control they need for any work. Further, you will have access to an easy-to-read depth gauge to enable you to make the necessary adjustments and belt cover and belt adjustment features.
Notable Features
• 1 HP motor
• Table travel: 14 inches longitudinal and 1-1/2 inches cross
• RPM: 110 – 2,850
• 1/2-inch drill chuck
• Worklamp
What we love:
• The unit comes with a worklamp so that you can use it in dimly lit areas
• Powerful motor to work on tough metals and other materials
• Makes precision cuts with several settings to make your work easier
• Made of high-quality one-piece cast iron column
We don't like this as much:
• Changing the table height takes time as you have to re-center the head, which rotates during the process

The Grizzly G0704 Drill Mill is a mini milling machine designed with several features in common with larger milling machines. It features a 1-hp motor designed to work on tough metal in your workshop. You can use it to create small tools and parts, but with the right setting, the machine can work on complex parts, such as small engines. The unit comes with its stand, so you never have to mount it on a table. Whether you are starting out as an engineer, or you are already established, this will be a great addition to your machine collection.
It allows great control for users with features, such as fine feed head control, a clear guard on a spindle, and a two-speed gearbox. Once you have the right settings and with the 90-degree head tilt, you can work on intricate and complex shapes with ease.
Notable Features
• 1 HP single-phase motor
• 15-inch swing
• 11-inch head travel and 2-inch spindle travel
• 18-7/8-inch longitudinal table travel and 6-7/8-inch cross travel
What we love:
• Works on hardened mill steel without any deflection
• Features its own table with a storage where you can keep your tools
• Made of strong material to withstand the stresses of everyday use
• Several adjustments and settings to get the machine started
We don't like this as much:
• The machine does not offer an adjustable quill stop

Grizzly G0704 Drill Mill with Stand
Item may ship in more than one box and may arrive separately
This great little machine sports some of the same features found on much larger mill/drills: dovetail column variable speed 1 HP motor R-8 spindle
2A single-phase Spindle taper: R-8 Spindle travel: 2-Inch T-slots: 3 @ 2-1/2-Inch centers 1/2-Inch wide
Distance spindle to table: 13-Inch Swing: 15-Inch Table travel: 18-7/8-Inch Table travel : 6-7/8-Inch
This small drill mill is a powerhouse for when you need small tools or small parts. It sports a powerful 600W DC motor with a high-torque output to drill hardened mill steel. Even better, you can adjust the speed from 50 to 1000 on low RPM and from 120 to 2000 on high RPM. These two speed ranges on the general drive allow you to work on different materials with great precision. Besides adjusting the speed, the unit offers several other features, such as adjustable depth stop, fine feed head control, and 45-degree head tilt to set up your milling machine, depending on what you are working on.
The small and light construction of the unit allows each benchtop setup for small workshops. Whether you want to work on small parts for guns, or you want to work on small engine blocks for motorcycles, the unit has you covered.
Notable Features
• 7-1/16 inches head travel
• 600W motor, 3/4-HP motor
• 45-degree L/R head tilt
• 12-3/4 inches swing
• 11-13/16 inches longitudinal and 5-1/8 inches cross table travel
What we love:
• Operates with minimal noise, allowing you to concentrate
• The spindle reverse is effective with variable speed for more efficiency
• You can easily switch the machine from a drill press to a mill within no time
• Well-built mill for durability and stability during use
We don't like this as much:
• It vibrates relatively more during use

Grizzly G0781 3/4 hp Mill/Drill, 4 x 18"
Introducing the newest member of the Grizzly Mill/Drill lineup
This product is easy to use easy to install and highly durable
Safety shut-off button, Adjustable depth stop, Fine downfeed control
Here are the other milling machines we evaluated:
If you are planning to use a milling machine for jewelry, optics, electronics, model-making, or other precision projects, then this is the one for you! The base is cast iron, and the compound table and vertical column are made of treated aluminum.
The 24 pole-balanced motor is safely housed in die-cast aluminum. Even when you use it at the highest speed, it remains stable. This milling machine weighs 15 ½ pounds, and the axes have adjustable slides which are play-free. It comes with six triple-slit hardened steel collets at 1/23, 1/16, 5/64, 3/32, 1/8, 7/64 inches. The table has three T-slots with an adjustable scale that makes the positioning of the workpiece easy. The handwheels operate at one revolution that is 3/64 inches and one division of .002 inches.
You will find it is best for cutting softer metals, hard plastic, nylon, acrylic, or wood for models. This exceptional machine combines the utility of a hand-held rotary saw with the higher precision you get from a milling machine and is safer to use.
Technology:
Operates between 5,000 to 20,000 RPM
The table size is 7 7/8 x 2 ¾ inches
The vertical travel is 2 ¾ inches
The footprint is 5 7/64 x 8 55/64 inches
Maximum power is 1/8 hp, at 110V
What we love:
Ideal for small jobs and a beginner learning how to use a milling machine
It's small enough to be stored away when not in use
We don't like this as much:
The spindle runout is about .002 inches, which means it's difficult to cut harder metal at lower speeds. It is mainly recommended for softer metals
PROXXON MICRO Mill MF 70, 37110
Small and beautiful - the accurate mill for lab, optician, jewelry, electronic and model building projects
Supplied with a stable base of cast iron, vertical column and compound table are of treated, high quality aluminum
All axes are play-free and have adjustable slides, headstock, made of die-cast aluminum
Balanced special motor and provides stability even at high operating speeds
Scope of delivery: 1x PROXXON MICRO Mill MF 70 including MICROMOT steel collet set and stepped clamp blocks of steel. Part number: 37110
This is a single-phase milling machine with a 13-inch swing tool. It is suitable for creating flat surfaces, angled edges, straight holes, surface contours, pockets, slots, and more, which makes it an extremely useful tool for all your DIY and crafting needs.
WEN is compatible with a wide variety of cutters, bits, and mills, providing a 5/8-inch end mill capacity, a 1/2 -inch drilling capacity, and a 1 1/8-inch face capacity. The bevel head can travel left or right. The low speed operates at 100 – 1,100 RPM and the high speed operates at 100 – 2,500 RPM. The dimensions are 23 ¼ x 22 x 29 ½ inches and the footprint is 8 ½ x 15 inches. You can move the item 11 13/16 inches along the X-axis and 5 1/8 inches along the Y-axis and 7 inches along the Z-axis. To maintain complete accuracy, there are tooled ruler markings for your convenience.
The base has bolt holes to anchor the machine to a worktable for stability. The weight is 130.1 pounds, which is heavy enough to minimize vibrations. This is a fantastic milling machine for a hobbyist and will cut a wide range of materials, including aluminum, acrylic, and soft metals.
Technology:
An R8 spindle taper
A Pre-installed 1/32 – ½ inch drill chuck
Handwheels for fine-tuning
4.5 Amp motor
A two-speed gearbox with a load-sensing capability
What we love:
It has a rubber sheet that covers from the table to the column that catches chips and makes clean-up quicker
It includes a transparent shield that combines with the emergency stop feature for maximum safety
We don't like this as much:
It would be helpful if the torque capacity were a little higher, so it doesn't trip off when using larger cutters
WEN 33013 4.5A Variable Speed Single Phase Compact Benchtop Milling Machine with R8 Taper
Variable speed goes anywhere from 100 to 1,100 RPM on the low setting and 100 to 2,500 RPM on the high setting
18-1/8 x 4-3/4 inch table travels 11-13/16 inches along the X-axis and 5-1/8 inches along the Y-axis
Bevel the head and column 45 degrees in either direction for angled cuts in metal, wood, plastic and more
Compact cast iron design measures in at 23-1/4 by 22 by 29-1/2 inches in size with an 8-1/2 by 15 inch foot print
Includes an R8 spindle taper, a pre-installed drill chuck (1/32 to 1/2 inch), fine-tune adjustment hand wheels, a transparent chuck guard, an emergency stop button, onboard measurement indicators, a 13-inch swing, two M10-1.5 T-nuts, 12mm T-slots, and a two-year warranty
This mini milling cutter is designed for hobbyists, especially students, handling smaller metalworking and woodworking tasks with ease. The major components are all metal, including the spindle, pedestal, tailstock, slider, connection piece, motor blades, and gears. This milling machine weighs 7.71 pounds, so it is not too heavy to carry when you want to change the place you are working or store it away. The dimensions are 9.8 x 9.8 x 5.9 inches. The clamping dimensions are from one to six millimeters with a vice clamp size of 1.1-inch.
The SUNWIN machine is made of carbon steel, aluminum, and acrylonitrile butadiene styrene (ABS), a common CNC machining material with different properties and melting temperatures according to the different proportions of the three ingredients.
The unit is capable of milling small bits of steel as long as you use the right tooling, feed, and speed. High-speed steel (HSS) is the best for soft materials such as resin, general steel, aluminum, and brass. For titanium and high-carbon steel, you will need a cemented carbide or carbide tooling. The mill is completely assembled and doesn't require additional special tools to be purchased.
Technology:
Operates at 20,000 RPM
The support power is 12 VDC/2A/24W Ac/Dc
The headstock speed is 2,000 RPM
The slide travel is 1.37 to 1.77 inches
The vice capacity is .98 x 1.37 inches
What we love:
This milling machine is easily transportable from shelf to workbench thanks to its lightweight design
Certified for safety by Underwriters Laboratories (UL), a world leader in testing product safety and certification
We don't like this as much:
This machine most effectively handles smaller tasks and may struggle with larger projects
This mini milling machine is best suited for light work such as that which hobbyists may undertake. It is specially designed for slow feed rates, light feeds, and tolerances, which makes it one of the best for jewelry, electronics, and optical projects. The base is fully cast iron and operates very smoothly without vibration.
Customers are happy to know that the machine extracts, transforms, and loads (ETL) listed, which means it has been tested by Intertek and determined to comply with the accepted national standards. ETL is useful when you need to copy data from one or more sources and transfer it to a destination system that presents the data in a different way or context than it appears in the source. This makes it possible for different kinds of data input to work together. If you have multiple projects that need to mill a wide variety of materials, ETL will help you keep track of it and present you with the best option for each task.
The dimensions of the machine are 20 ½ x 20 1/6 x 29 15/16 inches and the worktable is 3 5/8 x 15 3/8 inches. The drilling capacity is ½ inch, the face mill capacity is 1 3/16 inch, and the end mill capacity is 5/8 inch. One added benefit is that you can find many upgrades for this milling machine. This is very helpful as you get used to the way it works and would like to increase its capabilities.
Technology:
Operates between 100 – 2,500 RPM
Features a ½ horsepower engine
The power input operates at 110V, requiring 5 amps
It has a two-speed gearbox that delivers 350-watt power
The column and milling head tilt 45-degrees to the left or right
What we love:
This machine has excellent down feed control for accurate tool height setting
It has an R8 spindle and drawbar. This means it is suitable for 1/8-inch, 3/16-inch, 1/4-inch 3/8-inch 5/16-inch, 9/16-inch ½ inch, and 5/8-inch R8 collets
We don't like this as much:
The base needs to be bolted or otherwise secured to the workbench. It does not come with a stand
Frequently Asked Questions:
What is the difference between a lathe and a milling machine?
Lathes carve a material by rotating it against a single-blade cutting tool. On the other hand, the milling machines rotate their multi-blade cutting tools against a workpiece held in place on a vise. The cutting tool in a lathe only has a single blade, while on a milling machine the cutting tool has multiple blades or tools.
What is milling?
Milling is a technique that uses a machine tool to shape an item, remove metal and other materials to make a smooth surface. It is mainly used in the automotive and aerospace industries for creating custom parts. The cutting tool can be moved in all three dimensions to produce the exact shape needed. Smaller milling machines that sit on a workbench are also used in home workshops. The two major classes of milling are face milling and peripheral milling.
The most common materials milled are aluminum, brass, silver, copper, acrylic, carbon fiber, and hard plastic, however, there are many more possibilities. When you purchase a milling machine for your home, you need to make sure the cutting edges will work on the material you want to mill. Some home cutters will not work on hard metals.
The item being milled is held to the workplace with clamps and brought into contact with the cutting tool that is rotating at high speed. When they meet, some material is removed from the item. There are several different kinds of cutting tools used for different materials. The feed rate is the speed that the item is pushed through the cutter. Some smaller cutters are designed for hobbyists and require a slow feed time.
What are the purposes of milling?
Milling is used for numerous objectives in-home workshops and industry. These purposes include but are not limited to creating:
Flat surfaces in horizontal, vertical, or inclined planes
Ribs or slots of several sections
Surfaces of revolution
Flutes in a drill
Thread milling for various size screws
Teeth in gears, worm wheels, or sprockets
Specific features such as flutes, grooves, drills, hobs, and taps
The most common uses are to create three different types of holes:
Round slotted holes start with a drilled hole in which the mill blades are inserted and widen the hole so the radii of the diameter of the ends are the same as the width of the hole.
Large round holes cannot be drilled because drills have limited torque. These large holes usually begin with a drilled hole that is as wide as possible. The mill cutter is then advanced into the hole to enlarge it to the required diameter.
Rectangular holes that need a specific corner radius with four straight sides. It may require two size mills. One for making the original hole and a smaller one for making the squared corners to the required radius
What Does a Milling Machine Do?
A milling machine carves material to create parts for different manufacturing needs. The machine utilizes cutting tools, such as rotating blades, abrasives, and drills to create the perfect carve. Most modern tools sport top-quality cast iron to ensure longevity when used in a busy assembly line.
Again, the modern machines allow you to vary the engine's speed, offer various cutting tools, and offer different power feeds. These machines are ideal in a host of projects from metalwork to woodwork projects. During use, the milling machine holds in position the material to be carved in its vise. Once the material is secure, the cutting tool moves horizontally or vertically.
A milling machine comes in handy in different industries to create different products, including:
• Electronic appliances, such as smartphone parts
• Medical appliances and parts, such as prosthetics
• Automotive parts, such as piston rods, flywheels, engine blocks, and cylinders among others
• Energy industry components, such as heat pumps and gears among others
• Agricultural machines parts, such as gearbox casings, transmission housings, and more
• Military equipment, including body protection, cocking handles, and sights for firearms
• Aeronautic technology parts, such as fuel bodies and hydraulic manifolds
The milling machine can use metal materials, wood, and plastics.
Why Use a Milling Machine?
The milling machine comes in handy when you need to produce complex parts that a 3D printer may not create with precision. There are several advantages to using these machines, as follows:
• The machines are large, allowing you to create large arts, such as engine blocks without any damage to the mill
• Engineers have flexible computer control options on how they cut using the machine
• Every cut is accurate as long as the commands sent to the machine are accurate
• You can customize the machine as you want
• Most machines offer different cutters, and you can make multiple cuts at the same time
• You can use the machine to create complex shapes with minimal chance of human error
• Milling machines offer great precision when finishing the work
What are the limitations of a milling machine?
Making tools using milling machines is more expensive than other processes, such as 3D printing. Again, you cannot use the milling process for mass production. Machines can work on complex parts, but they are more expensive compared to processes such as 3D printing. Another limitation is that changing the machine speed takes time.
To Conclude:
Unlike lathes, which rotate the piece being lathed, milling machines keep the item held firmly with a clamp or vice. With a wide variety of milling machines available, including c-frame, column, horizontal tracer controlled, turret, CNC, bed type, and planer-style, you should identify your specific task and what materials you will be working with. For example, with CNC machines, you have less waste material milling wood, flawless repeatability, increased production capacity, and easier operation.
Some are recommended only for industrial use, for example, the c-frame is very powerful with a hydraulic motor and best for industrial settings. While the forms are different, the core purpose of each milling machine is essentially along the same lines. We hope that the above list has given you a detailed look into a range of milling machines for your home shop and there is one that serves your needs.
If you are looking for some quick recommendations, why not check out our picks for the best budget, mid-range, and high end milling machines below. Happy milling!
Related other buying guides: Best Metal Lathe and Best Portable Home Air Compressor and best bench Vise and CNC Plasma Table
Budget – SUNWIN Metal Mini Milling Machine
Mid-range – Klutch Mini Milling Machine
High End – WEN 33013 4.5A Variable Speed Single Phase Compact Benchtop Milling Machine
911metallurgist.com is a participant in the Amazon Services LLC Associates Program, an affiliate advertising program designed to provide a means for sites to earn advertising fees by advertising and linking to Amazon.com.