Disclosure: This post contains affiliate links and I may earn a small commission if you purchase through these links.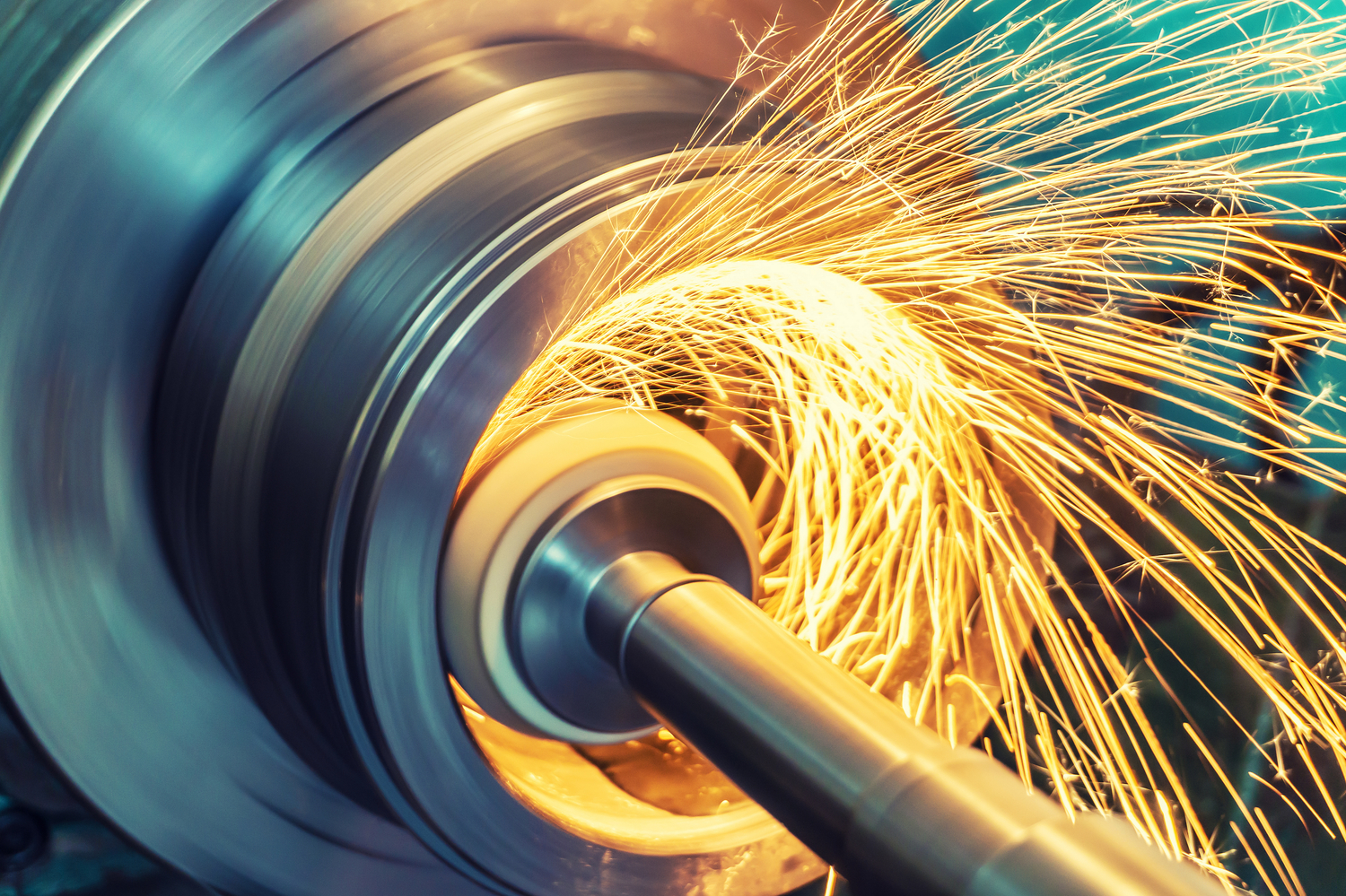 There are endless possibilities as to what you can make with a mini metal lathe. One minute you can be shaping metal into jewelry, then the next you're making a metal box to keep that jewelry safe.
Standard features include a cutting tool that cuts or removes the metal, and an apron. This is part of the carriage assembly and mounts the carriage handwheel. Another great aspect of mini metal lathes is that, unlike their industrial counterparts, they're much lighter in weight and considerably cheaper.
So, whether you love working with metal as a hobby or have your own business, they're definitely worth the investment. However, it's important to do some thorough research before buying. Trying to find the perfect item online can be time-consuming at best and incredibly stressful at worst. Luckily, we're here to help you out.
While picking out our top choices, we looked at things like:
Motor speed
Spindle speed
Swing over bed
Chuck diameter
3 Best Mini Metal Lathes in 2023
We asked our community of metallurgists to help recommend the brands they are using. For any products that stood out, we then integrated with the latest customer sentiment data as of Jan 2023 to stand behind what we think are the best mini metal lathes right now:
Magnet Fishing Kit
Pros
Best Mini Metal Lathe for beginners
Full size machine that can do variable speeds
Industrial grade for your home/workspace
Cons
You will end up wanting more from your machine
North of 1K is out of the range for lots but worth a look
Magnet Fishing Kit
Pros
Best Mini Metal Lathe for beginners
Cons
You will end up wanting more from your machine
Magnet Fishing Kit
Pros
Full size machine that can do variable speeds
Magnet Fishing Kit
Pros
Industrial grade for your home/workspace
Cons
North of 1K is out of the range for lots but worth a look
1. BestEquip Metal Lathe 7″ x 14″
This sturdy machine lathe made from high-grade iron features a seven-inch swing over bed, with just under 14 inches between the centers, and has a 21mm spindle bore. It has an infinitely variable speed from 0 to 2500 RPM and is complemented by the use of nylon gears.
The precision-made mini benchtop lathe has a self-centering three-jaw chuck, an MT3 spindle taper, an MT2 tailstock taper, and a tool rest. With its 3/4 HP motor, it has been designed to produce various forms of metal turning, yet it is simple to operate. The applications this lathe can be used for include: Counter face turning, drilling, threading, and cutting round bar materials.
It features a thread range of 12-52 TPI, threading indicator dial, and has standard & metric handwheel graduations. You can operate this lathe either manually or use the auto-feed rate which is adjustable, and it has forward and reverse throughout the variable speed range.
There is a T-slotted compound slide plus a four-way tool post. Beveled cutting may be achieved with the adjustable compound rest.
Features:
Motor: 3/4 HP
Spindle speed: 0-2500 RPM
Chuck Diameter: 100mm (3.94")
Centers distance: 350mm (13.78")
Swing over bed: 180mm (7.09")
What we love:
This lathe is capable of precision depth cuts and can hold tolerances of .0007 inches by using the cross feed
This lathe is quick and easy to assemble, and once all the nuts & bolts are initially tightened, works great
The functionality of this lathe is fantastic. Being able to turn a .75" piece down to .494" is a definite plus
We don't like this as much:
We'd like to see the addition of an RPM indicator, for even greater precision across multiple projects.
BestEquip Metal Lathe 7" x 14",Mini Metal Lathe 0-2500 RPM Variable Speed,Mini Lathe with 4" 3-jaw Chuck,Bench Top Metal Lathe, Benchtop Lathe, for Various Types of Metal Turning
Sturdy Aluminium Construction: The mini metal lathe bed is made of high grade iron. Equipped with nylon gears, this lathe machine is wear-resistant, sturdy, more accurate rotation and professional. Mini metal lathe power of motor: 550W. The full-length splash guard provides max. protection.
Infinitely Variable Speeds: Spindle speed from 0-2250 RPM. Forward and reverse in all speeds. Operate either manually or with the adjustable auto feed rate. The hardness and accuracy of the v-slide ways are obtained by raw material, heat hardening and grinding. Emergency stop button included.
Accurate 3-Jaw Chuck: Mini metal lathe chuck, 3-jaw self-centering chuck, for setting cylindrical materials steadily. Back splash guard included. Spindle is supported by precision tapered roller bearings, spindle accuracy within 0.0004" / 0.01 mm.
Professional Compound Rest: The mini metal lathe quick change tool post can achieve positions of internal cutting, face cutting and bevel cutting by changing the tool post angle and adjusting the compound rest. Professional cross slide is designed with abrasive resistance, moving blades freely with feed rod.
Wide Application: Driven by DC motor, this mini metal lathe cut off tool can be used in areas such as mini precision parts processing, sample processing and modeling works.
2. Eastwood Benchtop Mini Metal Variable Speed Lathe
With this 7 x 12 inch Mini Metal Lathe from Eastwood, machining parts can now be done in the comfort of your own home. This compact, home workshop lathe is equipped with features normally found only on larger models. You can turn steel, brass, aluminum, and other materials with accuracy and ease.
The lathe's auto-feed and selectable gear train allow you to perform complex threading functions with exceptional precision. The three-jaw chuck, which has inside and outside capabilities, will accommodate wide-ranging workpiece configurations, allowing you to accomplish most cutting and turning jobs. This machine has a 3/4HP motor and can take a 0.010" cut in steel. The 2.125" swing over the cross slide and with 12" between the centers, means materials up to a diameter of four inches and eleven inches long can be worked comfortably and easily.
The variable spindle speeds have two settings, low and high. At the low setting, the speed can be set from 0 to 1100 RPM. The high setting can be varied from 0 to 2500 RPM. These two-speed settings give you the option for fast, rough cutting, or fine delicate turning or threading operations.
With a footprint of only 27.75 x 8.75 inches, it will fit on most home workbenches, turning your garage into the perfect machine shop.
Features:
Motor: 3/4 HP
Spindle speed: 0-2500 RPM
Chuck Diameter: 2.48"
Centers distance: 12"
Swing over bed: 7"
What we love:
Eastwood has even included HSS cutting tools so once the lathe is set up, you can use it straight away
The selectable gears and auto-feed allows you to get a variety of complex threading work done with precision and accuracy
Everything you need is provided with the lathe, so you save money by not having to purchase any extras to start using it
We don't like this as much:
The intricacy of this machine does mean some fine cleaning and greasing is required, however this is to be expected of a more complex lathe
Eastwood Benchtop Metal Lathe 7 inch x 12 inch | Mini Metal Lathe Variable Speed 0-2500 RPM, Mini Lathe with 3-jaw Chuck | Benchtop Metal Lathe, Drilling Machine for Various Types of Metal Turning
THE EASTWOOD MINI METAL LATHE can Easily and accurately turn Steel, Aluminum, Nylon, Delrin, Brass, and Oil Impregnated Bronze.This milling machine has a 3/4 HP motor with INFINITELY VARIABLE SPEEDS 0-2500 RPM and is capable of taking a .010" cut in steel, allowing you to make real parts for your car project.
INCLUDE HSS CUTTING TOOLS: We even include HSS Cutting tools so you are ready to go out of the box; Equipped with all the features found on large lathes: Auto-feed and selectable gear train, included inside and outside 3-Jaw Chuck set will accommodate a wide range of workpiece configurations; With a 2.125" swing over the cross slide and 12" between centers, you can work materials up to 4" in diameter by 11" in length easily and comfortably.
EASTWOOD QUALITY: Eastwood offers solutions which combines our 4,000+ unique products with the know-how to "Do The Job Right". With an In-house product design, development and testing and a strong track record of high-quality, innovative products. Used and trusted by top builders to beginners and also provides a Lifetime Tech Support.
SAFETY INFORMATION: Always wear eye and hand protection when working with metal. Keep all body parts away from moving parts of this machine. Please read and fully understand the instruction manual before use. Wear proper work glove and protective clothing and eyewear.
WARRANTY: 100% Satisfaction Guarantee Since 1978. We stand behind our solutions and customers. Comes with a 1-year limited warranty and 90-day return.
3. Erie Tools 7 x 14 Precision Bench Top Mini Lathe
If you're into light machining, metal turning, or you're a hobbyist who makes your own parts, then the 7 x 14 precision bench-top mini lathe is the product for you.
This lathe is compact enough to fit on your home workbench. With a seven-inch swing over plus 14 inches between centers it will handle almost any metal turning project you can think of. With a simple flick of a switch, the rotation direction can be changed from forward to reverse. This means that you can not only do right-hand threads, but left-hand as well, and you can modify the number of threads per inch from 12 to 52 TPI.
It has a 0.53NP single phase, 60Hz 120V motor powerful enough for the size of jobs it's designed to handle. The variable speed on this machine can be set as low as 50 RPM or as high as 2500 RPM, and with a digital readout, you can keep track of the speed with just a glance.
If you are in the market for a precision lathe, then this model is well worth looking at. It comes complete with: a five-piece carbide-tipped cutting kit, chuck key, 11 feed rate gears, and internal and external chuck jaws.
Features:
Motor: 3/4 HP
Spindle speed: 50-2500 RPM
Chuck Diameter: 4"
Centers distance: 14"
Swing over bed: 7"
What we love:
There is a safety cut-off switch on the chuck cover. The cover must be closed before the lathe will start.
Assembly is child's-play if you follow the photographs in the instruction manual
Having all the necessary "bits and pieces" as part of the complete package means you can use it "straight out of the box"
We don't like this as much:
The gears are made of plastic and the teeth tend not to be as robust as metal ones
4. BestEquip 8×16 Inch Mini Metal Lathe
When it comes to quality and value for money, the BestEquip Mini Bench Metal Lathe ranks high in the world of metal turning. It is precision made, versatile, and overall a real performer. Although it is a mini lathe, it has a longer center-to-center distance and a larger swing over capacity than many of its competitors.
The 1HP motor is brushless, which generates less friction and heat, making it energy efficient and produces larger torque when compared to similarly sized motors. Since there is no carbon brush to replace, you could say it's "maintenance free". To get the best results it is imperative you set the correct speed. With this lathe, you choose the exact speed using the variable speed control—anywhere between 0 and 2250 RPM.
One feature of why this lathe stands out is the LED screen that shows you exactly what setting you have set. You can either operate the lathe manually or use the adjustable auto-feed. Spindle accuracy is within 0.0004" to 0.0012". There is also a soft start, change over switch to allow clockwise or counter-clockwise rotation.
Features:
Motor: 1 HP
Spindle speed: 0-2250 RPM
Chuck Diameter: 4.9"
Centers distance: 15.75"
Swing over bed: 8.25"
What we love:
This mini lathe has metal gears and not plastic ones like so many other mini lathes
The precision of this lathe is such that you can get accurate down to a thousandth of an inch in hard metals
Easy to use and very powerful thanks to its impressive motor
We don't like this as much:
Initial setup requires a little extra time, as some fine-tuning adjustments are needed for it to work with precision
BestEquip Metal Lathe, 8" x 16" Benchtop Lathe, Mini Metal Lathe 0-2500 RPM Variable Speed, Mini Lathe with 3-Jaw Chuck, Bench Top Metal Lathe, for Various Types of Metal Turning
Infinitely Variable Speed: The mini metal lathe with metal gears is driven by powerful motor. Variable Speed: 0-2250RPM. The LED screen shows you a clear and accurate speed for accurate working. Operate either manually or with the adjustable auto feed rate. Spindle Accuracy: 0.0004-0.0012" (0.01-0.03 mm).
400mm Large Swing Range: The benchtop lathe is equipped with a 3-jaw chuck. Swing Over Bed: 8-1/4" (210 mm) and Swing Over Cross Slide: 15-3/4" (400mm) offers more possibilities for large size or/and heavy workpieces.
Professional Compound Rest: The mini lathe machine quick change tool post can achieve positions of internal cutting, face cutting, and bevel cutting by changing the tool post angle and adjusting the compound rest, moving blades freely with feed rod. 4-Way turret tool post (3/8" max tool size).
Supportive & Protective: Soft start, change-over switch for clockwise or counter-clockwise spindle rotation. Equipped with all-metal gears. Steady rest works as end support ensuring chatter-free operation. Backsplash guard included.
Adjustable Tailstock: Taper in Tailstock Spindle: MT2. Rotate the lever clockwise to lock the spindle and rotate clockwise to advance the handwheel. To off-set the tailstock for cutting tapers by adjusting the four set screws located on the tailstock base. Travel: compound rest 2-1/8" (54mm), cross slide 3" (76mm).
5. Mini Lathe, Jectse
This mini lathe from Jectse boasts a powerful 60W motor generating an impressive 12,000 RPM. One of the best things about this lathe is that it is simple to use, rendering it perfect for beginners and those who have never used a lathe before. Precise instructions in the manual guide you through the operation of the machine.
Designed for light-duty tasks, this lathe can tackle soft, non-ferrous, or precious metals such as aluminum, silver, and gold. It runs at up to 12,000 RPM when turning wooden projects, but the speed drops to around 2,000 RPM when working on metal.
All the main parts of the lathe such as the tailstock, size slider, spindle box, etc. are made from quality metals with a belt protection cover, making the tool very durable. This lathe has a small footprint of 13.75 x 10.25 x 8.6 inches and weighs only 11 pounds, making it a perfect workbench machining tool, but it is easily portable should you need to move it to another location. The 60W motor is powered by a 12V DC adapter, included with the lathe, along with an accessory package.
Features:
Motor: 60W
Spindle speed: 12000 RPM
Chuck Diameter: 4.9"
Centers distance: 5.3"
Swing over bed: 8.25"
What we love:
It's compact enough to fit on the smallest of workbenches and has a lot of power for small projects
For any beginner, this lathe is well worth looking at, as it does not overwhelm with too many features
Using the central block, the diameter of the workspace can be increased by 50mm, expanding on the possibilities of this lathe.
We don't like this as much:
This lathe is best for beginners and, as such, is not intended for intermediate or professionals who require more complex features
Mini Lathe,Lathe Tool Kit,Lathe with Powerful Motor 12000Rpm,Hss Turning Tool, Belt Protection Cover,60W Power Metal Machine
Machine tool with powerful motor, the motor box and spindle box for conjoined structure.
Main parts: such as the spindle box, tailstock, long stand, size slider, motor blade, gear, connecting block are made of metal materials, with belt protection cover.
Center height is 75mm and distance between centers is 135mm, motor speed normally drops to 2000rpm when using the lathe to machine metal.
Maximum motor power is 60W by using more powerful motor.
Turning tool is high - speed steel material, can process soft, non - ferrous, precious metals. By using central block, the diameter can be expanded to 50mm.
FAQs about Mini Metal Lathes.
What is a mini metal lathe?
A mini metal lathe can be defined as any bench-top lathe that has a distance of 20 inches or less between centers and 12 inches or less of swing. (Swing is the largest diameter of a workpiece you can turn on a mini lathe). Usually, a mini lathe has a 1/2 to 3/4 HP motor, although some have 1HP motors, these tend to be in a more expensive price range. Compared to industrial lathes which can weigh more than two thousand pounds and cost thousands of dollars upwards, a mini metal lathe can weigh 10 or 12 pounds and cost considerably less.
What are the benefits of Investing in a Mini Metal Lathe?
A mini metal lathe is, by definition, a miniature version of a full-size industrial lathe, and is used by model makers, craft workers, jewelry makers, or anyone who requires small accurate parts.
Have you ever been in a situation where you are in the middle of a project for your favorite hobby, and the part you need to complete isn't available? What do you do? Do you pay a visit to the nearest machine shop and ask if they can turn the small piece for you? How much would that cost, and how long before they could do it? If you invested in your own mini metal lathe, you could have the part you need to be produced in no time. The main benefits of owning a mini lathe are that you are in control of the accuracy and timing of the piece you need. No more relying on someone else, hoping they get the specifications correct.
Having the versatility of a mini metal lathe at your fingertips means the potential to take your hobby and make it into a small business. After all, if you have a need for precision parts, then other hobbyists probably have the same need.
What can you do with a mini metal lathe?
The projects you can make on a mini metal lathe are only limited by two things. Your imagination and the size of your mini lathe. For example, you can make:
Rings.
Making a ring is a great project to begin with. (You can even use a nut and transform it into a beautiful ring). You can start by cutting a disc out of a bar of material. Then using the jaws on your lathe, bore out the inside to the size you require. Next shave the outside to a finish, adding maybe a bevel on both edges. Polish it and you're done.
Candlesticks.
Using the same basic techniques for turning, shaving, and boring out the core, you can make a set of candlesticks in various materials, brass, aluminum, copper, etc. All you need is a rod of the raw material at the diameter you need and you are on your way.
Baby Cups.
Making a "Baby Cup" is an interesting project. Instead of boring out material, you start with a disc and shape it using the lathe and shaping tools until you have the desired size and "bell shape" to make the cup. The handle is then soldered to the cup, and the whole thing polished.
Which Mini Metal Lathe is Best For Me to Buy?
To answer that question, first of all, you must ask yourself, "What am I going to use it for?"
Mini metal lathes are designed to be able to cut different materials, like metal, wood, glass, and plastic. The types of metals normally cut are steel, brass, and aluminum, which can be drilled, cut, or turned with very little effort.
Three fundamental features that you should consider before buying a metal mini lathe are design, functionality, and motor. The design should be straightforward so that the tool is easily used. If the design is straightforward, then you will be comfortable using it. If the design is complicated, you may struggle for a long time before getting any practical use out of it.
The last feature, and the most important one, is the motor's speed. A motor's speed is measured in revolutions per minute (RPM), indicating how fast the spindle is rotating. A motor that has a variable speed setting will perform the best.
So, to answer the question. Choose a mini metal lathe that has a variable speed motor, one that has a simple design, has the functionality to suit your tasks, is well-made, and last but not least, fits your budget.
Budget: Mini Lathe, Jectse
Mid-Range: BestEquip 7″ x 14″ Metal Lathe
High End: BestEquip 8×16 Inch Mini Metal Lathe
You will also like: Best Metal Lathe Under $1000
Buying Guide: Mini Metal Lathe
Mini metal lathes provide a versatile and accurate solution to shaping and cutting metal into desired shapes and sizes. They are ideal for a wide range of tasks, from small-scale fabrication to intricate work. They are also perfect for DIY projects, allowing you to make precise parts without the need for expensive and complex machinery.
For artists looking to get a mini metal lathe, shopping for one may not always be easy. To help you out, this guide will walk you through some of the key factors you should consider when selecting a mini metal lathe, as well as our top choices.
Factors to Consider When Choosing a Mini Metal Lathe
Motor Power:
Generally, a higher-powered motor will allow you to take on larger projects faster, with minimal limitations. A lower-powered one may be challenging to work with in some projects.
2. Speed Range:
The speed range of your mini metal lathe is another important factor to consider before making that purchase. Different materials demand different speeds, and you want to make sure your lathe has the necessary range to at least have the capability to work at variable speeds.
3. Bed Length and Width:
The bed length and width of your lathe are both factors that affect the overall capacity of your machine. Generally speaking, width highly influences the size of projects you can undertake comfortably.
4. Budget:
Ultimately, your budget is an important factor in choosing a mini metal lathe. You want to find a quality machine that won't break the bank. Fortunately, there are plenty of excellent options available in all price ranges.
Top Mini Metal Lathes on the Market
The mini metal lathes market is awash with a variety of different products from different brands. Each with its own pros and cons. The search may seem challenging, so to help you narrow down your search, here are some of the top mini metal lathes currently available on the market.
The Grizzly Industrial G8688 Mini Metal Lathe is an excellent option for those looking for an entry-level mini lathe. It has a variable speed spindle to set speeds that run up to 2500 RPM. This highly rated lathe has a bed width of 3 1/4″ and can handle up to 7″ swing diameter. With its powerful 1/3 HP motor, you'll have plenty of power for even the most intricate projects.
The BestEquip Metal Lathe 8×16″ Precision Mini Metal Lathe is another great option. This sturdy machine can lathe wood and metal comfortably and handles up to 8.3″ of swing diameter. It features stepless speeds, ranging from 0 to 2250 RPM, and runs on a maintenance-free brushless motor. Overall, it's highly hailed for its precision.
Other great mini metal lathes include the Mophorn Precision Mini Metal Lathe and the Shop Fox M1015, which is one of the smallest.
Overall, mini metal lathes are incredibly useful tools for precision metalworking projects. So whether you're a professional or a hobbyist, having a mini metal lathe in your workshop can open up a whole new world of endless possibilities. And the good news is that no matter what type of mini metal lathe you're after, there sure is an option that'll fit your needs.
More Kit:
911metallurgist.com is a participant in the Amazon Services LLC Associates Program, an affiliate advertising program designed to provide a means for sites to earn advertising fees by advertising and linking to Amazon.com.