Disclosure: This post contains affiliate links and I may earn a small commission if you purchase through these links.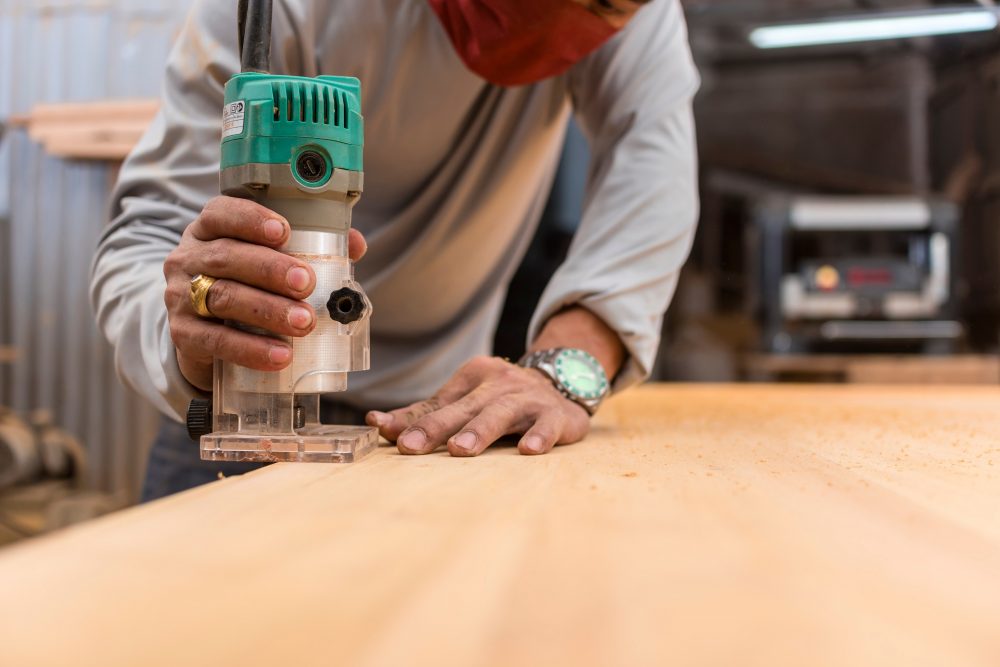 A palm router, or trim router, is a small handheld power tool designed for routing, which involves creating grooves and slots mostly on wooden workpieces. This router is usually held in one hand while the other holds a template to guide the cutting bit along the desired path. Palm routers are lightweight and easy to maneuver, and they make it simple to create intricate cuts and designs, making them an ideal choice for precision work in tight spaces. With the right router, you can perform any routing task without breaking a sweat or compromising quality.
Are you in need of one? This guide has compiled a list of the five best palm routers you can buy in 2023. They come with various features, such as variable speed control, ergonomic design, and dust collection systems, that make them incredibly useful for any DIYer or professional. 
What to Look for in a Palm Router:
Let's go through some factors that must be considered to ensure you get the best value for your money.
Anti-vibration technology
Vibration can be an issue when using a palm router, so look for models that feature anti-vibration technology. This will help keep the tool steady while you work, reducing fatigue and improving accuracy.
Power and motor Speed
Look for a palm router with enough power to handle your woodworking tasks. Look for one with a minimum of 1.5 horsepower and a speed range between 10,000 and 25,000 RPMs. This is enough to ensure maximum performance no matter what woodworking project you work on.
Dust extraction system
Many palm routers come equipped with an integrated dust extraction system, which helps keep the work area clean and prevents airborne sawdust particles from irritating your skin or eyes.
Adjustable plunge depth control
Palm routers often feature adjustable plunge depths, allowing you to set exactly how deep into the material you want to cut. This allows for precise cuts that won't damage delicate pieces of wood.
Weight
Palm routers are typically lightweight so that you can work longer without tiring. Look for a palm router that is lightweight yet still powerful enough to handle your woodworking tasks.
Durability
Make sure that the palm router you choose is built to last. The best routers are made of metal and have a comfortable grip to make them easier to use.
Accessories
Many routers come with extra accessories such as base plates, collet nut sets, router bits, and edge guides to help you complete your projects more efficiently.
LED lighting systems
A good palm router will have an integrated LED lighting system so you can see clearly while working. It also helps illuminate dark areas and spots where dust might obscure your vision.
Price
Consider the cost of the router as well as any accessories you may need when making your purchase. Prices can range from a few hundred dollars to several thousand dollars, depending on the features and accessories you select.
Below are some of the best palm routers in 2023 based on our analysis of the latest customer sentiment data across the web and recommendations from our community of metallurgists:
This versatile battery-powered router features a brushless motor, which delivers maximum power, more runtime, and longer motor life. It has a variable speed dial that allows you to match the router's speed to the application, while the electronic brake helps stop the motor quickly.
Its depth adjustment ring provides precise height adjustments and allows for micro-fine depth adjustments. The dual LED lights help to illuminate the work surface, and the soft start motor with full-time electronic feedback helps to maintain a consistent speed during cuts.
This palm router offers a maximum rotational motor speed of between 16000 and 25,500 RPM and is powered by 20V lithium-ion batteries. With its compact design and lightweight 2.64-pound body, the DEWALT 20V Max XR Cordless Router is the best for small to medium-sized projects around the home or on the job.
Highlighted features:
Variable speed dial
20V lithium-ion batteries
Dual LED light to illuminate the work surface
A maximum speed of 16000 – 25,500 RPM
Compact and lightweight design (2.64 lbs)
What we like:
Dual LED lights allow users to see clearly when making delicate cuts.
Durability: Since the palm router uses a brushless motor, it lasts much longer than traditional motors and makes fewer repairs necessary over time.
Speed Range: By offering a maximum speed range of 16000 to 25500 RPM, users can find the optimal speed setting for their project without sacrificing too much torque.
Easy Depth Adjustments: The depth adjustment ring makes changing depths easy, allowing users to make micrometer-level adjustments quickly and precisely.
What we don't like:
This palm router does not include any dust collection capabilities, so dust build-up can be an issue for extended periods.
This Palm Router is the best budget power tool for completing your projects around the house. Crafted from high-carbon steel, this router provides durable and reliable performance. It is powered by 18 volts and weighs only 2.8 pounds, making it lightweight and easy to maneuver.
Equipped with LED lighting, you can see the task at hand no matter how dark the room is. The Gripzone Overmold ensures a firm grip while operating the router. You can fine-tune the depth of your cuts with the depth adjustment knob with depth markings. With an aluminum base, you can be sure it stays stable.
To power this device, various Ryobi 18V lithium-ion batteries are compatible with this tool, allowing you to work longer with fewer interruptions. With a maximum rotational speed of 29000RPM, This Palm Router will do any job quickly and efficiently.
Highlighted features:
High-Carbon steel construction
GripZone OverMold handle
18V lithium-ion batteries
Aluminum base for stability
Variable speed up to 29000 RPM
What we like:
Since the router only weighs 2.8 pounds, you can take it wherever you need it quickly.
 Thanks to the bright LED lights that make even dark rooms visible, you'll see exactly where you're routing. 
Ryobi's versatile range of 18-volt lithium-ion batteries allows you to work without interruption, as they can last up to three times longer than alkaline batteries.
You can accurately set the exact amount of material you want to be removed without overshooting or undershooting.
What we don't like:
The Palm Router has no battery, so customers must purchase one separately before using the tool.
This powerful router has a brushless motor powered by a 5.0Ah battery to provide fast and efficient cuts up to 250 ft per charge. With a no-load speed of 0 to 31,000 RPM and a maximum power output of 900 W, this router is one of the most reliable on the market. 
Its push button switch makes it easy to operate, and its variable speed type ensures precision and accuracy in any project. The quick-release clamp makes changing bits quick and simple; while it's light, 4.9 pounds allows it to use all day comfortably.
Additionally, the tool-free depth adjustment allows users to adjust cutting depths easily. The Milwaukee Cordless Compact Router is an excellent choice for those who need a robust and reliable palm router.
Highlighted features:
A 5.0Ah battery
Variable motor speed of 0 to 31,000 RPM
Quick-release clamp
Lightweight, at 4.9 pounds.
Tool-free depth adjustment
What we like:
This product is powered by a 5.0Ah battery that provides robust power, making it perfect for any project.
Its push-button switch makes it easy to control
The cordless design offers convenience, as you don't have to worry about tangling wires or searching for wall outlets
A no-load speed of 0 to 31,000 RPM offers superior performance, even for heavier workloads.
What we don't like:
The handle can become uncomfortable after extended use due to the lack of rubberized grip material.
This is the best edge router in the market, and it is equipped with an AC/DC 1.0 Horse Power 5.6amp variable speed motor ranging from 16,000 to 35,000 RPM for precise and accurate work. The soft-start circuitry and constant response circuitry ensure consistent performance. It also features a convenient straight edge guide, which leads the router along the edges of the workpiece up to 3-5/8 inches from the edge. 
Moreover, its angled cord exit provides easy maneuverability and prevents your hand from getting in the way. Furthermore, the durable aluminum fixed base ensures years of reliability, while the soft-grip handles provide maximum comfort. The quick-clamp system allows for easy bit changes, and the versatile bit-changing system lets you work on different projects without wasting time. With 120 volts, this palm router has enough power to cut through even the most rigid materials, and its light 3.3 pounds makes it very light and portable. 
The micro-fine depth adjustment feature ensures that you get exact cuts each time. Additionally, this palm router comes with a dust extraction port to maintain clean air around your workspace. Finally, it includes additional accessories such as collet chucks and replacement collets, making it an all-inclusive tool for many woodworking jobs. With all these features combined, it is no wonder this Bosch Palm Router is one of the best palm routers.
Highlighted features:
HP 5.6 Amp Variable Speed Motor with speeds ranging from 16,000 to 35,000 RPM
Soft-grip handles
Angled cord exit
Quick clamp system
Micro-fine depth adjustment feature
Straight edge guide up to 3-5/8 inches from the edge
What we like:
The powerful 1 HP 5.6amp variable speed motor gives you precision control over your workpieces
Its soft-grip handle makes it comfortable to handle during long hours of operation
A quick-clamp system allows for rapid bit changes when working on multiple projects
The dust extraction port helps keep the workplace clean during operation
What we don't like:
The router might be too small for some other large-scale needs. 
This incredibly versatile battery-powered cordless palm router weighs a light 2.2 lbs. Its well-balanced design makes it easy to handle and lets you get close to the workpiece for maximum stability.
It is powered by a 12V Max EC Brushless motor, which provides extended runtime, up to 23 ft. of round-over capacity per battery Amp hour, and a maximum of 13,000 rpm. You can make precise adjustments with the easy-to-use macro depth adjustment and fine resolution depth adjustment (0.04 In. per dial revolution).
The depth adjustment lock and easy-change spindle lock make switching between tasks effortless. This high-performance palm router is the best cordless tool to tackle even the toughest routing jobs confidently.
Highlighted features:
2.2 lb lightweight design
12V EC brushless motor
Up to 23ft round-over capacity
Cordless design
A maximum speed of 13,000 RPM
What we like:
The 2.2 lbs lightweight design makes it easy to maneuver when routing.
The powerful brushless motor allows for extended runtimes and greater accuracy.
With adjustable depth and locking mechanisms, users have better project control.
Adjusting the speed from 0 – 13,000 RPM gives you more versatility.
What we don't like:
 It doesn't come with a dust collection bag, and there are no other ports for connecting a dust collector
FAQs
Q: What is the difference between a palm router and a router?
A: Palm routers are smaller and more compact than traditional routers, making them ideal for small spaces or people who need portability. They are usually handheld so that they can be easily moved around. Palm routers are also usually less expensive than traditional routers, making them an attractive option for those on a budget.
Q: Which jobs do you use palm routers for?
A: Palm routers are most commonly used for edge routing applications, such as trimming wood edges or rounding edges. They can also be used to engrave patterns and designs in wood, plastic, foam, and other soft materials.
Conclusion
Palm routers are designed to be lightweight and comfortable, providing a comfortable grip and allowing you to maneuver them quickly and accurately in tight spaces during the woodworking process. With so many available options, narrowing down the choices and selecting the best one for your needs might be challenging. However, the five palm routers outlined above offer reliable performance, advanced features, and exceptional value for money, making them top picks for most woodworkers and DIYers.