Disclosure: This post contains affiliate links and I may earn a small commission if you purchase through these links.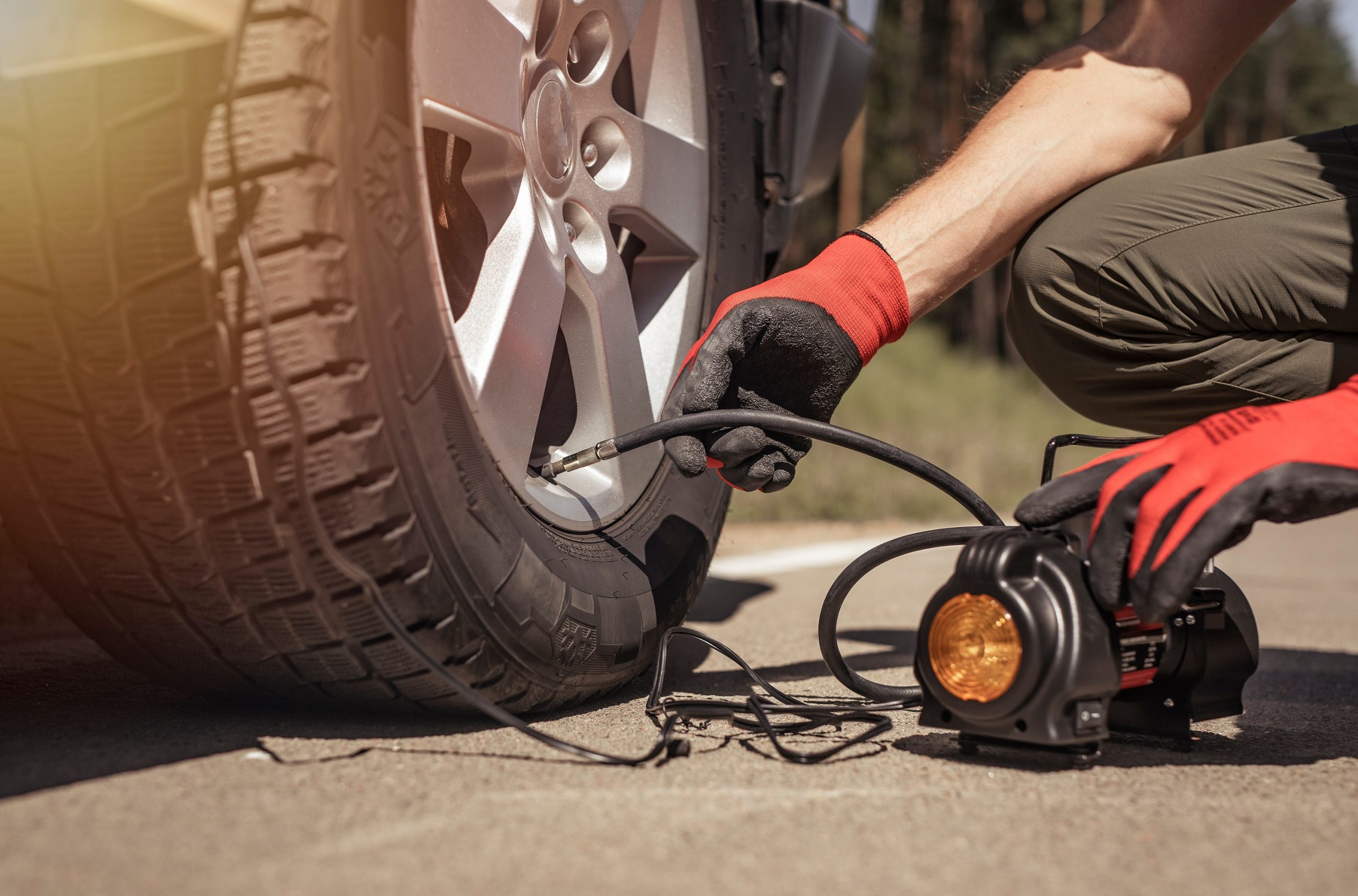 A portable air compressor is a handy tool to add to your DIY toolkit. They're compact, easy to use, and ideal for inflating tires in a jam.
These machines are versatile and can be used in many industries for various tasks, including filling car tiles and gas cylinders, clearing debris, powering pneumatic tools, and more. The best portable air compressors will save you time and effort when working on your daily tasks.
But finding the perfect cordless air compressor for your needs can be tricky.
Search "portable air compressors" online, and you'll find hundreds of devices that claim to be the best at inflating tires or powering pneumatic tools.
Which one should you pick?
We're here to cut through that clatter. We researched the top models, evaluating performance, portability, tank size, and price, and narrowed our choices to these five models. But before we get to our top pics, let's start with the basics.
What Is a Portable Air Compressor Used for?
A portable air compressor is a cordless device that can be stored in your trunk and used to add compressed air to your tires, pool accessories, sports balls, and more. It's portable because it doesn't need to be plugged into an electricity supply to run.
A portable air compressor is great for home use because it can easily be moved wherever needed. This device is designed to pull in air, compress it, and release the compressed air to fill a car tire, operate a pneumatic device, or blow away dust and debris.
Are Portable Air Compressors Worth It?
In short, Yes. A portable tire compressor can prove very useful if you encounter a puncture on the road in the middle of nowhere.
Moreover, it can prove convenient at home by making your work easier. For instance, cleaning carpets, cars, and upholstery is superbly accomplished using a cordless air compressor. These devices are affordable, so buying one won't pinch your pocket hard.
Is a 2-Gallon Air Compressor Enough?
It depends on the work you intend to use your compressor for.
For heavy-duty tasks, like pressure washing extended driveways, a 2-gallon air compressor is not enough. For tasks that require only quick bursts of air, like powering a pneumatic nail gun, a 2-gallon air compressor will suffice.
If you're looking for an air compressor for your garage, a 2 – 4-gallon tank is enough. You don't want to get an industrial-size machine unless you want to turn your home garage into a workshop. A 2–4-gallon tank is enough to fill up car tires and power most pneumatic tools.
What Is a Good PSI for a Portable Air Compressor?
PSI, or pounds per square inch, measures how much pressure an air compressor can deliver. The higher the PSI count, the more powerful a compressor is.
Most portable air compressors deliver between 100 – 150 PSI.
Anything within this range should be enough to cover most of your household tasks, so buying a product in the range of 125 to 150 will have you covered.
When buying a portable air compressor, ensuring your compressor's hose suits your intended operations is important. If your tires need 100 PSI to get inflated, consider a device with a PSI equal to or higher than this number. In this case, a device with 120 PSI will suffice. Always ensure your device has a higher PSI than it's needed by the things you need to inflate.
What Can't You Do with a Portable Air Compressor?
Most portable air compressors usually have a 1 – 6-gallon tank. These devices can perform a wide range of household tasks, including:
Pumping air into car tires
Spray painting furniture
Powering pneumatic guns
However, due to their small tank size and low PSI, portable air compressors can't complete heavy-duty tasks or be used in industrial applications.
For example, a portable air compressor can't be used for spraying crops or running pneumatic machinery in manufacturing plants. They can also not be used for operating laundry presses in dry cleaners or for commercial cleaning jobs.
How Much Do Portable Air Compressors Cost?
The price of a portable air compressor can vary significantly, depending on the brand and how much power you need. The price can range from $30 for the most basic units to over $350 for the powerful, ultra-premium models.
The 5 Best Portable Air Compressors on the Market
Without further ado, here's our roundup of the best cordless air compressors on the market based on our testing, customer sentiment data and recommendations from our community:
Rated one of the best portable cordless air inflators with over five thousand positive customer reviews on Amazon, the AstroAI Cordless Tire Inflator will surely not disappoint.
This inflator features a dual power supply (DC 12V power supply and 20V rechargeable Lithium battery), so you'll never have to worry about running out of battery during the trip.
Performance-wise, the AstroAI is a beast of a portable inflator. This unit can deliver 160 PSI, enough to meet the demands of four tires at a time. It also comes with a digital LCD, taking a different path from the analog units common today.
You can preset the pressure values you want, and the unit will automatically shut off once this value is reached. The LCD screen will display your desired values and the current tire pressure.
While this tool is advertised as a tire inflator, it can pump up any inflatable products and other household tasks. The inflation speed of this machine is remarkable. You can fully inflate tires of varying sizes in less than 4 minutes.
Key Features
Voltage: 12V
Power source: Battery powered
Sound Level: 80
Maximum Power: 150 watts
Weight: 4.13 pounds
What We Liked
Dual power supply to ensure you'll never run out of battery
An impressive 160 PSI
Fast charging
It can continuously work for 20 minutes
What We Don't Like
Constructed with low-grade materials
Makita is a renowned Japanese manufacturer of power tools with over 100 years of experience in the industry. The company has a rich history of making quality, reliable tools, and the Makita DMP181ZX exemplifies the company's prowess in the air inflators department.
Boasting 160 PSI, the DMP181ZX is powerful enough to inflate even truck tires quickly and easily. You can inflate vehicle tires, bicycle tires, sports balls, and more.
The DMP181ZX offers three speed settings: high, medium, and low. You can set the pressure speed you want, which will reflect in the digital display.
And similar to the AstroAI inflator, you can preset your desired pressure levels, and the compressor will automatically stop once this level is reached. This helps prevent overfill. Moreover, it even comes with an LED light to illuminate your work area.
Carrying this unit is also easy, thanks to the ergonomically designed handle with a rubberized grip that provides increased comfort.
Key Features
Voltage: 18V
Power source: Battery powered
Maximum Pressure: 160 PSI
Weight: 5.24 pounds
What We Liked
Delivers an impressive 160 PSI for inflating tires of all sizes
Ergonomically designed handle
Has an LED light to illuminate your work area
Competitively priced
What We Don't Like
It doesn't come with a charger
DEWALT is a renowned global manufacturer of power tools for the construction, manufacturing, and woodworking industries. Their FLEXVOLT DCC2560T1 air compressor kit is one of the best in the industry today.
This FLEXVOLT air compressor is compact, portable, and lightweight—weighing only 21.5 pounds. DEWALT says it can drive up to 1,220 nails on a single charge.
Manufactured in the US, this powerful air compressor gives you all the necessary convenience. It produces 79 dB of noise, which is not too noisy by industry standards. It also features a patented regulator that makes adjusting the pressure more accurate and faster.
Performance-wise, the DCC2560T1 delivers the necessary power to complete all your tasks. It delivers a maximum pressure of 135 PSI and provides 1.2 CFM at 90 PSI. This is enough pressure and airflow to complete various household applications.
Product Features
Voltage: 60V
Power source: Battery powered
Sound Level: 79
Maximum Pressure: 135 PSI
Weight: 21.5 pounds
Tank size: 5.5 gallons
What We Liked
Maximum pressure of 135 PSI
Comes in a durable roll cage for protection
Has a one-turn regulator
Rubber fits for maximum stability
What We Don't Like
Bulkier compared to other units on our list
Milwaukee is another big and reputable brand in the power tools game. Their M18 Portable Air Compressor ticks all the boxes you'd want in an inflator.
First, it's incredibly quiet, producing only 68 dB of noise. Compared to other air compressors on the market today, the M18 can be considered ultra-quiet, ideal for household use.
Secondly, it's a powerful air compressor. This 2-gallon compressor delivers 135 PSI max and can drive up to 1,600 nails on a single charge.
And if inflation time concerns you, you'll be glad to know that the M18 is incredibly fast. This unit can inflate a tire to 30 PSI in one minute. It has an 18V battery, a quiet pump, and a quick-connect air hose coupler.
Product Features
Power source: Battery powered
Sound Level: 68 dB
Maximum Pressure: 135 PSI
Weight: 36 pounds
Tank size: 2 gallons
What We Liked
The battery can work with other power tools
Drives up to 1600 nails per charge
Quiet while running – produces 68 dB of noise
Impressive 135 PSI
What We Don't Like
No alternate power source
If you want the best bang for your buck regarding portable air compressors, the Freeman PE20V1GCK is your best bet.
This compressor kit goes way beyond the competition, providing a versatile air compressor that runs on a rechargeable battery, 4 Ah Lithium-Ion batteries, and a charger.
Powered by a high-capacity 20V battery, the PE20V1GCK can drive up to 700 fasteners per charge and 60 pieces per minute. The battery can be fully recharged in 90 minutes. And with an impressive 120 PSI, this machine can handle almost every household task.
This one-gallon cordless air compressor is versatile and compact, perfect for handling inflation jobs and powering pneumatic tools. While it doesn't have a digital display, it comes with two easy-to-read gauges that allow you to monitor tire pressure.
Product Features
Power source: Battery powered
Sound Level: 78
Maximum Pressure: 120 PSI
Weight: 14 pounds
Tank size: 1 gallon
What We Liked
Compact and lightweight, weighing only 14 pounds
Impressive max pressure of 120 PSI
Charger and 4 Lithium-Ion batteries included
Quick charging
What We Don't Like
Battery drains charge fast
Wrapping Up
Portable air compressors are must-have tools in your DIY toolkit.
Since these tools are usually cordless, you can move them easily wherever needed. These portable compressors can save the day in the event of a puncture on the road and also prove valuable for a variety of household tasks.
We hope our guide will help you find the perfect portable air compressor for your needs. Feel free to comment and share!