Disclosure: This post contains affiliate links and I may earn a small commission if you purchase through these links.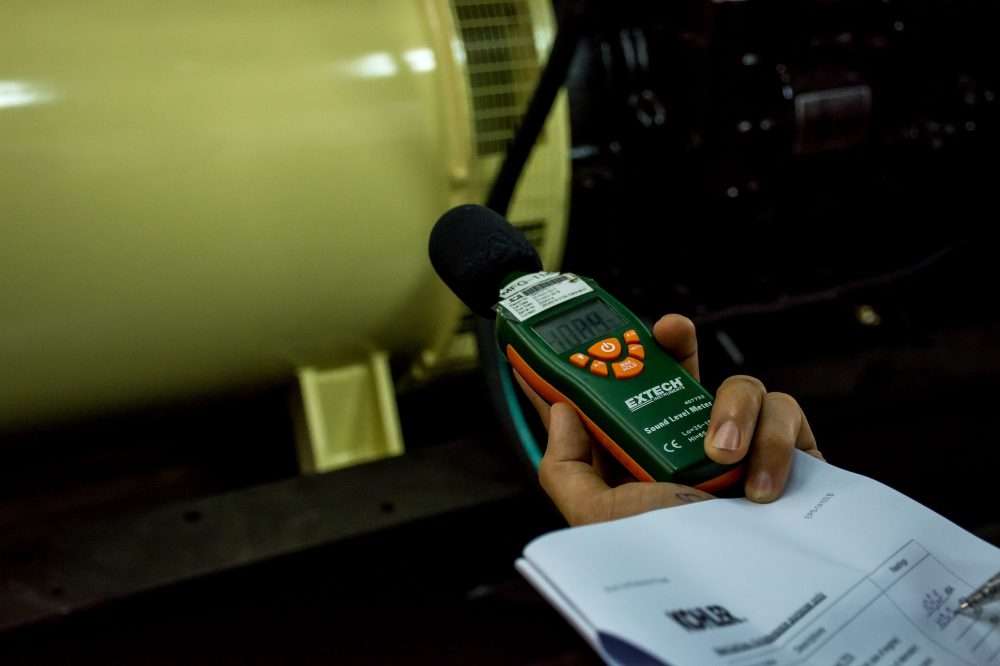 Do you want to buy the best quiet generator? If so, you've come to the right place. This buying guide will help you find the perfect generator for your needs. We'll look at the five best quiet generators available on the market today and provide you with all the information you need to make an informed decision.
So whether you need a generator for camping trips, home use, or emergency power, this guide will help you find the ideal quiet generator. We'll cover everything from the types and key aspects you need to look out for when buying a quiet generator to the five best quiet generators in 2023.
Types of Generators Considered Quiet
In general, generators are regarded as either being loud or quiet depending on the noise emission levels. Sound, or in this case, the noise, is measured in decibels, dB (A), with most standard generators having noise levels of around 80 dB.
Inverter generators are the quietest type on the market, with noise levels below or slightly above 60 dB. Due to their compact design, small engine, and inverter technology, they burn fuel better and have lower noise levels. In addition, these generators are lightweight and portable, making them perfect for RV camping, tailgating, or emergency home power backup.
Some inverter generators are also regarded as "super quiet," offering the lowest noise levels, usually ranging between 48 and 58 dB.
Factors to Consider When Purchasing a Quiet Generator
Power Output:
When determining what size generator to purchase, consider the wattage of the items you plan on using and select a generator that can produce enough power for your needs.
Noise Level:
Quiet generators usually produce around 50-60 dBA. Compare the noise levels of different models based on the surroundings in which you intend to use your generator to ensure you find one that will best meet your needs.
Type of Fuel:
Depending on the quiet generator you choose, you can opt for gas or propane fuel types. Gas is often more popular because it's cheaper and easier to come by than propane, while propane gas burns longer and lasts longer hence more efficient than gas. 
Cost:
Different models of quiet generators will range in price depending on their wattage, fuel efficiency, noise levels, and fuel capacity. Set aside a good enough budget before you shop to ensure you get a good deal on a quality machine.
Portability:
Some quiet generators are small enough to be carried and transported with ease, while other large ones may require some cart or wagon for transportation. Depending on your needs, you will need to factor in the generator size you need.
Automatic Throttling:
Many quiet generators now have an automatic throttle feature that adjusts the engine speed based on the amount of electricity demanded. This helps save fuel and reduce noise levels, as the engine doesn't need to run continuously at full power when not needed. 
Here are some of the best quiet generators available in the market; we got a ton of help from our community of metallurgists and analyzed the latest customer sentiment data for all currently available generators in the united states.
1. WEN 56203i Super Quiet 2000-Watt Portable Inverter Generator – 51dB
The WEN 56203i Portable Inverter Generator is a great choice for those who need reliable power with the added benefit of a super-quiet operation. This generator can produce 2000 watts of continuous power with minimal harmonic distortion, making it an ideal choice for powering various sensitive devices.
One of the most important features of this generator is its quiet operation. The generator produces only 51 decibels of noise at 25% load, making it one of the quietest portable inverter generators on the market. This low noise level means you can operate the generator without disturbing your neighbors or family members while they sleep.
The generator also offers several convenience features. It has an LED display that shows the current's voltage, frequency, and wattage output. It also has an automatic low-oil shut-off feature that shuts down the engine when the oil level is too low. Additionally, the generator is lightweight and portable, making it easy to transport to different locations.
The generator is also CARB Compliant, making it suitable for use in California and other states that adhere to CARB emission standards.
Highlighted features:
Gasoline-powered
79cc 4-stroke OHV engine
Super-quiet operation
Parallel ready
What we like:
At 39 pounds, it's lightweight and portable
The eco-mode increases energy efficiency
What we don't like:
Not powerful enough to power the whole house.
2. Generac 7127 IQ3500 Portable Generator – 52dB
The Generac 7127 IQ3500 3,500-Watt Gas-Powered Portable Generator is another highly-rated, reliable, and powerful generator. It's ideal for work or play, with a durable steel enclosure and clean inverter power that makes it easy to transport. Its advanced inverter technology and enclosure design make it ultra-quiet, over 5 dB quieter than EU3000i. It also produces more power thanks to the Power Rush Advanced Technology.
Generac's digital smart LCD allows you to monitor voltage, frequency, and operating hours. It also has two USB ports, so you can charge your mobile devices quickly and easily. And the electric start with power dial start/run/stop makes operation a breeze – set the dial to the appropriate setting, and the generator will start up!
In terms of maintenance, this generator has a low oil shutdown feature that protects the engine from damage due to low oil levels. It also includes a battery, making it easier to get up and running quickly.
The Generac 7127 IQ3500 is CARB and 50-State compliant, meaning it meets all the latest environmental regulations, and overall, it's an excellent choice for a powerful and reliable AC power generator.
Highlighted features:
Gasoline powered
Electric start
CARB and 50-State compliant
Low oil shutdown feature
What we like:
Compact size and lightweight design make it easy to transport and store
Quiet operation, perfect for camping, tailgating, and home backup power
What we don't like:
3. Honda EU2200iTAG Super Quiet Portable Inverter Generator with CO-Minder – 57dB
The Honda EU2200iTAG 2200-Watt 120-Volt Super Quiet Portable Inverter Generator with CO-Minder is a reliable and powerful generator that is perfect for powering your home or RV during an emergency or power outage.
The Honda GXR120 Commercial Series engine powers this generator. This powerful engine has 121cc of power, ensuring that the EU2200i can handle whatever you need. The raw power of this engine produces 2200 watts of power, only emitting about 48 to 57 dB of noise in the process.
It also includes an advanced Carbon Monoxide Detection System (CO-Minder) that continuously monitors levels of carbon monoxide.
The EU2200i comes with Honda's exclusive My Generator smartphone app, which offers remote generator operation and monitoring with impressive performance. It includes wireless start/stop and operation monitoring. The app also provides up-to-date information about your generator, so you can rest assured that you're always getting the most out of it.
Overall, the Honda EU2200iTAG is a reliable and powerful generator that provides peace of mind during power outages.
Highlighted features:
Co-Minder technology
Honda's My Generator smartphone app
Wireless start/stop
Gasoline-powered
What we like:
Portable and lightweight, perfect for camping trips or power outages
The Honda engine provides reliable power with super-low noise levels
What we don't like:
At 2200 watts, this generator is underpowered for all household needs
4. Champion Power Equipment 200987 Portable Inverter Generator – 61dBA
If you're looking for an efficient, reliable, and affordable generator to help you stick to your New Year's resolution, look no further than the Champion Power Equipment 200987 4500-Watt RV Ready Portable Inverter Generator. With 4500 starting watts and 3500 running watts, this inverter generator is perfect for powering RVs, tailgating, or camping.
This generator features wireless remote start, so you can start and stop with ease from up to 80 feet away with the included wireless remote key fob. It also features quiet technology, running at only 61 dBA – great for a peaceful outdoor experience. With up to 14 hours of run time on only 2.3 gallons of gasoline, you can count on this generator to provide the power you need for extended periods. 
An optional parallel kit enables this inverter to connect with another 2800-watt or higher Champion inverter to double your output power. 
You'll also love the IntelliGauge feature that monitors voltage, frequency, and operating hours with ease. The EZ Start Dial simplifies start-up while Economy Mode monitors power consumption in real-time. If you need any assistance, it includes a 3-year limited warranty with FREE lifetime technical support from dedicated experts.
Highlighted features:
Engine: 4-stroke 212cc OHV
Run Time: Up to 14 hr
Eco Mode
What we like:
The wireless remote start feature makes it easy to get the generator up and running.
It features various safety features, such as low oil shut-off, overload protection, and an automatic voltage regulator.
What we don't like:
Some have complained about the fuel tank being too small and having to be refilled more often than necessary.
5. Champion Power Equipment 200954 Open Frame Inverter Generator – 64dB
The Champion Power Equipment 200954 Inverter Generator is a perfect choice. It's powerful, quiet, reliable, and RV ready, providing your RV or next outdoor project with reliable electricity.
The Champion Power Equipment 200954 4250-Watt Inverter Generator is an advanced design that is 50% quieter and 20% lighter than a conventional 4250-watt generator. It has Economy Mode, which saves fuel and extends engine life, and Intelligauge monitors voltage, frequency, and operating hours.
This powerful generator operates at 64 dBA of noise, making it great for RVs, tailgating, your next project, or even home backup. It has a starting wattage of 4250 and a running wattage of 3500 for up to 22 hours of run time on gasoline.
This generator also comes with Clean Electricity for Sensitive Electronics. It is RV Ready with a 120V 30A RV outlet plus two 120V 20A household outlets with clean power. Additionally, it has two convenient USB ports for easy charging of mobile devices.
With this generator's advanced design, quiet technology, and extended run time, you won't be left in the dark. You'll also get to enjoy a 3-year limited warranty with this purchase.
Highlighted features:
RV ready
Parallel ready
Cold Start Technology
Quiet Technology
Engine: 4-stroke 224cc OHV
Fuel Tank: 2.3 Gallon
Run Time: Up to 22 hr
What we like:
Eco Mode for better fuel efficiency
High run time
What we don't like:
Quiet generators FAQs:
Q: What is a good decibel level for a generator?
A: Decibels can be measured in a variety of ways, but when it comes to quiet generators, most consider anything below 60 dB to be an acceptable range.
Q: Are inverter generators quieter?
A: Yes, inverter generators tend to be significantly quieter than traditional generators because they create smoother and less consistent sound levels. This makes them perfect for camping trips and outdoor activities where you want a consistent power source without creating too much noise. 
Q: Why are Honda generators so quiet?
A: Honda has made great strides in designing their generators with noise reduction in mind. They have developed their patented Eco Throttle System, which automatically adjusts engine speed depending on your power needs at any given time, allowing it to run at the lowest possible RPM while still generating sufficient power.
Conclusion
The market is flooded with many quiet generators, but our guide narrows it down to top picks that are easy to use, appealing, and reasonably priced. The quiet generators listed above are some of the best-rated models available. Ensure you check out for desirable features and consider your budget and acceptable noise levels set by HOA (Homeowners Association) before making that purchase.