Disclosure: This post contains affiliate links and I may earn a small commission if you purchase through these links.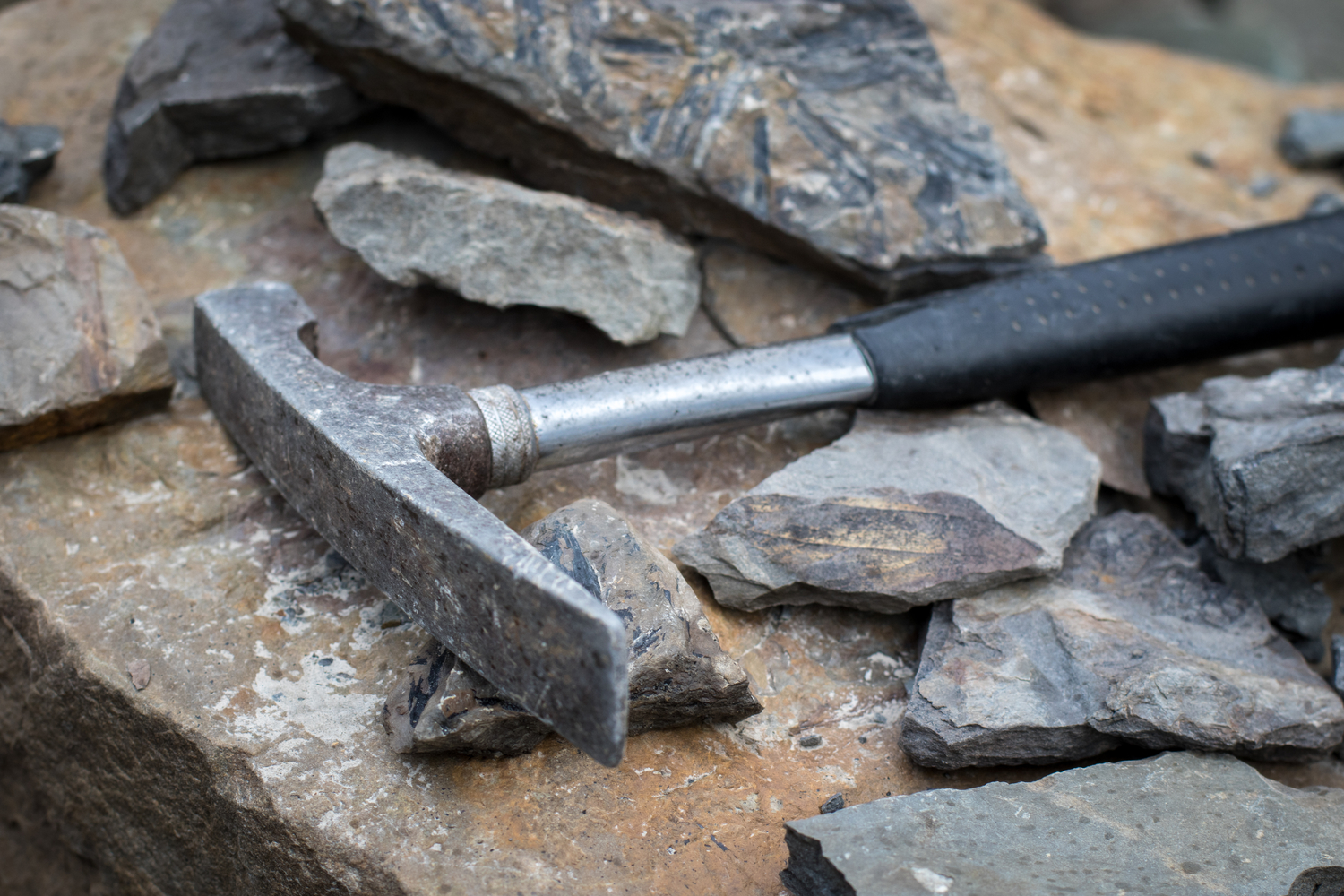 Many of us will have marveled at beautiful rocks or formidable outcrops during our trails. For some, this fascination has led to the study and collection of rocks, gems, minerals, and fossils, commonly known as rockhounding. This highly rewarding hobby offers the chance to seek out and collect interesting rocks and learn about the natural environment along the way.
But in order to maximize results and ensure the quality of your rock samples aren't affected, it's vital to get the right tools for the job. An essential tool you will need to begin with is a rock hammer. However, this doesn't mean a clawhammer you might find in the toolbox, instead, you will require a specially tempered hammer, with a shock-absorbent handle to safely and successfully embark on your new geology adventure
Before purchasing a hammer, it's important to think about what type of rock you might like to hunt, and what you'll have to do to obtain it. Different hammers will be built for different uses, so whether you'll need to smash, pry, chip, or crack rocks should factor into your decision, paying close attention to the hammerhead and pick.
Whether you're new to rockhounding or a seasoned geologist looking to upgrade your kit, we've put together 10 of the best rock hammers to help get you on your way. When putting together our recommendations, we took into account budget, experience, and product features to ensure there is something for everyone. We also analyzed product reviews through Fakespot, to ensure each hammer is used and loved by genuine rockhounds like you.
1. SE 20oz. Rock Pick Hammer
The SE Rock Pick Hammer features the standard flat-head hammer side to effortlessly handle softer rocks, while the other side is a pick head so that you can tackle medium to hard rocks too. Forged from one piece of steel, this hammer is polished, so it looks fantastic and works wonderfully. Also, despite its all-gray design, it still stands out well against rocks for the purpose of scaling in photographs.
Even though this is a more budget-friendly rock pick hammer, it is still designed to handle extended use. With its rubber grip handle, you are less likely to experience hand fatigue, even if you are exerting yourself. This grip will also ensure that your hold does not fail whether you are hitting it with less or more force. So, you can feel comfortable confronting various types of rocks without worrying about dropping the hammer and injuring yourself or others.
Additionally, the rock pick hammer is made with a hardened head and tip. This extends the lifespan of this tool dramatically, making it perfect for hobbyists and professionals alike. Alongside that, this rock hammer comes with a plastic tip cover. With such a cover, you can easily add this hammer with the rest of your gear and not worry about any other items damaging the hammer as you move it from place to place.
Features:
Weighs 2lbs
Full length: 11 inches
Head length: 7 inches
20oz. of drop-forged steel
What we love:
There is a comfortable balance to the hammer concerning its weight distribution that makes it easy to swing
The tip of the hammer is very sharp, perfect for breaking open rocks with ease
The hammer has a good grip to fit well in the hands of both adults and older children
We don't like this as much:
We wish the handle was a little bit longer to help increase ease of use
2. Estwing Rock Pick E3-22P
The Estwing Rock Pick E3-22P is a popular choice for many professionals and hobbyists thanks to its reliable design. To start, it is forged using a single piece of American steel. With it being one piece, it isn't known to have any flex, making certain to last you a long time, even if you frequently use the hammer. The handle sees much of the praise, however. It has a grip that is patented by the company, and this grip is bonded to the handle so that there is no chance it can slip off the hammer and require to be glued back on.
Besides that, the handle is also designed to absorb shock. In fact, it is proven that the grip works to reduce impact vibration up to 70% compared to a standard grip on any other hammer. This way, you can maintain a tight hold on the hammer as you work. Furthermore, a shock-absorbing design can make the hammer more comfortable to use, especially if you have conditions like arthritis as there should be less pressure and fatigue on your hand.
As for what you can use this rock hammer for, it features a square face tip on one side. This end is mainly meant to drive in chisels as well as cracking open some rocks. On the other side is a pointed tip, otherwise referred to as a pick end. Other than being a versatile and useful rock hammer to take on the field, it has a lovely appearance too. It can easily stand out thanks to the hand-polished head and neck. Also, it is hand sharpened too, which can offer a honed performance with great precision.
Features:
22oz. steel head
Overall length: 16.5in.
Hand sharpened and polished
Shock-reduction grip
What we love:
It's easy to identify the hammer while out in the field thanks to the solid blue handle color
The pick end does well at both prying and probing rocks, making it versatile to use out in the field
Even if the handle is wet, the non-slip design ensures it stays in your hand
We don't like this as much:
With its heavier head design, this hammer may be best used over brief periods of time rather than longer sessions
Estwing Rock Pick - 22 oz Geological Hammer with Pointed Tip & Shock Reduction Grip - E3-22P , Blue
#1 CHOICE OF GEOLOGISTS WORLDWIDE – The preferred choice of rockhounds, prospectors & contractors
FORGED IN ONE PIECE – The most durable, longest lasting striking tools available
SQUARE FACE & POINTED TIP– Use pick to crack open rocks & hammer to drive chisels
PATENTED SHOCK REDUCTION GRIP – Comfortable, durable & reduces impact vibration by 70%
MADE IN THE USA – Our American made tools are proudly crafted Rockford, IL
3. EFFICERE 22oz. Rock Pick Hammer
The EFFICERE Rock Pick Hammer is a tool that is easy to carry along thanks to its compact size. This size and weight balance also makes it a helpful hammer for children to use for their budding rock collecting or geology hobby. Gripping this flat-head hammer side is simple enough for users of various hand sizes thanks to its ergonomic design and rubber, anti-slip grip. This rubber grip is also soft to the touch so that it won't irritate you during longer sessions.
Another point of note with the handle is that it is designed to be anti-shock. This means that it can absorb a good deal of impact so that you don't completely feel the blow in your hand with each strike no matter how hard you swing. A design such as this can also give you greater control over your swing, ensuring that you hit your target all the time even if you are moving fast. This is further why it is a safe tool for not just children, but also for those of you just starting out.
Concerning the strength of the rock pick hammer, it has a single-piece design. The head and handle remain connected, ensuring stability and efficient usage. The material is hardened and forged alloy steel too with the only other material being the rubber grip that is glued to the handle. For versatile usage, it features a flat, square-head hammer side and a pick end on the other side that is designed to handle basic light and precise jobs.
Features:
22oz. head weight
11in. overall length
Drop-forged all-steel construction
Ergonomic rubber handle
What we love:
There is a good power-to-weight ratio so that your swing speed increases without sacrificing power
With the shorter handle style, it is easier to get into tight, hard-to-reach spots
The steel features a clear coating that can help prevent it from corroding over time
We don't like this as much:
It's recommended that you have a sharpening kit for the pick end, which may begin to flatten after extended usage
Sale
EFFICERE 22-Ounce All Steel Rock Pick Hammer with Pointed Tip, 11-Inch Overall Length | Essential for Geological Study, Rock Hounding, Prospecting, Mining, Fossil Dig, Masonry Related and Much More
An essential tool for contractor, camper, hunter, prospector, geologist, archaeologist, paleontologist, and is perfect for breaking and chipping brick / concrete / stone / rock in masonry construction, prospecting, mining and geologizing
Specially engineered 22-oz. head weight and 11-in. overall length with perfect balance and power-to-weight ratio increase swing speed and multiply striking power
Drop forged one-piece all steel head-handle construction with fully polished finish and additional rust-preventative clear coating for maximum strength and durability
Precisely machined square striking face on one side and a sharp pointed tip on the other side for versatile applications
Ergonomically designed anti-shock and anti-slip soft rubber grip for more comfort and control during use
4. Valley HMSC-20 Rock Chipping Hammer
The Valley HMSC-20 Rock Chipping Hammer is a straightforward and affordable rock hammer built to handle light as well as harder jobs. It has a uni-forged design, which means it is formed from a single piece of steel from the head and down to the handle. A single-piece style is useful if you are a harder swinger that frequently makes tough impacts on rocks and other surfaces since this style will reduce the likelihood of you breaking or bending the hammer.
As for what you can do with the rock hammer, it features the usual dual-head design of one being a square head end and the other being a pick end. This pick end can handle chipping jobs and more precise tasks that require you to dig through areas. The hammer works well at splitting rock too so you can get to the structure faster for instant identification or to check the value of the mineral at hand. Since the steel that went into making it is tempered, it is a great indication that the hammer is built with more strength to withstand frequent use.
Even if you decide to hit rocks with more impact, the handle of the hammer is designed to absorb plenty of shock. This way, you won't feel the pressure from that strike race through your hand and arm, making this tool far more comfortable to use in the long run. It also has a gentle rubberized grip applied that can further help you get a strong hold of the hammer. This rubber grip features a black and bright yellow design, which makes it more easily recognizable if you set it down while out in the field.
Features:
1-piece drop-forged design
Shock-absorbing rubber grip
Forged and tempered head
Square head end and pick end
What we love:
It is as good to use sifting through sand as it is handling rocks and various clusters
The size isn't overly large so that it can fit on a belt easily, which keeps it within reach
It comes with a lifetime warranty to give you more peace of mind
We don't like this as much:
We'd like to see the inclusion of a cover for the head of the hammer to guard against knocks and scratches
5. ASR Outdoor Rock Pick Hammer
The ASR Outdoor Rock Pick Hammer is weighty, yet well-balanced at the same time so that you can experience superior performance whether you are a veteran of using this type of tool or a novice user. This hammer features an ergonomic injection molded rubber handle that is comfortable to hold. It is also designed so that it will also give you relief when you swing since it can absorb a good deal of the vibrations that come from impact. It can also prevent accidental slipping so you maintain a firm grasp of the hammer at all times.
Besides that, the handle is further designed to be anti-fatigue. Many times while out in the field, it is common to be using your hammer frequently within a short period of time. With an anti-fatigue layout, you can keep going without feeling worn out or pain in your hand, letting you hunt until you find your treasure with ease. Also, the handle is simple to grip no matter which side of the head you're using.
To focus more on the steel side of the construction, it is field-tested to ensure that its unibody design can withstand a variety of use. It has a dual-face hammer head design so that you get the square face on one side and the pick end on the other, easily able to use whatever you need when you need it. The forged steel build allows you to quickly drive chisels into rocks and split them in no time in the search for fossils, minerals, and even gold.
Features:
Single-piece forged steel
2lbs overall weight
11.5in. overall length
Rubberized grip handle
What we love:
The head has a heavy enough design so that it can make crevices with minimal effort
Designed to work well with both hobbyists and professionals
The rubber grip is glued well so that it stays on even if you use it in various conditions
We don't like this as much:
It may require frequent maintenance and cleaning so that it won't rust
ASR Outdoor 32oz Geology Rock Pick Hammer for Gold Prospecting, 11 inch with Pointed Tip
SINGLE PIECE HARDENED STEEL: Extremely durable and able to withstand a constant pounding whether it is for rock hounding geology or gold prospecting
ANTI-FATIGUE RUBBER GRIP: Featuring a ergonomic molded handle designed to help reduce the pressure from the constant vibrations of repeated material striking while hunting for fossils
SQUARE FACE with PICK: Use the pointed tip pick to break open rock and loosen sediment while utilizing the hammer square face end to drive chisels splitting rocks
SPECIFICATIONS: Overall Length: 11.5 inches | Overall Weight: 32oz | Head Weight: 20oz | Provides the perfect balance and power-to-weight ratio to increase swing speed and intensify striking power
UNIVERSAL APPLICATIONS: Ideal for gold prospecting and fossil hunting this is an essential tool for a rock hounding, geologist, archaeologist, and hobbyist
6. Estwing Rock Pick E30
From the famous company known to make indispensable outdoor tools, the Estwing Rock Pick E30 is no exception from the rule. It handles well in various outdoor elements, which is what has led this to be such a popular and versatile hammer. This rock pick has a square face end as well as a pointed tip end to handle multiple purposes. The pick works well to crack rocks open, while you can then quickly flip to the square face side to drive in chisels, finding what you're hunting fast and without too much effort.
This is forged in a single piece so that it can better withstand such frequent and tough use. The steel is polished as well. It not only helps the hammer to look good, but it also provides the hammer with a smoother and protected surface. The head portion may have a good deal of weight to it, but it is also balanced well with the handle so that it doesn't feel awkward to use.
You can still maintain a safe and true swing if you are working fast or slower. Alongside that, the leather-wrap handle is designed to offer you comfort. It can also help give you greater grip power so that your hold remains throughout your excursion. If you wish, you can get the special edition version of this hammer that instead has a black powder coat finish on the steel instead.
Features:
Single-piece design
Leather grip
Hand-sharpened and polished
12.5in. overall length
What we love:
The metal has a good hardness to it so that it can resist deforming no matter how hard you use it
It has a precise point on the pick head side so that it can reach into smaller crevices
A comfortable weight that you can carry around for hours on end
We don't like this as much:
Some vibrations from heavier strikes can be felt through the leather grip handle
Sale
ESTWING Rock Pick - 22 oz Geological Hammer with Pointed Tip & Genuine Leather Grip - E30
TOP CHOICE OF GEOLOGISTS WORLDWIDE – The tool of choice for rockhounds, prospectors & contractors across the globe.
FORGED IN ONE PIECE – The most durable, longest lasting striking tools available are crafted from a single piece of solid steel and honed into the optimal design for use.
SQUARE FACE & POINTED TIP– This versatile tool is designed to use the pick to crack open rocks & the hammer to drive chisels.
PATENTED SHOCK REDUCTION GRIP – Our molded vinyl creates a dimpled handle that is comfortable, durable & reduces impact vibration by 70%.
MADE IN THE USA – Since 1923, our tools have been proudly crafted in Rockford, IL using only the finest American steel.
8. Estwing Rock Pick E3-23LP
The Estwing Rock Pick E3-23LP is another preferred choice for geologists, professionals, and hobbyists alike. This rock pick is forged from a single piece of steel from the head to the handle. It has tempered strength to make it more reliable to hold up against the frequent hard strikes commonly seen while out on the field. Forged with precision, the level of quality is exceptional, from head to hilt.
Both the square face end and the pick end are designed to handle both soft and hard rocks. As long as they are used in the right situations, both ends can maintain their shape even in the event of a rougher impact. The pick performs well at getting through those tight spaces between rocks. Meanwhile, the hammer face side provides enough strength to easily split the rocks so you can quickly discover its internal structure.
There is obvious attention to detail spent in the design of this rock pick hammer as well. It is easy to see that this rock pick features a hand-polished head and neck with how brightly the steel shines. This gives it a wonderful professional-level appearance so that anyone using it can feel like a pro. There is a good blue rubber grip on the handle too so that you can keep a stable hold through multiple swings. This handle also has the tried-and-tested shock absorption design the company is known for so that you don't feel much of the vibrations as the hammer makes an impact. The feature is also useful if you have any issues in your hand such as arthritis as it lessens the potential pressure and reduces the risk of hand fatigue.
Features:
Single-forged piece
22oz. head weight
Square face and pointed tip
Shock-reduction grip
What we love:
The rubber grip is bonded to the handle so that there is no chance it will slip
With the longer handle, you won't feel much pull or fatigue in your wrist
The hammer can tear through the ground without much effort needed on your end
We don't like this as much:
There's little to fault with this hammer, however we'd love to see some extra color schemes available to really make it your own
Estwing Rock Pick - 22 oz Geological Hammer with Pointed Tip & Shock Reduction Grip - E3-23LP , Blue
#1 CHOICE OF GEOLOGISTS WORLDWIDE – The preferred choice of rockhounds, prospectors & contractors
FORGED IN ONE PIECE – The most durable, longest lasting striking tools available
SQUARE FACE & POINTED TIP– Use pick to crack open rocks & hammer to drive chisels
PATENTED SHOCK REDUCTION GRIP – Comfortable, durable & reduces impact vibration by 70%
MADE IN THE USA – Our American made tools are proudly crafted Rockford, IL
9. Glorousamc Rock Pick
The Glorousamc Rock Pick is a well-balanced hammer that is fitting for any professional's kit as well as for those you just starting out in your journey whether that be in masonry, geology, or fossil-hunting. It is designed with a properly weighted head so that it won't be too top-heavy for you to swing properly. This also means it will be easy on the muscles, allowing you to stay out on the field longer without feeling exhausted after a brief period of time.
Another aspect that makes this user-friendly is the fact that it features a rubberized grip. Not only does this grip design make certain that you can always keep a strong and true hold on the hammer, but it also has shock absorption capabilities. By absorbing up to 70% of the vibration from impact, you won't feel the shock racing through your hand and up your arm, ensuring that you feel more comfortable and not as much pressure. It won't irritate those of you with hand conditions like arthritis either so that anyone can make good use of this hammer.
The construction of this rock pick hammer is designed to last you throughout several excursions over years of use. It is steel forged for added strength and longevity, and the hammer is permanently shaped too. Since it lacks any cracking in its design, the hammer is made to withstand tougher use without breaking apart or bending out of shape. So, feel free to go after those harder rock sediments without worrying that you will have to replace your hammer any time soon.
Features:
11.4in. in length
28oz. weight
Anti-skid rubber handle
1.8lbs overall
What we love:
This comes with a reliable 30-day money-back guarantee so you can feel free to test it out before fully investing
Both sides of the hammer can be used well on large rocks and around more delicate, smaller areas
The rubber is designed anti-skid so that it won't slide from your hand or from the ground no matter where you set it down at
We don't like this as much:
We'd like to see a version of this rock pick with a longer handle, making it easier to break open very tough rocks
Rock Pick - 28 oz Geological Hammer with Pointed Tip & Shock Reduction Grip - 11.4 Inch
PROPERLY BALANCED: Each hammer comes with a head that is appropriately weighted for its task. What this means is that its not too heavy and will still be heavy enough to solidly strike rocks or any other surface. Proper head weight is vital when using a hammer as it is much easier on the muscles when working.
SHOCK REDUCTION GRIP:Comfortable grip handle, durable & reduces impact vibration by 70%
STEEL FORGED: Steel forged, that means its going to last a heck of a long time. With its proper processing the hammer is permanently shaped without any cracking making for a solid construction. It will never break on you, it's made of steel!
ESSENTIAL TOOL: Although it is a rock hammer it is an extremely versatile tool that can be used for all kinds of jobs and work. Take it camping, hunting, prospecting or to the construction site. Its great for chipping brick, concrete, stone and rock in masonry constructing.
WARRANTY: 30 day money back guarantee. If you don't like it send it back to us. This is how confident this hammer will work for you.
10. Estwing Rock Pick EO-22P
With the Estwing Rock Pick EO-22P, you get a top-rated tool used commonly by professionals across various specialties from geologists to archeologists. It features the classic tempered steel construction that the company is known for, providing the hammer with obvious strength. This is also forged with a single piece of American steel that gives you an additional layer of power and protection for long-term use.
The rock pick hammer boasts the traditional, professional-level appearance from the company as well. This is done not just by using solid steel, but also by having the head and neck hand-polished for a shinier, more attractive look. That is not the only aspect that stands out though. This particular hammer features a bright orange rubberized grip on the handle. The grip stands out in the field no matter where you are using the hammer at. Alongside that, the grip is bonded directly to the handle so you don't have to concern yourself with it ever slipping, even under harsher outside conditions.
This handle features fantastic shock absorption and this feature is known to reduce vibrations by more than 70%. By doing so, there is no issue with using the rock pick hammer for various purposes big and small since your hand and wrist should feel next to no fatigue. Lowering the vibrations felt can also help you keep a firm grip on the hammer, making certain that you don't mess up your search or harm yourself in the process by dropping the hammer. This is true no matter what side of the hammer you're using from the square face end to the pointed pick end.
Features:
Weighs 22oz.
Dual-head design
Colored rubberized grip
Shock-reduction handle
What we love:
The handle is well-made and not known to bend or break
There is a good deal of weather resistance found in the hammer so you can take it out in the field throughout the year
The pick end holds a sharp point so that you don't have to maintain it often
We don't like this as much:
We wish it were a little easier to remove the stickers on the hammer for those that prefer it without
Rock Hammer Mining Kit, Rockhounding Geology Tools Musette Bag Chisels Rock Pick Hammer
ROCK PICK COMES WITH STURDY DURABLE MUSETTE BAG - Tough and durable canvas bag with multiple pockets to keep your tools organized and protected
QUALITY MADE TOOLS INCLUDING ROCK CHISEL - Kit comes with pick hammer chisels magnifying glass made from quality materials
ROCK PICK HAMMER AND ROCK MINING KIT MAKES GREAT GIFTS - For holidays or Christmas this rock hounding equipment is the perfect gift idea
THESE MINING TOOLS HAVE GREAT VALUE - This kit is convenient and brings together all the tools to get started with geology and paleontology or archeology or even just a beginner
GEOLOGY HAMMER AND TOOLS EVERYONE WILL LOVE - Inspire that budding rock hound or geology student by giving them the right tools to explore their passion
FAQs About Rock Hammers
What is a rock hammer used for?
As the name signifies, a rock hammer is a tool used to smash open or split rocks. It's helpful when you want to reveal the crystalline structure of a rock specimen. This can benefit people in a couple of ways. For one thing, it helps to identify a mineral or a rock, making it a vital tool in geology. You can use a hammer to break a piece off, taking it with you as a sample for later testing.
Many geologists also use a rock hammer to extend their senses, so to speak. Striking a specimen can help a geologist understand a rock's soundness, granularity, and resistance. This can further lead to properly identifying a specimen besides looking at the structure.
On the other hand, revealing some of the structures can elevate the value of a rock by highlighting the structure. Additionally, people can use a rock hammer simply to clear out smaller rubble to get to a more sought-after specimen.
Besides geology, paleontologists use one as well since it works well at splitting layers within sediments and soft rocks. If you are an amateur fossil hunter, you can utilize a rock hammer too to help in your hunt.
What material is used to make rock hammers?
There are quite a few materials that go into making rock hammers, but some of the most desired ones are made with a single piece of hardened steel. This is known to make the hammer more reliable in the long run, especially for frequent, high-strain use.
More commonly though, you will find many rock hammers made with wooden shafts or even tubular shafts. These are usually more affordable and user-friendly, but they don't always work for heavier instances that require more strain. They do work well for simpler tasks though.
Despite the various materials that go into making the handle, how that shaft is made determines how easy the hammer is to use. In which case, the weight and form will indicate how balanced the hammer is overall, thus contributing to whether it's comfortable for you to use. User-friendly rock hammers that aren't too heavy may be more helpful for those of you just starting as you have less chance of experiencing hand fatigue right away.
As for the head of the hammer, no matter what the handle is made from, it usually consists of forged and hardened steel to survive striking against rocks and minerals.
How does a rock hammer work?
At their basic principle, rock hammers are designed to hit rock specimens. How strong that impact will be is determined by the construction of the hammer such as how long it is and how heavy or light it feels. The shape can further tell you how powerful the strike will be.
Similar to most hammers, a rock hammer will often have two heads, one on either side. It is common to see one of these hammers with a standard, flat square head on one side. You can use the edge or the corner of this side to split a rock.
On the other side, there will either be a pick head or a chisel head. A pick head is more useful for handling harder rocks as it has a sharp point built to send out far more pressure and strength. However, these may sometimes be referred to as a rock pick instead of a rock hammer.
As for the chisel head, that side is used for more intricate jobs such as creating exposure that comes from digging. It can even help clear out the loose material and any vegetation found in the exposure.
Wrap Up
Whether you are an amateur geologist or have a passion for rock collecting, a rock hammer is an essential tool to have in your gear. This hammer has a few different uses depending on its design. Some are ideal for creating exposures, while others are exceptional at chipping or smashing to reveal the structure of a mineral. Because of the versatility in design and use, it is important to find the right rock hammer to handle your specific needs.
Also, some rock hammers are made with more weight, which can contribute to them being more reliable but a bit heavy for beginners. So, you should also consider your experience with a rock hammer when shopping around. To help you, we made it a point to find a good variety of rock hammers for you to explore. This way, you will have all the information needed to make the best decision possible.
Besides choosing a rock hammer based on its design, weight, comfort, and more aspects, we broke down a few of our top three choices based on affordability. You can check out our favorite picks for the top budget-friendly rock hammer, our top mid-range hammer, and our favorite high-end hammer:
911metallurgist.com is a participant in the Amazon Services LLC Associates Program, an affiliate advertising program designed to provide a means for sites to earn advertising fees by advertising and linking to Amazon.com.