Disclosure: This post contains affiliate links and I may earn a small commission if you purchase through these links.
Rock tumblers are the perfect tool for turning rough rocks into polished stones you will want to share with the world. To help make it easier to find the best rock tumbler we produced this list of our recommendations.
Remember the joy you felt when you discovered a radiant, multi-colored rock on a hike? Or the excitement when you first cracked open a geode?
The best rock tumblers can bring back that feeling!
A good rock tumbler can set you on a path for a fulfilling hobby. If you've ever wanted to make jewelry or decorate your home with precious stones, rock tumbling can get you there.
Rock tumbling is a great way to take jagged, unpolished stones and turn them into dazzling gems. All you need is a quality rock tumbler kit and some patience (it can take weeks or months to polish a rough rock into a beautiful gemstone)
But rock tumblers aren't built the same.
When choosing the right rock tumbler kit, there are several important considerations to consider. In this guide, we'll share the factors to consider when buying a rock tumbler and introduce you to the best rock tumbler kit on the market. 
Best 4 Rock Tumblers as of 2023:
Preview
Pro
Most popular unit for many years for good reason
Higher end version of the NeoGeo Hobby kit
Good kit for those ready to take it to the next stage with bigger barrel
This is industrial grade tumbling with massive barrel
Con
Might not be enough power for those beyond begineers
Higher price but comes with more grit that similar models
Costs more for extra rock tumbling capacity
Is not a kit so no grit provided or any extras
What Is a Rock Tumbler?
A rock tumbler is a specialized machine that polishes rocks through an abrasive process. The machine slowly grinds down the rocks, gradually removing imperfections and turning them into beautiful gemstones.
Rock tumbling can take a few weeks to months, depending on the size of the rocks and the type of tumbling machine. 
What to Look for in a Rock Tumbler
Using the best rock tumbler to turn rough and jugged rocks into beautiful stones will make your project run smoother. If you're new to rock tumbling, you may not know how to choose the right tumbler for your needs. Consider these factors when buying a rock tumbler.
1. Barrel Size
When shopping for a rock tumbler, make sure you know the size you want. Barrel size is usually written in weight. For a beginner doing rock tumbling as a hobby, a 3 lb tumbler is perfect. A tumbler with a 3-pound capacity can polish rock between 0.25 inches and 1.25 inches.
If you're more serious with rock tumbling, perhaps doing it for decorative or commercial purposes, go for a 6 lb or 12 lb tumbler. This should be appropriate for a majority of professionals.
2. Barrel Material
The material the barrel is made of is a critical consideration when buying a rock tumbler. Most tumblers on the market today have plastic, aluminum, steel, or rubber barrels.
Avoid tumblers with plastic barrels as they bend out too easily, which can make the rocks bump against each other, causing damage.
Steel and aluminum barrels are the best options because they won't bend under any circumstance and prevent the rocks from bumping into each other. These barrels are also more durable than their plastic counterparts. Rubber barrels are more sophisticated but are also less noisy.
3. Barrel Configuration
Typically, you'll find two different types of barrel configurations to choose from:
Rotary
Rotary tumblers are ideal for beginners.
A rotary barrel configuration uses water and an abrasive element to polish the rocks by turning the barrel. These systems work by causing the stones to collide with one another and with the abrasive grit to polish the stones.
Vibratory
A vibratory barrel configuration shakes the stones inside the barren to smoothen them off. This system uses an electric motor that vibrates the stones inside the barrel, which helps minimize imperfections in the rock's surface. Vibratory systems are a bit pricier and require more skill. 
A detailed review of the rock tumblers we evaluated:
1. National Geographic Hobby Rock Tumbler Kit – Best Overall for Adult Beginners
Regarding the best all-around rock tumbler kit on the market, the National Geographic Hobby Rock Tumbler Kit carries the Oscar.
Nat Geo makes several different kits, but this Hobby kit makes a strong case for being the best on the market. It's easy to use, made from tough materials, competitively priced, and packed with features ideal for hobbyists and professionals alike.
One of the things that distinguish this tumbler from others of its kind is the leak-proof rubber barrel. The rubber construction helps to reduce noise when the machine is running, making it one of the quietest models out there. According to the manufacturer, this tumbler is 75% quieter than competing plastic models.
Plus, it comes with everything you need to create polished gemstones; nine types of stones to start with, a sifter, and four polishing grits. Its main benefit over other earlier models is the presence of a one-touch timer and automatic shutoff features.
Here's what one customer said about the product's usability "..it's so easy to use, Just like set it and forget it. So I'd highly recommend this to beginners; you will like it." Has everything you need to start the hobby and can be found around the $70 range.
Key Features
Number of barrels: 1
Barrel material: Rubber
Weight: 1 lb
Dimensions: 13.8 x 4.9 x 8.1 inches
Price: $69
What We Love
One-touch timer and auto shut off
Rubber barrel, which is 75% quieter
Competitively priced
What We Don't Like That Much
The included stones are poor quality but won't be long before you find more!
The Bottom Line
Rock tumbling is one of the most exciting and popular hobbies of all time, and the National Geographic Hobby Rock Tumbler kit makes it a fun and easier activity. This tumbler is easy to use and comes with all the right features you'd expect from a premium product. And for $69, you get the best bang for your buck.
Sale
NATIONAL GEOGRAPHIC Hobby Rock Tumbler Kit - Includes Rough Gemstones, 4 Polishing Grits, Jewelry Fastenings, Learning Guide, Great Stem Science Kit
CREATE YOUR OWN GEMSTONES - Make any stone sparkle and polish everyday rocks into dazzling gemstones! This rock tumbler kit makes it fun and easy to turn rough rocks into beautifully polished gemstones, thanks to its simple operation and durable design.
A TUMBLER THAT'S MADE TO LAST – Our high-quality tumblers are made with a durable motor that's designed to last for years. The leakproof rubber barrel reduces sound, making it 75% quieter than other plastic models. An excellent STEM activity for kids.
A COMPLETE HOBBY TUMBLING KIT - Everything you need to create polished gemstones: the tumbler, four polishing grits, sifter, nine types of real rough gemstones, plus a detailed full-color learning guide. Makes a great gift for girls and boys!
EASY TO USE – Simple instructions and one-touch settings make rock tumbling fun and easy. Control the number of days for each tumbling cycle with the one-touch timer and automatic shutoff feature, set it and forget it! This is a great gift for kids.
HIGH-QUALITY EDUCATIONAL TOYS - National Geographic is proud to make the highest quality hands-on science toys, and all our products are backed by exceptional service.
2. National Geographic Rock Tumbler Starter Kit – Best Rock Tumbler Kids 8+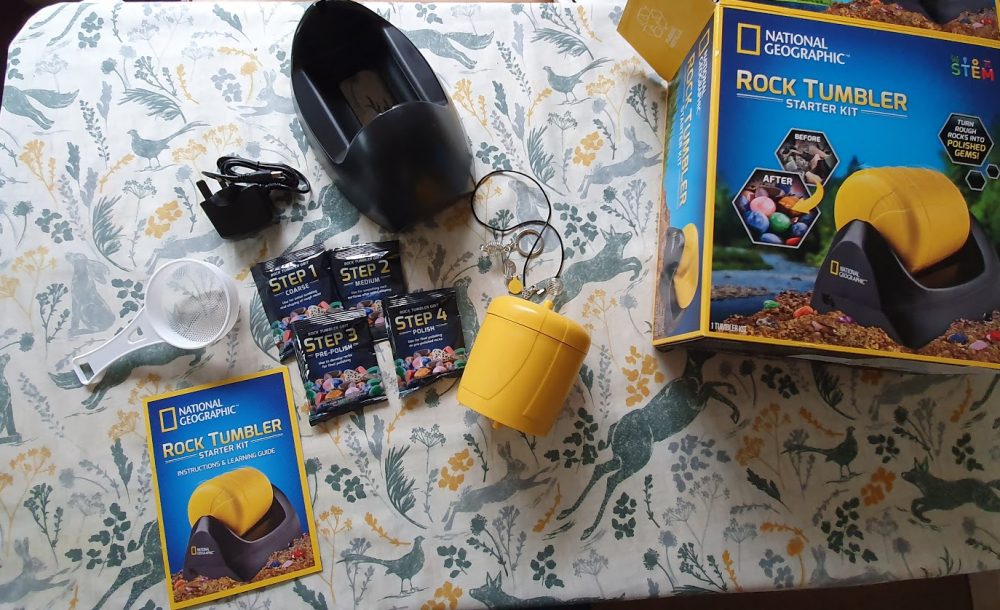 If you are just starting out or perhaps you are looking for some quality family time with your children, the National Geographic Rock Tumbler Kit is an ideal choice. It can be a wonderful educational tool thanks to the instructional learning guide that comes with this, allowing kids to have good fun and discover something new. This single barrel tumbler features rubber material that is designed to be about 75% quieter when compared to plastic tumblers. The barrel also boasts 3lbs. capacity so that it can hold more rocks at a time.
Since this product is actually a full kit you don't just get the tumbler. You also receive 3lbs. worth of rocks. There are generally 9 different types of gemstones found within these rocks so the end result will often be different. Included is also a strainer and 4 different levels of grit to get you started. If you are looking to create something this kit also comprises 5 jewelry fastenings. When you want to add a pleasant shine to your rock collection you can use the included GemFoam. Controlling this tumbler is simple thanks to the 3-speed control setup. Also, it's programmable anywhere from 1 to 9 days so it can go as long as you need it to.
It really helps make this an easier option for kids interested when it's regularly found priced for less than $50.
Features:
Durable motor

Leak-proof barrel with stainless steel lid

Noise-reducing operation

Automatic shutoff timer

LCD screens

Speed settings
What we love:
Remains cool to the touch for safety

Fast tumbling process

Simple to use
What we don't like that much:
It might shut off if a lot of rocks are used at the same time
Sale
NATIONAL GEOGRAPHIC Rock Tumbling Kit - 3LB Extra Large Capacity, 3LB Rough Gemstones, 4 Polishing Grits, Jewelry Fastenings, an Educational STEM Science Kit
CREATE YOUR OWN GEMSTONES - Rock tumbling is a hugely popular hobby for kids and adults! This professional rock polisher makes it fun and easy to turn rough rocks into beautifully polished gemstones, thanks to its simple operation and durable design.
A TUMBLER THAT'S MADE TO LAST - The durable motor has time and speed control settings so you can set it, and forget it. An improved, leak-proof barrel features a stainless-steel lid is 75% quieter overall than plastic tumbler barrels.
INCLUDES 3 LBS. OF ROCKS & MORE - This tumbling kit comes with everything you need: 3 lbs. of raw rocks with 9 types of gemstones, 5 jewelry fastenings, grit, strainer & GemFoam for a dazzling shine!
USE GEMFOAM FOR DAZZLING RESULTS - This rock polishing kit stands apart from others thanks to our new, reusable GemFoam rock polisher! Add GemFoam and water to the barrel after your final tumbling stage and your gems will have incredible shine!
SATISFACTION GUARANTEED – The National Geographic STEM series provides kids high-quality educational toys that are a whole lot of fun! If your experience is anything less than extraordinary, let us know so we can make it right for you.
3. Leegol Electric Rotary Rock Tumbler – Best People Who Love Rock Tumbling
If you like the hobby of rock tumbling, the Leegol is a good next tumbler due to the large barrel and quiet running.
The Leegol Electric Rotary Rock Tumbler is among the most affordable rock tumblers you can find that manages to get the job done well beyond the world of toys and want to do a decent amount of rocks at and affordable rate. It features a double barrel design, allowing you to tumble more rocks at a time. The rubber barrel is also made to be noise-reducing and leak-proof so you don't have to worry about cleaning up any mess during this process.
As this is a straightforward unit beginners should be able to handle it easily. It is also a fun process to go through with the family so that older children and teenagers can kick off their interest in rock collection. This comes with walnut shell media too so you can get started right away. With its high-quality motor, you may be able to run it for days at a time. This way you have a better chance at achieving that smooth finish.
This type of rock tumbler goes from $70+ so is not something that a kid interested or a beginner should get until they know this is the hobby for them.
Features:
120V/60Hz motor

3lbs. barrel capacity (x2)

V-Belt

Rubber barrel with aluminum lid

Sheet metal body

0.5lbs. walnut shell media (x2)
What we love:
Comes with good instructions for an easy setup process

It runs quieter than expected

Simple to clean the drums after each stage
What we don't like that much:
The belt can be hard to replace if it snaps
Leegol Electric Rock Tumbler Double Drum 6LB Lapidary Polisher
Power Adapter: 120V/60Hz Barrel Capacity: 2 × 3LB
Packaging List: Includes tumbler, 2×0.5lbs of walnut shell media, five v-belt, and instructions
Professional Features: The durable motor allows you to tumble multiple batches of rocks. An improved, leak-proof barrel is lined with rubber for quieter operation
Easy to Use: Detailed tumbler instructions lead you step-by-step through the rock tumbling process
Satisfaction Guaranteed: With a manufacturer warranty you can be sure you will get a quality gift.If you get a poor rock tumbler,contact with us,we will supply a new one.
4. Tumble-Bee TB-14 Rotary Rock Tumbler – Advanced
More power than all the tumblers on this list but starts at $100. The Tumble-Bee TB-14 is a rotary-style rock tumbler designed to handle stones as well as glass and metals with ease. It features a wide barrel that's well-made, with rubber material to cut down on any potential noise it can produce. This is backed by a powerful motor that's fan-cooled and which also comes equipped with a thermal overload protector that allows it to tumble 24/7 with a much lower risk of overheating.
Using the Tumble-Bee TB-14 is straight-to-the-point, starting from its brightly lit on/off switch. This is also a 4-step kit so it will include everything you need. It comes with pre-measured rocks as well as 3 types of grit (coarse, medium, and fine) and polish. There are written and visual instructions to further assist you, making it ideal for newcomers or children with a budding interest in rock tumbling. For the sake of maintenance, the kit also includes oil and an Allen wrench. This tumbler is safe to use too since the housing has no sharp edges.
Features:
115V fan-cooled AC motor

4lbs. capacity rubber barrel

ABS plastic with metal reinforced bottom

Built-in barrel guides

Illuminated on/off power switch

Rust-free housing
What we love:
Easy to maintain the motor

The kit comes with a good amount of starter rocks

Works at a good pace
What we don't like that much:
Might have to put in less than the suggested weight limit
Tumble-Bee Rotary Rock Tumbler with Rock Grit Polish Kit - Rock Polisher Machine, Tumbling Equipment for Stone, Glass, and Metal Collection, Polishing Tool for Adults & Kids, Model TB-14-KIT
SMART TUMBLER TOOL: This rock tumbler model is ideal for cool polishing projects and is the ideal size for professional tumbling of large quantities at once and the perfect size for professional tumbling of larger materials, such as rocks, glass, and deburring and polishing metals. It's an excellent starter set that allows you to tumble right out of the box.
MADE TO LAST: The Tumble-Bee rock tumbler has rust-proof housing with no sharp edges. It is made of a non-slip timing belt to reinforce the curve of the belt and protect it from slipping off the pulleys, allowing your rock tumbler to tumble smoothly. It also features a thermal overload protector, which turns off the motor if it overheats, safeguarding both you and your rock tumbler.
COMPLETE TUMBLING SET: Our rock polisher machine includes everything you need to complete your collection, including one 4lb rubber barrel, one bottle of clean, lightweight oil, one 3/64" Allen wrench, and a detailed instruction manual. This set comes with TWO rock grit polish kits, which has 1-1/2lbs of properly-sized agates, jasper, and petrified wood, pre-measured coarse grit, medium grit, fine grit, and TXP polish. Makes a great starter kit for beginners!
EXCELLENT GIFT: Whether for a friend collecting crystals and gemstones or a family member who enjoys the stone, glass, and metal tumbling hobby, our rock polisher tumbler makes a practical gift. It also works as a great educational tool for a kid who loves science & geology.
ABOUT US: Tumble-Bee rock tumblers are in a class of their own. We've taken the classic performance of existing rock tumblers and improved the design and technology to bring them into the 21st century. Not only is the Tumble-Bee a technologically advanced rock tumbler, but it's also a modernized, safe rock tumbler. Assembled, tested, and shipped in the U.S.A.
5. Model B Heavy-Duty
This tumbler is for serious rock tumblers and is not a unit I would recommend to those new to the hobby. It doesn't come with any extras but it does come with a 5-year guarantee and the ability to deal with 15LBs of material every time you want to tumble.
If you know that rock tumbling is your thing then you should have a serious look at the Tru-Square Model B as the sheer amount of rocks you can tumble will be worth spending over $300 on a rock tumbler.
Features:
120V/60Hz motor

15lbs. barrel capacity
What we love:
Can tumbler a serious amount of rocks

Can deal with rocks up to 3inches

A true "Dream" tumbler
What we don't like that much:
Sale
Tru-square Metal Products Model B Heavy Duty 15# Rock Tumbler, THU140
Professional Grade Rotary Tumbler
OUR most professional quality rotary tumbler features a 15 lb. capacity steel hexagon barrel with removable rubber liner.
Used for a variety of tumbling and mixing operations: polish rocks, brass, and other metals. 115V heavy duty motor - fan-cooled with overload protection.
The vendor offers a 5 year guarantee on barrel and liner.
Extensively used by serious hobbyists, laboratories, schools, and industry, this model is the standard of hard-loading experts.
6. Tru-square Metal Products Single Barrel Rock Polishing Tumbler
The Tru-square AR-1 Rock Tumbler offers professional-level work. It is a sturdy machine that is compact for easy transportation, so you can carry it wherever you need to set it up with little to no difficulty. The barrel is a comfortable enough size for you to tumble numerous rocks at a time without any problem. Along with the tumbler, you will receive a hefty supply of rocks to use, which is ideal if you're just starting out and need time to get to grips with the whole process.
Additionally, this comes with jewelry findings so you can create something right away. There is no need to go out and buy anything extra to start out with either since this includes a 4-step process. You will notice it comes with coarse grit, fine grit, pre-polish and polish. This allows you to go through the entire tumbling and polishing process with the rocks included in the kit before having to buy more.
Features:
110V/60Hz motor

1qt rubber barrel

3lbs. capacity

Rock polishers' guide

2 packets of grit

2 packets of polish
What we love:
The tumbler feels reliable and solid

The barrel is sealed well

Motor features sealed bearings so it doesn't need oiling
What we don't like that much:
Lacks an on/off switch so you must plug/unplug it for it to work
7. Leegol Electric Vibratory Rock Tumbler – Best Vibratory Rock Tumbler
The Leegol Electric Vibratory Rock Tumbler is designed for use with both wet and dry media. As such, it features a drain hose for easier use if you decide to add a wet medium. Since it is vibratory it tends to tumble at a quicker pace than rotary tumblers. Therefore this might be better suited for individuals who have already acquired some skills in rock tumbling. More so since it is a professional-grade product.
When you're operating the unit, it should remain stable thanks to the rubber-mounted feet. The drum opening is also wide enough, sitting at 10 ½in. in diameter, so you can add and remove items with ease. With its powerful motor, you may be able to run it for days at a time so you get an efficient, smooth finish. Besides the tumbler itself, this kit includes instructions on how to use it and three bags of 5lbs. walnut shell media. It is a good start to get you going with your projects.
Features:
120V/60Hz/0.5A electrical input

18-gauge steel motor housing

18lbs. vibratory bowl

Drain hose

Rubber-mounted feet

Polyethylene drum and lid
What we love:
Features a heavy-duty motor

The barrel holds a good capacity

Manages to tumble in a short amount of time
What we don't like that much:
The bottom plastic material could be stronger
Leegol Electric 18 Lbs Vibratory Tumbler Bowl for Polishing Metal
Electrical Input: 120V/60Hz/0.5A Barrel Capacity: 18LBs
Packaging List: Includes tumbler, 3 X 5lbs of walnut shell media, drain hose,and instructions.
Professional Features: This high-quality tumbler has a powerful motor, the design allows it to run for days at a time to ensure a smooth finish!
Versatility: This tumbler can effectively clean without the use of stainless steel media pins and can clean using a mixture of brass cleaning solution and water
100% Satisfaction Guaranteed: With a manufacturer warranty you can be sure you will get a quality gift.If you get a poor one,contact with us,we will supply a new one.
FAQs About Rock Tumblers
Can you put regular rocks in a rock tumbler?
Sadly you can't put any rock in a tumbler and most will just end up looking rubbed but show nothing interesting. The easiest rocks to tumble are jasper, agate, chalcedony, and petrified wood. The reason is that these types of rocks all contain a quartz material that polishes up really well.
You will want to avoid soft rocks as they might just fall apart when you add them to a rock tumbler and some really hard rocks might damage your tumbler. If you are able to test your rocks you will want those that have a Moh's hardness of between 6 and 8.
How long does it take to polish rocks in a rock tumbler?
For beginners, the answer can come as a bit of a shock as it could be one week or two months to tumble rocks to a polish that you are happy with. Many people deep into the hobby will use both a rotary and a vibratory tumbler which can add a lot more time to the process so patience is a virtue in this hobby. Hard rocks with a Moh of 7 take longer to tumble but the end result can be worth the wait as they look great when they are finished.
What types of rock tumblers are there?
Rock tumblers come in 2 different types: rotary and vibratory.
If you're a beginner you'll want to go for a rotary rock tumbler as they are user-friendly and the most common type in use. In fact, it is probably what the majority of people will picture when they think of a rock tumbler. This covers all the bases too. Throughout the coarse grind stage, it knocks off edges, and shapes, and smoothens the rough rocks out. Also, any rocks tumbled using a rotary rock tumbler always change shape to appear more rounded.
As for vibratory rock tumblers, they are less common for novice users. Unlike rotary tumblers, vibratory ones don't change the shape of the rock. They're usually used after a rock has been shaped since they focus on fine polishing the rock instead.
What other items can you tumble?
If you've found some coins during your metal detecting adventures then you can throw those in the rock tumbler. A rock tumbler will help clean it giving it a nice shine.
Something to keep in mind, however, is that you don't want to do this for valuable coins. A rock tumbler will completely destroy that value, so they would be worth nothing more than a collector's item for yourself. Only work on cleaning coins if they aren't worth more than their face value or if you plan to melt them down.
Other than coins you can also place shells inside a rock tumbler.
As long as a seashell isn't too thin it can be placed into a rock tumbler, but your approach would need to be modified since shells are far more fragile than rocks. There is no point in going through the coarse grit stage. Only spend a little time on the second stage or you can skip that completely as well, depending on the consistency of the shell.
Make sure to use as many shells as possible that will comfortably fit inside the barrel, including as much filler as you can.
To Conclude:
It is common to come across various rocks while you're out searching with a metal detector, and if you want to reveal the beauty that lies beneath them you will need the best rock tumbler. These machines remove all the imperfections so that you are left with something smooth, like those stunning gems you typically find in precious jewelry. Rock tumblers are plentiful, however. Finding the right one for your needs can take time. We looked at a variety of products so you can find a rock tumbler with the barrel size you need, the skill level that you're at, and the features you most require.
You might also like: 10 Best Rock Hammers and Best lapidary saw and Gifts for Rock Collectors
Update: 01/08/22 removed one unit and improved the clarity of our list
911metallurgist.com is a participant in the Amazon Services LLC Associates Program, an affiliate advertising program designed to provide a means for sites to earn advertising fees by advertising and linking to Amazon.com.
Disclosure: This post contains affiliate links and I may earn a small commission if you purchase through these links.