Disclosure: This post contains affiliate links and I may earn a small commission if you purchase through these links.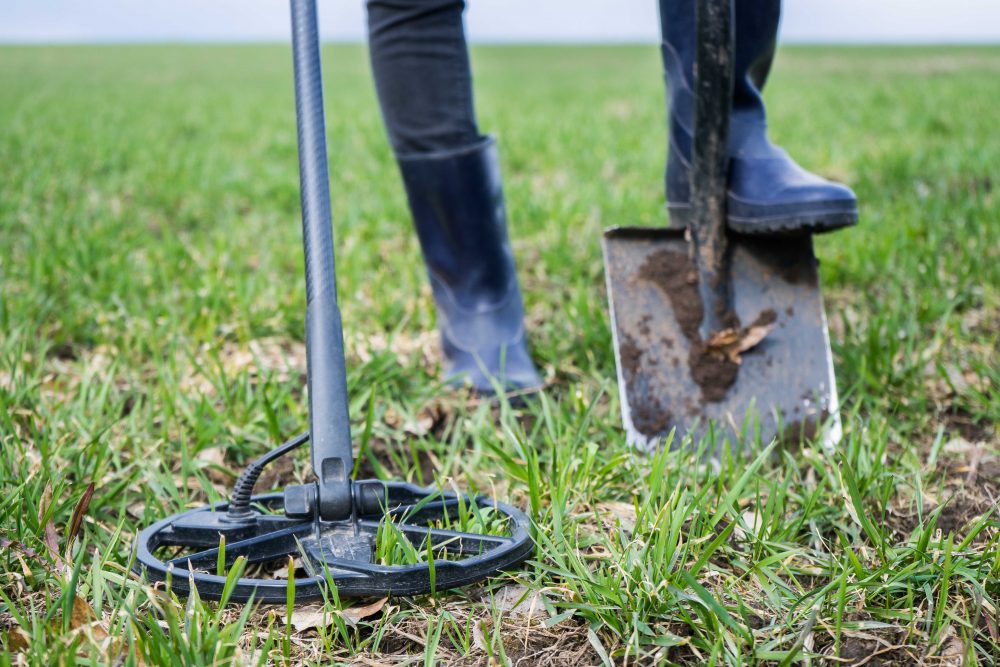 When you get hit with the metal detecting bug, it becomes more than just a hobby. It's no wonder that people spend hours out in all weather seeing if they can come across buried treasures, historical findings, and dreaded bottle caps. However, with all that time spent outdoors, you need to make sure your footwear is appropriate.
Rubber boots are an ideal option for going on hunts because they offer the following:
Waterproof material
Slip prevention/grip
Warmth
Comfortable insoles
Certain designs with a non-skid rubber sole help you keep your footing and prevent slipping on wet surfaces. Thus, you have a much greater chance to avoid potentially injuring yourself in slippery or wet ground conditions.
As a detectorist, comfort and protection are a must. If you like to dig in challenging ground conditions, such as soaked ground, wet sand, or muddy soil, wearing quality boots is not a luxury, it's a necessity. Having the appropriate equipment for all different types of terrain is key.
Regular tennis shoes may be comfy, but they will surely soak through if you are in a marshy area. We all know that there's nothing quite as uncomfortable as wet shoes and socks. This is why waterproof boots are essential, and every detectorist should have a pair in their closet.
You can't just go metal detecting anywhere you please, so make sure you research the laws before getting out and starting hunting.
In this article, we've reviewed multiple brands and put together a list of our top choices for rubber boots ideal for metal detection by finding the rubber boots that come highly recommended by real people who have worn them out in the field.
Recommended products: Best Waterproof Work Gloves and best waterproof work boots
1. MuckMaster Hi-Cut Boot
The Muck Boot MuckMaster Hi-Cut Boot is ideal for wearing in harsher weather conditions. They are waterproof with heavy-duty traction soles along with extra-thick rubber uppers for comfort and support. This way, you can venture out closer to bodies of water for your treasure hunting. The boots are even designed with a crush-resistant toe so you're ready for any encounter.
These boots are made to help you stay out longer. They have a stretch-fit comfort topline so that they hug your calves, keeping out the weather and any debris that may slip inside. You get a cozier fit with the contoured footbed as well as the softer inner lining. If you fancy even more, these boots come with removable EVA sock liners.
Features:
Neoprene material
Airmesh lining
Rubber sole
Calf-high extended rubber
EVA contoured midsole
100% waterproof
What we love:
Comfortable and supportive padding
Quality tread to grip slippery surfaces
Keeps out the cold well
We don't like this as much:
The rubber on the back of the heel may wear down with extended use
2. Dunlop Chesapeake Boots
The Dunlop Chesapeake Boots are a quality, affordable option for both hobbyists and seasoned metal detector users. They are a modernized version of classic PVC boots, built for protection from outside elements as they effectively repel water. The calf-high design prevents water and debris from getting inside the boots.
This pair of boots also offer a more optimized fit so that you'll feel comfortable wearing them while searching for treasure. You can wear them in just about any location too, from lakes to wooded areas. Thanks to the removable insole, you're easily able to use your own inserts if you require additional support.
Features:
PVC/Polyester material
Energy-absorbing outsole
Removable insole
Dunlop pull tab
Calf-high design
100% waterproof
What we love:
Good flexibility so they're simple to pull on and off
Lightweight and easy to move in
Ideal traction for muddy or damp soil
We don't like this as much:
Could offer more breathability in warmer weather
3. OutdoorMaster Hunting Boots
The OutdoorMaster Hunting Boots are insulated boots that provide protection against harsh conditions, leaving you to use your metal detector without discomfort. They feature high-grade rubber that makes them waterproof. Meanwhile, there's warm insulation to keep you safe in cold conditions as low as 14°F.
Its material is also flexible, allowing for a more comfortable and easier wearing experience. Safety has also been given thought in the design of these boots thanks to the shock-absorbing sole and its rough grooved pattern that helps you grip surfaces better. This way, you can trudge through harsh terrain without worrying about slipping.
Features:
Neoprene material
Warm insulation
Shock absorbing design
Anti-slip sole
Knee-high length
100% waterproof
What we love:
Fits true to size
Boots are easy to put on and take off
Provides good ankle and calf support
We don't like this as much:
The upper portion may prove to be the tighter side for some individuals
4. TIDEWE Rubber Boots
The TIDEWE Rubber Boots are multi-purpose boots, making them an excellent choice when metal detecting across various terrain. There's great protection given thanks to the reinforced rubber shell that keeps your toes and heels secure. The added steel shank also gives you extra support so you can handle those longer search sessions with ease.
With the neoprene uppers, the boots have ideal flexibility that works with your movements rather than against them. Getting the boots on and taking them off is a simple task too. The boots feature a pull-tab as well as a kick tab, allowing you to get ready quickly and take the boots off without touching them if they're muddy.
Features:
Synthetic material
Neoprene uppers
Anti-slip traction
Reinforced rubber shell
Comfort insole
100% waterproof
What we love:
Sealed well to prevent leakage when in the water
Rubber soles offer great grip
Breathable liner to keep you dry
We don't like this as much:
Not ideal for people with wider feet
5. Kamik Ranger Rubber Boots
For quality boots that won't break the bank, the Kamik Ranger Rubber Boots can give you all the protection you need to make your metal detecting journey go by smoother. These simple boots are made from 100% recycled material, and they're very easy to put on and take off so you can slip into them on the way out of the door with ease.
With their elevated heels, the boots provide you with another layer of traction to go along with the grippy outsole. The outsole is even self-cleaning so that there isn't too much maintenance you have to perform for upkeep purposes. Also, the boots are tall enough to enable you to seek out treasures without the worry of debris slipping over the top.
Features:
Synthetic material
Rubber sole
Non-slip outsole
Elevated heel
Calf-high design
Waterproof
What we love:
Boots are roomy enough to tuck pants leg inside
Quality soles with good durability
Keeps out water even if you submerge them
We don't like this as much:
Stiff upper material that can rub against your shins/calves
6. Tingley Economy Kneed Boot
The Tingley Economy Kneed Boot is a budget-friendly choice to get you through those simple metal detecting trips in dry and wet conditions. With the injected molded design, they provide good waterproof protection so you can comfortably wade through sandy shores or nearby lakes to find your hidden treasure.
You're kept safe too while wearing these boots thanks to the quality outsole. With its cleated design, it can clear debris out of the way, all while giving you greater traction to handle uneven or hazardous terrain. Also, the upper material is flexible for greater freedom of movement as well as helping you stay warmer.
Features:
Plain toe
Cleated outsole
Flexible upper material
Removable insole
Abrasion-resistant
100% waterproof
What we love:
Offers good stability and support
Easy to add an insert for extra comfort
Solid toe cap to protect against light debris
We don't like this as much:
May require some slight padding for those with smaller calves
7. The Original MuckBoots Scrub Boot
The Original MuckBoots Scrub Boot is a quality, mid-height boot that keeps you secure with help from the multi-ribbed tread design. There's also good reinforcement throughout the heel, shank, Achilles, and toe areas for protection.
These boots are lightweight with much-needed flexibility to adjust to how you move. This is further helped by the 4-way stretch nylon material. Alongside that is the stretch-fit topline binding which helps the calf fit snugly without being too tight, locking in warmth during those colder outings.
Features:
Rubber and textile material
Stretch-fit topline
Rubber sole
Multi-ribbed tread
Rubber reinforcement
100% waterproof
What we love:
Simple maintenance as they're easy to clean
Comfortable upper material
Can easily tuck jeans inside the boots
We don't like this as much:
We would like to see a taller version for shoreline and in-water use
8. LaCrosse 4xAlpha Hunting Snake Boot
The LaCrosse 4xAlpha Hunting Snake Boot features handmade premium rubber laid over insulating neoprene for comfort, flexibility, and durability. They are lightweight and are ideal for wearing on longer adventures. Also, the outsole is built to handle rough terrain exceptionally. The angled lugs do well at getting rid of any mud that tries to stick to the bottom of the boots.
More protection is found in the full shin guard as well as the multiple layers of rubber such as in the toe guard and the instep. The liner features a moisture-wicking design so that you stay dry. This also makes maintaining the boots easier since they dry faster.
Features:
Rubber with neoprene core material
4-layer cushioned design
Full shin guard
Moisture-wicking
Contoured fit
Waterproof
What we love:
Snug and comfortable design
True to size fit
Reliable material to protect against outside elements
We don't like this as much:
Can prove to be a bit more difficult to take off
FAQs About Best Rubber Boots
Why is having the right footwear important when metal detecting?
Some casual hobbyists may not think too hard on their footwear, but if you're going to use a metal detector frequently, it's something that shouldn't be overlooked. Metal detecting can take you across various terrain types from a rocky shore to muddy soil. The right boots will keep you dry, comfortable, and safe.
What other accessories will you need?
Besides some comfortable footwear, several other accessories will make your time spent metal detecting easier and worthwhile. For one thing, you should get a quality pair of headphones. They will help you drown out the background noise so you can better catch incoming signals.
Headphones provide necessary privacy so only you know when you're on the right path. They benefit those with good hearing as well as those who may not hear so well since they can help you catch those crisper sounds.
Another must-have accessory is a pinpointer. Some metal detectors come with it, but oftentimes you will need to get one separately. A pinpointer will narrow down a target's location through vibration and tone, both of which will increase the closer you get. This will ultimately cut down on how long you spend searching.
A hand shovel or other digging tools are also helpful to bring along. They will help you recover all your findings faster since you won't have to use your hands. Consider bringing gloves too for safety purposes.
If you're going to be hunting long, then having some snacks, water, and even a first aid kit goes a long way.
Wrap Up
There are many places to go hunting for treasure, but not all of them offer flat, smooth surfaces to walk on. If you have the right pair of boots, you can lower your risk of any incidents happening such as an unfortunate slip. Quality boots ensure you will be able to search in hard-to-reach places, meaning you can give the area a thorough look to increase your chances of finding the best treasure.
Additionally, good boots keep you comfortable. They let you stay out longer by reducing fatigue, so you get in a good search before wrapping it up for the day.
Our list offers a variety of boots so you can find the right pair for your adventure. You can also check out our top picks for our favorite budget-friendly option, our top mid-range pair of boots, and our top high-end boots.
Related: Best Winter Work Boots and Best Wide Work Boots
911metallurgist.com is a participant in the Amazon Services LLC Associates Program, an affiliate advertising program designed to provide a means for sites to earn advertising fees by advertising and linking to Amazon.com.
Disclosure: This post contains affiliate links and I may earn a small commission if you purchase through these links.