Disclosure: This post contains affiliate links, and I may earn a small commission if you purchase through them.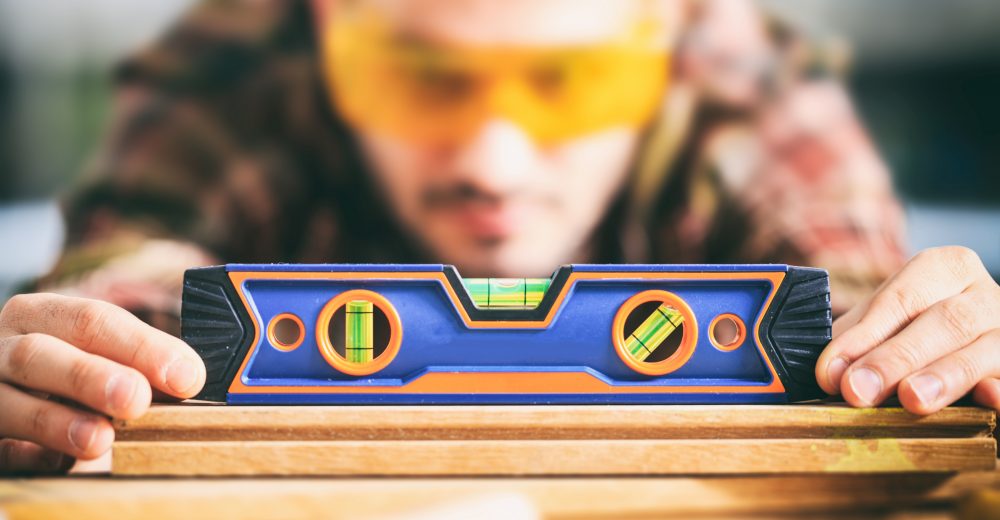 One of the essential items in every professional or homeowner's toolkit is the spirit level. Purchasing the best spirit level can be overwhelming with the many options available. With this guide, we intend to make this decision easy by giving tips on what to look for before making that purchase. We will also review some of the pros and cons of popular spirit levels.
The purpose of a spirit level is to ensure that a surface is level or plumb. This tool will make the difference between doing a decent job and a straight job. It's the perfect tool for do-it-yourself, building, professional trade, and hanging photos.
Before making that purchase, you must learn a few things about the spirit level.
The Basics: What is in a Spirit Level?
A spirit level is made up of plastic or wood, and a metal frame has a glass tube containing liquid. If you are working in tiny spaces, a shorter level is ideal. If you're working over a long distance and huge spaces, a longer level is ideal and will give you the best precise measurement of the distance to be covered.
You will also see a liquid on a spirit level. The liquid bubble is used as a marker to measure the level lines. The popular liquid in most spirit levels is ethanol. This ethanol is very diluted alcohol. Other liquids used are water, for cheaper levels, and other diluted spirits with alcoholic properties.
On average, a spirit level costs between $10 to $75.
How to Choose the Best Spirit Level
Consider the following when buying a spirit level:
Precision: A spirit level is only as good as its capacity to give an accurate measurement. For precise measurements, look for levels with milled top and bottom surfaces.
Clarity: You must be able to read the level clearly, and it needs to rest squarely on a surface.
Materials Used: Most spirit levels are made from a durable material such as aluminum, while smaller levels are made from durable plastic.
Vials: Vials are an essential part of any spirit level. Longer ones have one horizontal and two vertical vials, while smaller levels have one vial for horizontal and vertical use.
Features: To make them versatile for use in different environments, spirit levels come designed with various features. Some are fitted with LED lights, digital levels, steel rulers, and magnets.
Torpedo and Spirit Level: What's The Difference?
A torpedo level, also known as a boat-shaped or canoe level, is often 9 inches long, with two or three vials. The torpedo is a type of spirit level, ideal for working in tight spaces, and is small enough to fit into your pocket.
How to Use a Spirit Level
A spirit level has one or two vials depending on the size. These vials contain liquid with an air bubble, with markings on the outside. Regardless of the type, all spirit levels measure using the same principle. When the bubble moves between the two lines, it will show whether your surface level is horizontal or vertical (plumb). Laser levels are the perfect fit to level areas accurately from a distance.
Now that you know what a spirit level is and what to look out for, let's dive in and look at some of the best spirit levels on the market. We put this list together based on the latest customer sentiment data and includes recommendations from our community of metallurgists from around the world:
This red 12-inch spirit level is made from heavy-duty aluminum and is fitted with a 100Ft laser alignment and 30ft horizontal line for leveling. With the help of a level magnet, it can be used vertically. If you place the level incorrectly, you won't get a line across the wall.
The Prexiso laser level is designed with a 180° bubble vial for precise leveling. It can also be used for V-shaped surface areas. If you are working in dark spaces, the Prexiso laser level is fitted with 2 bubble vial LED lights. Additionally, it is designed with anti-shock and rubber end caps to protect against wear and tear.
The heavy-duty aluminum frame allows for accuracy and longevity. However, avoid using it over direct sunlight when using the laser measure. Direct sunlight interferes with the laser energy, weakening and affecting its accuracy.
For storage, it has a hanging hole on one side for hanging purposes.
It's ideal for construction, home furnishing, and decorations
Technical details:
Style: Heavy Duty, Laser, Magnetic, Horizontal
Weight: 476 Grams
Material: Aluminum, Rubber End Caps, Iron
Package Dimension: 13.6 x 2.9 x 1.3 inches
The pros include:
It's lightweight
2 bubble vial LED lights making it ideal for dark areas
Top vial allows for visibility of measurement reading
Durability from the aluminum frame
Two milled surfaces with magnetic allows it to be fixed to any iron
Laser can be seen from a distance of at least 30Ft
The cons include:
Not ideal for use in more extended surface areas
The batteries do run out and need replacement
Sale
PREXISO 2-in-1 Laser Level Spirit Level with Light, 100Ft Alignment Point & 30Ft Leveling Line, Magnetic Laser Leveler Tool for Construction Picture Hanging Wall Writing Painting Home Renovation
NOTE: It does not measure distance!
Laser Alignment Point & Leveling Line - Designed with bright red beam 100Ft alignment point and 30Ft horizontally line for leveling. You can also aligns plumb with the help of spirit level magnet. The line laser can also be used vertically with the help of level magnet
12 Inch Spirit Level - Made of heavy duty aluminum frame is lightweight, easily used in construction work and help reduce hand fatigue. Design with 180° bubble vial and one triangular bubble vial with triangular mirror are handy for horizontal, vertical or angular applications with quick and accurate leveling. Measurement surface with V-shaped groove for pipe measurements
LED Light - Designed with 2 bubble vial LED lights for easier reading in dark workspaces. Long press the red button to turn on/off the light. Class II laser product, output < 1mW
Anti-shock & Magnetic - 2-in-1 laser spirit level designed with over-molded rubber end caps for non-marring leveling and shock resistance; Two milled surfaces with magnet making it easier to be attached to any iron for easy and hands-free work
Qooltek is a popular brand known for making quality small home tools.
The Qooltek multipurpose laser level is helpful for many tasks, including constructing shelving, laying down flooring, and hanging pictures. An 8-foot tape measure with imperial and metric measurements is included with this level.
For even more detailed findings, it has bubble vials positioned three times.
They can be used to measure cross-level, vertically, and horizontally. It is intended for interior work settings where accuracy and straightness are required. It is within where the laser light is more intense. For example, to measure spaces on a wall, picture-hanging levels, and areas between hangers.
Press the key button to release the measuring tape when you wish to. Once the tape has been drawn to the desired distance, unlock the reel by loosening the key button.
There is a power switch on the laser light.
Technical Details:
Style: Multi-purpose, Laser, Standard, Multipurpose, Horizontal
Weight: 7.9 ounces
Material: Aluminum, Acrylonitrile Butadiene Styrene
Product Dimensions: 7.28 x 1.1 x 2.5 inches
The pros include:
Variety of uses
It's affordable
Comes with backup battery
The cons include:
The measuring tape ruler can't be used to measure from the end. It requires overlapping for what you are measuring
The laser switch is at the edge of the level. That means, if you're working against a wall, the switch will go off
The laser isn't self-leveling and needs recalibration
Sale
Laser Level, Qooltek Multipurpose Cross Line Laser 8 feet Measure Tape Ruler Adjusted Standard and Metric Rulers for hanging pictures
📏 3-PRONGED APPROACH - combines a fine-tuned tape measure, a triple-positioned leveling bubble and a NEW laser level to provide maximum results.(Note: Laser Ranging Error,that is given as "+/-2mm at 10m and 25m";If the laser is the Vertical Level or the Horizontal Level, you shouldn't adjust the Beam.)
📏WORKS FOR INDOOR - designed for any situation where a straight line or accurate measurements are needed, such as measuring locations on a wall, space between hangers, level the nails, level for hanging pictures. Regardless of the situation, it's completely plug & play. Note: Fades in sunlight or outdoor use.
📏8-FOOT Measuring Tape - comes loaded with an 8-foot measure that includes imperial and metric linear measures, with graduations down to 1/32" and 4mm.
📏BACKUP BATTERY - ships with 3 x LR44 button-cells battery, just to make sure you keep going with maximum convenience.
📏IDEAL For The Job That Requires A Straight Line Or Accurate Measurement.(Ideal gadgets for 🎁Man and building some Thanksgiving decorations)
This standard, magnetic, 9-inch torpedo level comes in red and black. Unlike the other levels, the Craftsman Torpedo level is manually operated.
It's designed with rubber end caps to block marring and act as a shock absorber. It's also fitted with three vials to cater to various measurements. The LED vials are easy to read and precise.
Place the level on a flat surface to see the horizontal accuracy and check where the bubble rests. Rotate the level to 180° and see whether the bubble is still in the same position. That will be your accurate level. If the level isn't in the same position, then it's incorrect. Repeat the same procedure for vertical and cross-level areas.
This torpedo level is an essential tool for homeowners and is ideal for tight spaces. Because of its size, it can be carried in a pocket as you work. It also fits into most toolboxes, so you don't have to worry about storage.
The Craftsman Torpedo level is currently available in lighted and standard models.
Technical details:
Style: Standard, Magnetic
Weight: 5.9 ounces
Material: Rubber
Product Dimensions: 10.87 x 3.19 x 0.94 inches
The pros include:
It's precise
It's affordable
Easy to read levels
Easily carried in pockets and can fit in most toolboxes
Affordable
Easy to handle for homeowners
Quality product with complimentary reviews
The cons include:
The bottom isn't made of magnet so it can't hold onto some surfaces. The magnet is only positioned at two points
CRAFTSMAN Torpedo Level, 9-Inch (CMHT82390)
ACCURACY: Block vials of the level tool provide maximum accuracy of 0.0005-inch/ ft.. (0.5mm/M)
DURABILITY: Shock-absorbing end caps of the torpedo level hold up to heavy use
PREVENTS MARRING: Over-molded rubber end caps for non-marring leveling and shock resistance
Klein Tools is an American manufacturer with years of experience known for making quality products. They don't just make quality products but products that withstand the professional demands of different environments.
Since 1867, Klein Tools have been making tools that provide precision, durability, and performance. Its innovative team uses the highest quality material and unique techniques.
Klein 935RB is an 8-inch torpedo level made from aluminum for durability. It is fitted with four vials which are easy to read and can be used on horizontal, vertical, and cross levels. It's also designed with tapered and is US patented.
It has a V-groove contour that can be used for pipe measurements. Its orange color makes it stand out at job sites and on conduits. The powerful magnetic makes it possible to be used on any area made of iron.
Klein 935RB is ideal for electricians and other professional tradespeople who regularly do conduit and pipework. Also, if you are looking for a quality, compact tool, this is it.
Technical details:
Style: Standard
Weight: 7.4 Ounces
Material: Aluminum
Product Dimension: 1 x 1 x 1 inches
The pros include:
Easy to read vials
Bright orange color for visibility in dark and dirty working environments
Powerful magnetic that allows the level to attach to iron materials
High precision
Has a locking track that guarantees no fall out of rare earth magnets
Durability
Long-lasting battery
Huge top view vial window for easy reading on different angles
V-Groove fit for pipe measurements
The cons include:
It's a bit heavy for carrying around
The Amazon Basic Magnetic Torpedo level is a 9-inch level with three separate vials for simple leveling. It can be used horizontally, vertically, and cross-level with 1.0mm/m accuracy. It's important to note that whether it's horizontal, vertical, or cross-level, one of the little bubbles will be horizontal. That's the bubble you should look out for.
The three vials are made from transparent but durable acrylic glass containing smooth inner contours. The liquid is bright and fluorescent for easy reading. Additionally, there's an integrated ruler for measuring marks in imperial and metric.
The magnetic edge allows for hands-free use and is perfect if you work with steel materials. It's also fitted with a hole suitable for carrying and hanging.
It's recommended for home furnishing and ideal for professionals who regularly do align work like leveling lines and measuring the location between walls and the spaces between hangers.
If you are looking for a leveling tool that is easy to use, easy to read, lightweight, and affordable but worth your money, the Amazon basic Magnetic level is perfect for you.
Technical details:
Style: Level
Weight: 3.2 ounces
Material: Thermoplastic Elastomers, Aluminum, Alloy Steel, Glass, Acrylonitrile Butadiene Styrene, Acrylic
Product Dimension: 9 x 2 x 0.75 inches
The cons include:
Precise level measurement
Easy reading
Durable aluminum frame
3 separate vials for horizontal, vertical, and cross-level (180/90/45-degree bubbles)
Easy to use
It's sturdy
Comes with a storage box
The cons include:
The magnetic isn't suitable for tough work environments
Sale
Amazon Basics 9-Inch Magnetic Torpedo Level and Ruler, 180/90/45-Degree Bubbles
High accuracy 9-inch spirit level for easy leveling
Torpedo level with 3 separate vials for easy leveling: horizontal, vertical, and 45 degrees (1.0mm/m accuracy)
3 easy-to-read vials made of durable supremely transparent acrylic glass with smooth inner contours and bright fluorescent liquid inside; Integrated ruler provides measuring marks in both metric and imperial scale
Magnetic edge for convenient, hands-free use — great when working with steel materials
Lightweight yet durable ABS and aluminum frame; TPR coating for added strength; hole for convenient hanging and carrying
Since 1885, Goldblatt has been making quality products that meet clients' needs. And the Goldblatt 3-piece Torpedo level is no different. This 3-piece tool caters to3 different working environments.
The 48-inch torpedo is suitable for aligning industrial machinery, furniture placement, and building measurement. It's made from aluminum for longevity, and it's perfectly accurate. It's fitted with green bubbles that are visible and easy to read. If you are working in tight spaces, you can read the vials from the sides.
For ease of handling, it's fitted with comfort grips. Additionally, it's designed with a UV protective finish to keep its resistance from color fading.
The 24-inch torpedo is made from aluminum guaranteeing longevity. It's fitted with rubber end caps for protection against shock. Just like the 48-inch level, it's also equipped with comfort grips and a UV protective finish.
The 9-inch torpedo level is ideal for furniture placement and house renovation. If you work in dark places, it's fitted with a built-in night light. It comes with 2 AAA alkaline batteries.
The Goldblatt is highly recommended because of its quality and accuracy, and it saves you money from buying different tools for different uses. The 3-piece got you covered for all working environments.
Technical details:
Style: 3-piece Level Set
Weight: 5.19 pounds
Material: Aluminum; Stainless Steel
Product Dimension: 48.43 x 2.76 x 2.76 inches
The pros include:
Can be read from the sides if in tight spaces
Green bubbles for visibility and easy reading
Accuracy
Durability
3-piece for different work environments
Quality
Value for money
Withstand the most demanding work environments and harshest weather conditions
The cons include:
Expensive
Only the 9-inch piece is illuminated
Conclusion
Spirit levels are essential tools for homeowners and professional tradespeople. Depending on your work environment and the type of work, these spirit levels have your back. Let's start aligning.