Disclosure: This post contains affiliate links and I may earn a small commission if you purchase through these links.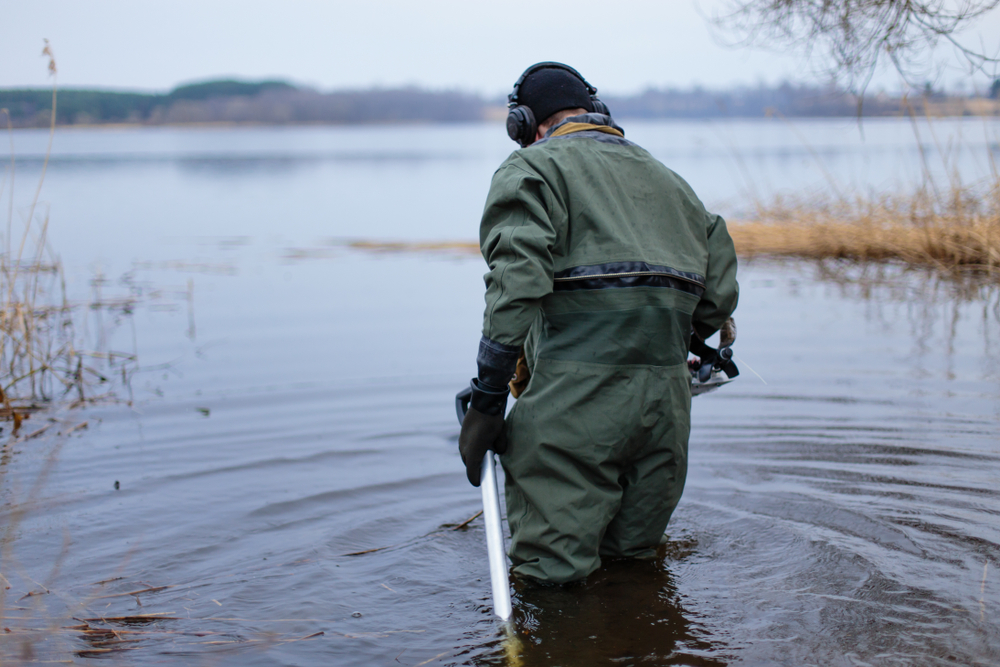 Metal detecting is not only a fun pastime. The satisfaction of finding something valuable can be a great feeling. What do you do when you want to take your exploration underwater? There is a world of undiscovered treasure that lies on the sea and river beds across the nation and locating it is just as challenging (if not more) as hunting on the surface.
 In order to hunt underwater, you need a metal detector that is fully waterproof. A lot of devices claim to be waterproof, but this often means only the search coil will survive in shallow depths. To detect fully submerged you need to make sure the circuit in the interface will be protected from water. 
For a metal detector to work when fully submerged, the electronic components need to be sealed and tested. A lot of the time waterproof devices will be given an IP (Ingress Protection) rating to show the level of protection they have.
 If you're unfamiliar with IP ratings, you can refer to this table to discover what each rating means: https://en.wikipedia.org/wiki/IP_Code Before you set out, be sure to check the rules and regulations of using a metal detector in your area as they do change from place to place.
Follow this link to find the metal detecting laws in your area:
Canada: https://detectingschool.com/metal-detecting-in-canada/
US: http://www.mdhtalk.org/maps/fp-map-regulations.htm
To find the best underwater metal detectors on the market, we looked at customer reviews from people who have the product and recommend it to others who want to take the plunge. We then rigorously checked each product for fake reviews to make sure it wasn't false hype. To narrow down our selection, we chose a variety of metal detectors to align with different criteria.
We concentrated on:
Different budgets

Devices for different abilities

Durability

How they operate when submerged in water
What Are The Best Underwater Metal Detectors?
8 Best Underwater Metal Detectors

:

In-depth Review
1. Garrett Sea Hunter Mark II
As you can probably tell from the name, the Sea Hunter Mark II is a metal detector that has been specifically designed for underwater use. Every inch of this device has been sealed and tested, including the headphones, to be submerged down to 200 feet making it ideal for divers who want to locate treasure on the sea bed. The Sea Hunter has pulse induction technology which uses its coil to send pulses of electricity into the ground then receives a signal from a target. This type of technology is best for saltwater hunting because of the high ground mineralization you'll often find when submerged. The control panel on the Garrett is made up of three dials and a headphone input. Designed for detectorists who know the basics of how to adjust threshold and elimination to find targets. There are also two dedicated trash elimination modes using microprocessors to further lock onto your desired treasure. This unit may not suit beginners or those who like to use automatic settings to find their targets. The Sea Hunter Mark II is just as proficient on land but it's underwater where this device really shines out. When you buy a Garrett product, you're not just getting a high-quality metal detector used by hobbyists and professionals across the world, you will also gain all the knowledge you need from their instructional videos. Features:
Proven PI technology with 22 frequencies

Submersion depth up to 200 ft

8-inch search coil

Two discrimination modes

Includes fully submersible headphones
What we love:
It weighs 5.1 lbs

Comes with a hip mount

It's bright so you won't lose it in murky water
We don't like this as much:
 Only comes with an 8-inch search coil
Garrett Sea Hunter Mark II Underwater Metal Detector with 2 Search Coils
Circuit type: Pulse Induction technology for automatic cancellation of salt/ground mineralization
Audio Threshold, Adjustable: adjust to user's preference
User-adjustable Discrimination/Elimination
Hip Mount Belt/Pouch: reduces detector weight for long searches
Discrimination Modes: Two operating modes (Standard or Discrete) offer varying levels of non-ferrous target discrimination.
2. Nokta Makro Anfibio 14
The Anfibio 14 from Nokta Makro is a VLF metal detector that is both powerful on land as well as underwater up to 16.4 ft. This device is designed to target coins, relics, and jewelry with its 14 kHz operating frequency. It holds an IP68 rating for when you want to submerge yourself and hunt in freshwater. The control panel may look crowded at first as it holds a lot of information, but it is set out so you don't have to navigate through multiple screens for different detection modes. The digital screen indicates which of the eight search modes you're using, a numerical target ID, depth meter, and lists of the settings and options you can engage. This metal detector comes with wireless headphones which allow you to submerge the device without getting any wires wet. Unfortunately, the headphones themselves aren't waterproof so you can't take them diving. To account for this, Nokta Makro has added a vibration function so that you can tell when you discover a target when submerged as well as a backlight on its interface. A great feature of the Anfibio 14 is its USB connectivity. By connecting it to your MAC or PC, you can download firmware updates so the device will always have the latest technology to use.  Features:
11-inch search coil 

Wireless headphones

Submersion depth of 16.4 ft

8 search modes

IP68
What we love:
Can be charged through USB

Has a strap to stop you from dropping it

Also can be used on the beach
We don't like this as much:
 Doesn't go as deep as others
Nokta Makro 11000613 Anfibio Multi CoinHunter Metal Detector, One Color
INCLUDES: Nokta Makro Anfibio Multi Underwater Metal Detector with 11" Waterproof DD Search Coil, Wireless Headphones, Coil Cover, USB Cable, AC Charger, and a Two-Year .
Fully submersible up to 5 meters (16. 4ft. ) - IP68. Fully waterproof and protected from total dust ingress.
Excellent Discrimination and Unmasking Ability. Save time by detecting the targets you want while spending less time digging.
Advanced Beach Mode. Very stable operation in dry sand, wet sand and underwater.
9 Search Modes. GEN Delta / 2 Tone / 3 Tone / 4 Tone / 5 Tone / 99 Tone / Beach / Deep / Cache
3. Fisher 1280X-8
Fisher is a well-known metal detector brand for quality and diversity in their range of devices. The 1280-X is their flagship model for the underwater market. Built for those who have more than a beginner's knowledge of metal detection but aren't difficult to use once you become familiar with the controls. It can impressively be submerged up to 250 ft which is 60 ft shy of the size of the Statue of Liberty making it the perfect tool for divers who want to hunt on a sea bed. Combine that with over 75 hours of battery life and you have an extremely competent tool for finding precious metals. The analog control panel on the 1280-X is made up of just three dials, sensitivity, discrimination, and volume all of which are easy to manipulate when underwater. It also features an automatic turn-on-and-go operation to get straight into the action.  The headphones included are also fully submersible and the volume goes quite high for when you're underwater. To accompany the audio, there's a visual LED target strength indicator so no treasure will go unfound. Features:
Submersible up to 250 feet

Adjustable sensitivity control

Target discrimination

8" or 10" concentric round open search coils

Up to 75+ hours of battery life
What we love:
Its collapsible pole is great for transport

Control housing can be transferred to a belt attachment

Has an arm strap so you don't drop it
We don't like this as much:
 Weights 6.3 lbs with the 10" search coil
Fisher 1280X-8 Underwater All-Purpose Metal Detector, Black
Turn on & go operation - submersible up to 250 feet - full range target discrimination
Adjustable sensitivity control - audio and visual target response - vlf discrimination
8" and 10" coil options - up to 75+ hours of battery life
Operating Frequency: 2.4 kHz
Recommended for: beach hunting, shallow water, lake /surf, diving
4. Minelab Equinox 800
A well-respected name in metal detectors is the Equinox 800 from Minelab. This device is engineered to locate targets at the bottom of rivers, streams, and lakes. Its highly versatile multi-frequency range uses low frequencies for larger targets at a greater depth and high frequencies which are more sensitive for small targets. The digital control panel on the 800 is informative and easy to navigate. Its buttons are marked with icons over words that are clear to recognize even when the device is underwater. There's a large numerical target ID, depth indicator, and a handy icon that shows which of the four detect modes you're using. With this model, it isn't only the high-quality metal detector you're getting. It comes with a series of accessories including the Minelab Pro-Find 15 pinpointer, belt attachment, and a wireless audio module. The module enables the headphones to work wirelessly with low latency so you never miss a target. Another cool feature of the 800 is the fact you can customize and save your personal settings, so if you have a specific target in a specific area, you don't need to find your settings over and over. Features:
Double-D Smart Coil with Skidplate

Wireless headphones

Charged by USB 

6 frequency options

4 detect modes
What we love:
Weighs just 2.96 lbs

Comes with an 11-inch search coil

Has an in-built loudspeaker
We don't like this as much:
 Only fully submersible up to 10 ft
Minelab Equinox 800 Multi-IQ Underwater Metal Detector & Pro-Find 15 Pinpointer
Includes: PRO-FIND 15 pinpointer, EQX 11" Double-D Smart Coil with Skidplate, Wireless Bluetooth / apt-X Low Latency Headphones, WM 08 Wireless Audio Module
Multi-Language Screen Protectors, Adjustable Armrest, USB Charging Cable with Magnetic Connector,
Features: 4 Detect Modes (Park, Field, Beach, Gold)
6 Frequency Options (Multi, 5kHz, 10kHz, 15kHz, 20kHz, 40kHz)
Bluetooth Headphones and WM 08 Wireless Module Supplied
5. Garrett AT Pro Metal Detector
The second Garrett on our list is the AT Pro. This all-rounder device can be used both underwater and on land and is geared towards mid to advanced detectorists. Once you've got to grips with its features and functions, you'll find this device invaluable for multi-surface hunting. There are plenty of buttons to make adjustments for the area you're searching including, sensitivity control, iron and notch discrimination, mode selector, and ground balance. If that all sounds overwhelming you have the option of using the automatic ground balance to get straight out there. The AT Pro is fully submersible up to 10 ft making it ideal for those who want to search for targets in shallow rivers or the edge of lakes. It has six different search modes and eight sensitivity/depth adjustments which make light work of target identification. The AT Pro comes with headphones but they're not submersible so not suitable for diving.  Features:
40 levels of high-res iron discrimination

Fast track ground balance

Numerical target ID

Electronic pinpointing

3 audio tone ID levels
What we love:
Can be used in both fresh and saltwater

Weights 3.03 lbs

Comes with an 8.5" x 11" DD search coil 
We don't like this as much:
 Its foam grip can cause an issue underwater
Sale
Garrett AT Pro Metal Detector
Headphones Included
8.5" x 11" PROformance DD Searchcoil Included
Submersible Up to 10 Feet
High Resolution Iron Discrimination
Electronic Pinpointing
6. Nokta Makro Simplex+
If you're a beginner in metal detecting or starting to venture underwater, you might want to try a low budget option first over opting for one of the high-end devices. The best of the budget underwater metal detectors is the Simplex+ from Nokta Makro. The Simplex+ is a great entry-level device that can be used both underwater and on land. It has five search modes tailored for different terrains, notch discrimination, iron volume, and frequency shift. It comes with wireless headphones but they're not waterproof. When you get the Simplex+ underwater, you'll see why it made the list. It vibrates when a target is located which is handy as you can't take the headphones below. There's also a flashlight and a backlight for those dark dives and night hunting.  The digital control panel is easy to navigate as it uses thumbnail icons to indicate which mode you're operating with. It has the usual numerical target ID, battery and depth indicator, and easy press buttons to change between settings.  Features:
IP68 fully submersible up to 10 ft

Iron and Notch discrimination

5 search modes

LCD flashlight for underwater use

Vibration target ID
What we love:
Is charged through a USB

Weighs 2.9 lbs

Ideal for turn-on-and-go detectorists
We don't like this as much:
Not as powerful as others
Nokta Makro Simplex+ WHP Waterproof Detector with 11" Coil & Wireless Headphones
IP68 - Fully submersible up to 3 meters (10 ft) and protected from total dust ingress.
Iron Volume - Turns off or adjusts the volume of the low iron tone.
Notch Discrimination - Discriminates Target IDs of unwanted metals.
Search Modes - All Metal / Field / Park / Beach
Fabulous Lighting for Night & Underwater Use - SIMPLEX+ has it all - LCD Backlight, Keypad Backlight and LED Flashlight.
7. Fisher CZ 21-8
The second metal detector from top brand Fisher is the CZ 21-8 Quick Silver. This high-end device will cost you around a thousand dollars, but with the ability to be submerged up to 250 feet, it's aimed at enthusiasts who want to take underwater metal detection seriously.  Suitable for both freshwater and saltwater, this device is ideal for diving. Its changeable search coil means you can tailor your hunt to match the terrain and its sensitive ground balance means you can search in mineralized soil and on land. The control panel on the CZ 21-8 is built with analog technology which means there are no screens to look at or small buttons to press. All the features are adjustable by four dials, Volume/Boost, Sensitivity, Discrimination, and Ground Balance. There's also precise pinpointing and three audio tones for target identification. There is no fancy extra on this metal detector to play around with, it's straight-up built to be one the hardest working underwater devices on the market. If you have a mission and you're already knowledgeable in the art of metal detection, this unit is for you. Features:
Submersible up to 250 ft

Dual Frequency Fourier Domain Signal Analysis

3-Tone Audio Target-ID

8" and 10" Coil Options

Touch-Button., V.C.O. no Motion, Precise Pinpointing
What we love:
Its headphones are also submersible

Its battery lasts 75+ hours

Has a removable control housing for mounting to a belt
We don't like this as much:
 There are no preset modes
Sale
Fisher CZ21-8 Underwater Metal Detector
Saltwater or fresh water - submersible up to 250 feet - dual frequency fourier domain signal analysis
Touch-button., vco no motion, precise pinpointing - easy manual ground balance - high performance in mineralized soil
All-metal auto-tune mode - large target alert / faint target audio boost
3-Tone Audio Target ID - Removable Control Housing for Belt Mount - 8" and 10" Coil Options - Operating Frequency: 5 and 15 kHz
Recommended for: beach hunting, shallow water, lake /surf, diving
8. Minelab Excalibur II
The second metal detector from Minelab on our list is by far the one with the highest price tag. The Excalibur II isn't just a regal name, at over $1700 it's fit for a king. Minelab has gone for a different design with this device. They've made the control panel streamlined instead of square to cut down resistance when diving. Like our Fisher choices, there's no digital screens, mode icons, or numeric target ID, just hardwired dials so you can adjust your metal detector to fit the environment. The control panel itself is brightly colored for high visibility whilst underwater and with five dials controlling discrimination, sensitivity, threshold, volume, and one to switch onto pinpoint mode, you can adjust to any terrain. The Excalibur II uses BBS (Broad Band Spectrum) technology allowing it to transmit and receive multiple frequencies to provide more information about a target. It will then amplify any weak target signals inside the search coil. It may be the most expensive here but this extremely well-built, versatile device will give you maximum performance both underwater and on land. Features:
Submersible up to 200 ft

Multi frequencies

Weighs 4.6 lbs

10-inch double D hardwired coil

Automatic ground rejection
What we love:
Comes with submersible headphones

Has a rechargeable battery

There's a side mount shaft for wading
We don't like this as much:
 There's no visual display
Minelab Excalibur II 1000 Bundle with Headphones, Car Charger & Extra Rechargable Batteries
Special Bundle with Free Minelab Headphones, Car Charger & Extra Rechargable Batteries
RCB amplifies weak target signals inside the coil, reducing noise and boosting faint, deep objects
High Visibility (Hi-Vis) fluorescent bodywork;
NiMH Rechargeable battery pack for operation up to 12 hours Hi-Vis Skid plate;
Side-mount shaft for shallow and surf-wading (available as an optional accessory) BBS multiple frequency technology (1.5kHz - 25.5kHz)
FAQs about Underwater Metal Detectors
Will a metal detector work underwater?
Not any metal detector will work when fully submerged underwater. Some devices even state they are waterproof but this often means that only the search coil can be used underwater at shallow depths. For a metal detector to work underwater, its control panel has to be sealed so no water will damage the circuitry.
Can you use an underwater metal detector on land?
The range of use depends on the features of the metal detector. They both use the same principle to locate targets but devices designed specifically for underwater may not have the same features as many land metal detectors. For example, if you're
looking for gold on land
, an underwater detector may not have a high enough VLF frequency.
To conclude
There are many treasures to be found underwater left undiscovered as hunting on the ocean floor is a totally different ball game to hunting on land. If finding targets underwater is your aim, the right equipment is essential. Not all metal detectors will work submerged and some can go deeper than others. Work out the depths you'll be hunting in, the type of water, and what targets you're looking for so you can choose the best metal detector to suit your needs.
  911metallurgist.com is a participant in the Amazon Services LLC Associates Program, an affiliate advertising program designed to provide a means for sites to earn advertising fees by advertising and linking to Amazon.com.