Disclosure: This post contains affiliate links and I may earn a small commission if you purchase through these links.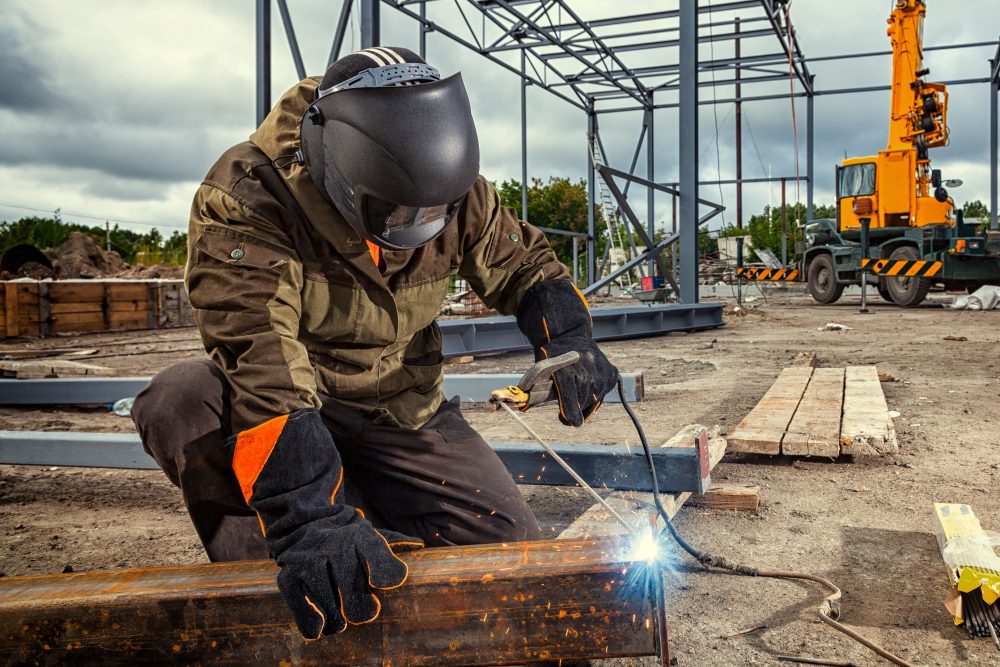 Welding can be dangerous if proper safety measures are not taken. This job demands welders arm themselves to reduce the risk of critical injuries. From wearing eye safety shields and helmets with filter lenses to safety shoes, fire-resistant clothing, and gauntlet gloves, protecting yourself from eye damage, burns, cuts, electrocutions, and radiation should be a priority. 
This is why when it comes to welding gloves, it's recommended that you get ones that are up to the task of protecting your hands from sparks, heated metal, and extreme temperatures. But what type of welding gloves should you choose? There are so many different kinds and styles out there—how do you decide which ones are best?
In this guide, we'll discuss the different types and brands of welding gloves, their features, and how we can help you decide on which gloves best suit your needs.
What Should I Look for in a Welding Glove?
Choosing the ideal pair of gloves requires knowledge of how they are made to accommodate various welding procedures without compromising safety.
Here are a few factors to consider when in search of the perfect welding glove:
Welding Processes:
Tungsten Inert Gas(TIG), Metal Inert Gas(MIG), and stick welding, also known as Shielded Metal Arc Welding (SMAW), are the most common types of welding. All these processes generate different levels of heat. For example, TIG welding generates less heat and requires more touch and feel from the operator; therefore, the best gloves for TIG should be thinner.
On the other hand, MIG welding generates more heat and sparks. As a result, the best MIG gloves have more material layers for maximum heat protection and longer cuffs for better coverage. Finally, stick welding also generates a lot of heat and requires a lot of dexterity, so gloves designed for this process must strike a balance between heat resistance and flexibility. With that in mind, you must understand the type of welding process you are involved in before purchasing welding gloves.
Materials:
The outer layer of welding gloves is made from a variety of animal skins. Cowhide is the thickest and, thus, the most protective, making it a popular choice for MIG welding; however, it is frequently too stiff for TIG welding. Goatskin does not provide the same level of heat protection as leather, but it is more flexible, making it the preferred material for TIG welding gloves. Welding glove inners are typically made of soft cotton, which is soft on the hands and aids in absorbing sweat.
Heat Resistance:
When it comes to welding gloves, heat resistance is essential. The materials described above have a large impact on how heat-resistant a glove is. Heat will be more resistant to thicker animal hides than to thinner ones. Additional layers of material, such as aluminum, reflect heat, increasing the heat resistance of the gloves.
The heat resistance of a glove is determined by how long the glove can withstand contact with heat. Most welding gloves can withstand short-term contact with metals heated up to 2,000 degrees Fahrenheit and longer-term contact with metals heated up to 932 degrees Fahrenheit.
Stitching and Insulation:
Welding gloves are typically stitched with Kevlar, which, unlike nylon or polyester, is fire retardant and will not melt or stretch. Extremely heat-resistant gloves will frequently include a layer of heat-reflecting material, such as aluminum foil or flame-retardant cloth. These extra layers of insulation boost the gloves' heat resistance rating.
Size:
Getting that bead right boils down to having the right size of welding gloves. Different welding processes demand some level of dexterity, and unfortunately, there's no single one size fits all glove. Therefore, choosing the right fit according to the welding process will ensure that you can handle any task comfortably while mitigating safety risks.
Cost:
Different gloves, different prices. When getting a new welding glove, the price is also a factor you need to evaluate. Ask yourself—why do I need these welding gloves? What's my budget?
Most welding gloves average between $17 and $40 dollars in price, and selecting the one that fits your budget will depend on the factors mentioned above. However, if you're looking to save or are on a tight budget, consider getting multi-purpose.
Below are our top choice welding gloves concerning the above factors and our analysis of the latest customer sentiment data and the brands recommended by our community of metallurgists:
1. RAPICCA Welding Gloves
The RAPICCA Leather Forge Welding Gloves are a best seller on Amazon with a 4.6-star rating from over 15700 reviews. They have a full cowhide leather outer shell with heat, cold, oil, cut, and puncture-resistant features. RAPICCA uses thick, soft, and flexible shoulder split cowhide to make these gloves thick while remaining flexible.
These gloves have about four layers of protection from extreme heat and cold. To protect the fingers and palms, these gloves' outermost layer is made of double-layered leather padding made of Kevlar sheeting. In contrast, the intermediate layer comprises air-isolated aluminum foil and flame-resistant cotton clothing insulation. This makes it one of the best extreme heat-resistant gloves on the market. Its inner layer is made of 100% soft cotton lining to keep your hands warm and free from sweat.
The total length of the glove is 16 inches, with a 7.5-inch sleeve length to protect your forearms. With a starting price of about $18, RAPICCA Welding Gloves are suitable for stick, MIG, and TIG processes, offering great value for your money.
Highlighted Features
Material: Cowhide leather
Length: 16 inches
Sizes : (X-Large (Pack of 1)
Special features: Heat resistant, cold proof
Sale
RAPICCA Welding Gloves 16 Inches,932℉,Heat Resistant Leather Forge/Mig/Stick Welding Gloves Heat/Fire Resistant, Mitts for Oven/Grill/Fireplace/Furnace/Stove/Pot Holder/BBQ/Animal Handling-Blue
【REINFORCED DOUBLE LAYER KEVLAER PADDING ON FINGER,PALM,ELBOW & BACK】:RAPICCA is the only brand which offer Double Reinforced Kevlar Layer Pading on both Fingers, Palms, Elbow& Backs on our welding gloves, this excellent design make RAPICCA welding gloves being the most extreme heat resistant gloves on the market.
【EXTREME FOUR LAYER HEAT RESISTANT PROTECTION】 Outermost layer: Double layer kevlar padding leather. Intermediate layer: a composite product by laminating a kind of high temperature resistant Air-isolated Aluminum Foil and a flame retardant cotton cloth . Inner layer:a 100% soft insulated cotton lining. Flame retardant thread stitching for advanced heat and cold resistance, sweat absorbent, breathable, allergy free. These gloves are guaranteed to withstand extreme temperatures up to 932°F(500℃)
【SUPERIOR SECURITY FOR FORERAMS】 - The 16 inches extra long glove with 7.5 inches long sleeve protect your forearms from grinding debris, welding sparks, hot coals and open flames, hot kitchen ware and hot steam. Effective even in extreme environments. Recommended for Stick welding (SMAW), Mig welding (GMAW), Flux-Core welding (FCAW), forging or other high temperature applications, Provide the most extreme heat protection.
【EXTREME WEAR RESISTANT PROTECTION】- The Gloves are made from 1.5mm thick and soft shoulder split natural cowhide leather which is heat resistant, wear-resistant, puncture resistant, cut resistant, oil resistant. Reinforced double leather stitching and high strength sewing on the finger, palm, elbow & back of the hand which is not easy to fall off.
【SATISFACTION GUARANTEE】——We back up our claim that this glove is the best on the market. You can rest easy with your purchase. If there is any issue or advice for our products, please email us via Amazon email, we will offer 100% satisfactory service for you.
2. Revco GM1611 Gloves
\
With a 4.7 out 5 star rating from over 2800 buyers, the Revco GM1611 MIG Welding Gloves come with all the bells and whistles in terms of comfort, heat resistance, durability, and value for money.
The palms and backs of the Revco GM1611 MIG Welding Gloves are made of thick, flexible grain and split cowhide leather, respectively. For reliability, they feature a seamless index finger with necessary reinforcement patches on the palm, thumb, and index finger. Moreover, these special gloves come with a proprietary drag patch for side padding and a rest patch to aid wrist padding.
The Revco GM1611 gloves feel comfortable for most welders due to their inner non-bulky cotton lining that makes them breathable. In addition, the Revco gloves have Kevlar stitching on every seam for maximum durability in the high-temperature, high-impact environment created by welding processes. You can get them for as low as $29.
Highlighted Features
Material: Cowhide leather
Length: 14 inches
Sizes: Medium (Pack of 1)
Special feature: Breathable
Sale
This set of welding gloves is ideal for welding jobs requiring more dexterity since they have a design that renders comfort while providing plenty of heat protection. DeWalt uses a layer of 100% Grade-A buffalo leather on the palm, which is more abrasion resistant than the standard materials used in other gloves.
For heat and fire protection, DeWalt uses Kevlar leather stitching and various fire-resistant materials for safety from sparks, slag, and open flames. They also add an extra layer of fire-resistant cotton paddings to vulnerable areas such as knuckles and fingers to protect them from impact.
Despite all of this insulation, they are surprisingly flexible, thanks to a seamless design that allows greater mobility even when handling heavy-duty industrial welding. The gauntlet open cuff is extended to accommodate sleeves and jackets.
The DeWalt's Premium MIG/TIG Welding Gloves average about $29.98, and they're available in a range of size options that allow the user to achieve a good fit regardless of hand size.
Highlighted Features
Material: buffalo leather
Length:13 inches
Sizes: M, L, XL, XXL, XXXL
Special feature: Flame resistant
Dewalt Premium MIG/TIG Welding Gloves, Gauntlet-Style Cuff, Large
FIRE RESISTANT MATERIALS - Designed to provide protection from open flames, sparks, slag, and spall
KEVLAR THREADING - Glove features heat and fire-resistant Kevlar stitching throughout the entire glove
EXTENDED GAUNTLET CUFF - Easy-on, gauntlet-style open cuff accommodates fire-resistant sleeves and jackets
KNUCKLE AND FINGER GUARDS - Additional, fire-resistant cotton padding protects fingers and knuckles from impact
BUFFALO LEATHER PALM - 100% Grade-A buffalo leather provides maximum abrasion protection for your hands
4. Tillman TIG Welding Gloves
The Tillman welding gloves are highly rated, with an average of 4.7-star rating from over 1800 reviewers, due to their comfort, durability, and heat resistance features. As a result, most buyers regard them as a great value for money.
Tillman TIG Welding Gloves have full-length grain leather coverage on the top for a superior feel when working with reinforced thumbs that protect stress-prone areas. The cuffs are 4 inches wide to keep your wrists secure, while the Kevlar stitching contributes to seam strength. Additionally, the glide patch and straight thumb feature give room for flexibility, allowing you to hold welding guns better.
Tillman is known for their attention to detail and thoughtful design. The Tillman TIG Welding Gloves, which cost around $18.35, feature a full cotton fleece liner. The fleece keeps moisture at bay while also providing additional insulation from the hot working environment. 
Highlighted Features
Material: Full leather coverage
Length: 16 inches long.
Sizes: Small (Pack of 1), X-Large (Pack of 1)
Color: Yellow
Sale
5. BEETRO Welding Gloves, Cow Leather Forge
BEETRO welding gloves score above average across comfort, durability, and heat resistance, averaging about 4.6 out of a 5-star rating. These welding gloves are well known for their durability, mainly due to their cowhide construction. They are made from high-quality cowhide leather that is not only durable and flexible but also puncture-, tear-, and cut-resistant.
These gloves have a soft cotton lining that keeps your palms warm and comfortable, all while performing well in terms of puncture, heat, and fire resistance, operational flexibility, and sweat absorption. Additionally, BEETRO welding gloves, cowhide leather forge design, come in DP-KEV stitching with an elastic wrist that helps keep dirt and debris out.
For about $12.99, you can get these multi-purpose gloves, ideal for MIG, stick, and TIG welding processes.
Highlighted Features
Material: Cowhide leather
Length: 13.97-inch total length
Size: Extra large
Special feature: Puncture resistant
BEETRO Welding Gloves 1 Pair, Cow Leather Forge/Mig/Stick Welder Heat/Fire Resistant, Mitts for Oven/Grill/Fireplace/Furnace/Stove/Pot/Wood Burner/BBQ/Animal handling glove with Soft Lining
DURABLE – It is generally known that cowhide is the best leather for abrasion-resistant work gloves. Constructed with high-quality cowhide leather which is not only durable but also flexible, BEETRO gloves offer puncture resistance, tear resistance and cut resistance
SAFETY – Edge-cover design, Stitched with DP-KEV, the gloves are flame retardant, Extra length made with premium cowhide leather provide extra protection for wrists
SOFT LINER – Soft cotton lining which is puncture resistant can keep your palms comfortable and warm, It has excellent performance in heat resistance, fire retardant, operation flexibility and sweat absorption
ELASTIC WRIST – It helps to keep out dirt and debris while the slip-on design allows for easy on and off flexibility
APPLICATION – All-Purpose, Welding, Truck driving, DIY projects, Tool use, Landscaping, Demolition, Construction, Equipment operation, Gardening and more!
6. BEETRO TIG Welding Gloves, Goatskin
These TIG gloves are made with soft and superior-quality goatskin to give you that perfect fit for a seamless working experience. They also have an extra length of high—quality cowhide leather for wrist protection. These two qualities are why BEETRO TIG welding gloves are highly rated for comfort.
Regarding safety, BEETRO TIG welding gloves are cut-resistant with great abrasion-resistance properties. Their DP-KEV stitching also plays an essential role in making the gloves flame retardant, while the elastic wrist ensures dirt and debris stay out of your glove. 
Need one? Get it today for $39.99.
Highlighted Features
Material: leather
Length: 13-inch total length
Size: 5 pairs
Color: white
BEETRO Welding Gloves, Goatskin Tig Welder with Extra Length Cowhide Split Leather, Heat/Fire Resistant BBQ/Warehouse/Heavy Duty/Animal Handling Glove, Extremely Soft and Flexible, 5 Pairs
DURABLE – Constructed with high quality goatskin(white) and cowhide(brown) leather, BEETRO cut resistant work gloves have high tensile strength and abrasion-resistant properties, Great for construction workers or for someone needing a great pair of yard work gloves.
SAFETY – Stitched with DP-KEV, the gloves are flame retardant, Extra length made with premium cowhide leather provide extra protection for wrists
FLEXIBLE AND LIGHT – With extremely soft goatskin, the gloves offer precise fit that won't interfere with touch sensitivity, more convenient to operate and grasp
ELASTIC WRIST – It helps to keep out dirt and debris while the slip-on design allows for easy on and off flexibility
APPLICATION – All-Purpose, TIG welding, Truck driving, DIY projects, Tool use, Landscaping, Demolition, Construction, Equipment operation, Gardening and more!
Conclusion
Finding the best welding gloves is the first step in ensuring you always have a successful and safe welding experience. It will help reduce the risk of injury and increase the efficiency and overall quality of your welding.
Therefore, it is essential to take the time to find the best gloves that will suit your needs while ensuring safety is prioritized. Remember, when it comes to safety, if it doesn't feel right, then it probably isn't!
Hopefully, this information will make finding the best gloves much more straightforward.