Disclosure: This post contains affiliate links and I may earn a small commission if you purchase through these links.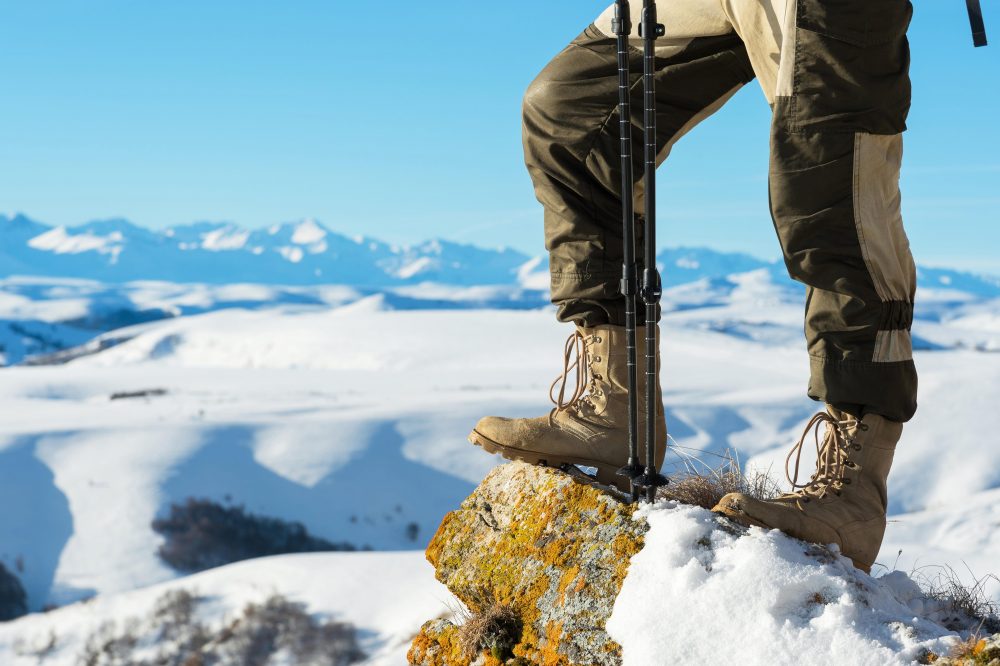 Bad weather shouldn't mean that you have to stop using your metal detector for the winter months, but there are certain things to bear in mind when going out in icy, snowy, or other hazardous conditions. Winter work boots are great for providing traction, meaning that you're less likely to slip on icy or wet terrain. However, they sometimes offer less protection against injury compared to regular work boots.
One of the main things to consider when buying winter boots is keeping your toes and feet toasty warm. Many quality work boots contain insulating technology such as Thinsulate to provide warmth. But you don't want to overheat either, so moisture-wicking technology helps let your feet breathe.
When making our top choices, we considered:
Various budgets
Durability
Safety features such as crush-resistant toes
Waterproof exteriors
To ensure we found the best winter work boots, we analyzed consumer reviews from detectorists and people who work outside in winter conditions who have purchased the products. We carried out thorough checks on these reviews to remove any fake and therefore unhelpful reports.
If you are more worried about the rain then you will be interested in looking at our list of the best waterproof work boots.
1. Timberland PRO Boondock
The Timberland PRO Boondock are premium weatherproof work boots. They feature both waterproof leather material and a waterproof membrane. The boots are also reinforced with molded rubber toe protectors to give them abrasion resistance, giving you peace of mind if small items happen to drop on your feet.
You can tread safely across uneven surfaces too, thanks to the deep lugs in the outsole that provides more traction. This can offer slip protection on wintery surfaces the same as it can on oily areas, freeing you to explore different terrain. Also, with the anti-fatigue technology, the boots have shock-absorbing traits that return energy back to the feet with each step.
Features:
100% leather with a synthetic sole
Anti-fatigue technology
Waterproof
What we love:
Cushioned support for long-term comfort
Waterproof so keeps feet dry in wet conditions
They are shock absorbent
We don't like this as much:
Heel support might wear down from rough use
2. Carhartt Men's Rugged Flex Safety Toe Work Boot
The Carhartt Rugged Flex Safety Toe Work Boot is backed by a reliable design in order to get you through numerous metal detecting trips out in harsh conditions. It's made to not just keep you safe in slippery and cold conditions, but also in the event of electrical hazards.
These boots are also designed with strong waterproof capabilities so you can venture to wet areas or use them in rainy or snowy weather without risking the water soaking through your feet. This waterproof membrane is also made breathable to better promote airflow so your feet stay dry but not overly hot.
Features:
100% leather with rubber sole
Composite safety toe
Electrical hazard style
What we love:
Convenient self-cleaning lugs
They have great insulation
Good flexibility makes for an easy and quick break-in period
We don't like this as much:
The footbed could be a little better padded
3. NORTIV 8 Men's Cold Weather Winter Boots
The NORTIV Cold Weather Winter Boots offer superior support for wintery conditions. They feature a water-resistant leather upper that helps keep snow and water from seeping through the boots and soaking your feet. Meanwhile, the high-quality cotton interior ensures your feet remain warm throughout your time spent outdoors.
On the outsole, it's made thick to offer better stability and durability, remaining flexible as well to adapt to different terrain situations. Besides that, the boots are designed with wind protection and an insole with arch support and shock-absorbing qualities. These boots also have enough breathability to ward off sweating.
Features:
Suede leather upper with rubber sole
Warming system inner lining
Padded collar and lining
What we love:
Comfortable and snug to wear
Typically fits true to size
Good traction on smooth snow
We don't like this as much:
May get a little heavy to wear for long periods of time
4. Georgia Boot Lace-To-Toe Gore-Tex Work Boot
The Georgia Boot Lace-To-Toe Gore-Tex Work Boot is crafted from full-grain leather. It features a reliable lace-up design so that you can have a secure fit while also having the freedom to adjust the boot as needed. This way, you can also adapt the boots so that your pants leg fit inside or over them.
With the insulated design, the boots offer great protection in snow or cold weather. The outsole offers an ideal amount of grip so you can tread across hazardous, slippery areas with a reduced risk of falling. Also, the boots have waterproof protection, letting you stay out in the rain or snow without it getting to your feet.
Features:
100% leather with rubber sole
3M Thinsulate insulation
Removable cushioned orthotic insole
What we love:
Stable footbed for good support
Not overly bulky or heavy to move around in
Built for longevity
We don't like this as much:
Leather can be particularly stiff around the ankles
5. Muck Boot Women's Arctic Ice Tall Work Boot
The Muck Boot Arctic Ice Tall Work Boot offers you something sleek that's easy to wear. It's designed to contour to the female foot with a comfortable insole for reliable, yet cushioned support. The neoprene used in the boots gives greater flexibility so that they adjust well to your feet. This also gives it shock-absorbing features as well as reduces the risk of blisters and chafing.
Additionally, the boots have good heat retention properties and can ward off water and snow well. The Vibram outsole pods provide advanced grip that's useful for walking across both wet and dry ice. As such, the boots are ideal multi-terrain footwear so you can explore numerous areas during your adventures.
Features:
100% synthetic with Vibram sole
Soft fleece lining
100% waterproof
What we love:
Balanced snug fit
Easy maintenance as they wash off well
Doesn't take long to break them in
We don't like this as much:
May have to layer socks if wearing them for hours outdoors
6. Kamik Men's Nationplus Boot
The Kamik Nationplus Boot is an affordable winter work boot for casual wearers. They offer enough protection to keep you safe and comfortable during a standard metal detecting journey. It features 200B Thinsulate insulation so your feet remain warm and cozy, and it also has moisture-wicking technology so you don't get sweaty in the meantime.
There is even an antimicrobial footbed that makes maintaining the boots a simple task. If you don't need this degree of warmth protection, the insulated liner is completely removable so you can put in whatever liner you wish if support or comfort is more important. For safety, the rubber sole has a good design to give greater traction.
Features:
100% leather with rubber sole
Seam-sealed waterproof
-40°F temperature rated
What we love:
Flexible sole design for comfortable wearing
Quality, hard-wearing laces
Good waterproof protection to handle deep snow
We don't like this as much:
Top portion of the boot is fairly narrow, not ideal for people with wider feet
7. Irish Setter Work Men's Mesabi Steel Toe Boot
The Irish Setter Work Mesabi Steel Toe Boot offers breathable comfort in cold environments. With its Ultra Dry moisture management system, the boot can keep out wet elements, leaving your feet dry even if you wade through snow or travel out in the rain. The leather upper is waterproof as well for additional protection.
Comfort can be found in the padded tongue and collar design. These boots also feature Thinsulate ultra insulation for wear in harsher conditions. Walking is quite comfortable with their flexible design, you stay out longer with a low risk of feeling fatigued.
Features:
Full-grain leather with rubber sole
Steel toe
Ultra Dry moisture management system
What we love:
Designed to withstand frequent use
Retains heat well for long outings
Supportive design with the steel shank
We don't like this as much:
Runs small so you may need to order a size up
8. Timberland PRO Men's Direct Attach Work Boot
The Timberland PRO Direct Attach Work Boot is modeled after the classic Timberland work boot and is designed to withstand the possible weather conditions found while out metal detecting. It offers necessary protection against the cold outside elements. It features Thinsulate insulation so that your feet stay warm in standard winter weather. Along with that comes the waterproof leather material that wards off snow from sneaking inside.
These boots also feature rubber lug outsoles. With this design, it can grip onto different terrains easier, letting you walk safely and comfortably through the snow as well as rainy conditions. They're designed with stability in mind and inspire confidence when walking through difficult terrain.
Features:
100% leather with rubber sole
Molded nylon shank
Padded collar
What we love:
Comfortable toe area that doesn't rub
Good ankle support
Quality padding
We don't like this as much:
Soft soles may need replacing after frequent use
FAQs About Winter Work Boots
Are winter work boots better than regular work boots?
There's no denying that regular work boots are designed to protect your feet more effectively than other common boots. Many of them have composite reinforced toes or steel toes as well as thick uppers, a heavy emphasis on safety lowering your risk of injury. What they lack, however, is insulation for protection against the weather.
This is where winter work boots come into play. They offer to safeguard you against snowy and chilly conditions, making them beneficial when trudging outdoors. Additionally, they offer good traction so you can scale slippery surfaces with ease. At the same time, they don't always offer that extra injury protection the way regular work boots do, so there is a trade-off.
What important factors should winter work boots provide?
As you're looking for the best winter work boots, there are several factors you should keep in mind. These will help you narrow down your options to find the right pair to support your needs.
There should be quality insulation to provide warmth, of course. Winter work boots should also keep you dry in case you trudge through wet conditions, and this is done with a waterproof exterior. At the same time, it helps if there's breathability so you don't get sweaty.
The outer sole should have a good grip for stability, and the boots should have other safety features like crush-resistant toes.
Consider winter work boots with adequate support around the arches and heels as well as comfort from a cushioned insole. Lastly, don't forget about the durability as they should last through frequent use.
Wrap Up
While out metal detecting, it's easy to come across harsh conditions, especially if you're doing it when the weather is snowy or the temperature is simply cold. That's why winter work boots are beneficial to wear instead. They will keep you warm during your extended adventures so you can detect for hours without issue.
With the right winter work boots, you can also trek through higher-risk terrain than you would with regular boots or shoes on. These specific boots offer far better grip so you can handle different obstacles, searching in various areas for treasure without risking harming yourself in the process.
If you want quicker decisions, you can always check out our top picks for our favorite budget-friendly option, our top pick for the best mid-range boot, and our number one high-end pair of winter work boots.
Related Kit: Best Waterproof Work Gloves Best Portable Workbench
911metallurgist.com is a participant in the Amazon Services LLC Associates Program, an affiliate advertising program designed to provide a means for sites to earn advertising fees by advertising and linking to Amazon.com.