Disclosure: This post contains affiliate links and I may earn a small commission if you purchase through these links.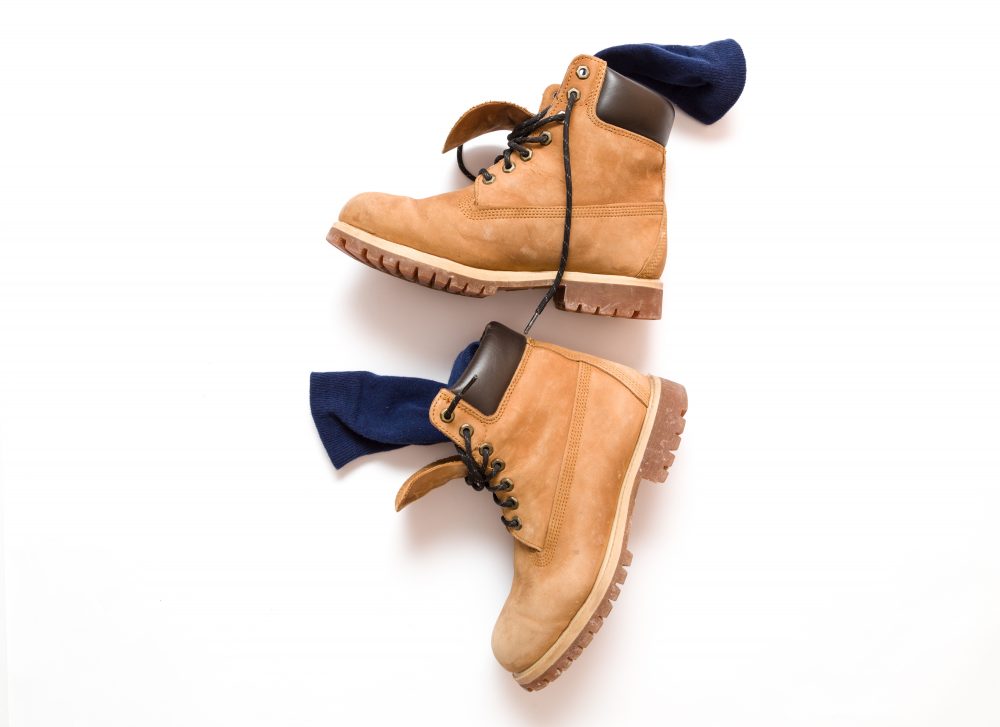 You may not pay much attention as you pull on your socks, lace up your boots and head out the door to work. But this step of your morning routine may be one of the most important daily decisions you make. 
Every day our feet are put through their paces. Acting as our foundations, they support the weight of our bodies and keep us mobile. Therefore, we must take good care of them, especially those of us who stand on our feet for extended time periods during work.
Best Work Socks for Boots in 2023:
Material
55% Cotton, 43% Polyester, 2% Spandex
80% Merino Wool, 15% Polyester, 4% Nylon, 1% Spandex
66% Merino Wool 32% Nylon 2% Lycra Spandex
Best Overall
Material
55% Cotton, 43% Polyester, 2% Spandex
Best Merino
Material
80% Merino Wool, 15% Polyester, 4% Nylon, 1% Spandex
Best Made in USA
Material
66% Merino Wool 32% Nylon 2% Lycra Spandex
A comfortable and durable pair of shoes is a must to keep your feet happy and healthy. But as work boots can often be cumbersome and hardwearing, a quality pair of work socks are equally as vital. 
When looking for the right pair of work socks, it is important that they offer support, comfort and allow your feet to maintain a suitable temperature. Be sure to look for cushioned soles and reinforced toe and heels, which offer greater protection in impact areas, preventing friction and blisters whilst also making your socks more durable. Blends of cotton and wool/synthetic materials will keep your feet warm in winter but are breathable enough to keep them dry in hot weather.
To help you in your search, we've collated eight of our favorite work socks, including a range of styles and budgets to suit everybody. We also checked genuine reviews to ensure real users were happy with the performance of each pair, so you can rest assured these socks are up to the task.
Also, check out our recent study on the best winter workboots.
1. Carhartt All-Terrain Boot Socks
The Carhartt All-Terrain Boot Socks are calf-high and designed to support you through any area you traverse while metal detecting. With the NanoGLIDE reinforcement, the socks cut down on blister-causing friction. Alongside that is the arch support engineered into them to give you a more secure fit without hindering your range of motion.
Blending the various materials allows the socks to retain their shape, too, so they last longer without you missing out on any of the comforts. There are also odor-fighting properties that, combined with the FastDry design to keep feet dry, ensure that your socks remain fresh throughout the day.
There are mesh cooling panels to promote airflow, but the thick design of the material aids in keeping your feet warm as well. This makes the socks a go-to option when it's colder outside.
Features:
Polyester (43%) | Acrylic (35%) | Wool (13%) | Nylon (8%) | Spandex (1%)
NanoGLIDE reinforcement
Sweat-wicking action
What we love:
Thick design without fitting too tight inside boots
Stay up over the calf well
We don't like this as much:
Could have more breathability for all-season use
Carhartt Men's All-Terrain Boot Socks, Grey, Pack of 6
HANDLE ANY TERRAIN: Men's crew work socks engineered for all-terrain, all-season comfort and performance
NO BLISTERS: NanoGLIDE reinforcement reduces blister-causing friction and enhances durability
FAST-DRY TECHNOLOGY: Deliver superior sweat-wicking action to quickly transport sweat and keep your feet dry
BREATHABLE & SOFT: Mesh cooling panels and instep channels for added airflow and breathability; odor-fighting properties keep feet fresh
LEGENDARY CRAFTSMANSHIP: Proudly American made and built to last as long as your boots; machine washable; crew boot socks for men available in a wide range of colors
2. Dickies Cushion Compression Work Crew Socks
The Dickies Cushion Compression Work Crew Socks offer the reliability of compression support that can help alleviate aches and pains from being on your feet for hours on end. These socks reach up to the calves to provide protection where you need it most after walking across different terrains all day. Meanwhile, the reinforced areas add a layer of durability to keep up with such frequent wear.
These socks utilize soft cotton, giving you comfort, especially around impact areas such as the heel and toe. Alongside the compression, an Achilles heel protective pad is built into the socks. This pad gives a much-needed cushioning, adding to the support and comfort they feel even when wearing tough work boots.
The spandex design helps you get a secure, stay-on fit without slipping down while you move around outdoors.
Features:
Cotton (68%) | Polyester (31%) | Spandex (1%)
Reinforced heel and toe
Ankle and arch compression
What we love:
Great at keeping feet dry
Good thickness in the heel for support and comfort
We don't like this as much:
Take care washing them as they can start pilling or developing lint fuzz
Dickies mens Heavyweight Cushion Compression Work Crew (3 & 6 Pairs) Socks, Black Pairs), Shoe Size 12-15 US
Industrial Strength Big and tall sizing
Superior soft cotton yarns for exceptional feel with impact areas of heel, toe and pad reinforced with heavier count yarn for superior durability
Arch and ankle compression provides added support and stability and Achilles heel protective pad provides cushioning comfort against high boot
Full cushion comfort with reinforced heel and toe provides added durability and spandex for superior fit and non-binding stay-up top
Content May Vary by Color
3. Wrangler Riggs Workwear Work Boot Socks
The Wrangler Riggs Workwear Work Boot Socks are midweight socks that stop around the calf area, giving protection for all-season wear. They have a nice thick weave to them so that you stay warm in chilly weather, but they are breathable enough so that your feet don't get too hot when the weather is warmer.
To make the sock last longer, it features reinforcement in the toe and in the heel areas. This construction also ensures that you are able to enjoy a better fit. While you're walking around during those extended metal detecting trips, the sock should reduce foot fatigue thanks to the built-in arch support.
The socks are made from ultra-soft cotton material, which provides extended durability and comfort. Its half-cushion layout reduces impact in areas of major concern, so you can walk pain-free and across different terrains for longer distances.
Features:
Cotton (80%) | Nylon (17%) | Spandex (3%)
Half-cushion foot
Reinforced heel and toe
What we love:
Maintain their size and shape well after washing
Enough cushioning to be supportive without it feeling bulky
We don't like this as much:
As over-the-calf socks, they could be a little longer in length
4. FoxRiver Steel Toe Crew Cut Work Sock
The FoxRiver Steel Toe Crew Cut Work Socks are good all-around socks to handle the various conditions you can encounter while adventuring outdoors. With its fully cushioned sole, it does well at absorbing shock as well as adding more insulation to handle cold weather. There's even extra cushioning found around the back of the heel.
Further comfort is provided by the manufacture of its smooth, flat toe seam. The socks have quality reinforcement added too, delivering more endurance. This way, they should last a bit longer so you're changing out your socks less frequently.
You may get a better fit down the road with these socks too thanks to the URfit System. This has memory-knit construction, spandex compression zones, and a contoured rib top. The result is a more customized fit and better arch support.
Features:
Acrylic (80%) | Nylon (18%) | Spandex (2%)
Steel-toe construction cushioning
URfit System
What we love:
Offer good padding against steel toe boots
Does well at absorbing moisture
We don't like this as much:
Tend to run big, which may leave them wider near the top
Fox River Steel Toe Crew Cut Work Socks for Men and Women 2 Pack Heavyweight Boot Socks with Moisture Wicking Fabric
PERFECT ALL-AROUND SOCK FOR TOUGH WORK DAYS: These rugged FoxSox will take all your work day can dish out; keep you comfortable in your work boots, even under the toughest conditions
PERFECT ALL-AROUND SOCK FOR TOUGH WORK DAYS: These rugged FoxSox will take all your work day can dish out; keep you comfortable in your work boots, even under the toughest conditions
STAY DRY WITH WICK DRY: Our exclusive technology quickly draws moisture away from your skin so your feet stay dry and comfortable; removes any moisture build up which reduces hot spots and friction that causes blisters
CUSTOM FIT: URfit System provides the ultimate personalized response fit combining memory knit compression, a contoured rib top and spandex compression zones
BACKED BY COMPANY STANDARDS OF EXCELLENCE: Fox River products are guaranteed against manufacturing defects for one year; products may be returned within one year with the dated receipt to the store where you purchased them or by following our FoxSox.com return process
5. Caterpillar Work Socks
The Caterpillar Work Socks offer versatility, so you can wear them over many types of terrain, from smooth to bumpy, and still maintain quality support. They are designed to ward off potential issues that can come with being on your feet while wearing heavy work boots for long hours.
For one thing, the socks are designed to prevent the blisters and bubbles that work boots can cause. They are a good length to provide suitable protection from rubbing against low-cut boots. There's also thermal adjustment, and this design will help regulate and maintain proper temperature for your feet, ensuring comfort as the day goes by.
These socks come in a wide selection of colors, with some colors such as blue being ideal for all-season use while others, such as white, are made to more specifically complement work boots.
Features:
Cotton
Terry sole
Thermal adjustment
What we love:
Reinforced heel and toe help with durability
Comfortable material for all-day wear
We don't like this as much:
Thin construction makes them more suitable for warm weather rather than cold
CAT 6 Pairs Men's Work Socks - Accident Prevention, Reinforced Weft (Grey, 8-11)
Pack of 6 pairs of work socks suitable for use with safety shoes; the socks are available in blue, black, white and gray and in sizes 7-9, 8-11, 10-12 and 12-15. The Caterpillar work sock has reinforced toe and heel to prevent bubbles and blisters caused by work shoes.
PROBLEMS'S SOLUTION ON THE FEET: The Caterpillar Work Sock is the best solution for those who want to avoid the problems that can cause wrong socks with safety shoes such as blisters or feet.
THERMAL ADJUSTMENT: Caterpillar has therefore designed and marketed also these excellent work socks that have a very efficient thermoregulation system that allows you to maintain the correct temperature for your feet.
REINFORCEMENT TOE AND HEEL: The other distinctive feature is a toe and heel protection that are reinforced for use with safety shoes with metal toe cap which, without the use of proper work socks, can ruin the socks or even worse than your feet.
6. DANISH ENDURANCE Merino Wool Hiking Socks
When metal detecting, the Merino Wool Hiking Socks are unisex socks that provide more support and comfort when you're out in the great outdoors. There is targeted cushioning and padding to support the areas that are most exposed to injury, especially when walking around in work boots. It will provide shock absorption to reduce the risk of developing aches and painful blisters.
They provide both breathability and moisture-wicking via the ventilated mesh lanes. This will promote greater odor control, making the socks as easy to maintain as they are to wear for long hours.
Furthermore, the socks use thermoregulation for temperature control, a feature that is inherent in the Merino Wool blended material. This keeps your feet warm or cool when needed, privileging comfort.
Features:
Nylon (36%) | Acrylic (33%) | Merino Wool (30%) | Elastane (1%)
Ventilation mesh lanes
Natural thermoregulation
What we love:
Padding is supportive and even throughout
Just enough compression without being too tight
We don't like this as much:
May fit a little loose, especially in the forefoot area
Sale
DANISH ENDURANCE Merino Wool Hiking Socks for Women, Men & Kids, 3 pack (Multicolor: Brown, Red, Green, US Women 8-10 // US Men 6.5-8.5)
Merino Wool for comfortable & dry feet: Our wool hiking socks have thermoregulating merino wool and moisture wicking ventilation lanes ensure that your feet stay fresh and dry in any weather
Support for your comfort: Our hiking boot socks feature targeted cushioning to reduce the risk of blisters and sore feet. Great for hiking, trekking, outdoor adventures, walking, travelling or everyday
Designed in Denmark: Our womens and mens hiking socks are designed with Everest mountaineer Rasmus Kragh who tests our products to ensure high quality standards. The warm socks are fairly produced in Portugal
High quality fabric: Made from 30% Merino Wool, 36% Nylon, 33% Acrylic and 1% Elastane. The merino wool is sourced in an animal-friendly way. Machine washable at max. 105 °F. Do not tumble dry
Excellent customer support: We want our customers to be happy - If you have any questions about this product, do not hesitate to contact us. Our team is always ready to help you
7. Fruit of the Loom Heavy Duty Full Crew Socks
The Fruit of the Loom Men's Heavy Duty Full Crew Socks promote all-day comfort and support. They are designed to give you more stability and fight off signs of fatigue, letting you wander around while metal detecting without worrying about feeling sore the next day.
There are ventilation channels built into the socks, and they also possess antimicrobial properties. The moisture-wicking fibers help keep your socks dry, and in turn, keep your feet dry. This helps you maintain fresh feet throughout the day, making comfort a priority.
Its spandex material knitted throughout the sock can help you get a more contoured fit. A proper fit will make the socks easier to wear in different types of work or outdoor boots. There's also reinforcement around the heel and toe regions.
Features:
Cotton (76%) | Polyester (22%) | Lycra Spandex (1%) | Other Fibers (1%)
Moisture-wicking fibers
Reinforced sole
What we love:
Material is gentle against the skin
Good fit so that the socks don't bunch up or slip
We don't like this as much:
The bottom could be made of heavier, thicker material
Sale
Fruit Of The Loom Heavy Duty Reinforced Men's Crew Socks, White, Pack of 6
PERFECT FOR WORK BOOTS: Heavy-duty crew athletic socks promote all-day comfort, stability, and breathability--no matter how hard you're working
FIGHTS FATIGUE: Cushioned foot and reinforced sole keep foot fatigue to a minimum, helping you stay on your feet for longer
BREATHABLE AND MOISTURE WICKING: Ventilation channels and antimicrobial, moisture-wicking fibers keep socks dry, comfortable, and fresh
GREAT VALUE: Delivers exceptional performance and durability; designed with the working person in mind
SNUG AND DURABLE: Men's crew work socks crafted from rugged, extra-thick cotton; made with 76% Cotton, 22% Polyester, 1% Lycra Spandex, and 1% Other Fibers
8. KMM Work Boot Cushion Crew Socks
The KMM Work Boot Cushion Crew Socks offer superior performance as they combine durability with comfort in their design. By reducing foot arch fatigue, these socks not only make you feel better but also help your socks stay in place during your metal detecting adventure.
Much of the fatigue is also reduced thanks to the deep-heel pocket design. This improves your arch support and offers better stability so you can feel secure walking along uneven terrain. Socks are also designed to prevent blisters, allowing many different work boots to be worn with them.
In addition, they also feature moisture-wicking properties to keep your feet cool and dry, while their breathability keeps your feet fresh throughout the day.
Features:
Cotton (60%) | Polyester (37%) | Nylon (2%) | Spandex (1%)
Sweat-wicking
Deep heel pocket
What we love:
Sole has good absorbency
Maintain comfort after multiple washes
We don't like this as much:
Preferable to buy a size larger as they might shrink a bit after washing
Sale
KMM Men's Cotton Full Thick Cushion Crew Socks Moisture Control Heavy Duty Work Boot Dry Fit Warm Thermal Anti Sweat Blisters(White L)
Superior Quality:Premium cottons and high-tech polyester and nylon blend,breathable and elastic to keep your hard-working feet comfortable all day long.
Comfy & Fit:Deep heel pocket provides added stability for a perfect fit,arch support design improves foot arch fatigue and keeps sock from slipping,Boost performance when working out.
Max Protection:Combination of softness and comfortable,full cushioned in high impact to reduce foot pain during your activities,ultimate support in most situation.
Increased Performance:The socks are designed to prevent blistering and provide ultimate comfy and durability for a tough job, extreme outdoor adventure or heavy duty work.
Sweat Wicking: Moisture wicking control to keep feet cool and dry,it provides ventilation for added breathe-ability and keeps smelling fresh in most situation.
FAQs About Work Socks for Wearing with Boots
What makes a great work boot sock?
Many things go into a quality work boot sock. First, make sure it's durable, or else you'll never make it through day after day without them wearing down. Another thing to check on is how comfortable and supportive they are. Many of these are cushioned, and although they come in different lengths, longer designs offer more padding.
A sock that's antimicrobial and moisture-wicking helps keep your feet dry and prevents them from building up bacteria if you ever start sweating. This makes them easier to maintain and keeps you even more comfortable at the end of the day.
What are some important sock features to consider for work boots?
When shopping around for a work boot sock, it's beneficial to find one that fits correctly. It helps to base your purchase around your boot. Higher boots can have an abrasive collar, so you'll need a higher sock to prevent it from rubbing up against your calf.
Length-wise, check that the heel-to-toe measurement of the sock is accurate to your foot. Many of them offer size charts to refer to so that it's easier to determine if it'll fit. Also, check that the sock still fits snugly without being too tight against your toes. If it's too tight, it may produce more friction while you walk.
Take a look at the arch support in a work boot sock too. The weaves inside these types of socks are typically denser in the arch area, which helps ward off heel pain.
Another important feature is all-day comfort. There are different levels of comfort caused by different thicknesses of socks, so you can find one that best suits your needs. Additionally, extra padding goes a long way to provide more comfort, but there shouldn't be too much so that it makes the boot too tight.
What problems do hikers and hobbyists face with their feet, and how can the right socks help prevent it?
A common complaint amongst hikers and hobbyists alike is blisters. Walking through various terrain for hours on end can easily cause blisters, and that can instantly ruin your outing. This is because blisters take days to go away, and the more you wear the shoe that caused it, the more that shoe rubs against the area, causing more irritation.
Other walking problems include general aches and pains, and this is typically caused by simply being on your feet for extended periods of time.
However, the right socks can help prevent or lessen the chances of you experiencing any of these issues. Quality socks keep you more comfortable and provide ideal support, both of which can reduce aching. Meanwhile, they also pull away moisture to keep your feet drier and less prone to blistering.
Wrap Up
It's not just helpful to have the right pair of boots when you go off metal detecting, but you also need a quality pair of work boot socks to get you through your adventure free of aches, pains, and blisters.
When you're searching for treasure, who knows what type of terrain you will endure? You can traverse over rocky areas, through wet patches, and various conditions from hot to cold. A good pair of socks goes a long way to helping you feel more comfortable along the way. They can keep your feet warm when needed and let them breathe when it's too hot outside.
If you're in the market for a solid pair of boots to go with your new socks, check out our other reviews of 8 Best Steel Toe Work Boots For Standing On Concrete All Day and 8 Best Winter Work Boots
Related post: 10 Best Wide Work Boots
911metallurgist.com is a participant in the Amazon Services LLC Associates Program, an affiliate advertising program designed to provide a means for sites to earn advertising fees by advertising and linking to Amazon.com.
Disclosure: This post contains affiliate links and I may earn a small commission if you purchase through these links.