Use Add New Topic to ask a New Question/Discussion about Grinding.
OR Select a Topic that Interests you.
Use Add Reply = to Reply/Participate in a Topic/Discussion (most frequent).
Using Add Reply allows you to Attach Images or PDF files and provide a more complete input.
Use Add Comment = to comment on someone else's Reply in an already active Topic/Discussion.
Hydrocyclone overflow discharge +1.5m above the head of Hydrocyclone (5 replies and 1 comment)
6 months ago
Dear All 
I have a hydrocyclone for which I need to send the overflow +1.5m above the head of the hydrocyclone. Is this configuration possible ? 
On the file attached I show standard configuration and the one I want.
The feed pressure of the hydrocyclone is between 0.8 and 1 bar. (pressure loss inside HC)
Generally until which elevation can I send my overflow ? I guess it is a question of OF pressure, but how can I know this pressure ? Is the overflow pressure equal to the pressure loss inside my Hydrocyclone? 
Thank you for your answer.
Romain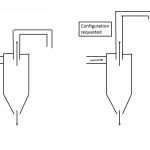 https://www.911metallurgist.com/wp-content/uploads/2017/01/HC.jpg