Use Add New Topic to ask a New Question/Discussion about Grinding.
OR Select a Topic that Interests you.
Use Add Reply = to Reply/Participate in a Topic/Discussion (most frequent).
Using Add Reply allows you to Attach Images or PDF files and provide a more complete input.
Use Add Comment = to comment on someone else's Reply in an already active Topic/Discussion.
Pumps with troubles (6 replies and 5 comments)
5 months ago
Hello everyone,
After the SAG mill there is a SAG box, where the output of the SAG is transferred into. There are 4 pumps (2 operational and 2 in stand-by) that transfers the material to a cyclones battery and then to two ball mills.
When the material is fed into the SAG box, its distribution is irregular making that the pumps suck different particle sizes resulting in an irregular feed to both of the cyclones and to the ball mills. The objective is to have a mirror-type operation for each ball mill, as well as to decrease reactive maintenances for pumps.
The drawing of the SAG box along witht the pumps is attached.
Has anyone had a similar problem in their plant? or maybe some ideas to control the feed and the particles distribution in the pumps?
Thanks before hand!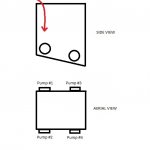 https://www.911metallurgist.com/wp-content/uploads/2017/03/SAG-box-v.jpg