Use Add New Topic to ask a New Question/Discussion about Hydrometallurgy.
OR Select a Topic that Interests you.
Use Add Reply = to Reply/Participate in a Topic/Discussion (most frequent).
Using Add Reply allows you to Attach Images or PDF files and provide a more complete input.
Use Add Comment = to comment on someone else's Reply in an already active Topic/Discussion.
Activated Carbon movement study in gold CIL or CIP circuit (2 replies)
Currently in our gold plant we are getting a huge change in activated carbon in circuit inventory  during opening and closing stock from time to time. Now I have been given a project on carbon movement study in which I will investigate possible ways of carbon losses and to what extent, but I don't know how to get the data plus the methodology of the experiment.
7 years ago
Hello Arnmax,
You will need to do a (frequent) circuit inventory by sampling your tanks and assaying.  Read all but especially the 1st paper on https://www.911metallurgist.com/blog/gold-circuit-carbon-sampling-inventory-movement
As you know, the loaded-carbon grade and the precious-metal extraction efficiencies dictate the rate of carbon movement required. For average-grade gold plants this is not an issue. However, for ore with a high silver grade, the carbon movement may be significant. This can lead to large slurry flows coming from carbon movement. In this situation, separate carbon-transfer screens may be included to allow the slurry to return to the tank from where it came while still allowing the carbon to advance.
High silver grade in pregnant liquor results in high carbon movement.
If the Ag/Au ratio is too high, you may have to opt for full Merrill-Crowe if carbon movement rate becomes impractically high for CIL.
Carbon movement can either be performed in one transfer per day or numerous small transfers using either of the following methods:
Loaded carbon is transferred from the first tank and then sequentially down the bank until regenerated carbon is added to the last tank. This is known as sequential down-bank transfer or pulling.
Regenerated carbon is added to the last tank and then carbon is transferred sequentially upstream until loaded carbon is transferred from the head tank. This is known as sequential up-bank transfer or pushing.
Down-bank transfer temporarily depletes one stage of carbon, which creates longer transfer times, effectively reduces number of stages available for gold recovery, and results in significant loss of gold to tails. This loss increases substantially if the activity of the carbon is reduced.
Up-bank transfer temporarily doubles the carbon concentration in one of the stages, returning to normal as the batch is transferred. This transfer regime creates more mixing of the carbon and a flatter gold on carbon profile but is considered more desirable than increasing tails loss. Hence, up-bank transfer is the preferred method.
The relative performance values for the transfer of various fractions of the carbon inventory at each stage during each cycle. These values are for an ideal case and do not allow for effects such as carbon fouling. It can be seen from these values that one single transfer is more efficient than frequent small transfers.
The operating costs associated with elution and regeneration are proportional to the rate of carbon transfer through the circuit. Optimum carbon flow-rate must be balanced against the return that could be expected from investment of the value of the gold and carbon locked up in the plant.
Source: Advances in Gold Ore Processing
The first task is to measure the quantity of carbon in the various process stages. In carbon columns (CC) or strip vessels where only carbon is present, a direct volumetric measurement is possible. In carbon-in-pulp (CIP) or carbon-in-leach (CIL) systems it is necessary to obtain a sample from the agitated mix of carbon and pulp. Wetted carbon will settle (sp gr 1.35) in water. Thus a complex situation involving pulp rheology (sp gr, viscosity, and % solids), carbon particle parameters (size, density, and shape), and agitation dynamics determines the suspension of the mix.
More at https://www.911metallurgist.com/blog/gold-circuit-carbon-sampling-inventory-movement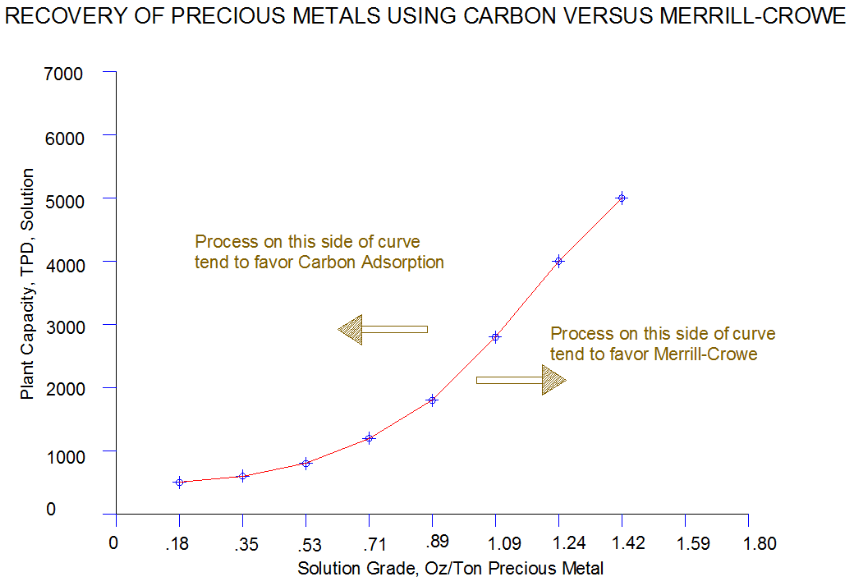 It is well known that active carbon is lost by attrition and abrasion during the adsorption process, and also when is pumped, transported, screened, burned and regenerated.
Abrasion tests involve subjecting the sized activated carbon sample to a wear state and then determining the proportion of undersize and oversize after screening at 1.0 mm. Usually, activated carbons are conditioned for a short time to remove imperfections and weak parts of the particles. The conditioning stage indicates if the manufacturer prepared a good activated carbon. It has been established that it is important to perform conditioning of new activated carbon before it is employed in the adsorption circuit.
In order to perform the dry abrasion tests, a charge of dried sized carbon is pre-abraded for several minutes on a 1.0 mm standard brass sieve employing a stainless steel ball and a rot-tap sieve shaker. The oversize material is subjected to the same conditions for several minutes. Then, the percentage ratio of oversize to total charge is the abrasion resistance. Also, it is important to perform wet attrition tests using a slurry of activated carbon  in an attrition equipment. This time, a small charge of activated carbon is conditioned at 1000 rpm for few minutes, screened at 1.0 mm and dried. The oversize is placed into the attrition vessel and conditioned for several minutes.
You should evaluate the design of the adsorption tanks, specially the screen or device used to retain the activated carbon into the tank. The screen opening could be a source of losses. 
Please
join
and
login
to participate and leave a comment.