By this drawing, it is suggested that a typical homemade laboratory rod mill or ball mill might be fabricated from 20 cm (8 inch) diameter schedule 40 type 316 stainless steel pipe and would be about 38 cm (15 inches) long.
The plans show stainless steel grinding rods for this size of mill may be a graduated charge from 25 to 10 mm diameter (1 inch to 1/2 inch) but variations in size are not essential. Some mineral processing laboratories use a 30 cm diameter x 61 cm long (12 inch x 24 inch) rod mill with 30 and 45 mm rods (1 1/4 inch and 1 3/4 inch). A similar but smaller 30 cm x 30 cm (12 inch x 12 inch) laboratory ball mill with 40, 30, 25 and 20 mm balls (1 1/2, 1 1/4, 1 and 3/4 inch) is used for their ball mill work index calculations. Stainless steel is suggested because the abrasion and corrosion will be negligible, it is easy to clean out and there will be no rust to influence the subsequent metallurgical results. However, mild steel or carbon steel test mills and rods or balls may be desirable for certain ores to duplicate plant flotation or leaching practice when soluble iron has a bearing on the metallurgy or the solution used might react with the commercial mill or media.
Other sizes of rod mills or ball mills can be used but it is suggested that, regardless of the choice, the same mill should be used on all ores and for all tests. This will permit continuous comparisons with past research and with known ores.
The 20 x 38 cm laboratory mill mentioned above is suitable for testing 2000 gram lots of most normal specific gravity ores. If the same quantity of sample and pulp density are used for all tests in the same mill, the results obtained when changing the grinding time will be analysed readily since the length of time required to grind the sample is proportional to the work input.
It is impractical or at least extremely difficult to measure the grinding power consumed by laboratory mills directly because of the high proportion of the power which is consumed in drive inefficiencies and fixed load characteristics. Without very sophisticated instruments, it is difficult to tell the difference between a lab mill which is loaded with steel and pulp or one with steel alone. Fortunately, it is not necessary to measure this power because alternate means to determine the work index are available.

Where there are no previous records of grinding mill power calculations, it may be necessary to consult with a commercial or an associate's laboratory personnel to have the initial work index determinations done on your ore in their laboratories and compared with reference ores. A second method is available when an operating grinding mill is processing an ore which can be tested in the laboratory. By producing the same product screen analysis in the laboratory, a direct comparison between the products in the plant and the laboratory permits calculations of relative work performed. Alternately, when your own research staffs have established work indices during previous projects, they will have historical data upon which to base their present project. The research team will find that the straight lines shown on log-log plots of the results from the various ores tested will be useful for comparisons.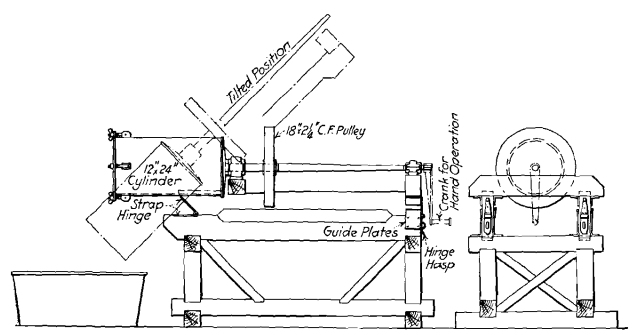 The amount of grinding required for any project is established by the efficiency or adequacy of the initial and subsequent separating stages. Hence, once the correlation between grind and recovery has been established, the economic power requirements can be estimated. The most suitable method of grinding which might be with steel or autogenously can then be determined.
There are few laboratory tests which can be conducted to assist in choosing between rod milling or ball milling and, hence, many practical factors influence the ultimate choice.
Rod mills may have been termed "fine crushing machines" but two directly opposing statements about their operating costs have been made in the earlier days of this century, one frequently heard that "it is cheaper to crush than to grind" but today, with the tremendous increase in grinding mill sizes and power utilization, it is doubtful that the statement is still true. Since a rod mill will accept a coarser feed than a ball mill, it fits in naturally as the intermediate comminution step. However, rod mills, like crushers, must be operated under controlled conditions to obtain maximum efficiency and are more difficult to operate than ball mills. Thus, the ultimate choice between a rod mill or ball mill for the primary grind may depend on the operator's or designer's experience as much as the metallurgist's research.