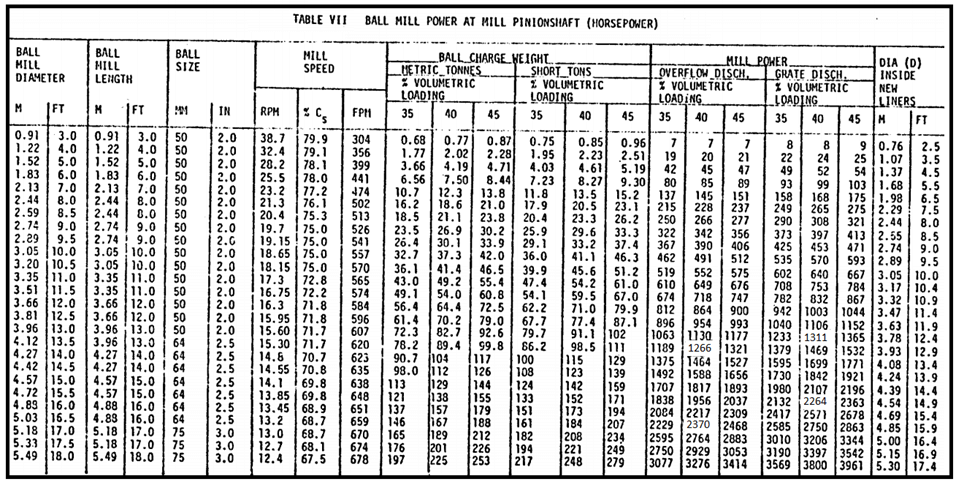 Regrind Ball Mill
F = 210 micrometers.
P = 45 micrometers.
Wi = 14.0
W = 10 x 14.0/√45 – 10 x 14.0/√210 = 11.21 kwh/s. ton
Efficiency Factors:
EF1 does not apply.
EF2 Many regrind operations are closed circuit, but assume this one is open circuit and 80 percent passing grind will be the controlling point. Refer to Table VIII.
Pebble Mill: Rod Mill Pebble Mill Circuit
The calculation for determining grinding power for Pebble milling (secondary autogenous) can be the same as for ball milling from rod mill product size to the desired specified size, neglecting the diameter efficiency factor if less than 1.0.
5.47 x 1.102 x 1.341 x 500 = 4039 HP
To this add the power required


EF1 – Dry Grinding – for the same range of work, dry grinding requires 1.3 times as much power as wet grinding.
EF2 – Open Circuit Grinding – when grinding in open circuit ball mills, the amount of extra power required, compared to closed circuit ball milling, is a function of the degree of control required on the
Few people would dispute the necessity of transmitting literally thousands of pieces of information about the new plant to the operator. In fact, there is really only one way to actually do it We have found that writing a series of custom plant operating manuals, specifically designed for an education level of the average high school graduate, is