Concentrator Slurry Sampling
In milling operations sampling is essential to proper control. This can only be based on the results obtained through sampling the various materials throughout a plant. Sampling of the feed, concentrates, tailings and other products give data indicating the effectiveness of the entire operation. Often these results are desired for comparative purposes for each shift or between several mill sections or machines. The expense and inaccuracy of hand sampling wherein a workman must stop what he is doing, take a sample, then resume his other duties has emphasized needs for automatic sampling devices.
Mineral Processing Sampling Methods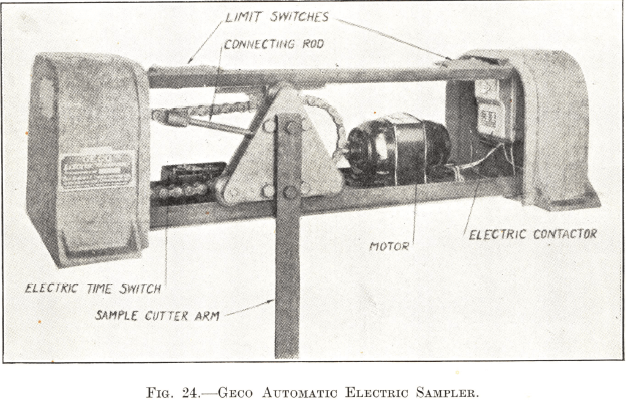 Sampling consists of taking a small portion from the whole mass, which is as perfectly representative as possible. Selection of the proper method to be used in obtaining the sample is of first importance. The method selected must give accurate results and provide the quantity of sample necessary for analysis or for purpose intended. Size of material, grade and uniformity of values generally govern the method used, and are also factors controlling the frequency of sample cuts, size of final sample and sampling equipment selected. Fine material of uniform composition can be sampled with greatest accuracy and with relatively long interval between sample cuts. The most difficult ores to sample are those in which the values occur as infrequent metallics or masses of high grade in barren gangue. Such particles cause inaccurate results since even in crushing to fine sizes the high grade pieces unequally distributed can be of a size equal to the larger particles of barren material. Inaccuracies due to such condition can be reduced by taking a large initial sample and then subsequent crushing, thorough mixing and uniform feeding between each stage of reduction.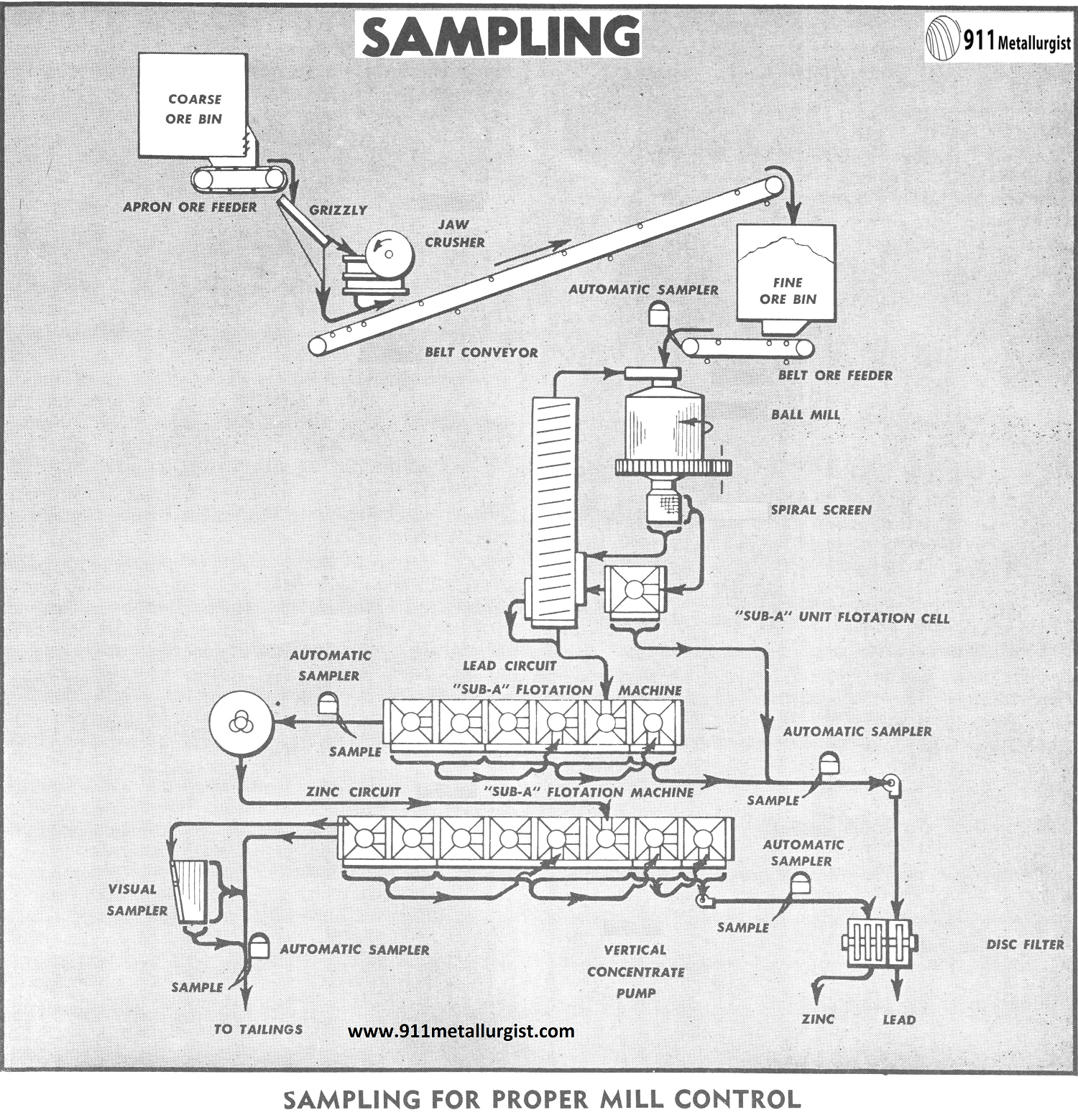 Hand Sampling of Pulp
Hand sampling is often used in small mills and when machine sampling cannot be readily used as in case of sticky ores or materials. Also it may be used where infrequent sampling is desired and for materials in places such as stockpiled ore or concentrates in a railroad car. Hand sampling is expensive due to labor required. Results are sometimes inaccurate due to the human element.
Mechanical Sampling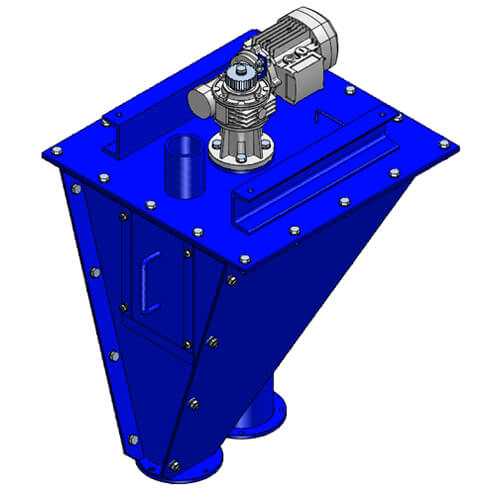 Mechanical sampling can be applied to any stream of ore or pulp passing from one place to another. The most common mechanical samplers are Automatic, straight line, Vezin, Snyder and Chain Bucket types. The automatic type, such as the Automatic Sampler, can be applied to a wide range of applications either wet or dry. These units are ideal for sampling of fine material of uniform grade.
The final sample cut, resulting from the interval samples over a period of 8 hours or longer, is a quantity easily reduced for laboratory requirements. Heavy Duty Automatic Samplers can also be successfully applied to cut coarse materials such as products from primary or secondary crushers. In such applications the amount of sample per cut for any given tonnage increases with particle size and resultant sample may require further reduction to obtain quantity of final sample desired.
Vezin type samplers are excellent in mill crushing sections. These are arranged to cut a percentage such as 5% or 10% of the entire material. The material to be sampled should be under 2 inches diameter for the largest unit. The sample portion of the initial material is usually too large to be used without being reduced to the quantity desired by other stages of sampling. The large initial sample is then crushed between each stage and fed to the succeeding sampling unit by a shaking pan or vibratory feeder. Uniform feeding helps insure more accurate sampling by reducing surges, segregation and synchronism in the system. The final sample is a percentage of the total feed such as 10%, 5%, 1.0%, 0.05% or less.
The Snyder Type Samplers can be used in applications similar to the Vezin Type units or a combination of both types. Duplex units have a mixing drum between the primary and secondary cutters which mixes the primary sample cut and evens out the flow to the secondary cutter. One of the improved features on the Snyder Type sampler is that the secondary cutter revolves at a speed higher or lower than the mixing drum to eliminate any inaccuracies due to flow pattern or synchronism. The feed size range on Snyder Samplers is generally under 2 inches. On finer feeds the duplex units are especially adaptable in yielding a low percentage final sample. For example if a 5% initial cut is made the final sample of 0.25% will result from one unit.
Chain-bucket or gate samplers to cut a percentage of total feed or arranged for timed interval sampling are usually designed to meet special applications such as to cut initial sample from a conveyor belt where feed is coarse or where head room is limited.
The Flowsheet and the Circuit' Sample Points
The flowsheet illustrated is of a selective flotation plant for lead and zinc. In this plant Automatic Samplers are used for all sampling needs. The head sample is cut at regular intervals, usually 15 to 30 minutes, at the discharge of the ball mill feeder.
Tonnage and moisture determinations can be made by taking samples from the timed interval samples of the ball mill feeder.
The classifier overflow could also be sampled mechanically to provide samples to establish percent solids in overflow, screen analysis of overflow, etc. However, hand sampling at this point on one hour intervals is usually adequate for the pulp density determinations used in grinding circuit control. Hand sampling is also used for concentrate grade at Unit Flotation Cell plus pulp density of concentrate to obtain Unit Cell operating results.
Automatic Samplers are also used on the lead circuit tailings, lead concentrates, zinc concentrates and on the final tailings. These samplers all use wet cutters and sample interval of approximately 15 minutes. The concentrate samplers are placed ahead of the filters since it is very difficult to sample a filtered concentrate by mechanical means due to the sticky nature of the products. The grade of concentrates and pulp density can be established from these concentrate samplers. Data from these samples, plus flow rate, allows tonnage of concentrates to be calculated which should check closely with shipments as to weight and grade. Recoveries and ratios of concentration can be calculated by methods shown here.
The Visual Type Sampler shown on the final tailing from zinc flotation circuit shows visually the flotation results. A Visual Sampler could also be used on the lead tailings to show any loss and to allow immediate reagent or cell adjustment to eliminate such losses.
---
Source: This article is a reproduction of an excerpt of "In the Public Domain" documents held in 911Metallurgy Corp's private library.