Portable Gold Amalgamation Plant
Free milling gold and silver ores are efficiently and economically treated in Amalgamation Mills. These mills are often used in the early stages of development of free milling gold properties to recover the main portion of the gold with a simple, inexpensive flowsheet. Later a more comprehensive installation can recover the remaining mineral. These mills are also used to bulk sample ore bodies having erratic mineral occurrences and exploit properties with limited ore reserves at greatest possible profit and with a minimum of risk.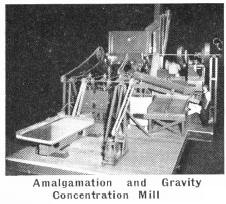 The basic machine in Amalgamation and Concentration Mills is the Selective Mineral Jig, used in conjunction with the Amalgamation Unit. The balance of the equipment includes a jaw crusher, ball mill, rotary classifier, and corduroy blankets or a concentrating table. Mills can be operated by diesel-electric generator sets using individually driven units, giving greatest possible flexibility, or transmission equipment can be supplied for driving from a single source of power.
Portable Gold Leach Plant
Cyanide Mills are designed to treat a particular ore deposit to give the highest economic return; due consideration being given to location, tonnage involved, and capital available. Each ore body to be treated presents an individual problem due to ….Read more