Use Add New Topic to ask a New Question/Discussion about Crushing.
OR Select a Topic that Interests you.
Use Add Reply = to Reply/Participate in a Topic/Discussion (most frequent).
Using Add Reply allows you to Attach Images or PDF files and provide a more complete input.
Use Add Comment = to comment on someone else's Reply in an already active Topic/Discussion.
Burned bronze bushings - Gyratory Crusher (4 replies and 1 comment)

3 years ago
Hi everybody.
Wondering if somebody could tell me which is the correct type of bronze for bushings applied in the gyratory crusher, such as inner eccentric bushing and bottom shell bushing.
A Brazilian's supplier has supplied the bushings with the follow composition as shown in the attached table. The problem is due the fact the bushings are burning too easily.
Does anybody have a suggestion about this issue or other points to be investigated in the crusher?
Thanks in advance.
Bronze-bushings-properties.pdf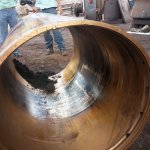 https://www.911metallurgist.com/wp-content/uploads/2017/08/20170725_112743.jpg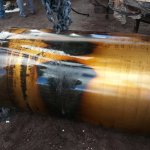 https://www.911metallurgist.com/wp-content/uploads/2017/08/20170725_112630.jpg