Jaw crushers include Superior, Type "B" Blake, Fine-Reduction, and Dodge — sizes, 4 by 6 to 84 by 66 inches. A reciprocating machine, the crushes material in a straight line between jaws — without grinding or rubbing surfaces.
LOWER CRUSHING COSTS
As you compare this jaw crusher feature for feature with other makes you'll see how this modern crusher lowers principal costs—power consumption; lubrication; jaw plate, toggle plate, and bearing wear you'll understand why we say the crusher promises you a new low cost per ton of material crushed!
A jaw crusher is recommended for tough, abrasive, high compressive strength materials. Special machines have been designed for ores having compressive strength as high as 80,000 lbs per sq in.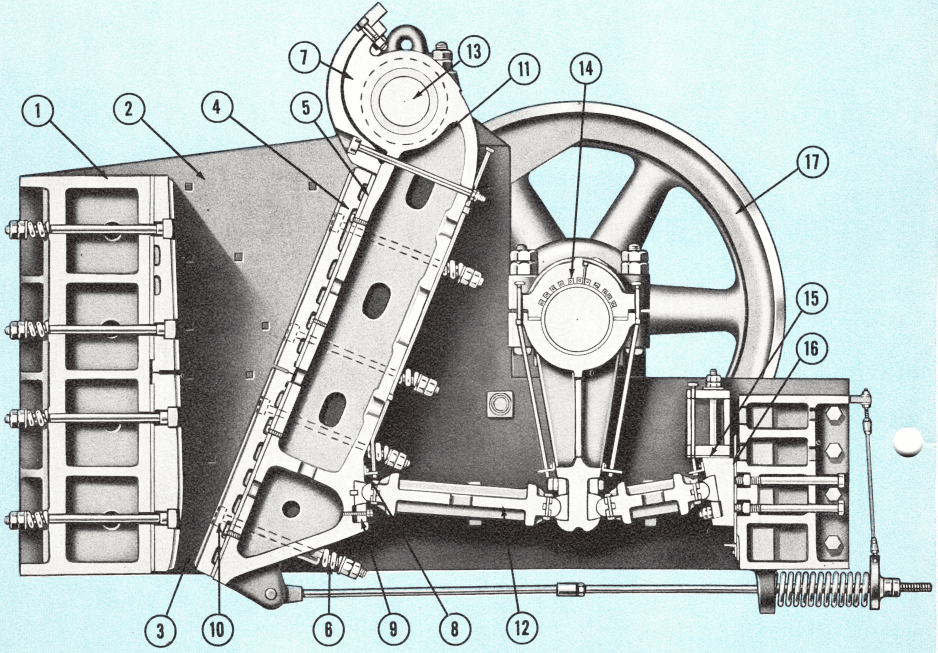 All-steel sectionalized frame. End members are box section. Deep side members of welded steel plate.
Deep crushing chamber assures positive nipping action minimizes slippage and jaw plate wear.
Uniform-wear crushing chamber results in a higher ratio of reduction and greater capacity than possible with straight jaw plates.
Suspended type jaw plates permit expansion caused by the peening of manganese steel.
Wearing plates behind jaw plates eliminates wear on the jaw and frame.
Tension springs take up bolt stretch reduce maintenance practically eliminate breakage.
Swing jaw deflection plate eliminates wear on hub facilitates feeding. Replaceable.
Toggle seat shields reduce wear by deflecting grit from seats.
Toggle seat wedges are a simplified method of clamping toggle seats to the jaw — more securely.
Replaceable cap nuts simplify replacing jaw plates. Not necessary to pull the jaw back to remove bolts.
The long box section swing jaw is suspended from the shaft equipped with "Scor-proof" bushings.
The three-piece toggle plate has renewable machined ends to reduce replacement costs.
Swing jaw shaft ties frame sides together, adds rigidity to the frame.
Box-section steel pitman has a water-cooled cap. Cooling coils are embedded in the babbitt.
Adjustable crushing stroke is provided by means of simple shims.
Toggle block shims provide maximum adjustment for wear to maintain toggle and seat alignment.
Balanced flywheels offset reciprocating action smooth operation with minimum vibration.
A JAW CRUSHER DESIGNED FOR OPERATORS
First—those who have rock or ore tougher and more abrasive than most material. Second—the operators who've had difficulty with other designs of crushers. And finally—the operators who naturally buy the best—expecting their added investment to be written off in comparatively short time through lower operating and maintenance costs!
Compare the dimensions with those of conventional jaw crushers. It measures up to 20% longer; has up to 35% deeper crushing chamber! And while you naturally expect to pay more for this bigger, "deluxe" crusher, it follows that you get more too! For example:
You get a crushing chamber with a full-width receiving opening — increased capacity! You get an acute crushing chamber that minimizes slippage — very important with hard, tough materials. You cut down crushing power required — through longer pitman and front toggle. You reduce packing, get closer setting — through the longer jaw, non-choking plates. You lower maintenance cost, get longer jaw plate, toggle, and bearing life — through lower structural stresses, simplified design.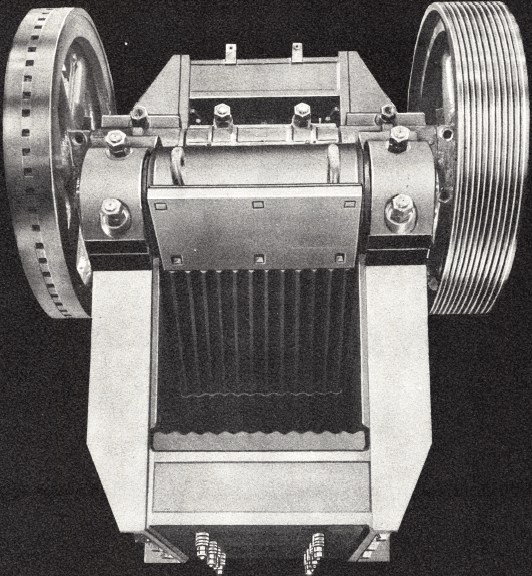 Yes, adding these and more advantages, a new crusher gives you a lower cost per ton of material crushed than comparable crushers!
Thick, heavy steel plate side frames—reinforced by vertical and longitudinal stiffener ribs.
Large pitman shaft frame bearings — are babbitted, water-cooled — designed for quick removal or replacement without having to strip crusher.
The welded steel frame is sectionalized for convenience in moving the crusher to a new location.
Deep weld construction throughout ensures greater strength, protection against breakage.
Entire frame stress-relieved to maintain accurate, true alignment and provide greater strength.
Exclusive box-section welded-end design—up to 50% stronger than conventional one-piece frame construction.
Frames of these crushers are built for maximum rigidity — designed to prevent distortion during operation. Side members are heavy steel plate, reinforced by steel ribbing. End members are cast steel, of box section design, to provide maximum strength.
The side frames are deep-welded and then "stress-relieved" in the huge annealing furnaces to eliminate possible failure adjacent to welds. The result is a uniformly strong frame that will remain true during the long service life of the crusher.
A jaw crusher frames are of sectionalized construction to facilitate handling. This design minimizes heavy lifts makes the crusher suitable for installations where parts must be passed down a shaft or through a tunnel. End members are attached between side members with vertical tongue and groove joints and held together with fitted bolts. Long-bearing surfaces prevent angular distortion.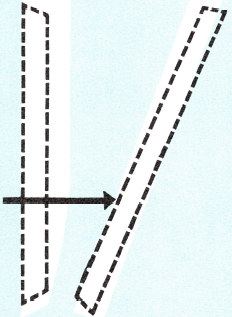 ACUTE CRUSHING ANGLE

Important differences in design show up visually when a cross-section of the crushing chamber of a conventional crusher is superimposed over that of the crusher. Now you can see the advantages of the 1 /3 deeper chamber using non-choking jaw plates. Its more acute crushing angle is carried to the very top of the chamber—permits nipping the largest material that can enter the receiving opening!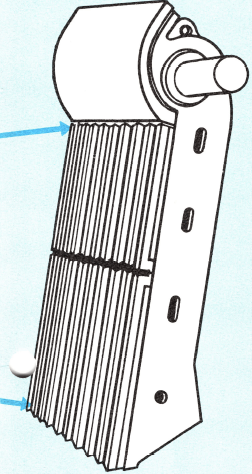 JAW PLATES ARE FREE TO FLOW
Lower plates on the swing and stationary jaws are suspended from projections on jaws. These plates also support the upper plates. This exclusive feature permits the free expansion of manganese steel jaw plates greatly minimizes the possibility of buckling or warping prevents costly shutdowns!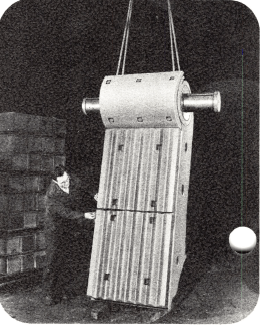 SWING AND STATIONARY JAWS on the jaw crusher are annealed cast steel box section construction — designed for maximum rigidity. The jaw swings on a sturdy shaft that is clamped to the crusher frame. This shaft also serves as a reinforcing tie across the top of the frame. The entire design facilitates lubrication and replacement of shaft bearings.
Jaw plates are constructed of manganese steel and have corrugated crushing surfaces which reduce the power required for fracturing material. The jaw plates are built into two pieces to jaw. Those on the swing jaw are interchangeable. Plates on the stationary jaw are the non-choking type, not interchangeable. Lower plates on both jaws are suspended from jaw projections and support upper plates. The main advantage of this construction (see above) is to permit the free flow of manganese steel. All four plates are held in place by large through-bolts equipped with springs to prevent bolt breakage.

BETTER CRUSHING ACTION & HIGHER CAPACITY & SERVICE
REPLACEABLE JAW WEAR PLATES

Here's still another feature you'll find on the jaw crusher! Renewable wearing plates — between the cast manganese steel jaw plates and swing and stationary jaws — provide a firm backing for the jaw plates. If, for any reason, looseness develops in the jaw plates, these wearing plates, not the jaws, take the wear! By protecting expensive jaw castings, these wearing plates increase crusher life simplify maintenance minimize causes for shutdowns.
FRONT VIEW—SWING JAW FOR 36 by 25 INCH CRUSHER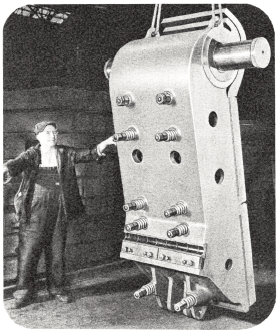 The heavy, two-piece corrugated manganese steel jaw plate is designed to fracture the toughest kinds of rock or ore with a minimum of power. The unobstructed clearances above, between, and below the plate sections permit free flow of manganese steel.
This construction eliminates the need for extra holding pieces, greatly minimizes the shearing of bolts. The amply designed shaft not only supports the swing jaw but reinforces the frame, serving as a tie between sides.
BACK VIEW—SWING JAW FOR 36 by 25 INCH CRUSHER
Notice the extra length of this jaw as compared to conventional types. Designed up to one-third longer, it exerts greater pressures in the upper portion of the crushing chamber, distributes crushing action more evenly. The result is a gradual reduction of ore to the choking point, and increased capacity!
Metal is concentrated at points that make for the most effective jaw design. The replaceable toggle seat has a machine-finished bearing surface — for longer life.
| | |
| --- | --- |
| | Another, southern iron ore mining company, chose this 48 by 42-inch crusher to replace a conventional design that had failed. They explained, "In our process, we've got to have a ruggedly designed crusher capable of continuous operation!" |
| Producing "Rip-Rap" for levee maintenance— crushing extremely hard quartzite—this 48 by 42-inch crusher gets out big tonnage for a southern producer. | |
THE BEST QUALITY YOU CAN BUY
| | |
| --- | --- |
| | Still another 48 by 42 inch, 4 pieces sectionalized frame crusher is reducing very hard, abrasive iron ore in an upstate New York mine, preparatory to concentration. |
| | CRUSHERS—in sizes from 36 by 25 to 60 by 48 inches—are giving these and other operators more for their money more capacity; more crusher life; more satisfaction! It can pay you too, to know more about this great crusher! Why not call in your use today! |
Jaw Crusher Toggle
All sizes of crushers feature a three-piece toggle plate construction. Worn ends may be replaced — no need to discard the entire toggle. Bronze toggle ends fit into replaceable hardened steel toggle seats in swing jaw. Properly lubricated, this assembly materially reduces maintenance.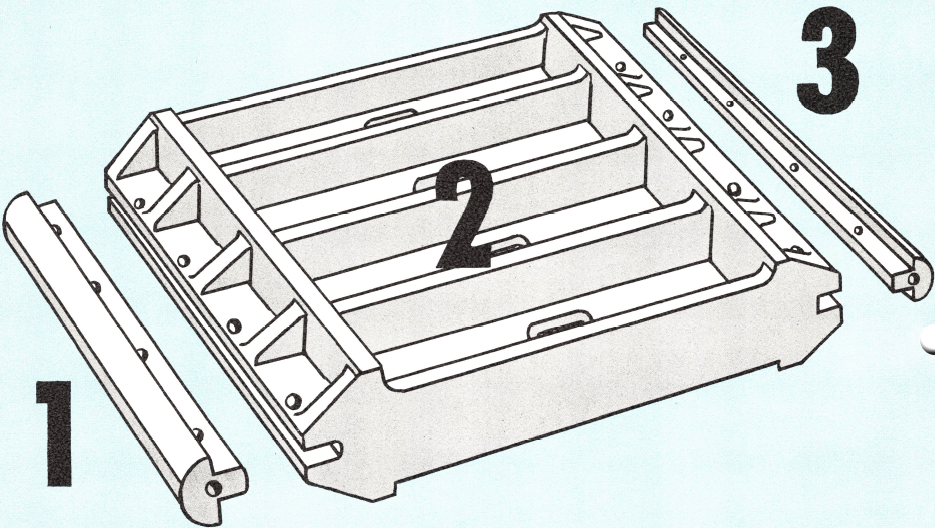 Toggle plates for these jaw crushers are of three-piece construction, consisting of an iron center section (2) to which are bolted two replaceable bronze ends (1 and 3). Toggle seats are carefully machined and equipped with protecting shields that deflect dust and dirt.
Toggle plates are held in position between swing jaw, and pitman and frame by spring-equipped tension rods which are attached to the swing jaw.
A toggle block, arranged for both vertical and horizontal adjustment, is provided at the rear of the frame. By inserting shims above the toggle block, the crushing stroke can be adjusted. Insertion of shims behind the toggle block adjusts the size of the discharge opening. Parallel alignment is assured and unnecessary strain in the crushing machine is avoided.
The pitman in any jaw crusher is essentially a tension member. However, because it also has a vertical reciprocating movement, it is desirable to keep its weight as low as possible, consistent with maintaining the required strength.
In the crusher this is accomplished by designing the pitman as a skeleton member, first to provide the necessary strength for tension — and with stiffness against overturning thrust provided for by deep integral webs.
The pitman is designed with only four large-cap bolts, and the pitman cap is ribbed for proper distribution of the load to these bolts. The pitman is swung on the eccentric shaft which is supported by removable, water-cooled bearings on the frame.
TOGGLE REPLACEMENT COST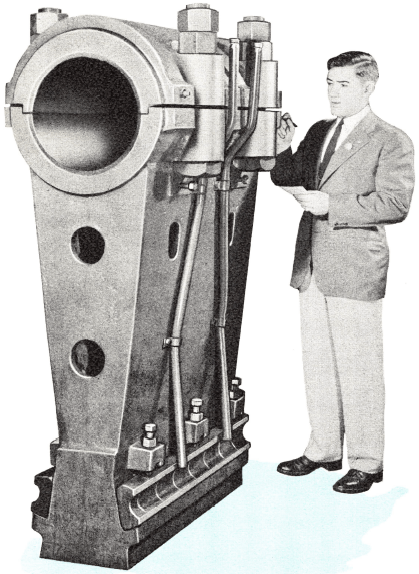 The pitman is a two-piece annealed cast steel construction, with a cap designed for water cooling. Bearing surfaces on both pitman and cap are babbitted and are joined together by four large forged steel bolts. The elimination of excess bolts inherently found in conventional design results in a more uniform distribution of load.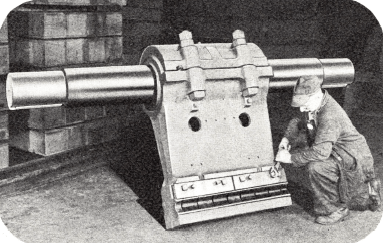 The pitman (eccentric) shaft is heat-treated, forged steel construction—of ample diameter so that stress, even under the shock of suddenly clogged jaws, is low. The shaft is carried in removable, water-cooled, babbitted bearings designed to permit quick removal or replacement without having to strip the crusher.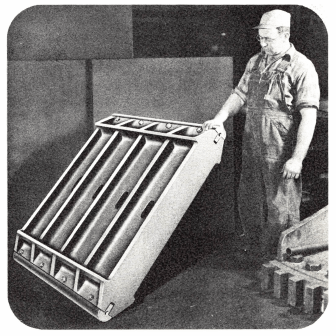 Here's a typical toggle plate for jaw crushers. It is constructed in three pieces—with the center section of iron, two ends of bronze, designed for quick bolting to the center section. This unique construction materially reduces replacement and maintenance costs — makes it unnecessary to discard toggles when ends alone are worn!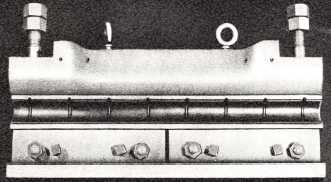 Close-up of toggle seat for jaw crushers. The machined toggle ends and machined seats result in smoother crusher operation, longer life. Notice the arrangement of grooves for toggle-end lubrication.
SWING JAW SHAFT IS CLAMPED TIGHT IN THE FRAME
JAW SWINGS ON SHAFT AND BUSHINGS
NOT SHAFT, TAKE THE WEAR!
A critical point in the operation of large jaw crushers is the arrangement of the swing jaw and its supporting shaft. While in most crushers the jaw is pressed on the shaft and the latter swings in frame, in the jaw crusher the opposite principle is used—shaft is clamped in frame and jaw swings on the shaft!
Another point has been lubrication. In operation, the actual movement of the swing jaw is relatively small. The result is difficulty in proper lubrication of bearing surfaces. The crusher uses a special means of lubrication and in addition is designed with the new replaceable, graphite-impregnated "Scor-proof" bushings which greatly reduce wear on the expensive shafts—since these bushings, and not the shaft, now take the wear!
Automatic Lubrication
LUBRICANT IS FORCE FED TO EVERY BEARING NO SHUTDOWNS FOR GREASE JOBS REQUIRED!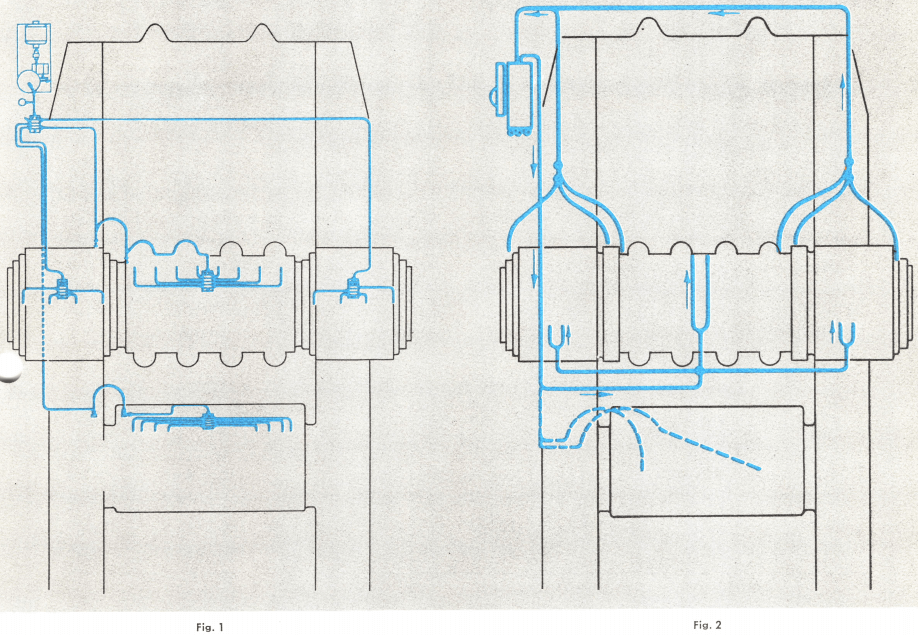 Very careful attention is required in the lubrication of heavy mechanical units like the jaw crusher. A thorough study made of existing types of lubrication systems resulted in the selection of a pair of systems that assure positive delivery of lubricant to point of maximum pressure.
The 48 by 42-inch jaw crusher and smaller sizes are force-fed by an automatic high-pressure lubricator to the swing jaw, pitman, and main bearings as illustrated in Figure 1. A motor-driven pump forces the lubricant through pressure buildup cylinders and out to distributors which dispense a precise amount to each of the points on the bearings. No oil return is provided.
The 60 by 48-inch jaw crusher and larger sizes are lubricated by a closed circuit oiling system to the pitman and main bearings, as illustrated by the solid lines in Figure 2, and by high-pressure lubrication fittings connected to the swing jaw bearings, as illustrated by the dotted lines in Figure 2. A motor-driven gear pump forces the oil through pressure-type filters and a condenser-type cooler to a distribution manifold mounted on the crusher. The oil flows through the bearings, lubricating and cooling, and back to the reservoir for recirculation. The swing jaw bearings require servicing by portable grease equipment.
Capacity
The capacity of the jaw crusher is greater than that of conventional jaw crushers. One reason is its uniform-wear crushing chamber with full-width receiving opening. Another reason—it's a more acute crushing angle.
Slippage is reduced packing and choking are prevented by a more even distribution of crushing action throughout the entire length of the crushing chamber. The result is a gradual reduction of material to the choking point increased capacity!
Capacities given below are approximate and are based on standard speeds, jaw motions, and jaw plates, with a feed of quarry or mine run material weighing 100 lb per cu ft crushed. Most stone and low-grade ores are considered weighing 100 lb per cu ft crushed.
The table is based on continuous feeding. Reserve for normal interruption of feeding should be provided. A heavy-duty apron feeder is recommended for most installations, particularly where large cars or trucks are used in the quarry or mine.
When feed to crushers is scalped over grizzlies or screens the number of rejections, or material that will have to be crushed should be determined in establishing the tonnage to be handled by the crusher. The number of fines received from mine or quarry will vary widely depending on each application and should be taken into consideration in determining the overall capacity.

CRUSHER MAINTENANCE & REPAIR PARTS
Whatever equipment you operate, you can be certain of careful, considerate handling of orders for repair or replacement parts. In most cases parts are shipped directly from stock—you're assured of fast delivery. The view at left shows a small portion of crushing, cement, and mining equipment parts normally carries.
Repair parts temporarily depleted or not carried in stock will be furnished in time to meet requirements whenever possible. Anticipation of future needs, placing orders in advance, will greatly aid in avoiding unforeseen delays. Genuine parts are exact duplicates or improvements of original components of your machinery, not makeshift substitutes.
Sizes and Dimensions