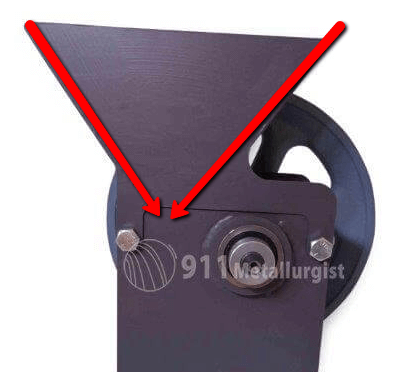 We believe our Fine Crush 2 1/4″ x 3″ Small Laboratory Jaw Crusher can do the job of a small lab cone crusher. As you know, laboratory cone crushers hold a price that most consider high. An alternative is this lab scale cone-like high performance rock crusher. Our 55 x 75 millimeter 911MPEJAC23C Crusher is fabricated to crush anything hard, from quartz gold or to rare earth magnets, into fine powder. Feed this little crusher <2" (50mm) rocks to get a product P80 of 1400 microns (14 mesh).
As your rock flows into the cone hopper into the crushing plates with feed cavity gape of 2.25" x 3", it emulates very well the crusher obtained by a high price laboratory cone crusher. The single toggle and CSS can be adjusted with the twist of a wrench all the way down to just 1 mm. Just look at the sieve analysis performance curves below.

The 911MPEJAC23C's high-frequency overhead eccentric moved the crusher' short throw at 525 RPM to quickly pulverize all rocks without dust.  Unlike your common "econo chain-whipping impact crusher", you can work safely without noise or dust.

This small, cone crusher "work-a-like" can crush up to 12 kg per hours (25 lb/hr) of hard stones.  It is the perfect high grade gold ore pulverizer for all home mineral processors for small home laboratory type arrangement. The ground particles given by this crusher are commonly freely-liberated sufficiently and almost ready to pan or process over a shaker table for gravity gold separation.
The footprint of this rock crusher is small at 16″ X 24″.