Use Add New Topic to ask a New Question/Discussion about Grinding.
OR Select a Topic that Interests you.
Use Add Reply = to Reply/Participate in a Topic/Discussion (most frequent).
Using Add Reply allows you to Attach Images or PDF files and provide a more complete input.
Use Add Comment = to comment on someone else's Reply in an already active Topic/Discussion.
Why & where to use Metal Liner & Rubber Liner in grinding mill. (3 replies and 2 comments)
The way the rubber technology has evolved over the last 30 years, I would tell you that you can use rubber in virtually any ball mill, pebble mill, and most rod mills.  In SAG mills the limits are in the size of the mills (larger tend to go to steel) and the top size of the balls (larger tend to go to steel).  Various vendors now have composite rubber-steel lifters, so some of these restrictions are also disappearing.  Rubber has the advantage of lower density, and a lot easier to install (i.e. less back-breaking work wrestling with the liners, particularly in small mills where you cannot use a liner handler.  Tega out of India is one of 2 or 3 major vendors (the others being Metso and Weir), and you can check out their product line on-line.  I'm not an expert in this area, but once you've looked at this information on-line, I can put you in touch with Dave Blues (ex-Metso, now Tega) and he can address any detailed questions.  Contact me through my e-mail address if you need the contact.
Best Regards
Andrew
6 years ago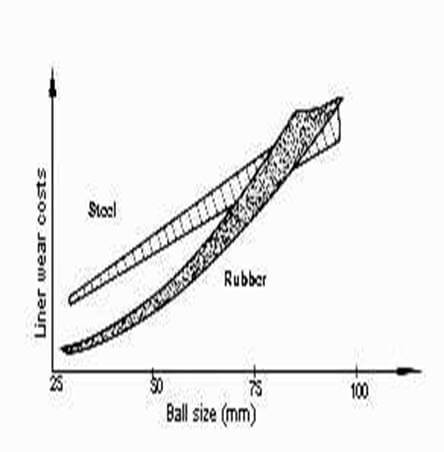 Hi, I started designing mill liners in 1979 ( Tega India and Skega Sweden ) - In 1987 ( Dunlop Industrial Skega - Australia  Mill liner design and manufacture )  1990 to 2001 ( Trelleborg Australia - Allis Chalmers - Svedala - Metso )  2006 - 2011 - Nepean Rubber - 2011 to 2016 Trelleborg Engineered Systems Australia  )   ...................... hopefully over the years I may have a little knowledge collected the attached by the Guru Simon Powell is most informative -  There are many very good liner suppliers - but the inventor  is Trelleborg , in the late 90's Metso - acquired the Trelleborg mining supply and OEM - then called  Svedala  - Tega has acquired knowledge from its IP and manufacturing Association with Skega Sweden started in 1977  --  many claim to be knowledgeable on the question you asked but with all my experience - the customer and that mill superintendent knows best - Citic now design some of the largest mills in the world but all their engineers are ex Allis Chalmers - Svedala- met so   -   Growth Asia deliver the best in Steel liners - as do Citic Pacific  - Wier - have really just copied everyone else and today's' fore runner should be Metso for knowledge but all of the original Tega - Skega - Metso people are all over the world and there are few left ( we die as we get older lol )
You will know best if rubber or steel is appropriate or a composite liner  - rubber in a smaller ball mill is good - rod mills  have steel cast head liners and steel capped shell lifters  and rubber shell plates  - SAG mills have rubber grates and pulp discharge systems. The larger SAG  AG mills are definitely steel cast   - Large ball mils ( primary )  steel capped lifter bars are the go
I have said this elsewhere liners are designed for
1  performance optimum grinding efficiency - you will loose life
2 good life you will loose grinding efficiencies
3 you get a happy medium - that is life AND GRINDING EFFICIENCIES
READ THE ATTACHMENT
6 years ago
Great paper Stewart. Thank you!
6 years ago
FYI, the attachment Stuart provided is a chapter from the SME "Advances in Comminution" (Ed. S.K. Kawatra). It is a great book and I would recommend anyone interested in comminution pick up a copy of the whole book. http://smemi.personifycloud.com/PersonifyEbusiness/Store/ProductDetails.aspx?productId=116865
As a historical note, the chapter on "Bond's method for selection of ball mills" was one of the last major publications of the legendary Chet Rowland before he died. The book is worth the price for just Chet's chapter alone.