Primary stone: Antique Rock Crushers AND rock breaking machines – if we may so designate those machines which are employed to reduce large masses of rock to sizes such as can be further dealt with by other machines – may be divided into two headings, i.e., (a) those which work largely used in those portions of machines which have to stand such rough stages as do the jaws and crushing surfaces of stone breakers, was invented by its chairman.
Softer materials which are capable of being worked up into a slurry by the addition of water may not require crushing at all, and with the machinery necessary for dealing with such materials we shall deal later on.
It can be safely said, therefore, that any machine supplied by Hadfields may be relied upon to do their work thoroughly. At the present time the firm confines its operations to the manufacture of primary breakers and secondary crushers, though it undertakes the repairs of machines for grinding the stone or clinker.
We make reference but it may be explained that it measures 19ft long over all, has a width of 14 ft, over the fly wheels, and is 11 ft. high. Its two fly-wheels each weight 10 tons. They are 8ft. in diameter and are provided with five grooves for rope driving. It will be realized that this machine has an output of between 1500 and 2000 tons per working day of 10 hours say, 10,000 tons as an average per week, and it is only a works of large output which would require such a big unit.


On the gyratory principle and those which reciprocate. Speaking very widely, the reciprocating breakers will deal with larger initial pieces, while the gyratory breakers will give a larger output with some economy in power expended per ton of stone broken. The reason for this is that the gyratory machine is always crushing, whereas the reciprocating breaker is gone rally speaking. Only doing so on the forward stroke, no work being done on the backward. There are machines of this type, however, which gave two crush- in what follows to four types of machines which the firm makes, and first of all will deal with its vibratory or reciprocating breaker. This it makes in numerous sizes, but as we have drawn attention to the tendency of modern times to increase the size of plants for producing Portland cement, we illustrate as typical of this class of machine a very large stone breaker which has been recently built for a cement plant in Australia.
This machine-shown is one of the largest of its type which has ever been constructed. It weighs Machines of all size both of this and other types. A large example of Hadfield's gyratory crusher known as the Helcon crusher.  The particular machine illustrated was supplied to one of the South American republics, and was designed to break 150 tons of stone per hour to pieces in cube and under. It has an annular feed opening 5ft in greatest diameter and 8 in. wide. It would not, therefore, take such large pieces as would the jaw breaker shown, but it would crush up 150 tons.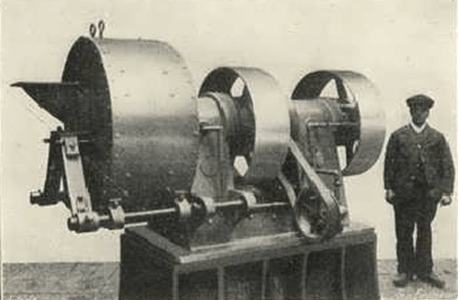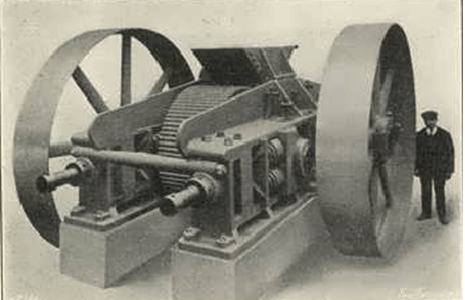 Some firms make one type of machines, some the other, while some make both. This firm has had a vast amount of experience in crushing machines of various types, not only those used in the manufacture of Portland cement, but those used for other purposes as well. It does a very large business in the repair of crushing and grinding machines, many of them of foreign origin. Moreover, manganese steel, which is 110 tons, has a feed opening measuring 54in, by 36in, and will take blocks of stone weighing from 1.5 to 2 tons and reduce them to 8in, or 6in, cubes in a few minutes. Its output is from 150 to 200 tons per hour. The body is constructed of specially toughened cast and forged steel, the frame being in four sections to facilitate transport, while all the faces subjected to crushing or heavy wear are made of Hadfield's patented Era manganese steel. Some idea of the large size of this machine may be gathered from the illustration.
For a lower consumption of energy than would be required by the other machine for the same output. It must depend, then on local conditions which type of machine it would pay best to install. Due consideration must always be given to the nature of the raw material. With certain grades of limestone or shake the strata are so broken and intersected with bonds of clay that the stone does not attain to a great thickness and great width of feed opening is not essential.