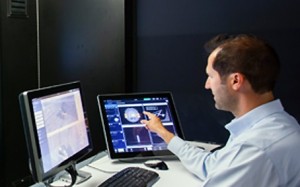 The company CAE started as a global leader in modelling, simulation and training for civil aviation and defence, later diversifying its work. Today, the firm is proud of its section CAE Mining, which is "at the forefront of the industry in developing and providing innovative technology and services to plan, manage and optimise mining operations".
CAE Mining has currently operations in 11 countries, offering solutions that go from exploration and data management to mine planning. That is why Mining Examiner decided to bring you five great examples of software developed by this company.
1. Geological Data Management Solution
Protect your most valuable asset.
Photo: Jesse Allen

Exploration data forms the fundamental underlying basis for resource models and mining resource/reserve evaluations. It is critical for mining and exploration companies to protect this investment with modern governance systems to control the process and securely store the data.

Data capture:

Core logging
Laboratory samples
Mapping
Quality control
Storage
Reporting tools
Process management
2. Resource Modelling
Visualize, interpret and interrogate your resources with the superior capabilities of CAE Studio and CAE Strat3D.
Photo: חיים רבי

CAE Mining's resource modeling systems deliver robust geological models for large and small mines across a number of commodities and deposit types. CAE Studio and CAE Strat3D, our trusted and sophisticated software tools, have set a new industry standard in this field with proven algorithms which have been developed and refined over 30 years.

Utilized by the world's major mining houses and consulting firms for the public reporting of resources and reserves, CAE Mining's resource modeling systems are rich and flexible toolsets capable of:

Drillhole and sample processing:

Statistical and geostatistical analysis
Geological interpretation
Structural and zone modeling
Grade interpolation
Resource classification
Ore reserves estimation and reporting

Whether in consulting, exploration, resource development, planning or production operations, CAE Mining's resource modeling systems are the essential tools for mining professionals.

CAE Studio

CAE Studio specializes in geological modeling and mine design and has been the industry leading resource and reserve modeling system for over 20 years. CAE Studio possesses multi-parametric modeling capabilities, and the versioning, audit trails and repeatability demanded by JORC, SAMREC, NI 43-101 and Guide 7.

CAE Strat3D

The latest evolution in CAE Mining's sophisticated Resource Modeling software solutions, Strat3D operates as a tailored work-flow driven system creating optimized 3D models for the visualization, classification and evaluation of iron ore, bauxite and other stratified deposits.
3. Open Pit Planning Solution
The complete solution.
Photo: Cristian Bortes

Strategic planning

CAE NPV Scheduler

Provides a complete strategic pit planning solution covering pit optimization, pushback generation, cut-off grade optimization, scheduling, haulage optimization and stockpile management. NPV Scheduler is unique in offering alternative techniques for pit optimization to take account of material blending or to maximize mine life. Its pushback generator is widely considered to deliver the most practical pushbacks of any equivalent product and its scheduling capability includes optimization techniques that look ahead for the whole of the mine life as opposed to considering one period at a time.

Mid term planning

CAE Studio 5D Planner

Takes ultimate pit and pushback shapes from a strategic plan and enables an engineer to create pit designs and more detailed mining blocks within pushback-benches. These mining blocks, which can represent individual blasts within near term mining areas, can then be scheduled using the integrated Gantt chart scheduler. Automated Boolean preparation routines enable the engineer to rapidly generate realistic levels of detail in full 3D, resulting in accurate, robust and realistic schedules in a minimal timeframe.

Short term planning

CAE Interactive Short Term Scheduler (ISTS) is a short term scheduling solution that takes blast designs and current mining faces to deliver detailed practical operational schedules that take account of available equipment hours, mine layout constraints, stockpiles, alternative processing methods and associated activities such as drilling and charging.

CAE Ore Controller

CAE Ore Controller is designed to maximize value by ensuring the right material goes to the right place. The technology behind this program enables you to step-by-step plan blast/grade control drilling, model the geology within each blast and determine the ore packets within them, predict the displacement of material due to blasting and communicate the dig lines to the loader operators.
4. Underground Planning Solution
From a concept to a detailed mine plan.
Photo: Tangopaso

CAE Mining supplies the world's most popular software tools for underground mine planning, including Mine2-4D and our successor product CAE Studio 5D Planner, Enhanced Production Scheduler (EPS), Mineable Shape Optimizer (MSO), iRing and Ventsim. These established industry-leading products form an unparalleled integrated toolset for underground mine planning.

Whether for an active mine production environment or a potential mine from concept through to bankable feasibility stage, CAE Mining's solution will help you to design, plan and schedule all aspects of your underground mine. In addition, detailed cost estimation and project tracking is available through Hard Dollar, an industry-leading project cost management application.

Check all the features on the page.
5. CAE Sirovision
A complete geology / geotechnical mapping and analysis system.
Photo: Maschinenjunge

Sirovision is a geology / geotechnical mapping and analysis system that generates accurate, scaled 3D images of rock faces from stereo photographs taken in open pit and underground environments. A range of tools are provided to support the mapping and analysis of structure useful to geologists, geotechnical engineers, surveyors and mine engineers.

Open pit system

Sirovision Open Pit is a quick, accurate, simple and cost effective way to generate accurate 3D images of open pit rock walls and map and analyse their structure. The system uses off-the-shelf digital SLR cameras and supports a wide range of survey methods.

Underground system

Sirovision Underground is an integrated hardware and software system designed to provide safe and cost-effective mapping and analysis of rock structure and underground topography. This system comprises the specially designed Stereo Camera for capturing stereo photographs in underground environments with one touch of a button.

Necessary survey control

Sirovision enables you to georeference 3D images using a wide range of survey methods, including handheld GPS and RTK quality survey support. A minimum of three control points is enough to georeference multiple 3D images.
Content via CAE Mining